Drivers
#6 Matt Kenseth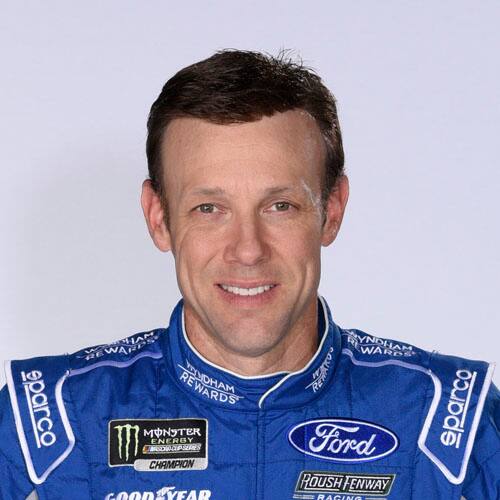 | | |
| --- | --- |
| Car | #6 Fusion |
| Sponsor | Wyndham Rewards |
| Crew Chief | Matt Puccia |
| Hometown | Cambridge, Wi |
| Birthday | MAR 10, 1972 |
| Spouse | Katie |
Matt Kenseth is back with Ford Performance after Roush Fenway Racing announced in April that he would serve as co-driver of the No. 6 Fusion in the Monster Energy NASCAR Cup Series for the remainder of 2018.
Kenseth, who was hired by Jack Roush on a recommendation from Mark Martin in 1998, is one of seven different Ford drivers to win the championship at NASCAR's highest level, along with Ned Jarrett (1965), David Pearson (1968-69), Bill Elliott (1988), Alan Kulwicki (1992), Dale Jarrett (1999) and Kurt Busch (2004). He won the title in 2003 and holds this distinction of being the final champion under Winston's long-time sponsorship.
He's currently eighth on the all-time Ford win list for NASCAR's top series with 24, which includes a pair of Daytona 500 triumphs (2009 and 2012).
Won the 2003 series championships by 90 points over second-place Jimmie Johnson after posting a series-best 25 Top 10 finishes in 36 starts
Kenseth's first MENCS victory came in the Coca-Cola 600 in 2000, which helped him win Rookie of the Year honors.
Finished in the Top 10 of the point standings nine times with Roush Fenway from 2000-12.
DID YOU KNOW?
Kenseth didn't make his MENCS debut in a Jack Roush Ford. Instead, he got his first start behind the wheel of Bill Elliott's Ford at Dover in 1998, serving as a fill-in for Elliott who was attending the funeral of his father. Kenseth finished sixth that day.