Drivers
#22 Joey Logano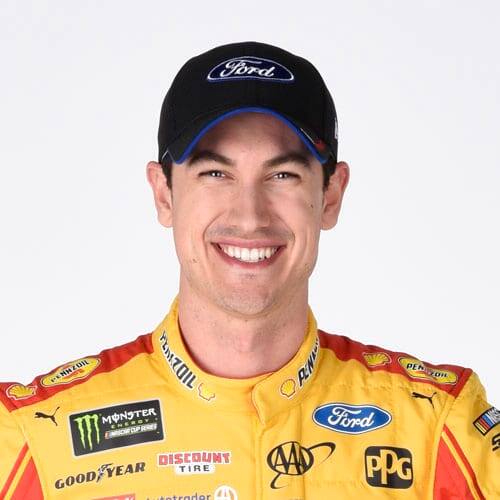 | | |
| --- | --- |
| Car | #22 Fusion |
| Sponsor | Shell-Pennzoil |
| Crew Chief | Todd Gordon |
| Hometown | Middletown, Conn. |
| Birthday | MAY 24, 1990 |
| Spouse | Brittany |
Life at Team Penske and Ford seems to agree with Joey Logano.
Since joining both organizations five years ago, Logano has blossomed into one of the sports top drivers and figures to maintain that status for many years to come. He's won 16 Monster Energy NASCAR Cup Series races in that time, including a season-high six in 2015. In addition, he has contributed to Team Penske's four NASCAR XFINITY owner's championships the past five years with 10 series victories.
Further proof of how consistent Logano has been since joining Ford can be found in the fact that in 180 starts from 2013-17, he has finished in the Top 10 a total of 112 times (62 percent) and in the Top 5 on 75 occasions (42 percent).
Logano ran his streak of winning at least one MENCS race a season to six when he took the checkered flag at Richmond last spring, and increased his pole string to eight straight years with two in 2017 (Phoenix 1, Martinsville 2).
He joined a select group of drivers to win at least one race in all three of NASCAR's top touring series with his victory at Martinsville in a Brad Keselowski Racing F-150 truck in 2015.
Logano made his Monster Energy NASCAR Cup Series debut at New Hampshire Motor Speedway in September of 2008 and finished 32nd.
In 2013, Logano started the Joey Logano Foundation, which goes to "improve the lives of children and families with life-altering needs in racing communities."
Logano earned his first major stock car victory in the USAR Hooters Pro Cup Series when he was only 15 years old, taking the checkered flag at Mansfield (Ohio) Motorsports Park in 2005. He ended that season with one win, six top-five and seven top-10 finishes in 14 starts.
DID YOU KNOW?
Joey Logano has won at least one pole in the Monster Energy NASCAR Cup Series and NASCAR XFINITY Series for eight straight seasons.