Drivers
#38 David Ragan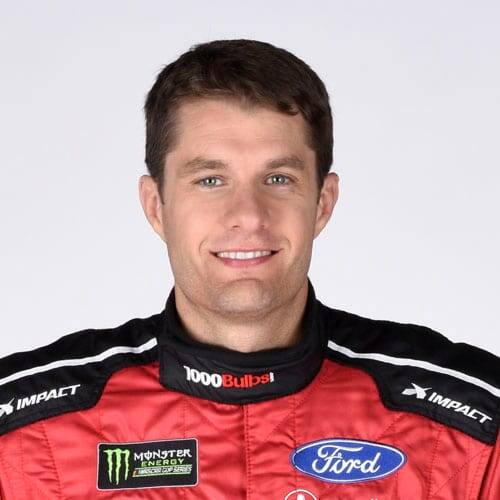 | | |
| --- | --- |
| Car | #38 Ford Fusion |
| Sponsor | Camping World/Good Sam Club, 1000Bulbs.com, Shriners Hospitals, SpeedCo |
| Crew Chief | Seth Barbour |
| Hometown | Unadilla, Ga. |
| Birthday | DEC 24, 1985 |
It seems like only yesterday that David Ragan was a 21-year-old newcomer embarking on his first full-time season in the Monster Energy NASCAR Cup Series. The fact is that was 2006 and as he competes in his 12th year on the circuit, taking Front Row Motorsports to a new level is his main focus.
Ragan has been an anchor for the organization as it has continued to climb up the standings, winning the team's first series race at Talladega in 2013. This will be his fourth year with the organization, having debuted with the team in 2012. He drove three consecutive years and then departed for stints at Joe Gibbs Racing as a fill-in driver for an injured Kyle Busch, Michael Waltrip Racing and BK Racing. Ragan came back to the organization in 2017 and had a season-best sixth-place finish in the July race at Daytona.
Ragan begins 2018 having made 396 consecutive series starts. Before joining FRM for the first time in 2012, Ragan spent five seasons driving for Jack Roush behind the wheel of the No. 6 Roush Fenway Ford that Mark Martin made famous.
Superspeedways are a strength for Ragan, who won his first Cup race at Daytona in July of 2011 and followed that up with his second win at Talladega two years later. One of his two NASCAR XFINITY Series wins also came at Talladega.
As a double-duty competitor in 2007, Ragan won Rookie of the Year honors in the Nationwide Series while finishing runner-up to Juan Pablo Montoya in that same category on the Sprint Cup side.
Ragan's best season from a point perspective came in 2008 when he narrowly missed the Chase and finished 13th.
DID YOU KNOW?
NASCAR has been a part of Ragan's life from the time he was born as his father, Ken, was an independent driver in the sport and made 50 career Sprint Cup Series starts from 1983-90.