DISNEY, Oklahoma, Oct. 28, 2022 - The Ford Bronco brand achieved an outstanding milestone here Friday, with the Bronco 4600s of Brad Lovell, Vaughn Gittin Jr. and Bailey Cole sweeping the Ultra4 Racing championship and keeping the Bronco undefeated season streak intact during the season finale event, Legends of the Fall.
In total, Bronco 4600 finished the season with seven total wins, taking first place in every race entered. Bronco drivers also swept the podium at the final event.
"The entire team at Ford Performance is thrilled with this result. Brad, Vaughn, Bailey are great racers — and together with their teams they continue to be fantastic ambassadors for Ford," said Mark Rushbrook, global director, Ford Performance Motorsports. "The Ultra4 Racing series provides some fantastic race venues throughout the year so that our fans and customers can see that Bronco is a truly capable off-roading platform."
Lovell and his co-driver and son Adam Lovell secured the overall 4600 class championship, along with the race victory today in Disney, Oklahoma. It was the third Lovell Bronco win of the season. He battled for the lead with the Bronco of Gittin Jr. and Eric Davis for much of the race before an unfortunate flat tire dropped the latter duo back a few minutes behind the Lovells.
"There was a lot of pressure coming into this," said Brad Lovell. "These Broncos are extremely competitive, and to win the championship, we had to win this race. We knew that coming in here, both Vaughn and Bailey are really fast so that pressure was there. We knew it had to be perfect, and I'm so proud of the prep work my sons Adam and Byam did to get us ready. This being a family affair for us, it makes it extra special. It was great having them both navigating for me through the season, as well as my brother."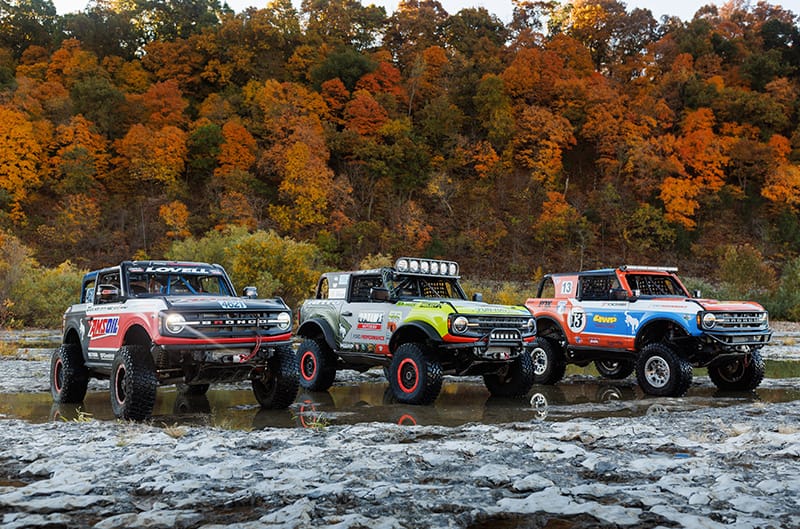 Gittin Jr. recovered quickly and took home second place in both the race and overall championship. His Fun-Haver Off-Road team showed great sportsmanship in assisting the other Bronco teams when they were shorthanded during the season.
"What an unbelievable race out here, battling with Brad and Bailey," said Gittin Jr. "Just tight all year, then to have it culminate here in the finals with the Broncos once again taking 1-2-3, it just feels amazing. Starting off with the win at King of the Hammers, this has been an an unbelievable win for our team and for everyone at Ford Performance. It's been an honor to be behind the wheel of these Broncos and more importantly, a ton of fun. This weekend was nuts. A battle of patience and a battle of will, and congrats to Brad, he was super-fast out there. This really shows what the Bronco is, and that's a game changer."
In third place in the 4600 class championship and in today's race were Bailey Cole and Steven "Woody" Rose Jr., whose Bronco finished just behind Gittin Jr., with both drivers closing out the season carrying two wins each in the series that provided inspiration for the production Bronco Raptor.
"It was a brutal race out there, this course is meant to beat up vehicles and it felt like the entire time it was trying to break us, but all three Broncos held up, we finished 1-2-3 again, and I couldn't ask for a better season or race. I'm just really looking forward to next year."
On Saturday, Gittin Jr. will also compete in another Bronco for a chance to repeat his reigning 4400 class championship.