ENSENADA, Baja California – Steady rain swept through the rock-laden desert plain in the final northern push by Ford Performance during the 56th SCORE Baja 1000 Presented by K&N, and while many fell victim to the course's rough conditions, the distinguished headlights of the Bronco Raptor and F-150 Raptor shone through the battlefield to Ford victories in the mid-size and full-size stock classes.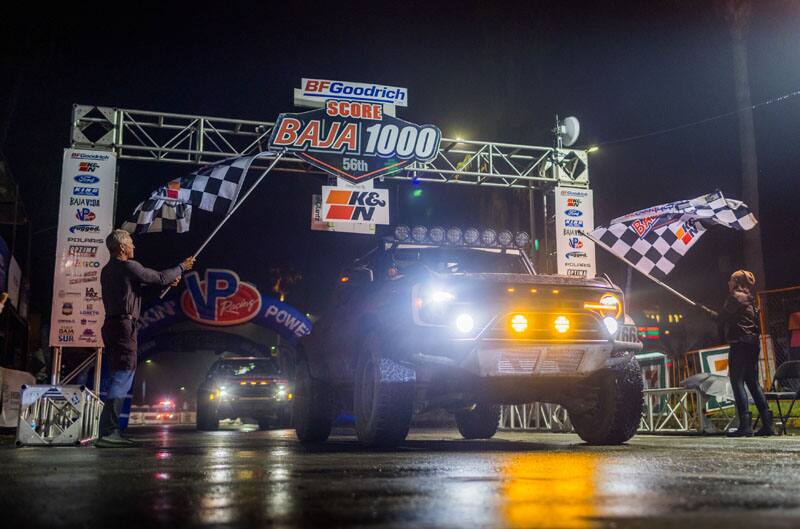 "Ford is a family company with not only a goal to win, but to also further develop our street Raptors for customers around the world to enjoy," said Mark Rushbrook, global director, Ford Performance Motorsports. "The Baja 1000 not only served as a testament to all the hard work from people on the ground and those in Dearborn, Mich., but this event also emphasizes our continued global commitment to the sport and making better products for our customers."
Ford Performance tackled the famed endurance desert race with both Bronco Raptor and F-150 Raptor, further establishing its growing presence and success in the SCORE stock classes – not only expanding to a two-truck program for the organization's golden 50-year anniversary, but also retaining the title in the mid-size class after its 2022 win in Ranger Raptor. This year's edition included a near 1,200-mile migration up the Baja Mexico peninsula from La Paz to Ensenada, which was a first in the event's storied history.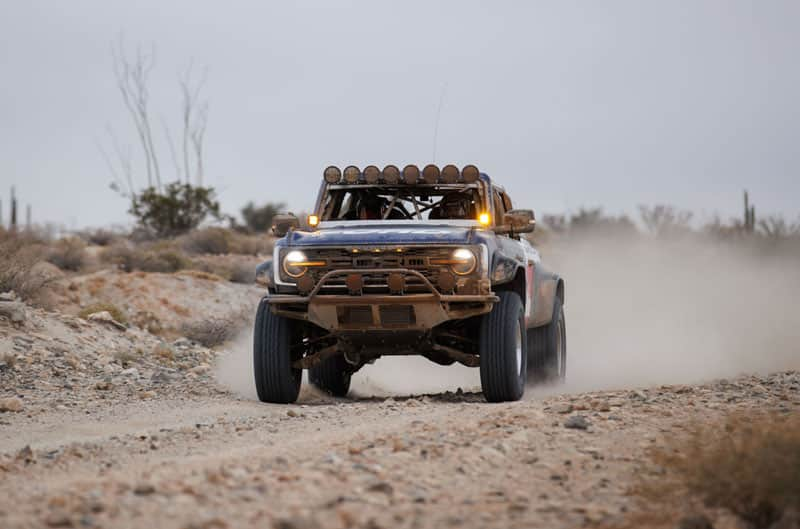 From a sandy Pacific coastline to thick silt beds and tricky rock sections, Bronco Raptor and F-150 Raptor R pressed on with FOX shock technology, and they were also able find traction with BFGoodrich All-Terrain KO2 tires wrapped around Method Race Wheels.
As they pushed up the Gulf of California, Bronco Raptor powered through the wide-open washes with its 418 horsepower 3.0-liter EcoBoost engine. Raptor R was very much in its stride with its 5.2-liter supercharged V8 of more than 700 horsepower.
Together, the two Ford Performance race trucks made the final corner into Ensenada and climbed the spectator ramp as victors – the Bronco Raptor finishing with an unofficial time of 40:37:47.820 and the F-150 Raptor R in 41:44:45.634.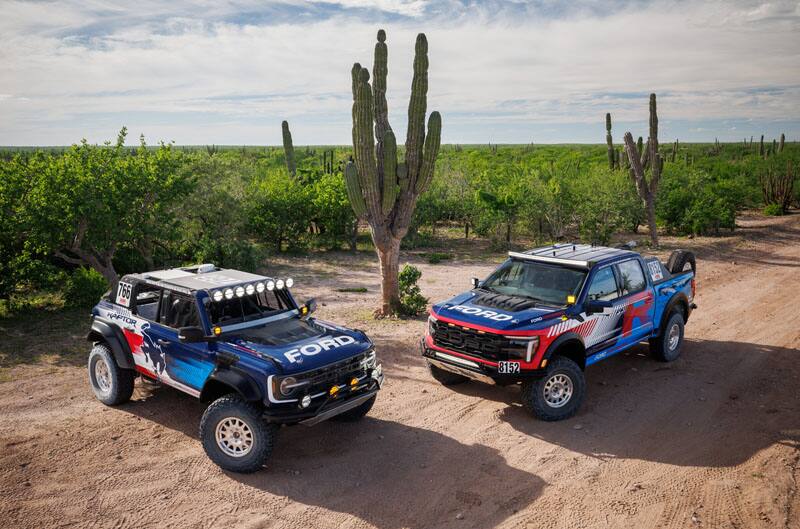 "We are so proud to be able to get these trucks across the finish line," said Brian Novak, Ford Performance off-road racing supervisor. "Baja is one of the most difficult races in the world, and that is why we use it as a proving ground for our technology. The team is proud to show again this year how capable the Raptors really are."
The Bronco Raptor and F-150 Raptor R were virtually stock – retaining the stock engine, transmission and driveline – which also incorporated select safety and performance modifications that met SCORE stock class regulations.
"I am very proud to be here in Ensenada," said Brad Lovell, team principal for the Ford Performance Baja 1000 program. "It's been a shared goal for over a year between Lovell Racing and Ford Performance to get here. There is so much camaraderie and teamwork – with other teams that have been my competitors, my friends and my teammates to get the vehicles here. It's certainly not an easy task. The level of preparation, work and planning for unexpected circumstances that goes into a 1,200-mile point-to-point race is daunting. Today, I feel so much relief that the plan worked out, and overall, have pride in the vehicles in that we had the chance to show what the Raptor brand is capable of."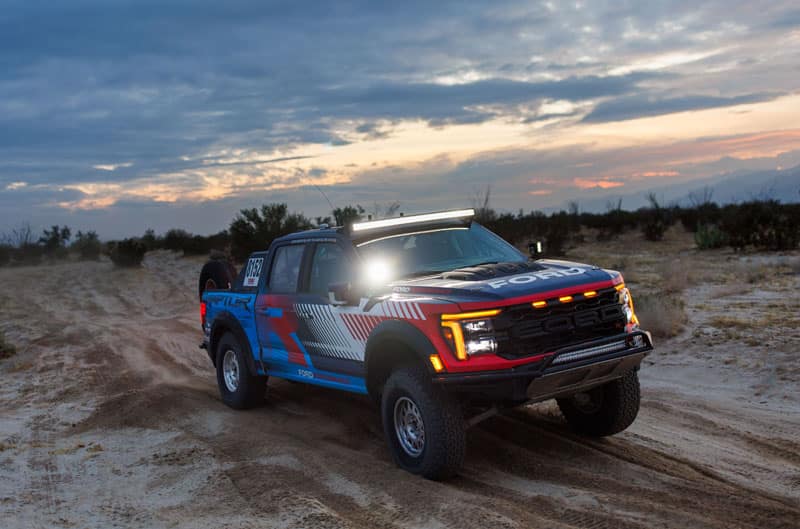 Loren Healy, who navigated the F-150 Raptor R home through slick rock formations, echoed Lovell in that there is a strong sense of pride not just finishing the Baja 1000, but even more winning.
"Winning the Baja 1000 in the Raptor R will go down as one of my favorite victories in my racing career," Healy said. "The amount of work that went into the race efforts for both the truck and the Bronco Raptor are absolutely mind blowing. Somewhere around 100 people came together as a family and made magic, getting both these stock production vehicles to win their classes in the second longest Baja 1000 ever. It truly is an honor to be a small part of this epic, history-making team."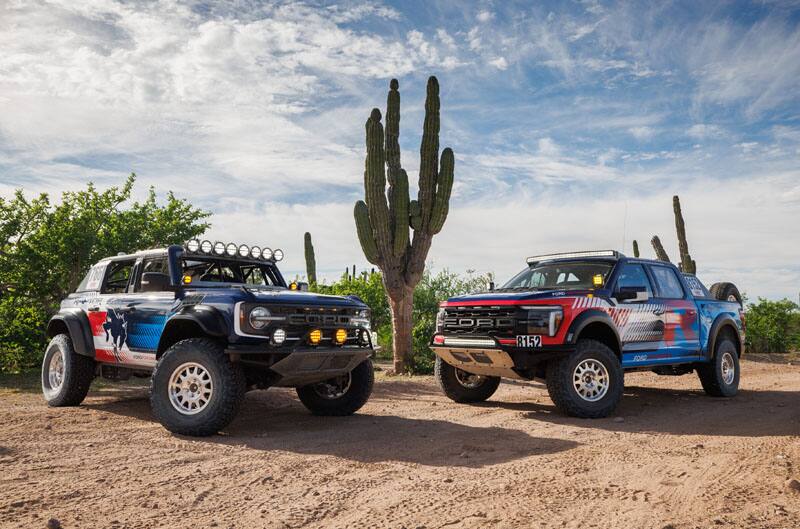 Official Truck and SUV of the Baja 1000
Ford is also the Official Truck and SUV of SCORE-International Off-Road Racing and lead sponsor of the SCORE World Desert Challenge Series, which includes the SCORE Baja 1000 race. The partnership underscores Ford's commitment to off-road motorsports and serves as a platform to develop and connect with off-road enthusiasts.
For more information about Bronco, visit www.ford.com/bronco.
For details about Raptor R, visit https://www.ford.com/f150-raptor-r/2023/.
# # #
About Ford Motor Company
Ford Motor Company (NYSE: F) is a global company based in Dearborn, Michigan, committed to helping build a better world, where every person is free to move and pursue their dreams. The company's Ford+ plan for growth and value creation combines existing strengths, new capabilities and always-on relationships with customers to enrich experiences for customers and deepen their loyalty. Ford develops and delivers innovative, must-have Ford trucks, sport utility vehicles, commercial vans and cars and Lincoln luxury vehicles, along with connected services. The company does that through three customer-centered business segments: Ford Blue, engineering iconic gas-powered and hybrid vehicles; Ford Model e, inventing breakthrough EVs along with embedded software that defines exceptional digital experiences for all customers; and Ford Pro, helping commercial customers transform and expand their businesses with vehicles and services tailored to their needs. Additionally, Ford is pursuing mobility solutions through Ford Next, and provides financial services through Ford Motor Credit Company. Ford employs about 177,000 people worldwide. More information about the company and its products and services is available at corporate.ford.com.
About Ford Performance
Ford Performance is based in Dearborn, Mich. It is responsible for Ford's performance vehicle development and major racing operations globally, including NASCAR, IMSA, SRO British GT, FIA World Rally Championship, Supercars Championship, World of Outlaws, Ultra4, SCORE-International, FIA Rally-Raid, Formula Drift, NHRA, Rebelle Rally, Thailand Super Series and our latest commitment in Formula 1 with RedBull Ford Powertrains. Ford Performance also maintains a constantly evolving fleet of electric performance demonstrators to showcase the limits of electrification technology. In addition, the organization also oversees the development of Ford's racing engines, as well as the outreach programs with all Ford Clubs and Ford enthusiasts. For more information regarding Ford racing's activities, please visit Performance.Ford.com or follow @FordPerformance on Facebook, Instagram, Threads, Twitter, TikTok and YouTube.