· The Mustang Challenge schedule as announced in early August features two notable updates, including a date change for Watkins Glen International and location change for the finale, now at Indianapolis Motor Speedway.
· Each IMSA-sanctioned event will feature two practice sessions, one qualifying session and two sprint races.
· Mustang Challenge will feature an innovative prize structure intended to foster an atmosphere of progression within the Mustang racing ladder, including a $100,000 scholarship towards a Mustang GT4 or GT3 racing effort.
DEARBORN, Mich., Oct. 26, 2023 – Hot off the heels of a summer of exciting Mustang race car reveals, Ford Performance is pleased to share a selection of further details regarding the upcoming inaugural season of Mustang Challenge, set to begin in June 2024. The series will be the home of the Mustang Dark Horse R, the latest turnkey racecar from Ford Performance that begins a potential ladder of opportunity up to Mustang GT4 and on to the ultimate expression of the Mustang racing line up, the Mustang GT3.
Schedule Updates
In August, the initial IMSA-sanctioned Mustang Challenge schedule was announced, featuring a five-round, 10-race calendar beginning in June at Mid-Ohio Sportscar Course. Since then, two updates have followed, allowing Ford Performance to now share a more detailed schedule. The second round at Watkins Glen International has moved up in alignment with IMSA's schedule change. Additionally, Ford is excited to share that the Mustang Challenge finale will now be held at Indianapolis Motor Speedway as a precursor to the SRO Indianapolis 8-Hour presented by AWS endurance race, as part of the Intercontinental GT Challenge championship.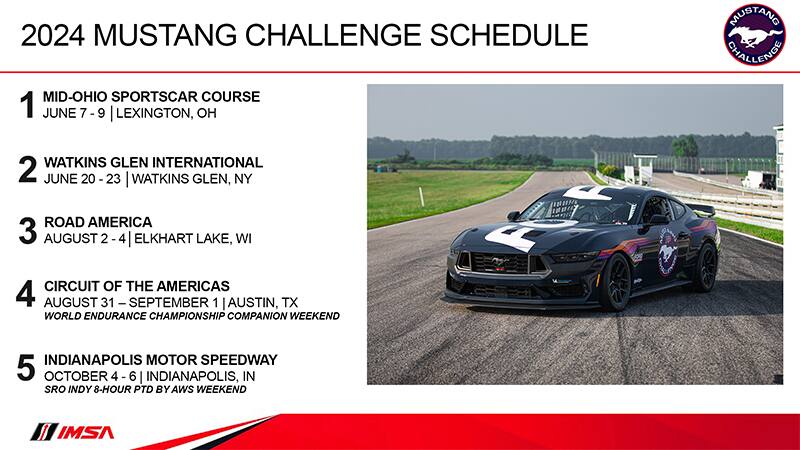 Racing Format, Classes & Support
Each IMSA-sanctioned event will feature two 30-minute practice sessions, one 15-minute qualifying session and two 45-minute sprint races. The field of up to 40 full season entries, with additional entries possible at rounds two through five, will be split into two classes – Dark Horse and Dark Horse Legends, the latter being an optional classification eligible to bronze-level drivers 45 years old and over.
Michelin has developed an all-new bespoke race tire for the series, and teams will be eligible to purchase three new sets of these 295/30R19 Michelin race tires per weekend.
Ford Performance and Michelin will also have personnel onsite at each race weekend to directly support entrants of the series. Parts will be available at the track, however as this is also a production-based car, many parts will be available through local Ford dealers.
Prize Structure
Each race will feature a podium celebration for both classes, as well as prize money awarded to overall 1st through 3rd place finishers.
Ford Performance will be offering an innovative championship prize structure for Mustang Challenge, encouraging progression in the Mustang sports car racing stable.
Dark Horse season champions will have two paths to choose from for prizes:
· Cash prize of $40,000
OR
· $100,000 Scholarship towards a Mustang GT3 or Mustang GT4 seat the following year.
Both paths will be accompanied by a test day in a Mustang GT4.
Series tire partner Michelin is also supporting the Mustang racing ladder with overall championship prize of a set of tires per weekend for any driver racing a Mustang Dark Horse R, Mustang GT4 or Mustang GT3 in a Michelin series the following year.
Those finishing 2nd and 3rd overall in the championship will also receive cash payouts of $20,000 and $10,000 respectively.
Dark Horse Legends champions will receive a cash prize of $20,000 or a test day in a Mustang GT4.
Additional Details
Pricing for Mustang Dark Horse R starts at $145,000. Deliveries are planned to begin in 2024, prioritizing customers competing in the full Mustang Challenge season. For more information or to order a Mustang Dark Horse R, visit (https://www.ford.com/performance/mustang-dark-horse-r/).
For more details and information on the Mustang Challenge as it becomes available, please visit (https://performance.ford.com/series/mustang-challenge/news/articles.html) or email MC@FPRSMotorsports.com.
# # #
About Ford Motor Company
Ford Motor Company (NYSE: F) is a global company based in Dearborn, Michigan, committed to helping build a better world, where every person is free to move and pursue their dreams. The company's Ford+ plan for growth and value creation combines existing strengths, new capabilities and always-on relationships with customers to enrich experiences for customers and deepen their loyalty. Ford develops and delivers innovative, must-have Ford trucks, sport utility vehicles, commercial vans and cars and Lincoln luxury vehicles, along with connected services. The company does that through three customer-centered business segments: Ford Blue, engineering iconic gas-powered and hybrid vehicles; Ford Model e, inventing breakthrough EVs along with embedded software that defines always-on digital experiences for all customers; and Ford Pro, helping commercial customers transform and expand their businesses with vehicles and services tailored to their needs. Additionally, Ford is pursuing mobility solutions through Ford Next, and provides financial services through Ford Motor Credit Company. Ford employs about 173,000 people worldwide. More information about the company and its products and services is available at corporate.ford.com.
About Ford Performance
Ford Performance is based in Dearborn, Mich. It is responsible for Ford's performance vehicle development and major racing operations globally, including NASCAR, IMSA, SRO British GT, FIA World Rally Championship, Supercars Championship, World of Outlaws, Ultra4, SCORE-International, FIA Rally-Raid, Formula Drift, NHRA, Rebelle Rally, Thailand Super Series and our latest commitment in Formula 1 with RedBull Ford Powertrains. Ford Performance also maintains a constantly evolving fleet of electric performance demonstrators to showcase the limits of electrification technology. In addition, the organization also oversees the development of Ford's racing engines, as well as the outreach programs with all Ford Clubs and Ford enthusiasts. For more information regarding Ford racing's activities, please visit Performance.Ford.com or follow @FordPerformance on Facebook, Instagram, Threads, Twitter, TikTok and YouTube.
About the International Motor Sports Association (IMSA):
International Motor Sports Association, LLC (IMSA) was originally founded in 1969 and owns a long and rich history in sports car racing. Today, IMSA is the sanctioning body of the IMSA WeatherTech SportsCar Championship, the premier sports car racing series in North America. IMSA also sanctions the IMSA Michelin Pilot Challenge and IMSA VP Racing SportsCar Challenge, as well as four one-make series: Ferrari Challenge North America, Idemitsu Mazda MX-5 Cup presented by BFGoodrich Tires, Lamborghini Super Trofeo North America and Porsche Carrera Cup North America. IMSA – a company within the NASCAR family – is the exclusive strategic partner in North America with the Automobile Club de l'Ouest (ACO) which operates the 24 Hours of Le Mans as a part of the FIA World Endurance Championship. The partnership enables selected IMSA WeatherTech SportsCar Championship competitors to earn automatic entries into the prestigious 24 Hours of Le Mans.
About Michelin North America
Michelin, the leading mobility company, is working with tires, around tires and beyond tires to enable Motion for Life. Dedicated to enhancing its clients' mobility and sustainability, Michelin designs and distributes the most suitable tires, services and solutions for its customers' needs. Michelin provides digital services, maps and guides to help enrich trips and travels and make them unique experiences. Bringing its expertise to new markets, the company is investing in high-technology materials, 3D printing and hydrogen, to serve a wide variety of industries — from aerospace to biotech. Headquartered in Greenville, South Carolina, Michelin North America has approximately 22,500 employees and operates 34 production facilities in the United States and Canada. (michelinman.com)
About Ford Performance Racing School
Since opening in 2006, Ford Performance Racing School has provided instruction in high-performance driving to drivers of all levels. In addition to offering traditional driving instruction to all, the school is home to business and product training programs conducted for Michelin/BFGoodrich, as well as the complementary programs offered to first owners of new Ford Performance vehicles exclusively. Starting with the Boss Track Attack program in 2012, these programs expanded to include the ST Octane Academy for Fiesta ST and Focus ST owners (now complete), GT350 Track Attack for Mustang Shelby GT350 owners, RS Adrenaline Academy for owners of Focus RS (now complete), Raptor Assault for F-150 Raptor owners, GT500 Track Attack for Mustang Shelby GT500 owners and ST SUV Experience for Edge ST and Explorer ST owners. In 2020, Ford Performance Racing School now consists of regional headquarters in Concord, NC, and Tooele, Utah, with satellite venues in each region hosting the ST SUV Experience. Along with Ford and Michelin/BFGoodrich, official partners of Ford Performance Racing School include Brembo, Castrol, RECARO, Signature Wheels, Product 41, and Stoner Car Care.
| | | |
| --- | --- | --- |
| Contact | Media: | Competition Inquires: |
| | Jay Ward | Scott Barlett |
| | | |