• Mustang Dark Horse R will be the official race car of Mustang Challenge, a new single-make, IMSA-sanctioned racing series designed for Mustang and Mustang enthusiasts.
• All-new, track-only Ford Mustang Dark Horse R from Ford Performance is intended to be eligible for competition in numerous grassroots racing series.
• Mustang Dark Horse R deliveries will begin in preparation for the start of the Mustang Challenge season in 2024.
CHARLOTTE, N.C., July 27, 2023 – Ford Performance today reveals the all-new Mustang Dark Horse™ R, offering the most demanding track enthusiasts a turn-key race car ready to compete in the all-new Mustang Challenge spec racing series, just for Mustang Dark Horse R and sanctioned by the International Motor Sports Association (IMSA).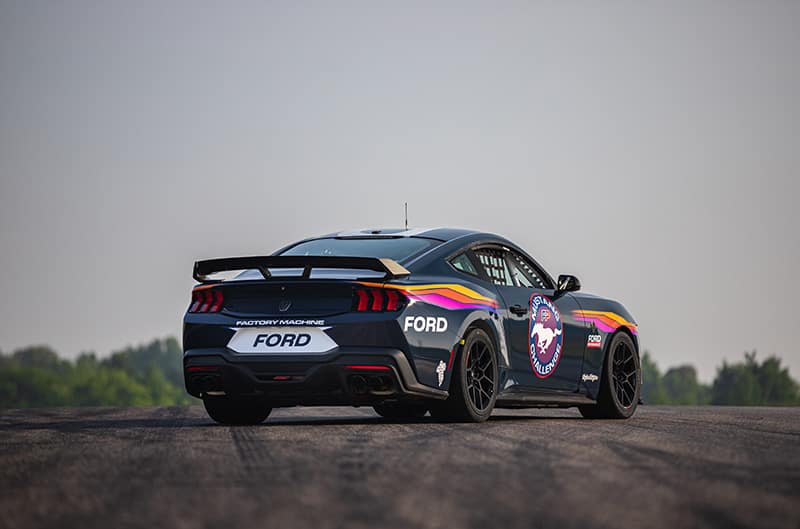 The Mustang Dark Horse R powered by a new, fourth-generation 5.0-liter Coyote V8 is the third Dark Horse-based racing derivative to be unveiled this summer, joining its place alongside the Mustang GT3 and Mustang GT4.
"Mustang Dark Horse R bridges the gap between Dark Horse and Mustang GT3 and GT4," stated Mark Rushbrook, global director, Ford Performance Motorsports. "Production-based Mustang vehicles have raced from the very beginning, all the way back to winning the 1964 Tour de France, even. Dark Horse R offers our passionate customers not just an attainable, factory-built race car, but also a racing series to compete with other Mustang enthusiasts."
Mustang Dark Horse R Ready for the Track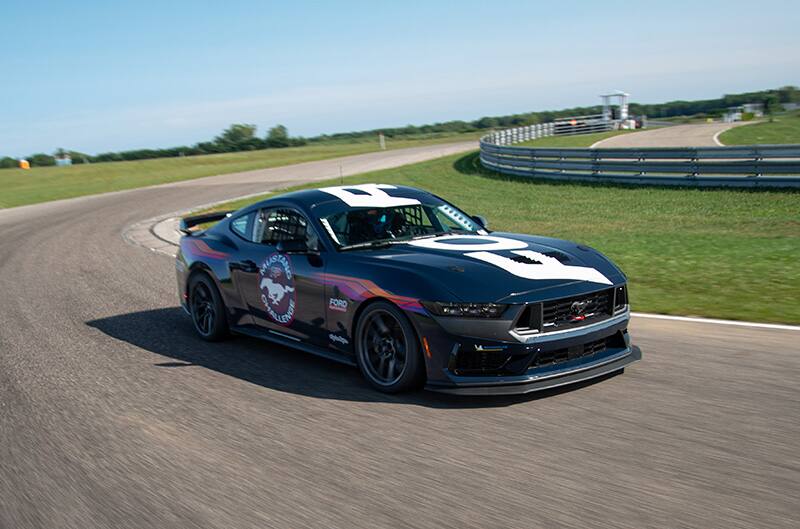 With the Ford Mustang Dark Horse joining the herd as the most track-capable 5.0-liter V8 street-legal Mustang ever, Dark Horse R is a natural extension of the capabilities found in every Dark Horse.
"Mustang Dark Horse R has been developed with Mustang racing enthusiasts top of mind," said Jim Owens, Ford Mustang Marketing manager. "Ford Performance leaned into countless areas of expertise developed through years of racing the Mustang and honed in on an aggressive yet approachable package for customers to pick up and play with."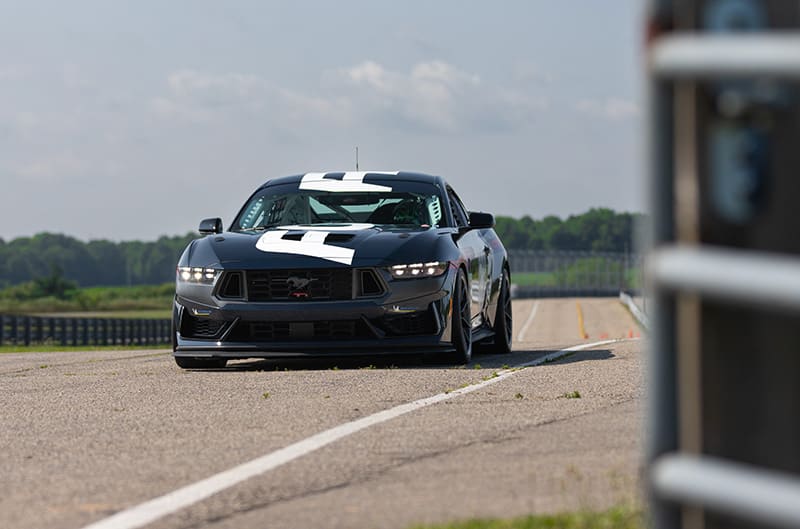 Dark Horse R is designed for track use only, but also shares several components with the road-going version. These include a Flat Rock Assembly Plant-provided body, 500+ horsepower 5.0-liter V8 engine, Tremec 3160 manual transmission, Torsen limited slip differential with 3.73 final drive ratio, aero and Brembo rear brake calipers/rotors. It's also upgraded with a wide array of track-focused equipment.
Exterior
• Front and rear tow hooks
• Reinforced jacking points
• Underbody tie down hoops
Interior
· Recaro FIA racing seat
· Sparco quick-release steering wheel
· Sparco FIA racing harness
· Sparco FIA fire suppression system
· Safecraft FIA safety nets
· Driver keypad and button controls
· MoTeC data display and logging system
· Fuel cell
Powertrain
· Upgraded oil system
· Upgraded transmission cooling
· Upgraded differential cooling
· Borla racing exhaust system
· Ford Performance oil pan
Chassis
· Roll cage
· Multimatic DSSV dampers
· Adjustable front camber plates
· Adjustable anti-roll bars
· Select seam welding
Brakes/Wheels/Tires
· Performance ABS
· Brembo race calipers – Front
· Brembo race rotors - Front
· Brembo race pads
· Race brake cooling ducts
· Ford Performance Parts R1 Flow-Formed Wheels (19" x 10.5" front, 19" x 11" rear)
· Bespoke Michelin 19" slick race tire for Mustang Challenge, sold separately
· MSI wheel studs and open lug nuts
Mustang Challenge Provides Mustang Enthusiasts A Place to Race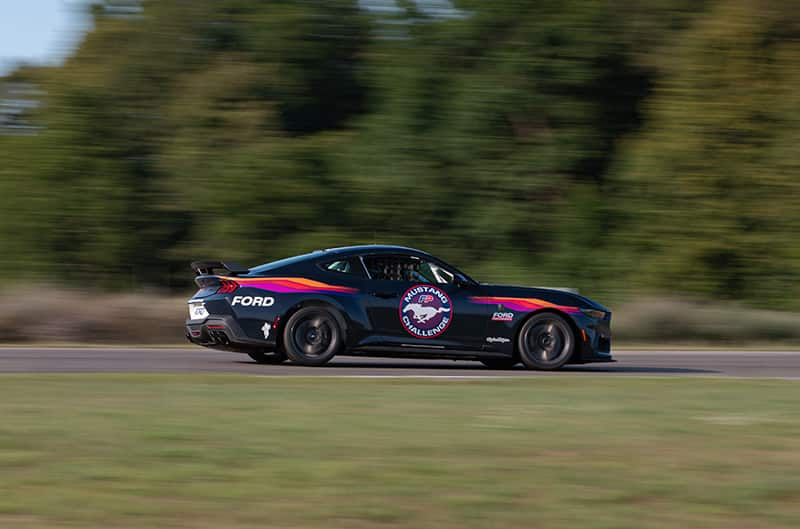 Mustang Dark Horse R was born to compete in the new, single-make Mustang Challenge series.
The Mustang Challenge series will start in 2024, running a 10 to 12-race calendar in conjunction with a mix of five to six yet-to-be-announced North American sports car race weekends. All cars will compete on racing slicks developed specifically for Mustang Challenge by our series partners at Michelin.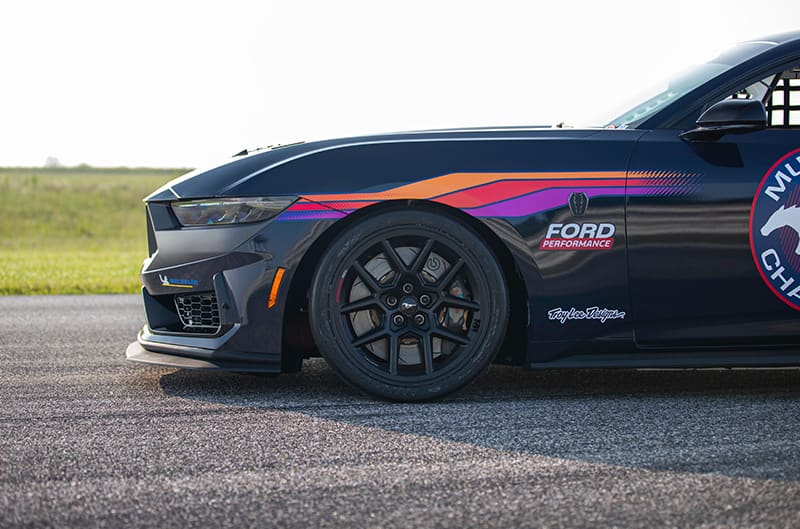 "Mustang Dark Horse R owners will have the opportunity to race and test their driving skills with other Mustang enthusiasts at some of the world's most incredible tracks," said Rushbrook.
Each round of the IMSA-sanctioned series, which will be managed by the Ford Performance Racing School, consists of two practice sessions, one qualifying session and two sprint races. To reward the most skilled drivers, there will be contingency payouts to top finishers in each race, as well as an overall series champion at the end of the season.
"The new Mustang Challenge series is a perfect addition to our IMSA family and we are grateful to our longtime partners at Ford for trusting us to be the sanctioning body for this spectacular new platform," said IMSA President John Doonan. "When I was a little boy going to the race track, I vividly remember the rumble of the Mustang race cars and their V8 power, so imagining a full field of Dark Horse Rs charging into Turn 1 for the first time on an IMSA race weekend will bring back a flood of memories and be awe inspiring."
Pricing for Mustang Dark Horse R starts at $145,000. Deliveries will begin in preparation for the start of the Mustang Challenge season in 2024.
For more information on or to order Dark Horse R, please visit (https://www.ford.com/performance/mustang-dark-horse-r/).
For more information on the Mustang Challenge, visit (https://performance.ford.com/series/mustang-challenge/news/articles/mustang-challenge-series/2023/07/dark-horse-r.html).
# # #
About Ford Motor Company
Ford Motor Company (NYSE: F) is a global company based in Dearborn, Michigan, committed to helping build a better world, where every person is free to move and pursue their dreams. The company's Ford+ plan for growth and value creation combines existing strengths, new capabilities and always-on relationships with customers to enrich experiences for customers and deepen their loyalty. Ford develops and delivers innovative, must-have Ford trucks, sport utility vehicles, commercial vans and cars and Lincoln luxury vehicles, along with connected services. The company does that through three customer-centered business segments: Ford Blue, engineering iconic gas-powered and hybrid vehicles; Ford Model e, inventing breakthrough EVs along with embedded software that defines always-on digital experiences for all customers; and Ford Pro, helping commercial customers transform and expand their businesses with vehicles and services tailored to their needs. Additionally, Ford is pursuing mobility solutions through Ford Next, and provides financial services through Ford Motor Credit Company. Ford employs about 173,000 people worldwide. More information about the company and its products and services is available at corporate.ford.com.
About Ford Performance
Ford Performance is based in Dearborn, Mich. It is responsible for Ford's performance vehicle development and major racing operations globally, including NASCAR, IMSA, SRO British GT, FIA World Rally Championship, Supercars Championship, World of Outlaws, Ultra4, SCORE-International, FIA Rally-Raid, Formula Drift, NHRA, Rebelle Rally, Thailand Super Series and our latest commitment in Formula 1 with RedBull Ford Powertrains. Ford Performance also maintains a constantly evolving fleet of electric performance demonstrators to showcase the limits of electrification technology. In addition, the organization also oversees the development of Ford's racing engines, as well as the outreach programs with all Ford Clubs and Ford enthusiasts. For more information regarding Ford racing's activities, please visit Performance.Ford.com or follow @FordPerformance on Facebook, Instagram, Threads, Twitter, TikTok and YouTube.
About the International Motor Sports Association (IMSA):
International Motor Sports Association, LLC (IMSA) was originally founded in 1969 and owns a long and rich history in sports car racing. Today, IMSA is the sanctioning body of the IMSA WeatherTech SportsCar Championship, the premier sports car racing series in North America. IMSA also sanctions the IMSA Michelin Pilot Challenge and IMSA VP Racing SportsCar Challenge, as well as four one-make series: Ferrari Challenge North America, Idemitsu Mazda MX-5 Cup presented by BFGoodrich Tires, Lamborghini Super Trofeo North America and Porsche Carrera Cup North America. IMSA – a company within the NASCAR family – is the exclusive strategic partner in North America with the Automobile Club de l'Ouest (ACO) which operates the 24 Hours of Le Mans as a part of the FIA World Endurance Championship. The partnership enables selected IMSA WeatherTech SportsCar Championship competitors to earn automatic entries into the prestigious 24 Hours of Le Mans.
About Michelin North America
Michelin, the leading mobility company, is working with tires, around tires and beyond tires to enable Motion for Life. Dedicated to enhancing its clients' mobility and sustainability, Michelin designs and distributes the most suitable tires, services and solutions for its customers' needs. Michelin provides digital services, maps and guides to help enrich trips and travels and make them unique experiences. Bringing its expertise to new markets, the company is investing in high-technology materials, 3D printing and hydrogen, to serve a wide variety of industries — from aerospace to biotech. Headquartered in Greenville, South Carolina, Michelin North America has approximately 22,500 employees and operates 34 production facilities in the United States and Canada. (michelinman.com)
About Ford Performance Racing School
Since opening in 2006, Ford Performance Racing School has provided instruction in high-performance driving to drivers of all levels. In addition to offering traditional driving instruction to all, the school is home to business and product training programs conducted for Michelin/BFGoodrich, as well as the complementary programs offered to first owners of new Ford Performance vehicles exclusively. Starting with the Boss Track Attack program in 2012, these programs expanded to include the ST Octane Academy for Fiesta ST and Focus ST owners (now complete), GT350 Track Attack for Mustang Shelby GT350 owners, RS Adrenaline Academy for owners of Focus RS (now complete), Raptor Assault for F-150 Raptor owners, GT500 Track Attack for Mustang Shelby GT500 owners and ST SUV Experience for Edge ST and Explorer ST owners. In 2020, Ford Performance Racing School now consists of regional headquarters in Concord, NC, and Tooele, Utah, with satellite venues in each region hosting the ST SUV Experience. Along with Ford and Michelin/BFGoodrich, official partners of Ford Performance Racing School include Brembo, Castrol, RECARO, Signature Wheels, Product 41, and Stoner Car Care.