GREATWORTH, U.K. – The battle for the 2017 GT FIA World Endurance Drivers' Championship has come down to the final race of the season: the Bapco 6 Hours of Bahrain, which takes place this Saturday, November 18, at the Bahrain International Circuit.
The "Battle of Bahrain" will be fought between the #67 Ford GT of Andy Priaulx (GB) and Harry Tincknell (GB), the #51 Ferrari of James Calado and Alessandro Pier Guidi, and the #91 Porsche of Fred Makowiecki and Richard Lietz. Going into Bahrain, the Ferrari drivers are on top but there are just 7.5 points between the top three protagonists.
"The result in Shanghai has set up a fantastic championship showdown in Bahrain," said WEC team principal, George Howard-Chappell. "After Fuji we thought we were out of it but the whole team did a great job in China and now we have a chance again. We will approach it like any other race, setting clear strategy and staying cool in the pit stops. We're behind on points but we will do everything we can to overhaul the Ferrari and the Porsche. Ford were kind enough to request the team to test in Bahrain between the races in the U.S. and Japan, so the knowledge we gained there should help us as we head into the weekend."

After leading the championship for much of the season, Ford Chip Ganassi Racing drivers Andy Priaulx and Harry Tincknell, lost the lead at Fuji in October. Victory in Shanghai turned it all around for the British duo who go to Bahrain with a shot at the title.
"We need to go to Bahrain and win," Tincknell said. "There are 7.5 points between us and the Ferrari drivers and you get 25 for a win, 18 for second and a point for pole. If we get pole position and the win we'll be world champions. We've been taking it one race at a time this year, whether we felt we were in with a shot at victory or not. We just need to keep the same, relaxed attitude and that's what the team will do, too. It's all in our hands now."

After coming incredibly close to the win themselves in Shanghai, the drivers of the #66 Ford GT, Olivier Pla (FRA) and Stefan Mücke (GER), are hoping to end their season on a high in Bahrain.
"It is just the same as every race for us," Pla said. "We will push to get the best possible result for the Ford GTs. Tyres will be an important factor again in Bahrain, especially as the temperature drops when it goes dark. We learnt a lot at the test though, so we are feeling confident."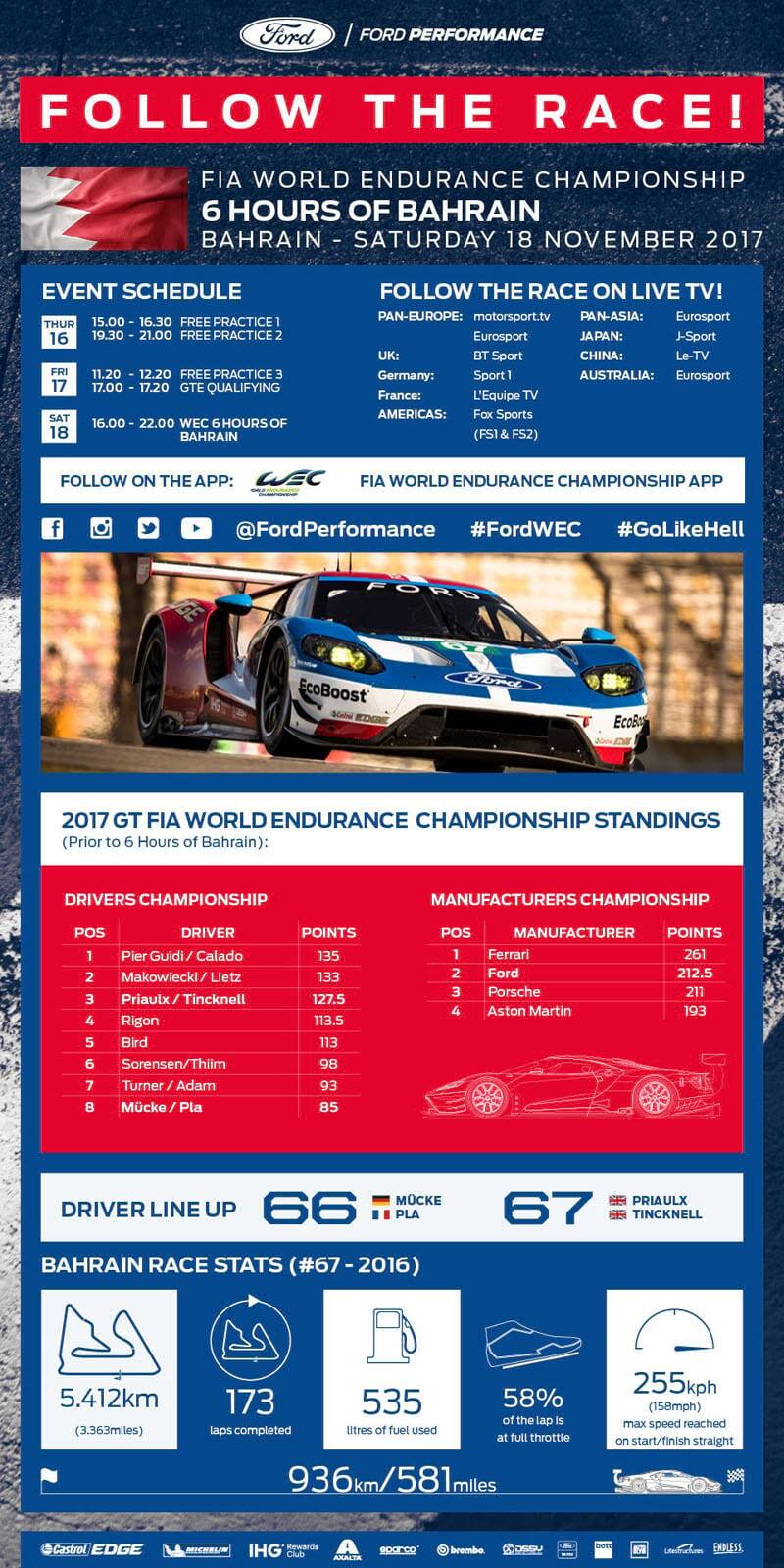 The Bapco 6 Hours of Bahrain gets underway on Saturday at 16:00 local time (14:00 CET) and runs into the night, finishing at 22:00 (20:00 CET).