Vaughn Gittin Jr. took some time out of his busy pre-season schedule to answer a few questions about his new competition vehicle heading into the Formula Drift season opener in Long Beach, California this weekend. Meet the 2016 Monster Energy Nitto Tire 2016 Ford Mustang RTR:
Q: How long did the build in its entirety take?
Gittin: It took about 9 months, including Research and Development.
Q: To give credit where it's due, who all was involved in the build?
Gittin: The build was developed, engineered and built completely in house by the RTR team. We are pumped to have the support of our close partners Nitto tire, K&N Filters, Magnaflow, Recaro, Roush Yates Racing engines, and of course Ford Performance.
Q: Where did the build take place?
Gittin: It took place in our race shop in Charlotte, N.C.
Q: Were there any challenges during this project?
Gittin: There were a lot of challenges for sure. Getting the ideal steering angle for drifting required us to develop custom billet lower control arms and custom spindles. Developing the new IRS suspension that is featured on the new Mustang globally within the FD rule book for optimal performance was a huge challenge that we faced as well. Fortunately our team is full of some really smart guys and they made it happen!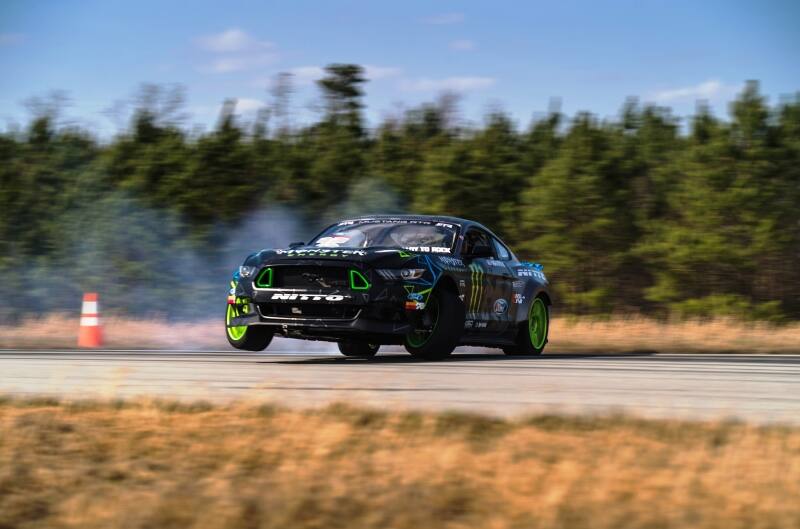 Q: Did anything take less time than expected?
Gittin: Making an extra 100HP by switching to VP Racing C85 Fuel took a bit less time than expected!
Q: What feature are you most proud of on the '16 comp car?
Gittin: I have a few. I am really pumped on the amount of steering angle we ended up with. I like that it pulls one wheel off the ground when it is on our "go fast" setup and I also LOVE the way it looks.
Q: What feature was the most difficult to install?
Gittin: Getting the Rear Suspension to work exactly like we wanted it to within the Formula Drift rule book was challenging, but we prevailed!
Q: What role did Ford Performance play in the build?
Gittin: Ford Performance was a huge help in getting us a jump start on the project via CAD support. We were able to design and plan a lot of our direction in CAD thanks to the access we were given.
Q: Is there any new technology on this vehicle/used in the build?
Gittin: Technology wise we were able to get our car down to 2800 LBS using modern light weighting technologies including plenty of Carbon fiber and light weight but strong alloys similar to what Ford is doing in production cars! We also use in-dash adjustable shocks which is very convenient for quick adjustments to get optimal setup.
Q: Anything else cool/unique about the build Ford fans might be interested in knowing?
Gittin: This car is essentially a 9 second Drag car that can turn left and right on a dime. Drifting is very different than meets the eye with regard to the amount of grip that is required for drifting at this level. These cars require 100% commitment to drive.
Check out our gallery for a full behind-the-scenes look at the build.