When it comes to getting the latest "inside skinny" on the Ford enthusiast world, it pays to check out our Fast News e-newsletter each week. But now it can really pay off big! That's because as a Fast News from Ford Performance reader, you can use the special link below to receive 30% MORE entries in this year's Juvenile Diabetes Research Foundation (JDRF) fundraising sweepstakes to win a new Ford F-150 Lightning pickup. JDRF is excited to host the 2022 Ford® Lightning™ LARIAT sweepstakes. America's best-selling truck has now gone electric! This new vehicle features an extended-range battery and dual electric motors that can reach an estimated range of 320 miles and contains 563 horsepower. Only JDRF can offer the chance to win one of Ford's first electric trucks! Starting at only $10, your donation not only gives you an opportunity to win this vehicle, but also helps JDRF in their mission to improve lives today and tomorrow by accelerating life-changing breakthroughs to cure, prevent and treat T1D and its complications. This incredible 20-plus year partnership with Ford has resulted in over $72 million to fund JDRF research!

Use our QR code or the special link below to qualify for 30 percent more entries in the sweepstakes!
But don't delay -- the sweepstakes drawing for the winner is on December 12, 2022. To enter for a chance to win a 2022 Ford® Lightning™ Lariat, please use this special link: https://www.tapkat.org/jdrf/xk0Lpk?promo=FAST
Questions? Contact Gael Sandoval, gsandoval@jdrf.org For more info on the sweepstakes, here's the official Press Release:
JDRF Launches 2022 Fundraising Sweepstakes to Win a 2022 F-150® Lightning™ LARIAT
New York, NY, and Dearborn, MI -- JDRF, the leading global Type 1 diabetes (T1D) research and advocacy organization, announces the launch of the 2022 vehicle sweepstakes for JDRF. This year one lucky winner will win Ford's highly anticipated new electric F-150® Lightning™.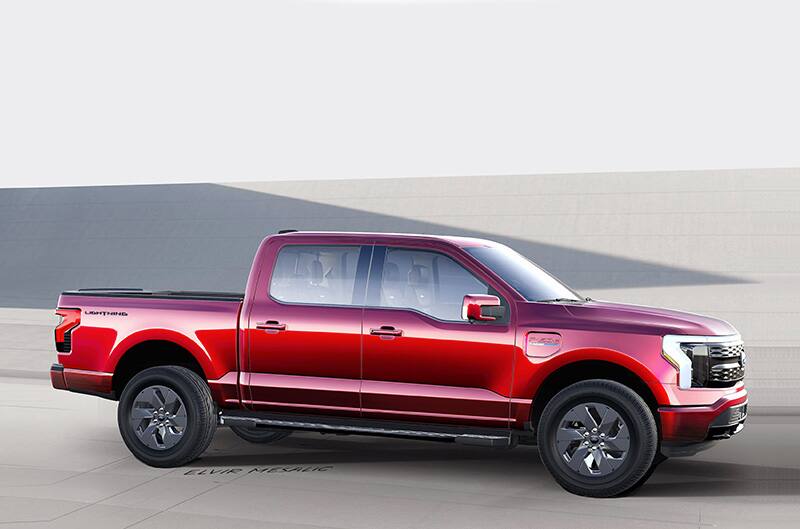 "Building on the excitement around F-150 Lightning is an excellent way to help JDRF fund research and help find a cure for type 1 diabetes," said Linda Zhang, F-150 Lightning chief program engineer. "One lucky individual will win an F-150 Lightning, but being involved in helping to raise funds and awareness for JDRF is a big win for everyone."
Launched on April 26, 2022, the F-150® Lightning™ is the smartest, most innovative F-150 Ford has ever built, with the freedom of a 10-kilowatt smart power plant on wheels and software updates that will make it even better over time.
"For more than 25 years, the Ford Motor Company's generosity has helped raise awareness of Type 1 diabetes and support the funding of transformative research," said Katie Doyle, JDRF Assistant Vice President of Corporate Development. "JDRF is proud of this longstanding partnership and thankful for the continued support."
As they have in past sweepstakes, Ford Motor Company has donated the grand prize vehicle to JDRF.
Eligible donations start at $10, with all proceeds going to support the JDRF mission to improve lives today and tomorrow by accelerating life-changing breakthroughs to cure, prevent and treat T1D and its complications. The annual fundraiser, which has raised nearly $2,000,000 to date, will conclude following National Diabetes Awareness Month with an entry close date of December 12, 2022, and a drawing on December 20, 2022, from Ford World Headquarters in Dearborn, Michigan.
To make a donation and view the sweepstakes please visit, winfordlightning.com.
The prized 2022 Ford F-150® Lightning™ Lariat will feature:
Extended Range Battery with an EPA estimated range of 320 miles

Dual Electric Motors: 580 horsepower and 775 lb.-ft. of torque

Mega Power Frunk: 400-liter lockable, drainable front trunk

Leather-trimmed heated and ventilated front seats

Heated rear seats

Power Tailgate with Unique Rear Signature Lighting

SYNC® 4A with 15.5-inch touchscreen

Geometric Gray-Ion satin grille

20-inch Dark Carbonized Gray wheels

Pro Power OnBoard - 9.6 kW with 11 outlets available

Ford Charge Station Pro Included – 80-amp power delivery

Twin Panel Moon Roof
About JDRF
JDRF's mission is to accelerate life-changing breakthroughs to cure, prevent and treat T1D and its complications. To accomplish this, JDRF has invested more than $2.5 billion in research funding since our inception. We are an organization built on a grassroots model of people connecting in their local communities, collaborating regionally for efficiency and broader fundraising impact, and uniting on a national stage to pool resources, passion, and energy. We collaborate with academic institutions, policymakers, and corporate and industry partners to develop and deliver a pipeline of innovative therapies to people living with T1D. Our staff and volunteers throughout the United States and our five international affiliates are dedicated to advocacy, community engagement and our vision of a world without T1D. For more information, please visit jdrf.org or follow us on Twitter (@JDRF), Facebook (@myjdrf), and Instagram (@jdrfhq).
About Type 1 Diabetes
T1D is an autoimmune disease in which a person's pancreas stops producing insulin, a hormone that enables people to get energy from food. It occurs when the body's immune system attacks and destroys the insulin-producing cells in the pancreas, called beta cells. While its causes are not yet entirely understood, scientists believe that both genetic factors and environmental triggers are involved. Its onset has nothing to do with diet or lifestyle. There is nothing you can do to prevent T1D, and -- at present -- nothing you can do to get rid of it.
After Turkey and Football, Head for the Ohio Ford Expo and Super Swap Nov. 26-27 in Columbus
The Ohio Ford Expo and Super Swap – one of the largest all-Ford events in the country – is returning to Columbus for Thanksgiving weekend 2022. Buy or sell vehicles, new parts, used parts, NOS, collectibles, memorabilia, literature, services and so much more, Vendor spaces are almost gone so act now! Not selling? No worries -- make plans to come out to shop or just visit with old friends. Swap Meet spaces are only $80 each, or $100 day of show. Car Corral spaces are only $40 per vehicle, or $50 day of show. Show hours are Saturday, November 26 from 9 a.m. - 4 p.m., and Sunday, November 27 from 9 a.m. - 2 p.m. General admission is $10, with 12-and-under FREE. Need directions? The event is held at the Ohio Expo Center & State Fair, 717 E. 17th Ave., Columbus, OH 43211. Take I-71 to exit #111. Event will be held indoors in the Voinovich and O'Neill and Denny Hales buildings. Start your holiday shopping off right -- don't miss it!
Here's Why You Need to Register your Club or Ford Fan Facebook Group with Ford Performance Club Connect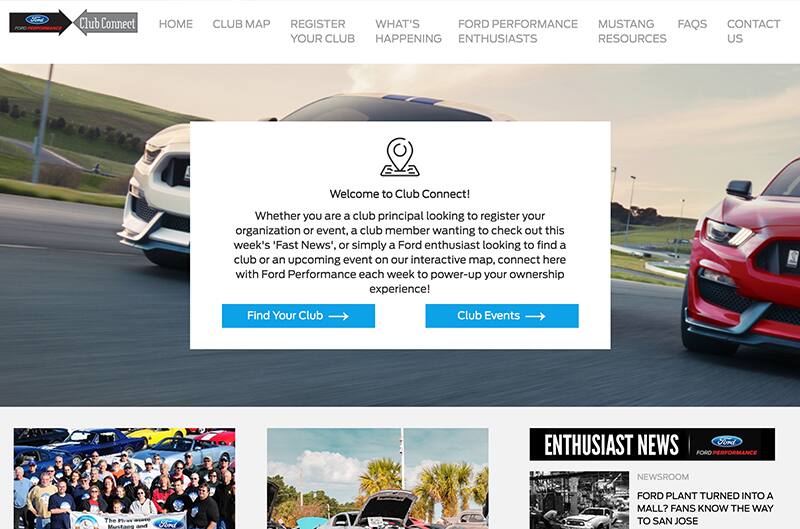 By now you should have heard about a Ford Performance initiative called "Club Connect" that can help all Ford and Mustang enthusiasts get connected with both Ford Motor Company and each other. Only those clubs who register with the program are eligible for no-cost promotion and support from Ford Performance, so you owe it to members of your Mustang or Ford vehicle club or online forum to register and appear on our Ford enthusiast club map. All it takes is a visit to www.FordPerformanceClubConnect.com and a single click on the "Register Your Club" link. Once you fill out the form and hit "Submit," you'll be notified within just a few days of your acceptance in Ford Performance Club Connect -- it's that simple, and it's FREE!
The primary goal of our Ford Performance Club Connect program is to get everyone to register their club – at no cost – and get themselves on our Ford enthusiast group map so that we can all connect with each other. Once there, you'll be able to see all of the other clubs and groups who have registered in your region – not just Mustang clubs, but ALL Ford vehicle organizations. And now we'd like to invite all of you who are part of any Ford vehicle Facebook Group to register with Club Connect, too. Why? Because connecting your Facebook Group with more owners and fans makes your group more worthwhile – and registering with Club Connect will link your online group with participants who may never have known that your group exists.

The value in all of this is that whenever you plan a club or group activity, you can see what other clubs and groups are in your area that you may wish to contact and ask to join you at a show or event. It also allows Ford Performance to see all the clubs and groups in a certain area, so that when we are coming to town or planning a special Ford event in your city or state, you and your club members can be contacted to participate.

It takes only a few minutes for a club principal or board member to register your club and establish a direct link for your members to Ford Performance. And now, you can also register your group and logo with Ford Brand Licensing all in the same process. Have a product or parts question that you want answered? Wish you could get some free club event promotion in our weekly "Fast News" e-blast that goes out to some quarter-million Ford fans each Thursday? Looking for event coverage for your show in the Enthusiasts section of FordPerformance.com? Hoping you could find a cool Ford goodie-bag or door-prize item, or a banquet guest speaker? Individual requests are reviewed on a case-by-case basis, but they can ONLY be awarded to clubs who are registered.

So go to www.FordPerformanceClubConnect.com right now and click on the "Find Your Club" link to see if you are on the map. If not, then register your Ford-based club or Facebook Group today so that you can join this special program -- all backed and supported by a real enthusiasts at Ford Performance. If you have questions or want more info, you and your members can always email us at ClubHub@Ford.com, or can simply call our Ford Performance Info Center, toll-free during regular business hours, at 1-800-FORD-788 (800-367-3788).

So what are you waiting for? Get online and make sure you're connected. Then plan to enjoy your performance Ford later this year so that you can discover the fun and all of the friendly people involved in the world of Ford Performance. We're sure that being connected with each other and with Ford will make your ownership experience even more enjoyable!
Would You Like to Be Noticed on Ford Performance.com? It's Easy to Get You and Your Car(s) Featured in Our 'Ford Fan Spotlight'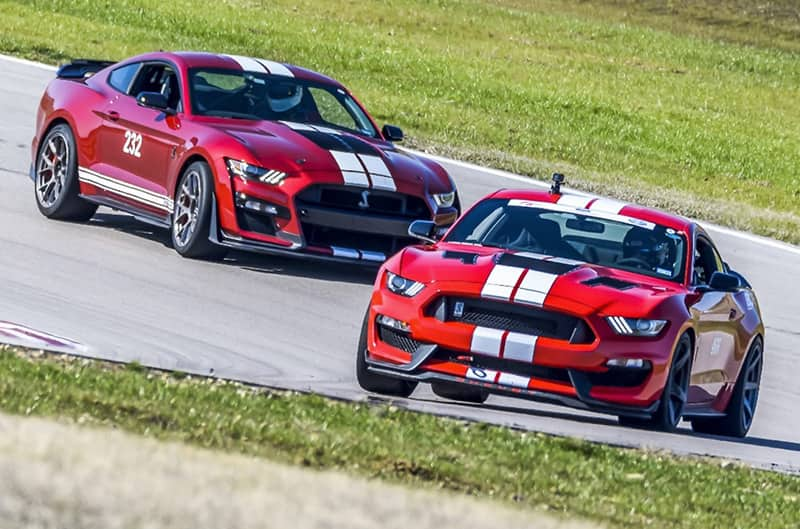 For the past decade, one of the most popular features on FordPerformance.com and in our Fast News e-newsletter continues to be "Ford Fan Spotlight," where readers can send in their own reasons why they're fans of Ford Motor Company. You know who they are: Ford "superfans;" grassroots Ford racers; unique Ford vehicle owners; loyal Ford enthusiasts; notable Ford club people; special Ford families; and/or any avid supporter of Ford, Ford vehicles, Ford motorsports or Ford Performance who deserves a little bit of special recognition.

All you need to do to get you, your car or candidate considered is to send in a brief description (200-500 words or less) and a few photos (in .jpeg format, preferably 1 mb) of a person (full name and hometown, please) and vehicle that you think Ford Performance should feature (and why) in the "Ford Fan Spotlight" for an upcoming installment of Fast News and posting on FordPerformance.com. Then email it to: ClubHub@Ford.com. (Your submission grants us your permission for us to use your copy and photos on our website and other Ford media outlets, edited as necessary.) We'll choose one submission to be featured online every three weeks. We hope to see YOU and your collectible Ford in our Fan Spotlight soon!
Miss 'Fast News' in Your Email Inbox? Now You Can Read Our Enthusiasts News Each Week on FordPerformanceClubConnect.com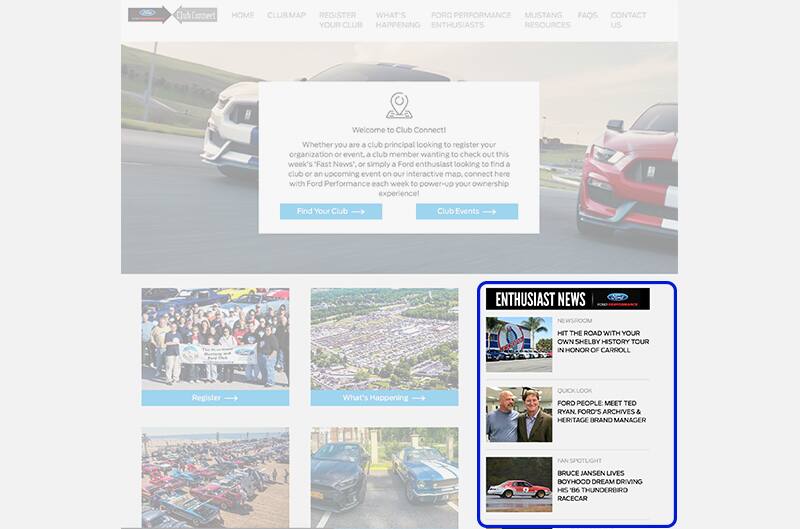 One race – one win – was all it took for Henry Ford to generate enough buzz and belief in his engineering among investors to secure funding and launch the Ford Motor Company 119 years ago. At Ford Performance, we have never forgotten where it all began. So we've been honoring our heritage, our products and our relentless competitive spirit by shining a light on motorsports and the Ford enthusiast world each week with our Fast News e-newsletter.
From news on our hottest cars and trucks or performance parts to the latest scoop on all the must-see Ford enthusiast events and shows, our weekly Fast News email has been your ticket to stay connected to the company that put the world on wheels. But trying to keep up with emails has left some of you in the dust. So that's why Ford Performance is now posting our weekly Enthusiast News directly on www.FordPerformanceClubConnect.com -- so you can check it out the next time you're online -- without sorting through your email inbox. So put our FordPerformanceClubConnect.com website on your Favorites list, and then hop-in, buckle-up and hang-on each and every week for our Enthusiast News, because like you and all of us in the Ford enthusiast world, we'll be driving Ford passion!