JONESBORO, IN – In today's collector car world, Ford fans can find many fine 1965 Mustang Fastbacks on the show circuit. All of them come with their own special story. Some of those stories recount the dedication of an original owner or a family, but most chronicle the arduous process of a full restoration, both of a car and perhaps even a memory. While all of these stories are a testament to the Mustang brand, none of them are quite like the story behind Bradley Belcher's beautifully re-crafted 1965 Mustang Fastback.
That's because Bradley's isn't the typical story of a baby-boomer who finds a first-generation Mustang that he loves and restores it to recapture the memories of his youth. In fact, Bradley isn't a baby boomer at all – he's an 18-year old Millennial who, thanks to his memories of riding in his father's Mustang as a child, has carried forward his family's fondness for Ford's pony car.
For him, it all started with a Mustang pedal car, as well as many, many rides in his dad's red 1969 Mustang convertible. His father, Michael Belcher, loved his Mustang ragtop and drove it everywhere. More often than not, he would take son Bradley along with him to local car shows and cruises. Bradley recalled that one of his earliest memories was riding in his father's '69 Mustang convertible to a car show, where his dad bought him a funnel cake as a treat. Except that a bee happened to like the funnel cake as well, and Bradley got stung. Father Michael decided to get Bradley back to the car and hustle him home to treat the bee sting.
"What I remember most is that we got to go home really fast that day," Bradley told us, noting that he paid more attention to the Mustang's power than he did the pain from the sting. "I practically grew up in dad's '69, and a Mustang is what I wanted to drive when I grew up."
Even as a boy, cars were in Bradley's blood. He loved going with his dad to the annual James Dean Festival in Fairmount, Indiana, which includes an event called The James Dean Run. It's held at Playacres Park in Fairmount, where thousands of vehicles of all makes and models are on display for perusing and judging each year. There is also a huge car show called the Duck Tail Run in nearby Gas City; between the two, it makes for a perfect Belcher family cruise day.
By the time Bradley turned 13, he asked his dad, "What is MY Mustang going to be?" After they talked about it, Michael made a deal with his son: Michael would buy him the Mustang of his choice, and they would restore it together. The only caveat was that Bradley would have to pay for half of it out of his own money, and he would have to do as much as the work on the car as possible. Bradley agreed.
They stared flipping through magazines looking at pictures to help Bradley decide on what Mustang to buy. There would be no Shelby, as they were too expensive and hard to find – but anything else was on the table. Bradley had always loved the look of the '65 Mustang Fastback, so that would be his choice.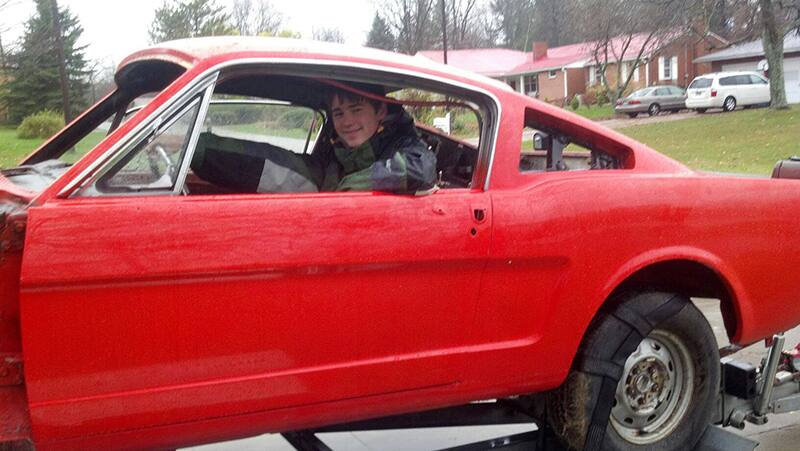 After searching local ads and car corrals at shows to no avail, they attended a local auction where they came across a decent '65 Fastback "roller" project car. "It was barely more than a shell," Bradley recalled, "but I got my first car at age 13 and I couldn't have been more excited about it."
Some decisions had to be made early on, such as the powertrain choices. "Even back then I knew you can never have too much power," Bradley joked, "but my dad decided there would be no big-block. So it was going to be a 289. When I asked him if I should have an automatic transmission, he suggested a four-speed manual. I told him I didn't yet know how to drive a stick, but he said it needs to be the four speed, which turned out to be the right choice."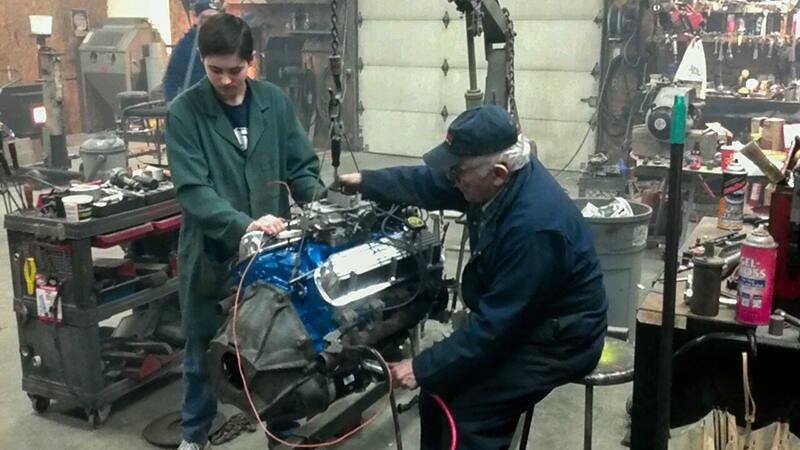 After a barn search they were soon able to come up with a "65 correct" engine and trans, and the restoration process had officially begun shortly after Bradley turned 14. Dad Michael had a local car friend, Jack Ball, who knew and drove Fords, even though he worked at a GM factory. Jack agreed that the Belchers could use his shop for the teardown and engine build to get the project started. Bradley was loaned a pair of overalls, and the dirty work began in earnest -- taking off rusted parts, cleaning, sandblasting and reassembly.
"The engine rebuild was the first major part of the restoration," Bradley said, "with Jack teaching and guiding me every step of the way. He was a skilled mechanic. We worked for hours together, and he became sort of a 'grandpa' figure for me."
Next came time for the bodywork. Michael knew of a local guy, Mike Holderman, who was a retired GM employee that worked out of his garage in La Fontaine, Indiana. Mike agreed to help Bradley learn bodywork, so they took the car down to bare metal.
"The process was difficult for me," Bradley admitted, "not only the metal work, but after all the bodywork was done there were days and days of all that block-sanding it." The fastback spent nearly two years in that shop before the Belchers were finally able to get the car in primer and install a new suspension and brakes.
It was then when Belchers decided to send the car to the D&D Classic restoration shop in Covington, Ohio, to paint the finish coat on the car. Bradley had googled photos of Mustang fastbacks and saw a black 1965 Mustang GT Fastback with red stripes, and was smitten with it. He loved the color combination for both the interior and exterior. So black it was going to be.
"But I learned there are all kinds of black," Bradley said. "I told them that I wanted the black to be so deep that it looked like you could stick your hand right into the paint." After the car was painted, it was shipped back to Jack's garage, this time to install the engine and the drivetrain. It was all hands on deck.
"Dad had to help us get the motor installed, and he practically had to 'ride it in' to get it to fit," Bradley chuckled. Another friend, Mike Reed, was called in to finish all of the mechanical and detail work, plus do the electrical work on the car, with Bradley as his understudy.
When the car was ready to get the interior done, the Belchers scheduled it for a trip to Marquart's Custom Creations of Fort Wayne, Indiana. They consulted all kinds of Mustang people, and while they kept an open mind on what direction to go, a natural choice was to do a classic "Pony Interior" with the embossed running ponies in the seatbacks. Bradley liked that but wanted it to stand out even more, so they decided on custom embroidering (which is what Bradley's grandmother did) of red, white and gray ponies into the seatbacks and door panels.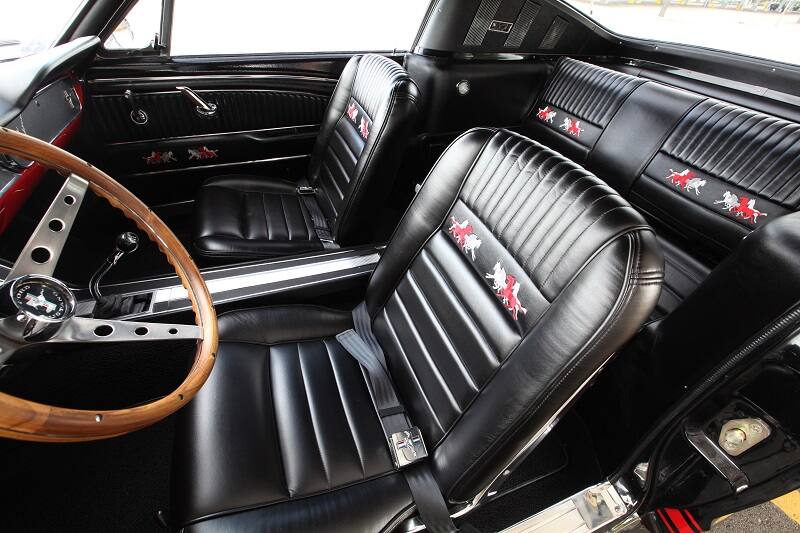 "I wanted to use ultra-leather throughout the interior, but hoped to keep the look mostly original," Bradley explained. "After doing the seats and door panels, we got the idea to cover the console and all of the other interior panels in the ultra-leather material, but that became a challenge because the additional thickness kept them from fitting properly. I think the extra effort was worth it."
Finally, the car was sent back to Mike Reed to finish up all the things that were still needed to get the car road-ready. When he was done, it was Bradley who was given the honor to be the one to get into the car, turn the key and start it for the first time.
"It was an incredible feeling to hear that engine fire up after all of this time," Bradley said. But that turned out to be only the beginning.
"There was a lot of sorting out to do after we first got it running. We still had more work to do with all of the troubleshooting problems, adjustments and fine-tuning, and even some big changes."
After driving it a bit, they decided to change the steering system over to a rack-and-pinion unit. The Belchers called upon Mark McCoart to oversee the new steering installation, which took a bit of time as well. All in all, it took about a year before the Belchers were ready to take Bradley's fully re-done 1965 Mustang Fastback to its first car show. Bradley was just 17 years old at the time.
"I remember it like it was yesterday," Bradley said. "My Mustang made its public debut at a little car show in Wabash, Indiana." Thanks some mentoring and ongoing advice from Mike Pretorius, Bradley's Mustang was one of just seven or eight cars that were featured in the building at the show. "I loved seeing the reaction of people who were amazed to hear that it was mine, and not my dad's car," he admitted. "and that I actually did a lot of the work on it."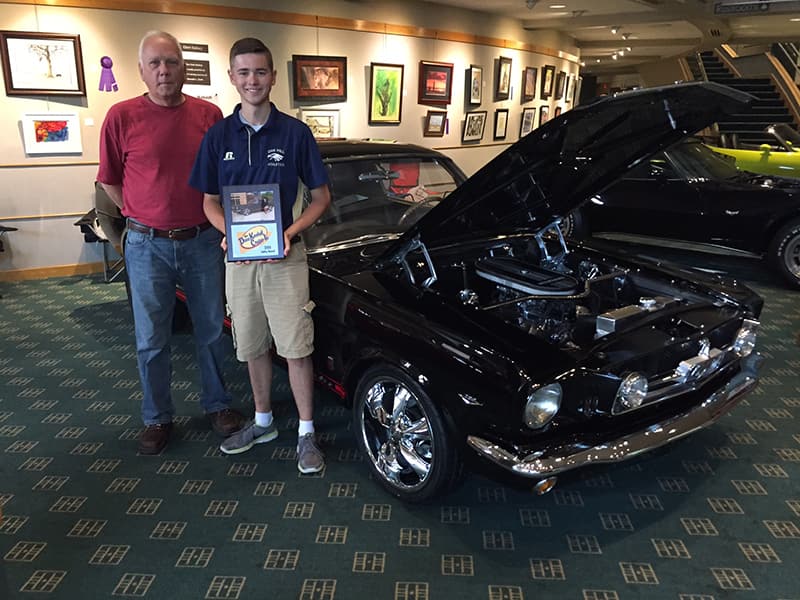 Most people were so stunned to find out that this beautifully crafted 1965 Mustang Fastback was really Bradley's, that they kept testing him with questions about the restoration to make sure that he knew he was talking about. Michael couldn't have been more proud of how Bradley handled all of the attention. From there they did a few more small, club shows before deciding to take it to a Mustang Club of America (MCA) Nationals show this past summer in Buffalo, NY.
In preparation to bring the Fastback to the MCA's "Mustangs On The Niagara" show in July, the Belchers cleaned and detailed their black beauty for hours. As you might expect from the photos you see here, Bradley Belcher's amazing 1965 Mustang Fastback was an instant star of the show, and caught the eyes of MCA Judges and Ford Performance as well.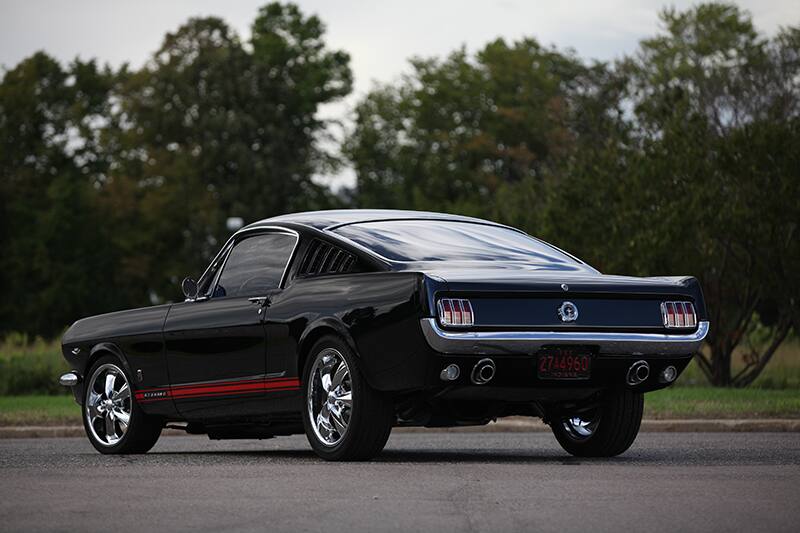 Perhaps more important than taking home an MCA Nationals trophy or even being recognized by Ford Performance as the "Most Significant Mustang" at the show, is the fact that this spectacular first-generation Mustang is the brainchild of a young enthusiast whose generation faces the possibility of giving up driving with the advent of autonomous cars. But this is one millennial who has been on a Mustang mission. And it can be traced back to his family.
"I've been asked a few times already if I'd like to sell it," Bradley said, smiling. "But that will never happen. I can tell you now that I will never sell this car. I spent years building this with my father, and it is now part of our family, just like dad's 1969 Mustang. Besides, I can't really put a value on it. I mean, what price can be put on memories? No, this Mustang will be something that I want to have passed down through the Belcher family for generations. I know I will always enjoy this car, and hope someday to save it for my own kids, and maybe grandkids."
Bradley also said that beyond the bond this car has created in his own family, he now realizes he is also part of the Mustang owner family, which makes him really him happy that he picked a Mustang. Yes, growing up with his dad's Mustang had a lot to do with it, as well as having a 1996 T-Bird as a daily driver in high school.
"When I graduated from Oak Hill High School, I had an open house where I brought my Mustang out to show to my friends," Bradley said. "They all thought it was cool. Some of my high school friends followed the restoration process of the '65 Fastback with interest, and I think watching me work on the car got some of them interested in cars, too!"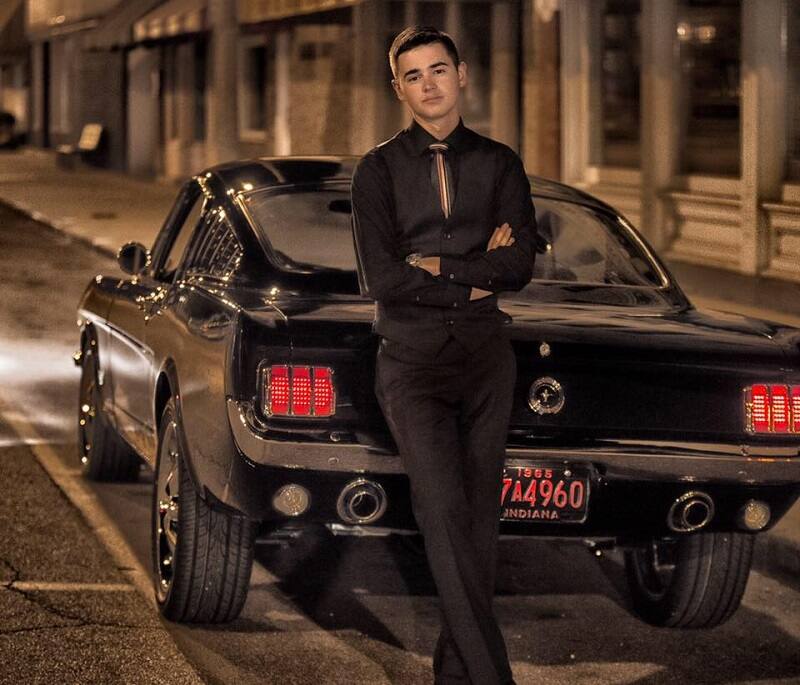 For Bradley himself, it wasn't only cool to learn the mechanics of a car and how things work, but as he said, "It's also cool that I got to learn some of the skills I needed to do part of the restoration myself. It gives you a far greater appreciation of the work involved."
Those are indeed words of wisdom from a very young man.
The Belchers also have an F-150 and a Lincoln so there's no doubt they are a Ford family. There is also no doubt some of that "Mustang magic" Michael Belcher has experienced has successfully rubbed off on his son, Bradley. And that's a good thing.
Bradley is now attending Indiana Wesleyan University where he is studying to be an athletic trainer. No matter what his future holds, he said the opportunity to learn about cars and to bond with his dad at the same time is one he'll always treasure.
And you can bet he'll also always treasure his beautiful black 1965 Mustang GT Fastback restomod. We're sure Bradley Belcher is one millennial whose own Mustang magic will last a lifetime.
FORD PEFORMANCE PHOTOS / COURTESY ISSAC IRELAND & THE BELCHER FAMILY