CHARLOTTE, NC – With the 2016 car show season now in full swing, Team Mustang Girls got word from our friends at Ford Performance that they'd like us to head over to the Charlotte Motor Speedway to check out the annual Spring Auto Fair. The 2016 show dates were April 7-8-9-10, and since we wanted to get a head start on providing show coverage for Saturday, we got on the road Friday afternoon and managed to make it to the gate right before things were beginning to close down for the day. First thing that caught my eye? The giant Ford Performance display rig set up in the parking lot.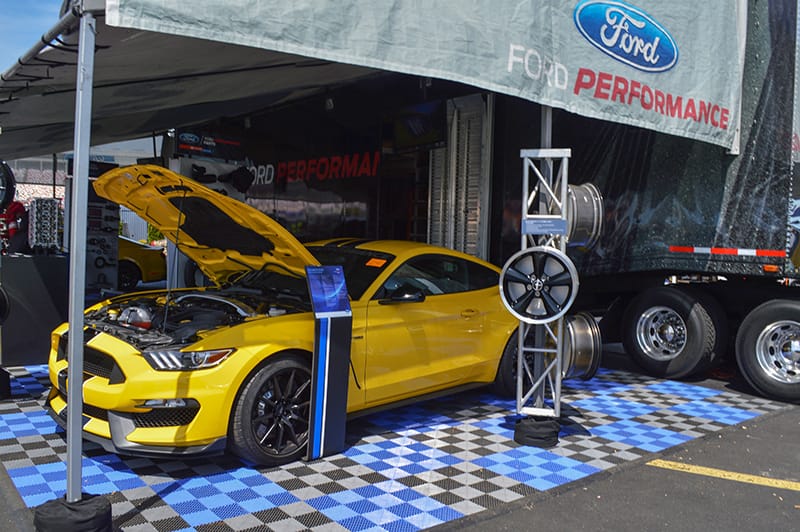 Every year for more than 35 years, the Hornets Nest Region of the Antique Automobile Club of America (AACA) produces the much-celebrated Charlotte AutoFair events in April and September on the speedway grounds. These events are best known for their collector-car flea markets, where vendors of all sorts buy and sell restoration parts and supplies for almost any vehicle ever produced. Plus, there's a huge car corral set up on the track oval where buyers and sellers from all across the country put collector vehicles of all descriptions up for sale or trade. Some 150,000 enthusiasts attend the Charlotte Auto Fair each spring, so we were excited to get the chance to be part of the action on behalf of Ford.
I had just enough time to head over to the swap meet to see what was going on. Before becoming Mustang Monthly's "Project Road Warrior," this swap meet was where I found most of the parts that I needed for my car. Vendors have for sale here everything you can imagine – from that obscure car part you just can't find online, to amazing custom pieces of art that someone dreamed up in their garage. As I walked around to scope out the area I managed to find some friends, "The Graveyard Rodderz" from Charleston, SC. They have made this show an annual trip, and do it up right by camping on-site. Did I mention they also like beer?
With more than 50 car clubs holding a cruise-in and having their cars on display at Auto Fair, I wound up making plans with one of them for the next morning, so I made it an early night. I was meeting up with "The Retarded Sparks" early on Saturday at Classic Speed and Custom to cruise to the show – and for some reason, they think 6:30 a.m. is a fun and reasonable hour to be up and functioning! The cruise to the show with the sun rising on the horizon made the oh-so-early meet time all well worth it. We parked the cars and began to take in the show. Mother Nature added a little twist to the day with 50-degree weather and 30-40 mile-per-hour gusts of wind. It sure made your heart go out to all the vendors, as you saw them trying to keep tents and displays from becoming flying objects.
We started our main show day with some breakfast, and who happened to be in front of us in line at the food vendor? A goat! Well, a goat on a leash at least, but seriously there it was – just standing there in line at the show. When I see the little dogs people roll around in baby strollers at shows it always make me laugh, but this one was new for me. As I approached the goat to get a picture I soon became "Willy the Goat's" new best buddy. He hopped right into my lap and was not camera shy at all (although I think he may have actually wanted to my camera)!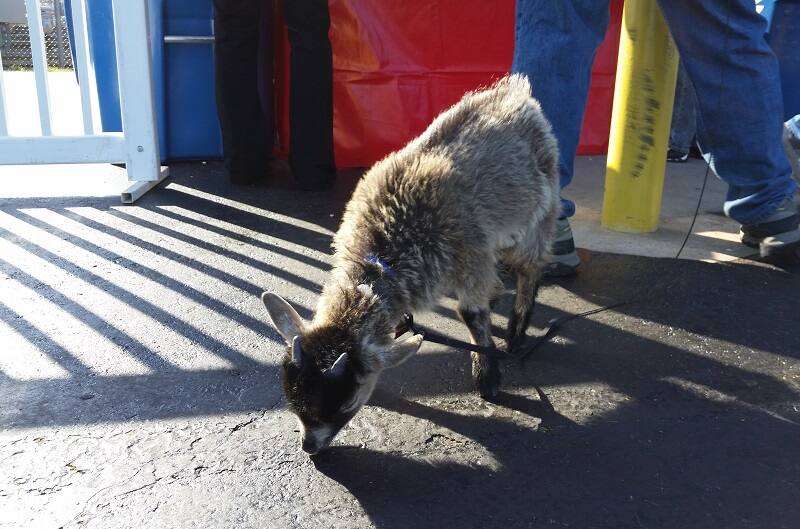 After we ate I decided to walk around the vendor area a bit more before heading over to see all the cars. A map of the United States made out of license plates caught my eye, and became my first purchase of the day. The detail and craftsmanship in the piece was remarkable. (Once I got it home, I actually decided to wait until after this summer is over to find the proper place to hang the piece.) After this year's trips with Rally North America, I will have driven my Mustang in every state in the U.S. except Hawaii – which actually wasn't on my license plate map, so it works for me! And so what are the Team Mustang Girls goals for 2017? Why, driving in Hawaii, of course!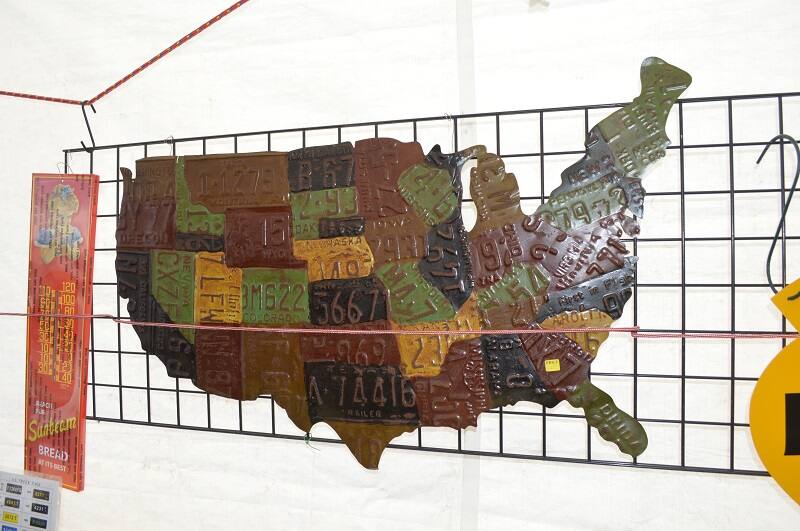 I headed out onto the speedway to get a look at the some of the cars, and had to stop again when I crossed paths with a Ruby Red 2016 Shelby Super Snake. For just $10 you could buy a chance to win the supercharged 750-horse Mustang while helping out the Knights of Columbus. As I was taking a picture of the Shelby, a lady approached me and told me it was actually $10 to take a picture and I'd get a chance to win the car for free. I fell for her sales pitch and paid the $10 for a raffle ticket, so my fingers are crossed!
The folks from Manheim auto auctions were setting up their Classic Car Auction for an 11:00 a.m. start, where over 150 vehicles were up for bids from both public sellers and dealers. , starting at 11:00 AM Saturday morning. But we were focused on finding all the cool Fords on this day, and besides, just walking down every isle provided something different and interesting to see. Here you could find a brand new car with just a few miles on for sale, or a well-worn one that looked like it had just come out of a barn after 50 years. As someone who is easily distracted by anything (with the attention span of a squirrel), this is my favorite type of show: The moment you think you are starting to get bored, a shiny new thing pops into your line of sight and the journey down the rabbit hole begins all over again.
There is so much to see and do here that it's almost overwhelming. The National AACA Southeastern Spring Meet Car Show is also held in Charlotte each April, hosted by the sponsoring Hornets Nest Region of the AACA. Pre-registered, original or restored-to-original vehicles only are allowed in an AACA Meet, and the show-within-a-show draws big crowds. But after walking the speedway all afternoon, I felt that my face was sufficiently wind-burned enough and I decided to call it a day, and return the next morning.
The weather forecast for Sunday gave us all some hope, and luckily it turned out to be right. Although the temperature had dipped down to 29 degrees the night before, when I showed up at the Speedway the sun was out and the wind was gone and the 55-degree reading felt like heaven! We managed to park our car up on Turn One of the Speedway for the final day. I've been to several shows at the Charlotte Motor Speedway, and I have to say it's one of my favorite spots to attend a car event. They let people enjoy themselves as long as they keep it cool, so we were able to drive right around the speedway like it was a Target parking lot until we found a spot we liked. As we cruised down the track, it really does humble you as you see the steep banking in the curves. I actually attended the track event at the Mustang 50th Birthday celebration at Charlotte, and was able to drive up into Turn Three, and I will be the first to say that it wasn't easy but every time I see it, it makes my heart skip a beat and my right foot twitch just a little.
We parked our cars and I was off to find more Fords to entertain all of you while you're visiting FordPerformance.com. Lucky for you I somehow stumbled into a building that I swear I thought I had already checked out. But boy was I surprised. Inside was an NHRA Funny Car 50th Anniversary tribute. On display were Conrad "Connie" Kalitta's "Bounty Hunter" car and the nitro-injected 427-cubic-inch racer first driven by Dick Brannon and later by Hubert "Georgia Shaker" Platt. Behind the display of historic Funny Cars were a dozen or so antique fire trucks. The group included a 1967 Ford Bronco "Grasshopper" that was originally designed to travel off-road and stop grass fires. Very cool!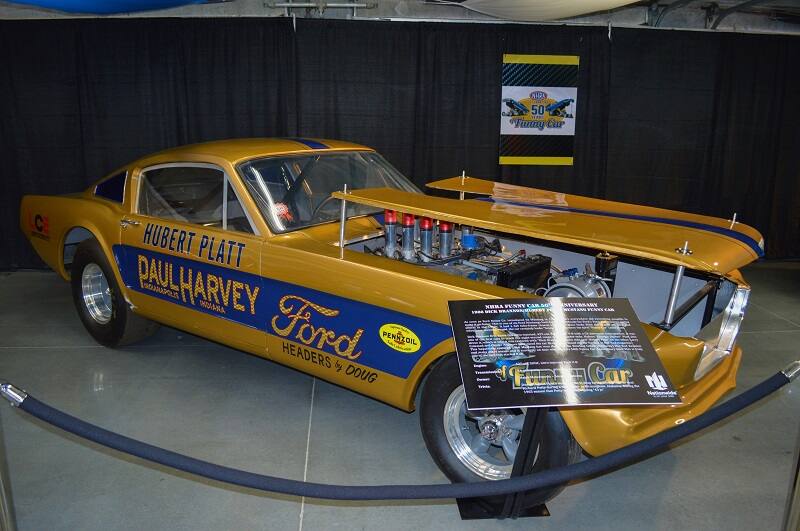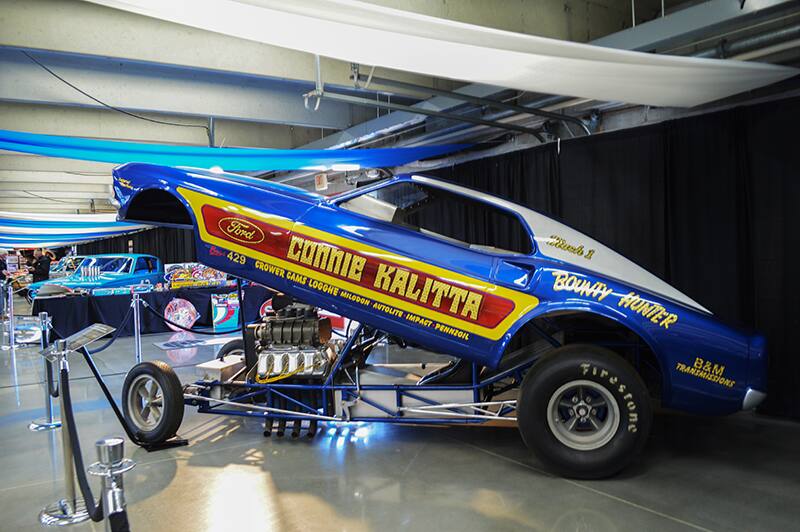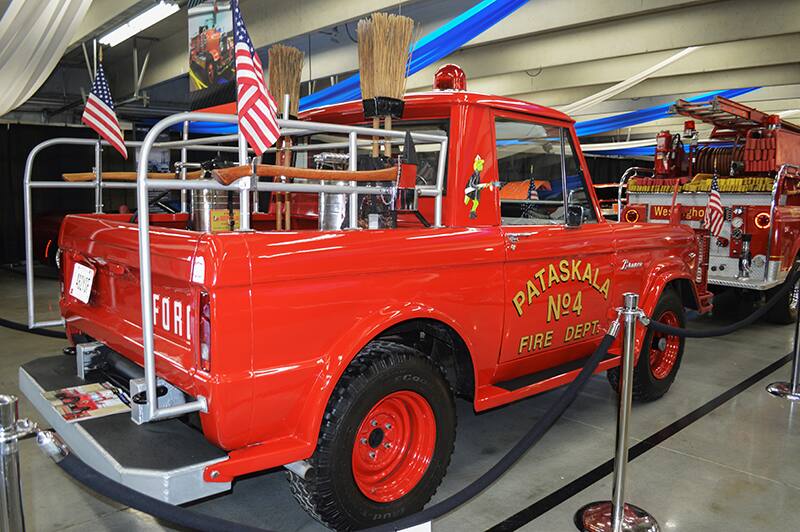 The final day at the show went by quick as we kept finding amazing cars every two feet or so! As the event was winding down, I began to make my way back to my car when I spotted what I thought would be my favorite car of the whole weekend: a Cherry Wine 1923 Ford Model T owned by Darryl Bobzin. This car is gorgeous; every detail down to the pin striping was spectacular. There was only one flaw -- it had a Chevy engine it. (Put a Ford in Your Ford!). After I found myself once again cruising around the Speedway as I headed for the exit, I thought to myself – this was another great Charlotte Spring Auto Fair for the books!
FORD PERFORMANCE PHOTOS COURTESY TEAM MUSTANG GIRLS / COURTNEY BARBER