DEARBORN, Mich. - With the keys to a new Mustang GT burning a hole in your pocket, the temptation to stretch its legs on public streets is very high. Here at Ford Performance, we absolutely encourage the enjoyment of a spirited summer drive. However, we also feel compelled to remind you that if you're unable to obey the rules of the road while doing so, you'll soon find an unwanted accessory popping up in your rearview mirror: flashing lights.
Fortunately, however, there's another set of flashing lights that won't add points to your license; that come with a time slip rather than a ticket; that encourage you to put the pedal to the metal. These lights are even conveniently mounted to a tree – the starting lights at your local drag strip.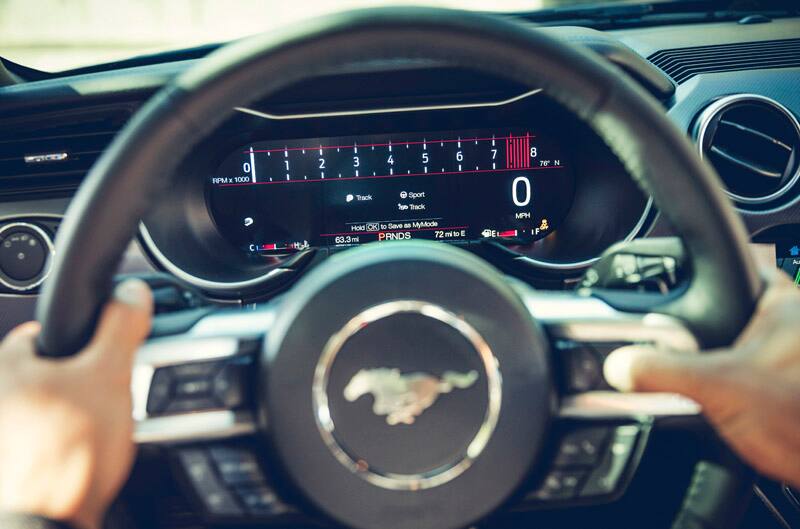 Now, we understand that the thought of taking your car to the track can be daunting, and we've heard our fair share of excuses, some more valid than others…
"I don't understand the rules"
"It's expensive"
"It takes the fun out of it"
"There's no tracks near me"
Etc, etc, etc
We're here to reassure you – getting on track is much more approachable than you might think, thanks to events known as "Test & Tunes" at your local or regional track. Test & Tune days or nights are casual, run-what-you-brung events where you can show up in just about any car and make passes down the lanes. Typically, all you need to do is show up, pay an entry fee (some are per-day, some are per-run), pass a basic tech inspection and get ready to race. The specifics can be found out from the host track or group, including details about safety equipment such as a helmet.
Test & Tunes are the perfect place to stretch your Mustang's legs in a safe, casual manner and the costs are typically pretty low – mainly the entry fee, the fuel you burn and the wear on your tires. As you continue to run, however, you may find that you may want to get even a little more out of each pass, and that's where Ford Performance Parts is ready with open arms.
If your Mustang wasn't Performance Pack equipped, consider upgrading your rear end to the Super 8.8 Torsen Differential. You'll be able to put all of that pony power to the ground much more effectively, especially as you launch the car away from the lights.

Looking to give your 'Stang a modest power increase? There are Power Pack kits available for several different budgets, starting with an upgraded air filter and minor calibration and going all the way up to a GT350 intake and accompanying tune.

Planning on visiting the drag strip often? Consider looking into the significant durability increase that accompanies our Half Shaft Upgrade Kit. These rear axles are capable of supporting up to 1,500 horsepower, which means they'll be extra durable for a stock 5.0 Mustang, or even one that's received a significant bump in power.

Did someone say Supercharger Kit? This Mustang GT upgrade will rule the strip at your local test and tune, and nothing will put a smile on your face faster than telling people they're lining up against a 700 Horsepower Mustang.
If you decide to move past Test & Tunes, and into more competitive forms of the sport, be advised that some of the racing classes and competitions require you to comply to specific rules that our parts may or may not qualify for. While those are questions that don't have to be answered your first time to the track, you'll find that there are plenty of helpful, experienced people at most events that can help answer just about any question you might have.
And who knows, you might enjoy it so much that a future purchase from the Ford Performance Parts catalog is the mighty Cobra Jet.