So what do you do if you find a 1965 six-cylinder Mustang Convertible junker that you'd like to restore into something special but already have a rare 1966 Shelby GT350H that you've owned for the past 48 years? Well, if you are Jerry Sullivan, you simply figure out how to make that droptop something special as well. See his notes to us below about his pair of first-gen Mustangs (both wearing GT350 rocker stripes):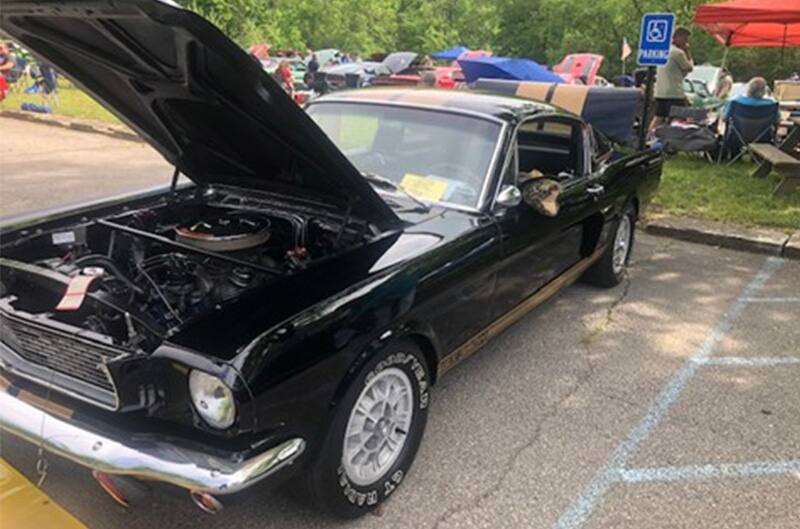 "Hi, Ford Performance! My name is Jerry Sullivan. I've got a couple of Mustangs that I think would be nice to see in your Ford Fan Spotlight. I found an early 1965 Ford Mustang ragtop that was junk -- folding up in the middle -- but yet somehow had me wanting to bring it back to life. So I embarked on a two-and-a-half year journey to get it back on the road. Don't let the roll bar or rocker stripes fool you. This car was a rare six-banger four-speed convertible with a 3:20 limited slip rear end! So I kept it that way – albeit now with its 210 cubic-inch inline six wearing a Holley 2-barrel with a Comp cam and a Clifford split header exiting into a full dual exhaust.
So why the Shelby clone treatment? Well, my other Mustangs is a 1966 Shelby GT350H that I've owned for the past 48 years. A Hertz Rent-A-Racer out of the Miami Airport pool, with the 10-spokes and a LeMans Bowl Holley and a 3:89 rear gear – total old-school cool!"

Our thanks to Jerry Sullivan for sharing his Ford Mustang story with us here in the Ford Fan Spotlight!
Here's How YOU Can Get In The Spotlight: For more than 15 years now, one of the most popular features on FordPerformance.com and in our weekly Fast News e-newsletter continues to be "Ford Fan Spotlight," where readers can send in their own reasons why they're fans of Ford Motor Company and its vehicles. You know who they are: Ford "superfans;" grassroots Ford racers; unique Ford vehicle owners; loyal Ford enthusiasts; notable Ford club people; special Ford families; and/or any avid supporter of Ford, Ford vehicles, Ford motorsports or Ford Performance who deserves a little bit of special recognition.

All you need to do to get you, your car or candidate considered is to send in a brief description (200-500 words or less) and a few photos (in .jpeg format, preferably around 1 mb in size) with the owner's full name and hometown, please. Just tell us about the vehicle(s) and why you think Ford Performance should feature it (them) in the "Ford Fan Spotlight" for an upcoming installment of Fast News as well as for posting on FordPerformance.com. Then email it to: ClubHub@Ford.com with your contact info. Your submission allows us the rights to use your words and images (along with any edits) for editorial purposes; we'll choose one submission in random order to post online. We hope to see YOU and your Ford in our Spotlight soon!