If you are a regular reader of the "Enthusiasts" section of FordPerformance.com, you may have noticed that we often meet up with Mustang clubs and Ford fans who happen to visit the Gale Halderman Museum in Tipp City, Ohio, just off Interstate 75 near Dayton. It's a unique place that has the ability to draw all sorts of Mustang people to a centralized location that's not far From Detroit – making it ideal for us to meet many of you in person. And that's just what happened when we attended the Ford Findlay (Ohio) Mustang Club's visit to the museum barn last August – except two attendees were not from the club; in fact, they were not even from the United States. The father-son duo of Carl Christian Mikkelsen and son Johannes are from Denmark, and just so happened to be on a Mustang-based tour across part of the U.S. (in a Mustang rental car, of course) when they stopped to visit the Halderman museum and share some Mustang fellowship with their Ohio brethren. It wasn't until after the club got back on the road and we got the chance to sit down with Christian and Johannes to hear their inspirational story. It turns out Johannes has been battling a series of health issues -- from epilepsy to cancer to COVID – and has persevered through it all, so his dad decided they'd get involved in the Mustang hobby together, eventually importing a '65 GT Fastback from the States. We hung out and shared some Mustang stories that day, and think you'd like to hear part of Johannes' journey in his email to us below: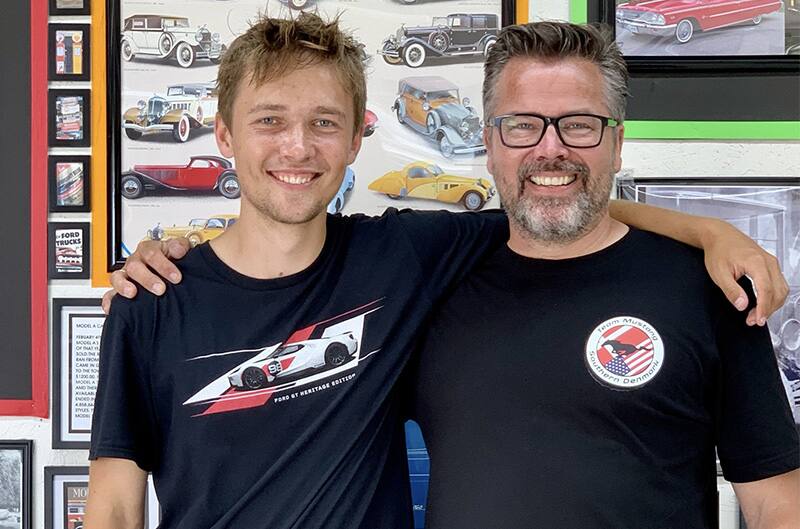 "Hello Ford Performance! It's Johannes Mikkelsen. As my father has mentioned to you, it was a true pleasure to meet up with you at the Halderman museum. The Mustang stories you told us still keep us smiling. Thanks for that! I wanted to show you our Mustang. In September of 2018 my dad, Carl Christian, bought a 1965 Ford Mustang GT Fastback. We got the car as a father-son project due to my cancer. We purchased the car out of Austin, Texas, where it had been since 2012. In the years before 2012, the car spent its time around Louisville, Kentucky. When we bought the car, we were eager to know more about its past. All we knew was that it was a 1965 Ford Mustang GT Fastback with the Deluxe Pony Interior, but a data plate does not tell the entire story. So my dad and I started a search for history of this car, as a car's history is often bigger than the car itself.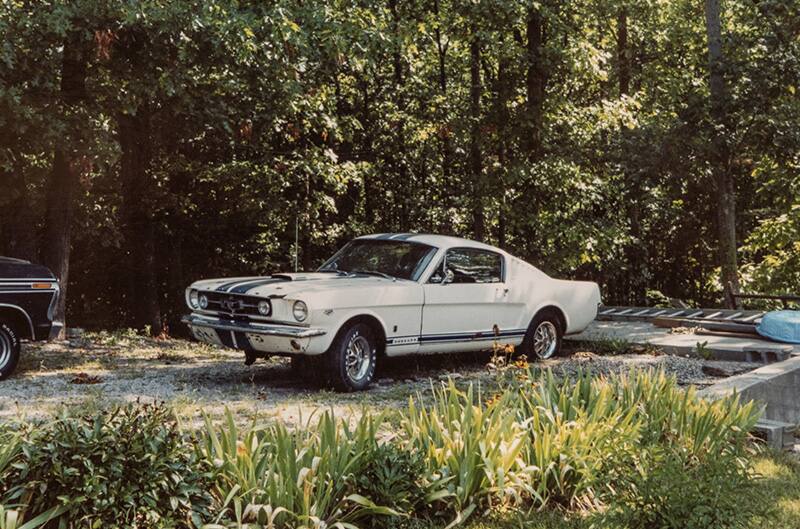 "We knew that, according to documents and paperwork that came with the Mustang, a guy named Bill Brown had owned this car. But that was it – we had no other information. So, I decided to make a post on Facebook. I simply typed: "Looking for the history on this car." Well, I got a response from a lady who said that her brother used to own the car. She gave us a phone number and we called him. For around an hour we talked to Bill Brown about his old Mustang. He told us that he had bought the car in 1991 and kept it until 2012. When he got it in '91, it had a white paint job with blue Shelby stripes, and was wearing a set of slicks. Somebody probably wanted a weekend racer.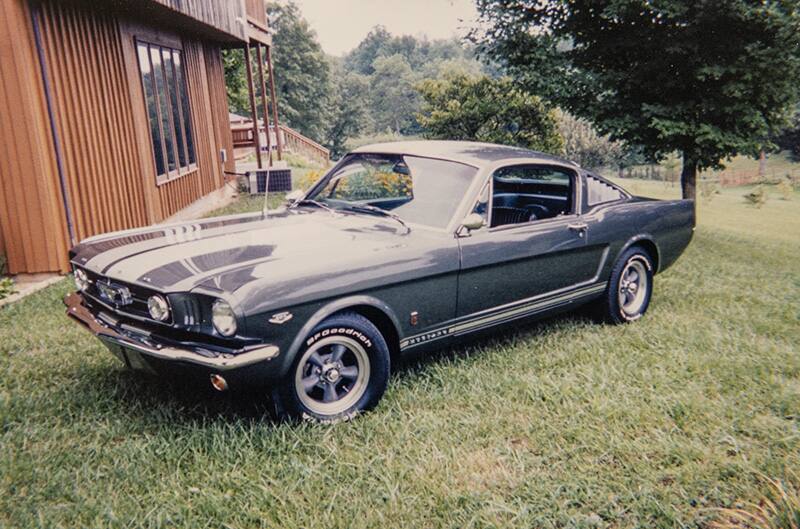 Brown told us he had the car painted in 1997 by a guy named Don Britt, who did the bodywork on it as well. He said a lot of money was put into the restoration, and by 1998, it was done. We explained that we found the car online in Texas and arranged for shipping to Denmark in September of 2018. During my cancer treatment I tracked the Mustang as it moved closer to Denmark. The treatment was four months, and it took around four months for the car to arrive. On Christmas Eve, my dad surprised me with the Mustang form the United States -- it was finally in Denmark!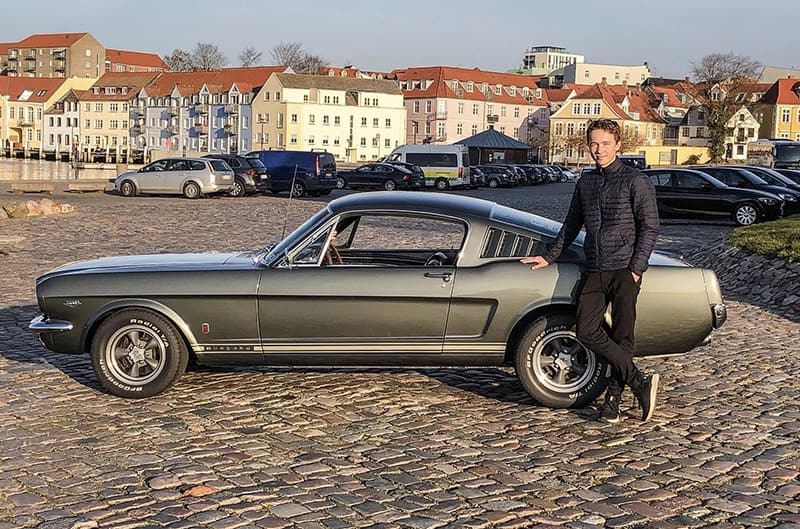 "Our classic Mustang is a true 1965 GT Fastback. It has the Interior Decor Group and the GT Equipment Group. Other options include air-conditioning, power-steering, A-code V-8 engine, C4 automatic transmission, a center console, Rally Pac gauges, backup lamps, heavy duty battery, 2-speed wipers, rear seat belts, and inside day/nite mirror. No major changes have been done to the car since we bought it other than the paint. It's a custom paint mix between green and grey, and it has a lot of pearl in it which changes when the lighting is different. The stripes are gold with some green. My dad and I enjoy the car together, and do small maintenance projects on it during the wintertime. Cars are meant to be driven, so in the summer we go to car cruises, auto events and a lot of other fun things. For us the car is more than the car itself -- it's a way for us to connect.
"Whenever the weather is good, we take the car out for small trips around the block. We enjoy driving on roads we have never seen before. When you go from point A to point B, you often take the fastest way. In the Mustang it's all about going the most fun and prettiest way. It's all about enjoying the time in the car – and that's why I have such a love for the Mustang. It is more than just a car.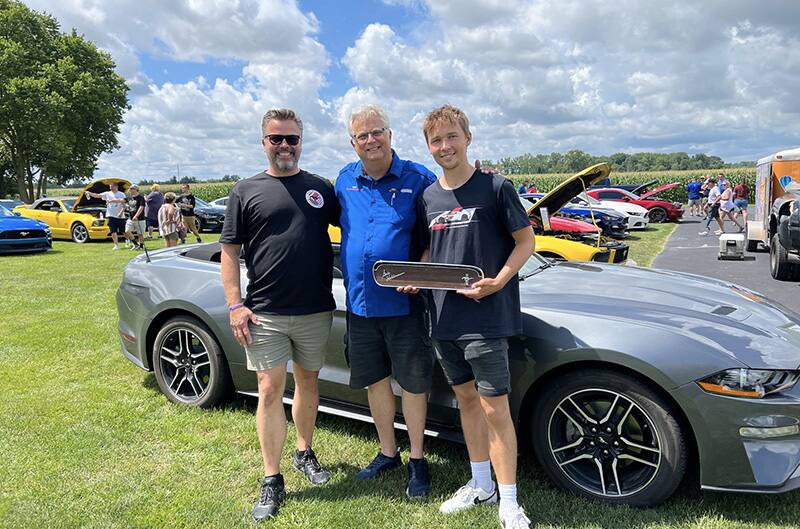 "So why did we book a trip to the USA in 2022? Because back in 2019 my dad and I got in contact with the previous owner through Facebook. It did not take long for us to come up with the idea of visiting him at his home close to Louisville, Kentucky. So, to Kentucky we went! (We actually wanted to go in 2020, but COVID happened. For that reason we could not go in 2021 as well. But the dream trip came true in 2022 after years of planning.) My father and I flew from Denmark to Chicago. We rented a Mustang and drove from Chicago to Indianapolis. (It was a dream to see the Indianapolis 500 Motor Speedway.) From there we headed to Kentucky to meet up with the guy who restored our 1965 Fastback.
"It was a cool experience; he showed us old photos of the car, told us stories about it, and much more. During our stay in Louisville, we decided to drive up to nearby Tipp City, Ohio, to see the Halderman Barn Museum. We had a dream of getting a Gale Halderman signature on our glovebox which we packed along for the trip, but unfortunately Gale had passed away before we could make the trip. Although we never got to meet Gale, we got to meet his daughter, Karen Halderman Koenig, who runs the museum. So, to make the dream come true, we had Karen sign the inside of the glovebox. We also got to talk to Mustang club members who were there and to meet up with Ford Performance and learn more history about the Mustang.
"After our visit, we drove from Louisville all the way to St. Louis, Missouri, to get on the famed Route 66. We then drove along Route 66 back to Chicago for our flight home. We traveled half-a-world away from home and still took part in the Mustang community! When I got back home I founded Team Mustang Southern Denmark, where I am Managing Director. And yes, I'll make sure we get registered with Ford Performance Club Connect, as well as to stay connected with the official Danish Mustang Club. Thanks for featuring our story in your Ford Fan Spotlight!"
Here's How YOU Can Get In The Spotlight: For more than 15 years now, one of the most popular features on FordPerformance.com and in our weekly Fast News e-newsletter continues to be "Ford Fan Spotlight," where readers can send in their own reasons why they're fans of Ford Motor Company and its vehicles. You know who they are: Ford "superfans;" grassroots Ford racers; unique Ford vehicle owners; loyal Ford enthusiasts; notable Ford club people; special Ford families; and/or any avid supporter of Ford, Ford vehicles, Ford motorsports or Ford Performance who deserves a little bit of special recognition.
All you need to do to get you, your car or candidate considered is to send in a brief description (200-500 words or less) and a few photos (in .jpeg format, preferably around 1 mb in size) with the owner's full name and hometown, please. Just tell us about the vehicle(s) and why you think Ford Performance should feature it (them) in the "Ford Fan Spotlight" for an upcoming installment of Fast News as well as for posting on FordPerformance.com. Then email it to: ClubHub@Ford.com with your contact info. Your submission allows us the rights to use your words and images (along with any edits) for editorial purposes; we'll choose one submission in random order to post online. We hope to see YOU and your Ford in our Spotlight soon!