One of the best things about Ford Performance participating in this past summer's big Stang Invasion VI event hosted by Iowa Mustangs Unstabled was meeting so many young people involved in the hobby that weekend. The day after the group held its sixth-annual "invasion" at Eddyville Raceway in Oskaloosa, Iowa, where more than 700 Mustangs took part on a cloudy Saturday, they set up a more traditional "Show & Shine" event on a sunny Sunday morning at Ames Ford, where a few hundred Mustangs and Fords filled the dealership sales lots. There we spotted a nicely modded six-banger 2002 Mustang, and it was while we were applying one of our coveted "Ford Performance Recognition Award" clings to its windshield when we met the car's owner, Maddie Samson. Turns out Maddie has spent the last couple of years modding her True Blue 3.8L V-6 5-speed herself, and she's fully immersed in the Mustang lifestyle. We were so impressed after talking with her that we asked her to share her story below in our Ford Fan Spotlight: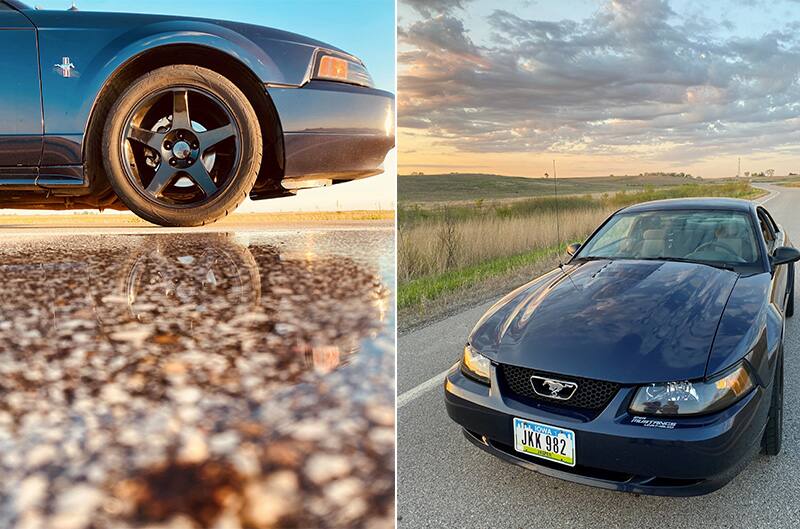 "Hi, Ford Performance! It's Maddie Samson. You'll recall we met at the Show & Shine at Ames Ford, where I received a Ford Performance Recognition Award cling, and you talked about me writing a little story about myself and sending you some pictures of my 2002 Mustang? Well, I'm taking you up on it! Below is my little story, along with some pictures of my car.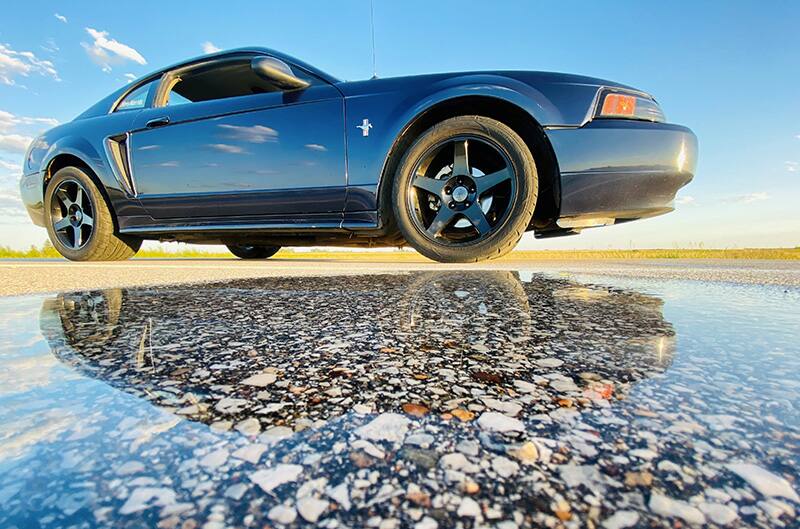 "I remember growing up with my father and older brother in the garage. I spent time holding the flashlight, turning wrenches and doing what I could. Those experiences embedded in me a deep love for getting my hands dirty. I grew up in a Dodge household, so you could imagine my father's surprise when I drove home in a Ford!
"When I bought this car in June of 2020 it was stock, other than wearing the iconic Cobra R hood. It took me many months to decide on a name for her. When I bought her, she had a blue lace butterfly on the rear window that looked a little like a tramp stamp. So hence the name 'Trampy' was born. I get asked, 'Why didn't you a buy a V-8 Mustang?' My answer is twofold: I fell in love with this car the moment I drove it for the first time, and it doesn't matter to me if it's not the fastest or has two less cylinders than some others. I love this care for what it is: a piece of American muscle car history.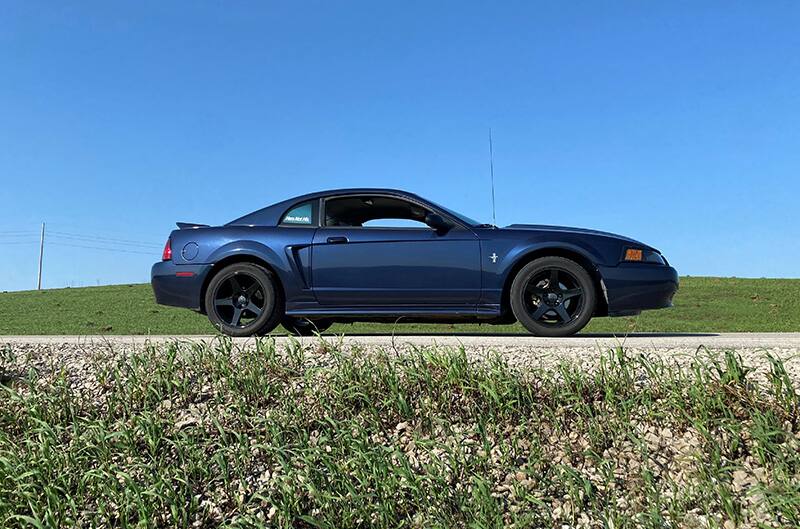 "I have spent the last two years rebuilding, fixing, and upgrading this car. So far I have rebuilt the whole suspension, now equipped with BMR lowering springs, Bilstein B6 shocks, new control arms, new tie rods, and new ball joints. I have added a cold-air intake, a performance coil pack, and long-tube exhaust headers with an x-pipe, plus Flowmaster 40s. I currently have Terminator wheels wrapped in a set of Nittos. I had the rear end rebuilt with new bearings, new seals, and 3.73 gears -- a large upgrade from the stock 3.27s from the factory. I also upgraded my fuel pump from the stock 227LPH to a Walboro 255LPH. I have also replaced the brake pads and rotors to a kit from PowerStop. The car is tuned by Lund Motors.
"That's just the fast run down of things that I've done -- I have lots in store for this car and can't wait to do more! My Mustang has already given me so many memories that I will remember forever. I also have made many new friends -- thanks to Iowa Mustangs Unstabled who has given me and my car a home in the car hobby. Being involved with this group has allowed me to ask questions, talk to others about this car passion, and meet like-minded people all across the Midwest. I am so thankful for all the experiences that this car has given me -- and I'm excited for the many more to come."
Here's How YOU Can Get In The Spotlight: For more than 15 years now, one of the most popular features on FordPerformance.com and in our weekly Fast News e-newsletter continues to be "Ford Fan Spotlight," where readers can send in their own reasons why they're fans of Ford Motor Company and its vehicles. You know who they are: Ford "superfans;" grassroots Ford racers; unique Ford vehicle owners; loyal Ford enthusiasts; notable Ford club people; special Ford families; and/or any avid supporter of Ford, Ford vehicles, Ford motorsports or Ford Performance who deserves a little bit of special recognition.
All you need to do to get you, your car or candidate considered is to send in a brief description (200-500 words or less) and a few photos (in .jpeg format, preferably around 1 mb in size) with the owner's full name and hometown, please. Just tell us about the vehicle(s) and why you think Ford Performance should feature it (them) in the "Ford Fan Spotlight" for an upcoming installment of Fast News as well as for posting on FordPerformance.com. Then email it to: ClubHub@Ford.com with your contact info. Your submission allows us the rights to use your words and images (along with any edits) for editorial purposes; we'll choose one submission in random order to post online. We hope to see YOU and your Ford in our Spotlight soon!