Ford Motor Company enjoys strong customer loyalty compared to most other brands, and nowhere is this more evident among the Ford owner base than with enthusiasts. Thanks to iconic vehicles like the Mustang, that shouldn't be a surprise. In fact, many Mustang owners tell us they have two, three, four or more other Fords in their driveway. Some, like J.C. Edwards of North Carolina, have six! – one Mustang from each of the six generations, including his wife's beloved Mustang II. When J.C emailed us to say he recently added a 2021 Mach 1 to his "Mustang Crazy Family," we know we had to share his story in our Fan Spotlight below:

"Hi, Ford Performance! I'm J.C Edwards, the Lincoln Brand Manager at Capital Lincoln of Wilmington, N.C. We got the chance to meet Ford Performance Communications Manager John Clor back in 2009 at the MCA show in Raleigh, N.C., and my wife and I are huge fans. My wife more so because of your promotion for the preservation of the Mustang II lore and history.
"With that said, we were in Charlotte recently at the Ford Performance Racing School for the Mach1 Track Attack. During our stay, we took the opportunity to visit the Mustang Owners Museum (of which we are members). My wife and I were in Mustang nirvana there, especially after my wife saw an entire floor-to-ceiling display case of nothing but Mustang II items. As we continued to tour the museum with the owner Steve Hall, Mr. Clor's name came up and Steve started telling us about a weekly email that you send out called Fast News From Ford Performance – sign us up!

"As I'm sure you often hear, Mustangs really are everything to us. I met my wife at the dealership where I work, I sold my wife her first brand-new Mustang, we collect anything and everything Mustang, our kids and grandchildren have grown up around Mustangs. We are a Mustang crazy family!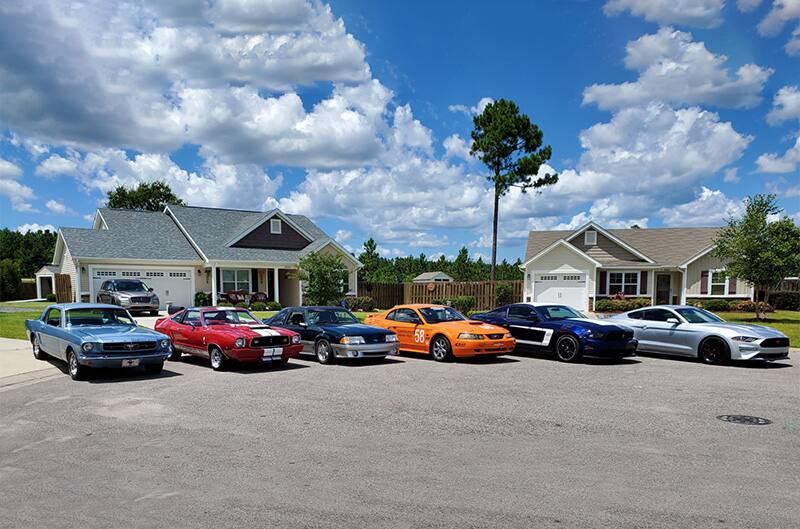 "Currently we own six Mustangs. The picture of our cars that I've sent along does have one change: In March of this year we traded my wife's Silver 2018 EcoBoost Performance Package pony for a Velocity Blue 2021 Mach 1. Each one of our Mustangs has its own special story, which is why we really enjoy talking about them as well as driving them and taking them to car shows to share with people."
Here's How YOU Can Get In The Spotlight: For more than 15 years now, one of the most popular features on FordPerformance.com and in our weekly Fast News e-newsletter continues to be "Ford Fan Spotlight," where readers can send in their own reasons why they're fans of Ford Motor Company and its vehicles. You know who they are: Ford "superfans;" grassroots Ford racers; unique Ford vehicle owners; loyal Ford enthusiasts; notable Ford club people; special Ford families; and/or any avid supporter of Ford, Ford vehicles, Ford motorsports or Ford Performance who deserves a little bit of special recognition.

All you need to do to get you, your car or candidate considered is to send in a brief description (200-500 words or less) and a few photos (in .jpeg format, preferably around 1 mb in size) with the owner's full name and hometown, please. Just tell us about the vehicle(s) and why you think Ford Performance should feature it (them) in the "Ford Fan Spotlight" for an upcoming installment of Fast News as well as for posting on FordPerformance.com. Then email it to: ClubHub@Ford.com with your contact info. Your submission allows us the rights to use your words and images (along with any edits) for editorial purposes; we'll choose one submission in random order to post online. We hope to see YOU and your Ford in our Spotlight soon!