We can't count how many times we've seen stories that you've sent us about your Mustangs making over 600 horsepower. But Ford Explorers? Well . . . we've seen none. Until now, that is. Kevin Krupski has been making a splash on the web and social media after a series of custom mods to his 2020 Explorer ST had pushed his modern, three-row SUV to break the 10-second quarter-mile barrier. That's in no small part thanks to the 657 horses that his much-massaged factory 3.0-liter EcoBoost V-6 now puts out at the wheels. In stock form, the 400-horse Explorer ST is certainly no slouch, but Krupski wanted more, and with no aftermarket hot-rod parts for the Explorer available, he had to make major modifications in uncharted territory. Check out what he told us below about the how's and why's behind his beastly fast Explorer ST – even hinting that his next upgrade could bring 1,100 horsepower!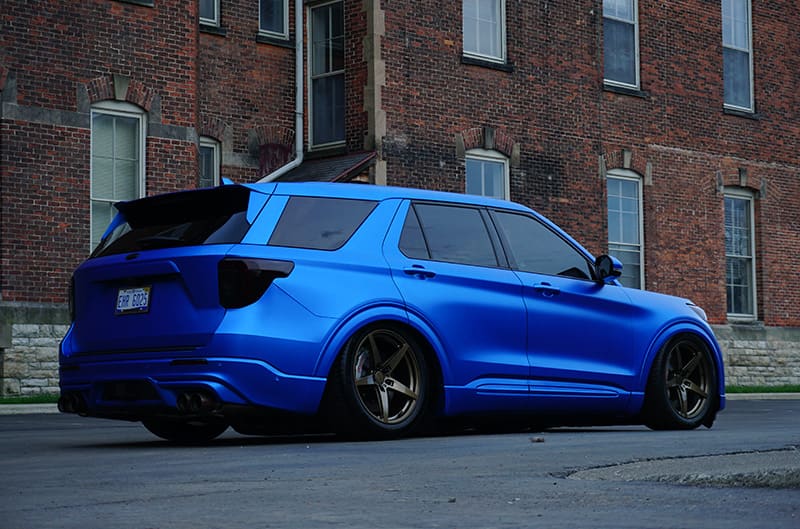 "Hi, Ford Performance! It's Kevin Krupski with the 2020 Explorer ST. It was great talking to you at the M1 Concourse Cars & Coffee. As you requested, here's some info about me and my ST: I was born and raised in Foxboro, MA - home of the New England Patriots. My first job was washing cars at a dealership on the Automile in Norwood, MA. My second job was working at Foxboro Stadium and my favorite part was checking out the players' rides as they drove in for practice and games. My interest in cars exploded in 2001 with the release of the original The Fast and the Furious movie. I can't remember what car my friend and I drove to the theater to see it on opening night. All I remember is it took us 20 minutes to get there and 8 minutes to get back.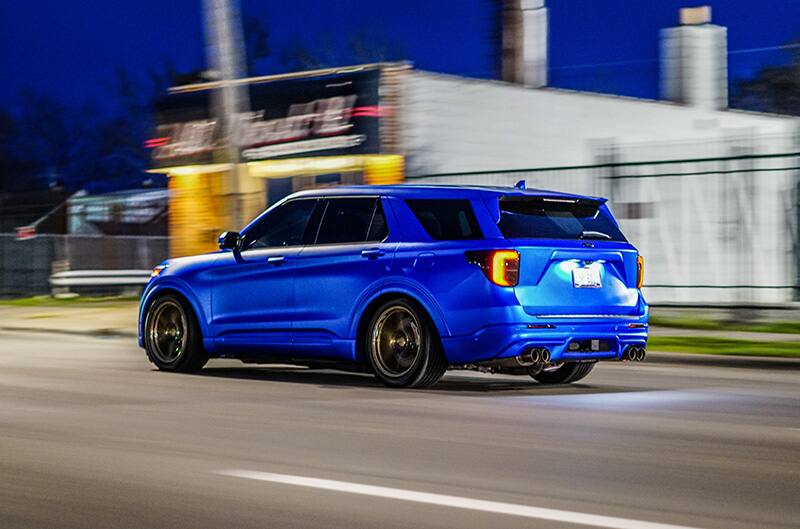 "None of my closest childhood friends shared my level of enthusiasm for cars so I've always resorted to online forums, social media, and car meets to meet other car enthusiasts. The online car community is an interesting place that is of course not void of toxicity but has some amazing people that just want to share their passion and genuinely help each other. I've met some amazing people along the way that I'm sure will be lifelong friends. I've owned several different brands – including Toyota, Nissan, Jeep, Audi, BMW, and now Ford vehicles – and I've always gone for the 'OEM+' look. I primarily focus on exterior modifications along with a few simple bolt-ons like intakes and exhaust.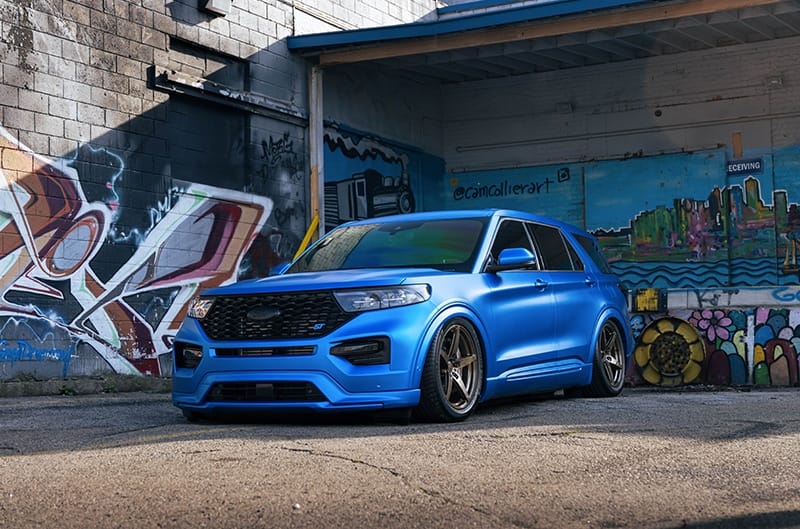 "I moved to Michigan in March of 2020 to work for a company that supports Ford. I was in the market for a new SUV as my daily driver and family vehicle for my wife and two young children. In September of 2020 I purchased my 2020 Ford Explorer ST. I told myself I was only going to tint the windows and install a cat-back exhaust. But the combination of a move across the country where I didn't know anybody, COVID boredom, and some key enablers created this incredibly unique build that keeps me smiling and always searching for more. I joined some Explorer ST online forums to learn more about aftermarket exhaust options and stumbled on a company offering a tune that added nearly 100 horsepower. I wasn't overwhelmed with the baseline tune, but I'll never forget the first hard acceleration after I loaded the ZFG Racing tune using an HP Tuners RTD: I liked it ... no, I loved it -- and I wanted more.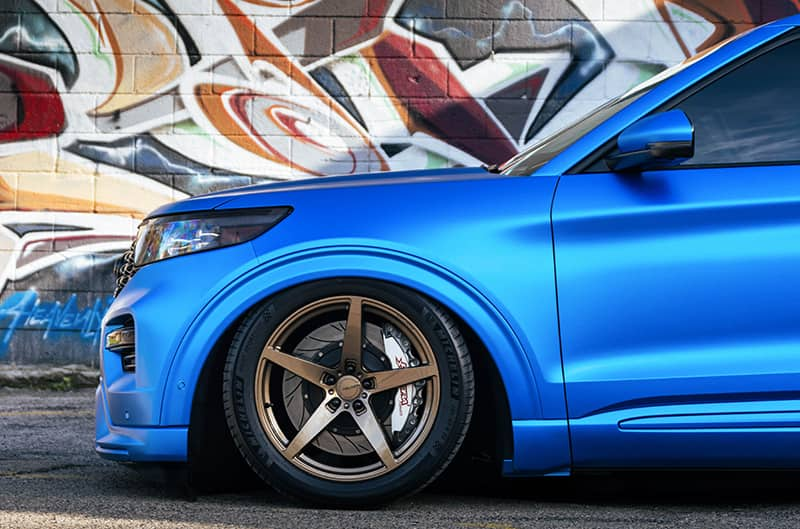 "I wasn't excited about any of the stock size 2.25-inch exhaust systems on the market. I didn't know anybody in Michigan so I asked around on social media about local fabricators who could make a custom exhaust. I ended up in Westland, Michigan, the week of Christmas 2020 to drop off my car at FENFABrication. We started with a custom 3-inch exhaust which then turned into 3-inch catted downpipes. Their custom X-pipe and pie cuts were so amazing that I remember thinking this was too nice to be hidden under the car. It sounded as good as it looked, and I don't think I turned on music for at least a month because all I wanted to hear was that sound.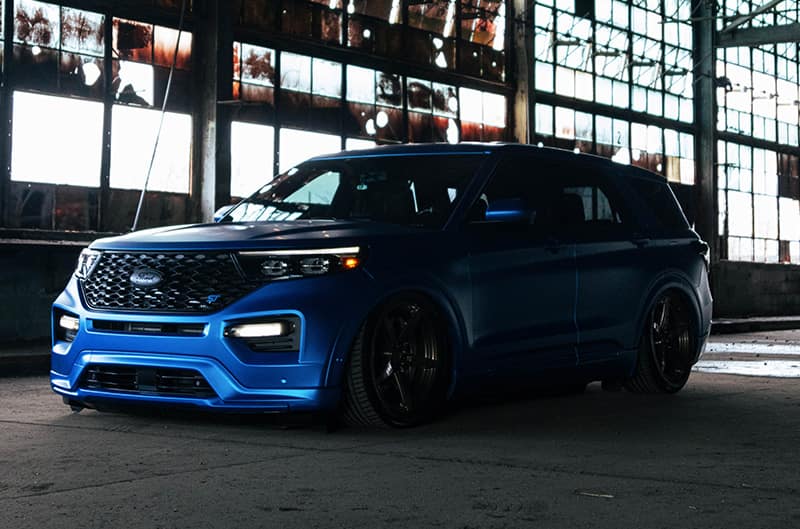 "Having been so impressed with the exhaust created by owner Brett and his coworker David, I figured I would challenge them and see if they wanted to create any other performance parts. A couple days later we were chatting about intakes, charge pipes, catch cans and strut bars. Yet again they surprised me with an amazing setup, but this time, everyone could see it when I opened the hood. My smile grew wider with the improved sound and performance. Less than one year later we increased output from 320 to 657 wheel horsepower and ran a 10.94-second quarter mile at 125 mph. Never in my wildest dreams would I have thought my first 10-second vehicle would be a nearly 5,000 pound SUV! FENFABrication made an ECU cover for me that reads "It all started with an exhaust" as a constant reminder of how far we've come.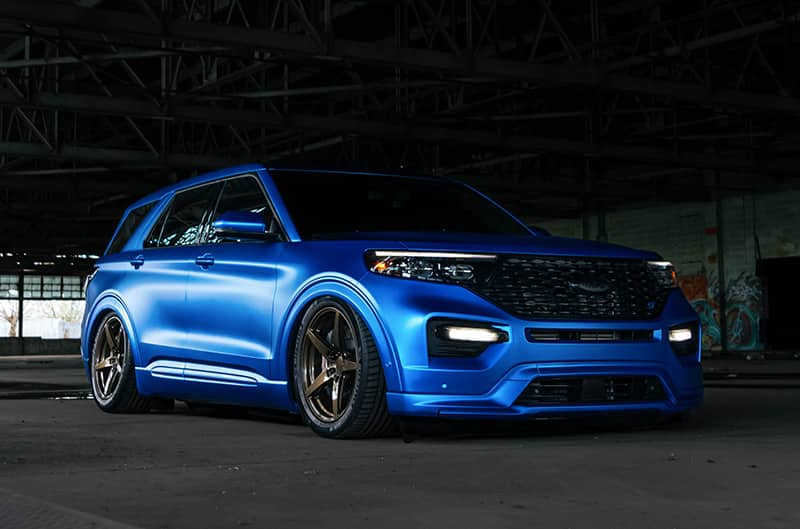 "Getting to this point certainly had its challenges. Aside from not having my daily driver for weeks at a time I had to upgrade various components along the way, adjust the suspension, perform hours of data-logs and get lots of 11-second passes. I decided to proactively have the transmission built and upgrade the torque converter to suit the bigger turbos. I posted on social media and it became quickly apparent there was a real demand for aftermarket parts on this vehicle. My Explorer ST has been the cutting-edge R&D vehicle for FENFABrication, whose prototype mods have mostly all made their way into production. We've installed a big brake kit (8-piston front calipers, 4-piston rear), plus a custom air suspension along with a set of Velgen Lightweight Series Classic5 V2 Wheels in gloss bronze!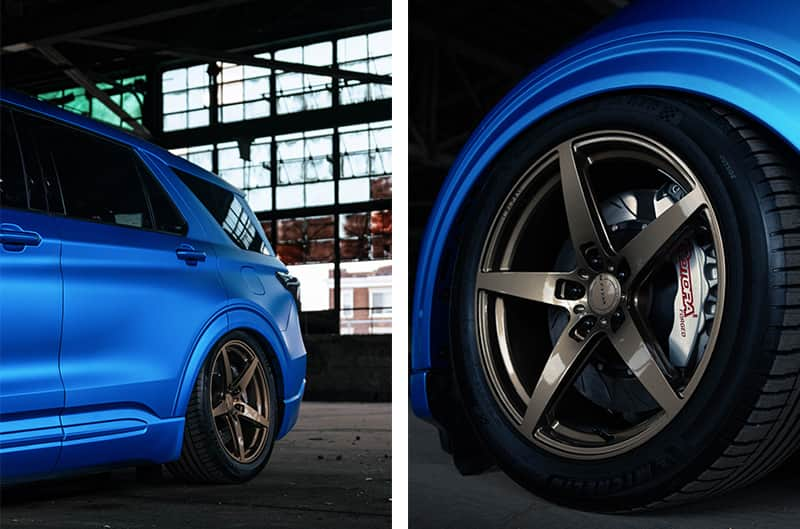 "Then came major modifications, including a set of bigger turbos and a custom-built high-pressure fuel pump with Stage 1 injectors by Nostrum High Performance. That scored a platform-record 657 wheel horsepower which allowed me to achieve a 10.94-second quarter-mile at full weight on all-season tires (don't ask - COVID shortages!). Breaking into the 10-second quarter-mile range is something I had dreamed about for a long time. But like any car enthusiast, fast isn't fast enough, and my new goal is the mid-10's. But first came a new look with a full vinyl wrap in KPMF Matte Iced Blue Titanium. This color has so much character and resembles Ford Performance Blue in the right lighting.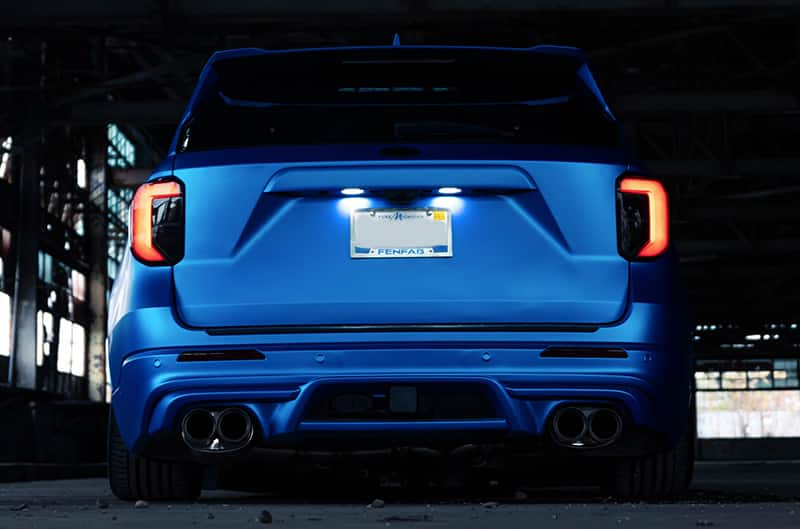 "To help achieve my new performance goal, I returned to FENFABrication, and we decided on a pair of even bigger turbos with wastegates and blow-off valves – said to be good for 1,100 horsepower. The custom twin-turbo kit build has already started, along with a modified intake, throttle body, redesigned exhaust system and new tune. I know it's not for everyone, but I've really enjoyed having a performance SUV -- and while it's not sleeper status anymore it's always fun to surprise people, including myself, at what this thing can do.

"I don't know exactly how far it will go, but I can see an engine build and drivetrain mods in the future which could very well be out of necessity as the car was obviously not built to handle this much power. I plan to get a wheel/tire setup for the drag strip and show Detroit what this unique build can do this summer. I'm looking forward to cruising Woodward, doing some Cars and Coffee cruise-ins, and seeing what everyone else has been working on during the winter months. You can keep up-to-date with the latest on the build through my social media @kevins.cars on Instagram, @kevins.cars.fb on Facebook and @kevins.cars on TikTok."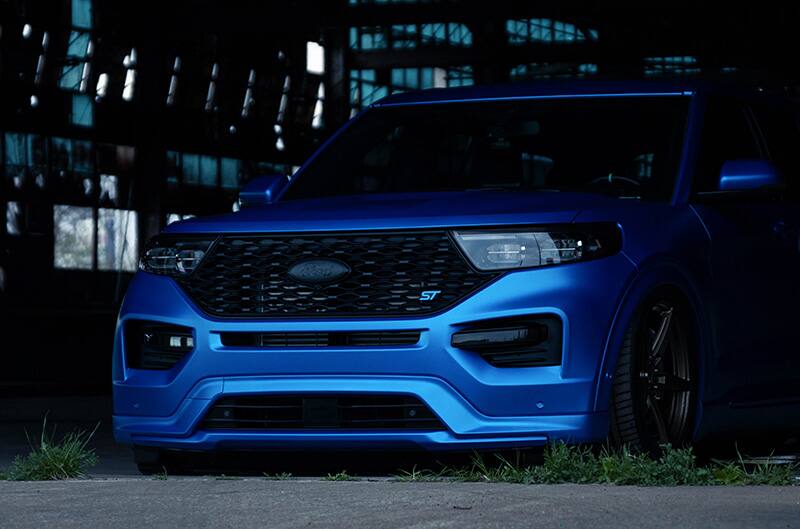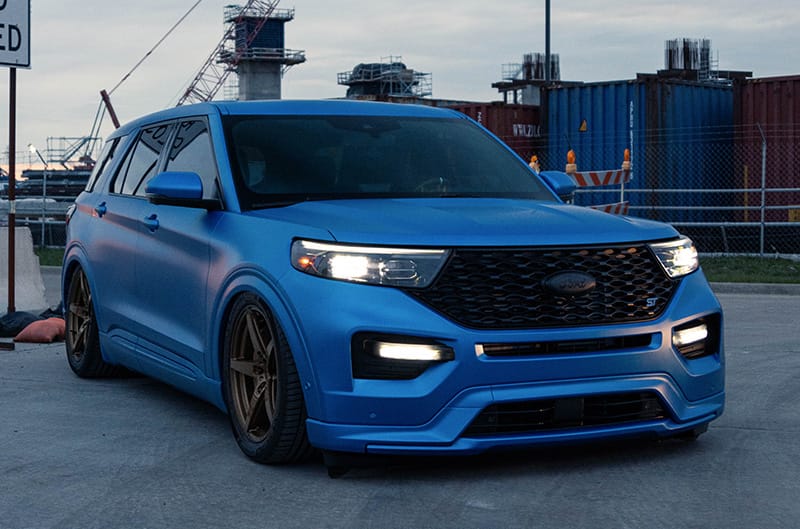 FORD PERFORMANCE PHOTOS / COURTESY BASKIT MEDIA & WOODWARD WHIPS
Here's How YOU Can Get In The Spotlight: For more than 15 years now, one of the most popular features on FordPerformance.com and in our weekly Fast News e-newsletter continues to be "Ford Fan Spotlight," where readers can send in their own reasons why they're fans of Ford Motor Company and its vehicles. You know who they are: Ford "superfans;" grassroots Ford racers; unique Ford vehicle owners; loyal Ford enthusiasts; notable Ford club people; special Ford families; and/or any avid supporter of Ford, Ford vehicles, Ford motorsports or Ford Performance who deserves a little bit of special recognition.

All you need to do to get you, your car or candidate considered is to send in a brief description (200-500 words or less) and a few photos (in .jpeg format, preferably around 1 mb in size) with the owner's full name and hometown, please. Just tell us about the vehicle(s) and why you think Ford Performance should feature it (them) in the "Ford Fan Spotlight" for an upcoming installment of Fast News as well as for posting on FordPerformance.com. Then email it to: ClubHub@Ford.com with your contact info. Your submission allows us the rights to use your words and images (along with any edits) for editorial purposes; we'll choose one submission in random order to post online. We hope to see YOU and your Ford in our Spotlight soon!