Many Ford enthusiasts go to great lengths to enjoy the Mustang hobby. Take Doug and Wanda Keener of Bernville, Pennsylvania, for example. When Ford Performance drove out to Boise, Idaho, this past September to set up our Club Connect display at the 42nd International Mustang Meet, we were amazed to see so many out-of-state license plates at the show – which included the 2021 Bullitt Nationals as part of the event. We recall seeing the Keeners' spectacular 1968 Mustang Bullitt tribute fastback there, and after spotting the plate, remarking, 'Wow – this car came all the way from PA!" – assuming, of course, that it was trailered there. Imagine our surprise when we caught up with the Keeners, driving that same '68 Bullitt tribute fastback, at a rest stop along the Interstate on the long road back home! We stopped to chat, and to ask them to tell us all about how much they drive their classic Mustang. Prepare to be amazed by their note to us, below:
"Hi, Ford Performance. It's Doug and Wanda! It was a pleasure meeting you -- even at that rest stop in Wyoming. The IMM42 banquet was the third time we've heard you speak. I always enjoy your speeches because you can hear the passion you have for Ford and it's obvious that you truly enjoy what you do. Thanks for being a great advocate for Ford Motor Company and Ford Performance.
"As you requested, I am sending you info from the trip my wife and I took from Pennsylvania to Idaho in our 1968 Bullitt Tribute Mustang. We live in Southeastern PA, near the city of Reading which is about an hour northwest of Philadelphia.
We belong to the International Mustang Bullitt Owners Club and went to Boise, not just for the IMM42 Show, but also for the Bullitt Nationals. The trip was 2,408 miles one way, and took us four days to get there. On the way home we took a slight detour through northern Wyoming where we visited Devil's Tower then through Deadwood, South Dakota, on our way to see the Crazy Horse Memorial and Mount Rushmore, and for a drive through the Badlands. The entire trip was 5,100 miles with my wife doing about 40 percent of the driving … and yes, it has a manual transmission.
"This is not the first long-distance trip we've made in our '68 Mustang. In 2016 we drove to the Bullitt Nationals in Savannah, Georgia. And in 2017, the Nationals were in Detroit, during the big Woodward Dream Cruise.
"In 2018 we did a Route 66 trip with the Bullitt club into Chino Hills, California, where we attended the Friends of Steve McQueen Car Show. The day after the show we drove to Santa Monica Beach then headed up the Pacific Coast Highway to San Francisco where we drove part of the chase route from the Bullitt movie. That trip was a total of 17 days, 15 states, and over 6,500 miles. About two months later we drove to Detroit again for the Woodward Cruise, where I had the pleasure of leading one line of Bullitt Mustangs down Woodward Avenue in my '68 alongside Sean Kiernan driving his '19 Bullitt Mustang that was leading a second line of Bullitt Mustangs with Ford Motor Company taking pictures. The next day I was attending the MOCSEM Mustang Memories All-Ford Show at Ford World Headquarters and was able to get some pictures of my '68 next to Sean Kiernan's original Bullitt movie car.
"Needless to say my wife and I have had a lot of fun with our '68 Mustang. I guess we are making up for lost time, because I rescued this car from a field in 1986. I started tearing it apart for a complete, ground-up rebuild -- then I got married, bought a house and helped to raise three children while the '68 sat in pieces for over 20 years.

"In 2009 I began working on it again and decided to build this car to drive by installing a 5-speed transmission, rack-and-pinion steering, and aftermarket seats – just to name a few of the improvements. My wife and I did almost all the work ourselves and finally got it on the road in 2014. The car now has over 35,000 miles on it since the rebuild. Hope to see you on the road again soon!"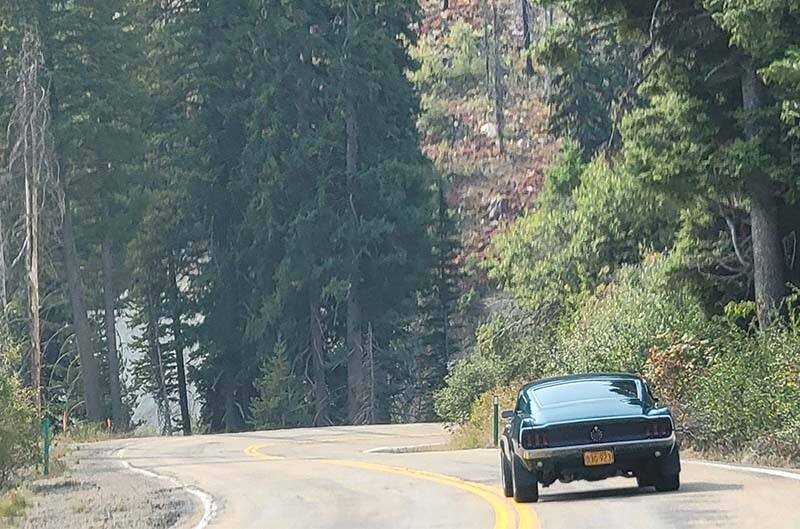 Here's How YOU Can Get In The Spotlight: For more than 15 years now, one of the most popular features on FordPerformance.com and in our weekly Fast News e-newsletter continues to be "Ford Fan Spotlight," where readers can send in their own reasons why they're fans of Ford Motor Company and its vehicles. You know who they are: Ford "superfans;" grassroots Ford racers; unique Ford vehicle owners; loyal Ford enthusiasts; notable Ford club people; special Ford families; and/or any avid supporter of Ford, Ford vehicles, Ford motorsports or Ford Performance who deserves a little bit of special recognition.
All you need to do to get you, your car or candidate considered is to send in a brief description (200-500 words or less) and a few photos (in .jpeg format, preferably around 1 mb in size) with the owner's full name and hometown, please. Just tell us about the vehicle(s) and why you think Ford Performance should feature it (them) in the "Ford Fan Spotlight" for an upcoming installment of Fast News as well as for posting on FordPerformance.com. Then email it to: ClubHub@Ford.com with your contact info. Should you wish to send a video, you simply need to post it on www.YouTube.com (preferably 1-2 minutes long) and send in the link, along with a brief description, to that same ClubHub@Ford.com email address. Your submission allows us the rights to use your words and images (along with any edits) for editorial purposes; we'll choose one submission in random order each week to post online. We hope to see YOU and your Ford in our Spotlight soon!