We often feature restoration stories in our Ford Fan Spotlight – and especially when it comes to the reincarnation of a family's well-loved Ford. But very few of those stories we've posted over the years can match the level of detail included by Micah Wellman below, documenting the total rebuilding of Grandpa's original, bare-bones 1971 Ford Maverick. So enjoy Micah's story about the family's Maverick first, and then be amazed at the nitty gritty of all that can go into this kind of total restoration that follows: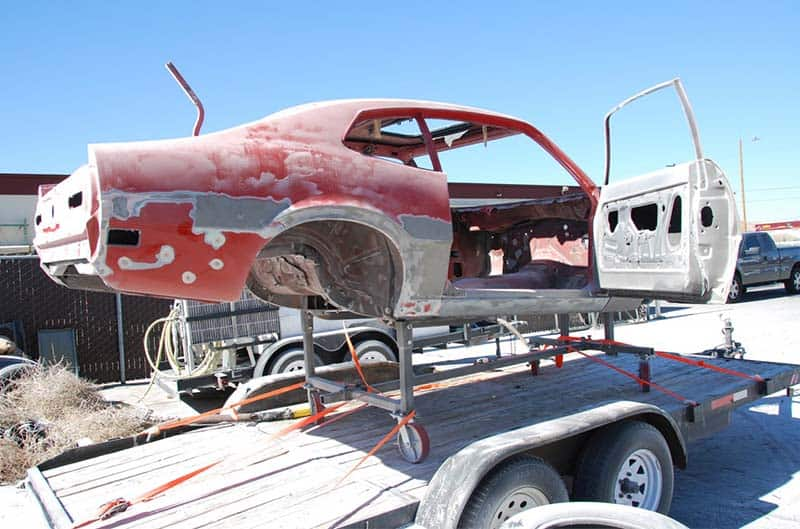 "Hi, Ford Performance. My name is Micah Wellman, and I'd like you to consider my 1971 Ford Maverick for your Ford Fan Spotlight.

"In 1971, my grandparents, Paul and Christle Kwaterowsky, lived in Yellowknife, in the Northwest Territories of Canada. That year it became time for grandpa to replace his VW bug. He selected a red 1971 Ford Maverick. Grandpa was a bit on the thrifty side and selected the absolute base model: A 170-cid six-cylinder with a three-speed manual on the column, manual steering, manual drum brakes, a bench seat, standard glass, no radio, no carpet, and no cigarette lighter.
'By 1976, they were living in Edmonton, Alberta, Canada. There, at the age of 10, I drove the Maverick for the first time . . . well, sort-of. Grandpa would let me sit in his lap and steer as he controlled the pedals. Later, he must have regretted this when I started the car without him behind the wheel and backed it into the neighbor's fence. So, this also would be the first year I wrecked the Maverick.
"In 1980, they replaced the Maverick with a Ford Fairmont, which we still have. The Maverick was destined to go to my brother, but I put up a fight and claimed the Maverick. (My brother wound up getting mom's old car, a 1967 Impala 427SS. He still has the Impala.)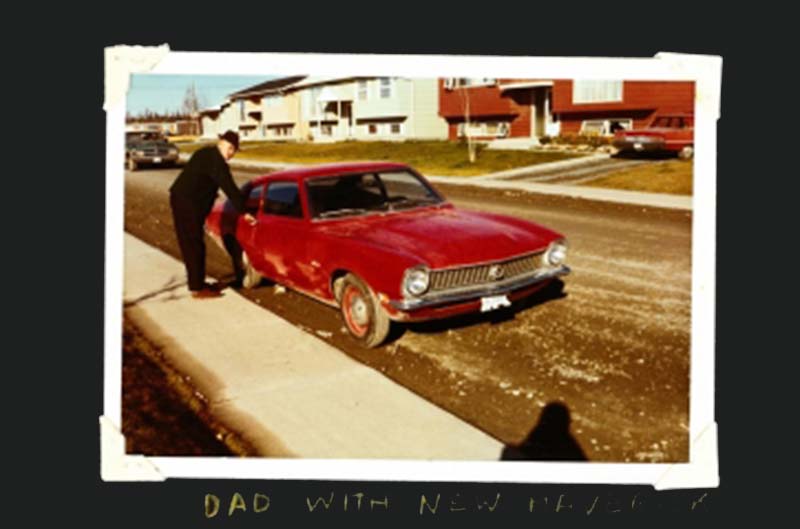 In 1982, I got my driver's license. I did everything that a dumb teenager does in his first car. I bent the rear axle taking a corner too fast, got a few tickets and bumped into a couple of things. I also began to work on the car in auto shop. The manual transmission was replaced with an automatic from the junk yard. A nice tape deck (for that '80s music) and a sunroof were installed.
"Time and the teenage years were rough on the Maverick. As with many Mavericks in this part of the world, there was rust in the fenders and in the rear quarter panels. Someone ran into the back while I was cruising downtown Reno and I had an encounter with a pole that I would rather not discuss. This encounter should have been the end of the Maverick. She was a sad sight as she sat in mom's backyard for two years while I served in the Navy on the flight deck of an aircraft carrier.
"In 1989, back from the service and in collage, I resurrected the Maverick. I replaced the hood, radiator, core support and cross member. She was not pretty, but she was back on the road again. As I had more money, I made her more presentable. I cut out the rusted quarters, replaced the fenders, installed air conditioning, upgraded to a 250-cubic inch six with a Weber carburetor and headers. The outside was painted, the interior redone and wheels installed. By 1992 she looked pretty good.
"In 1995, I was living in the San Francisco Bay area and the Maverick was my daily driver. In 1998, the paint was in need of a re-spray. I had her repainted in Viper red and transformed her into a Grabber clone. The paint work was done in Reno, Nevada. Grandpa happened to visit. Together, for $50, we located a rare Grabber hood at a junkyard located between two houses of ill repute. Grandpa got a good laugh at this. With the work done, she made the cover of the Auto Krafter's catalog. Grandma and Grandpa were surprised to see their old car on the cover. In 2000, they managed to visit me in California and get one last ride in their old Maverick.
"By 2013, the Maverick was really showing her age. The engine had 140,000 miles on it and the junkyard transmission had probably double that. The chassis had approximately 250,000 miles. The sunroof leaked. The manual drum brakes were just scary in modern traffic. The steering was loose. Rust was starting to appear again. The bench seat was uncomfortable. Someone ran a shopping cart into the passenger door. She was just tired. After so many years of service, it was time for payback. So here's a blow-by-blow description of the restoration:
THE BODY
The entire car was disassembled, soda/sand blasted and placed on a rotisserie. The rear quarter panels were replaced with new metal. The front and rear valances were replaced with NOS metal. All unnecessary holes in the engine compartment were welded closed.
EXTERIOR
· Exterior covered in Matrix Viper Red and House of Color clear.
· Rear panel, grill, core support and filler panel painted flat black.
· Underside coated with a Viper Red tinted bed liner.
· Door handles, windshield trim and rear trim powder-coated flat black.
· Side markers and wiper arms painted flat black.
· NOS Door and trunk locks painted flat black.
· NOS Grabber tail lights.
· NOS gas cap.
· NOS headlight surrounds.
· NOS hood lip molding.
· NOS Sport Mirrors.
· Pro-touring steel front spoiler painted flat black.
· Re-chromed bumpers with all mounts powder coated.
· Custom 1972 flat black Grabber stripe kit.
· American Racing 500 17" wheels and Michelin Pilot AS3 235/45/17 tires.
· 19-gallon gas tank painted charcoal metallic (original interior/dash color).
· Powder coated flat black fuel inlet pipe.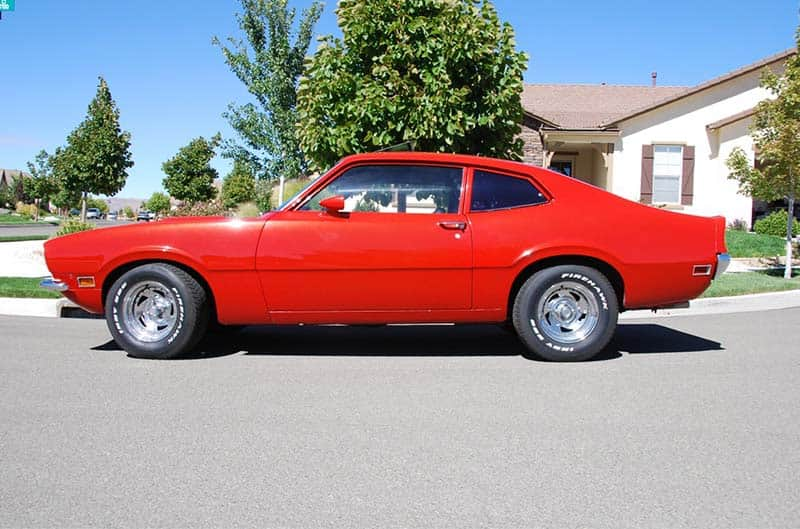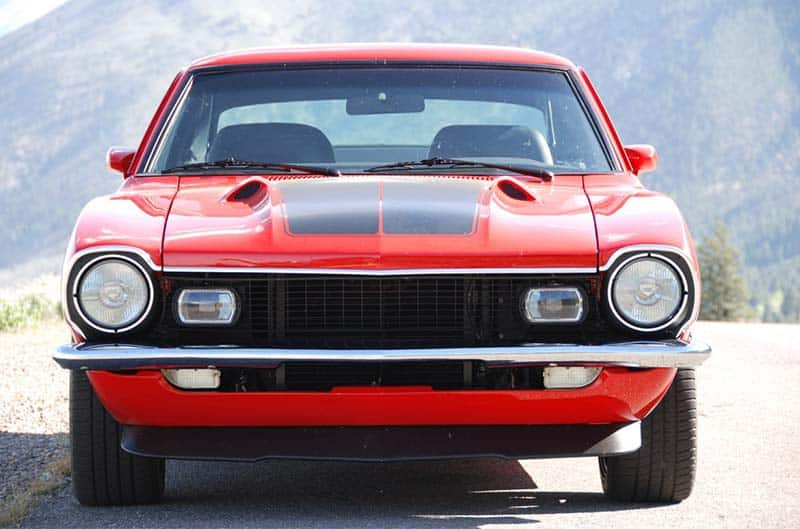 THE INTERIOR
· Dash, steering column, doors, A, B, and C posts and the rear window panel were repainted their original color, charcoal metallic.
· Dynamat Extreme, Dynaliner, Extremeliner and Tac Mat were placed throughout the car.
· 1974+, inside sill retractable seatbelts mounts were grafted into the floor pan and upper mount welded to the roof.
· Blue junkyard seat belts were rebuilt with black material and painted trim black.
· LDO map light and foot well lights modified to fit the car.
· All of the standard glass was replaced with NOS or new tinted glass.
· All window and door seals were replaced.
· An original floor shifter and was rebuilt and installed to work with an AOD transmission.
· Standard transmission column shift housing replaced with a floor shift unit.
· ACC Essex molded and mass backed carpet.
· Embroidered matching floor mats.
· Tachometer placed inside the instrument panel.
· NOS AC parcel shelf.
· NOS AC vents.
· 1972 Comet high-back bucket seats upgraded with TMI sport foam.
· New seat back panels.
· Custom leather upholstery for the front and rear seats as well as the dash pad.
· Nardi leather steering wheel.
· New headliner.
· Rebuilt air conditioning box with new heater core.
· Original door panels cleaned and remounted to new door cards.
· NOS steering column shroud.
· NOS steering column/lower dash shroud.
· NOS vent window latches.
· NOS Rear Defogger.
· NOS vent handle.
· New rear package tray.
· New sun visors.
· Powder coated interior door handles, window handles, sill plates, visor mounts and all dash mounts.
· Rebuilt parking brake lever and new cable.
· Infinity 6"x 9" speakers in rear package shelf.
· Infinity round speakers in front kick panel.
· Manual transmission pedal box replaced with rebuilt powder coated 1972 automatic pedal box.
· 1974 gas pedal.
· Vintage Stewart Warner Minipanel.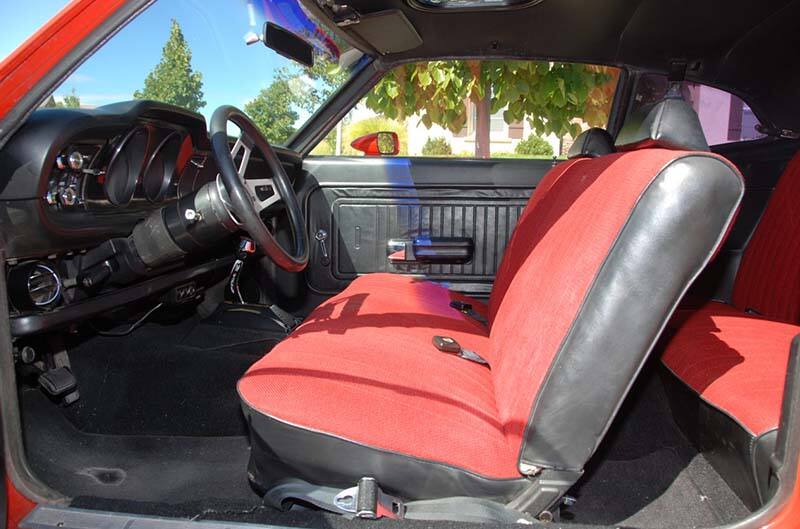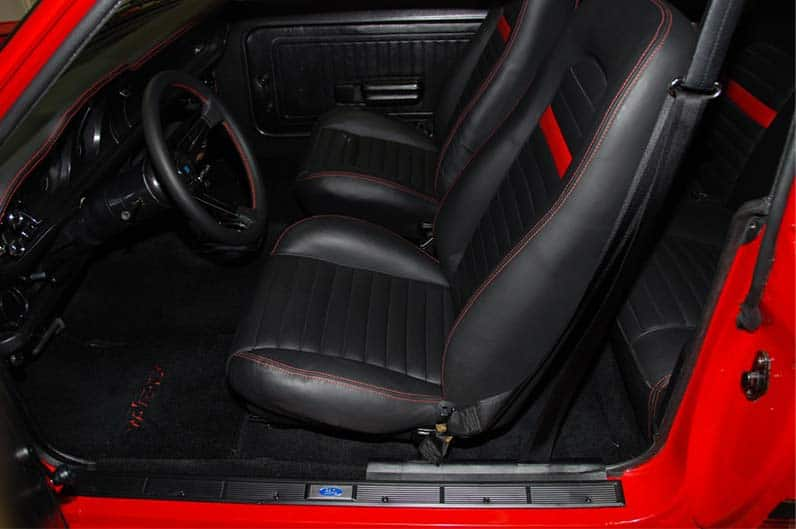 REAR SUSPENSION
· 1974 five-lug conversion.
· Rebuilt with 3.55 gears and an Auburn Pro posi.
· All possible parts, including third member and housing, powder coated flat black.
· Fully rebuilt brakes with new drums and parking cables.
· New steel brake lines and brake hose.
· Addco adjustable sway bar with custom support metal welded to the frame.
· NOS Koni shocks.
· Traction Master Bars.
· Four leaf springs.
· Chassis Engineering subframe connector.
· Custom box section welded to the frame in order to mount subframe connectors and Traction Master Bars.
· Rear bulkhead reinforcement plate.
FRONT SUSPENSION
· TCI coil-over suspension incorporating Shelby drop with two way adjustable shocks.
· Wilwood Dynapro 6-piston calipers with drilled and slotted 12" rotors.
· Disc brake master cylinder.
· Disc brake proportioning valve.
· New custom steel brake lines and braided hoses.
· 1974+ inner and outer shock tower bracing welded to the shock towers.
· Upgraded belly bar.
· Custom Addco adjustable sway bar.
· Upgraded to power steering with a new modern pump, new hoses, rebuilt power steering box, rebuilt valve assembly, rebuilt cylinder, new idler arm and new tie rods. All components powder coated or painted.
· Steering column rebuilt.
ELECTRICAL
· Battery relocated to trunk using a modified original tray and mount with the spare tire relocated to opposite side.
· 200 and 50 amp marine breakers.
· Super Vu-Tron 00 welding cable.
· Original Grabber interior main harness.
· NOS standard engine compartment harness modified to include Grabber sport lamps.
· Three Hella relays in a waterproof housing for headlights and Sport/Driving lights added to NOS harness.
· Optional Hi/Low dual horns added to NOS harness.
· Taurus electric radiator fan conversion.
· Dakota Digital fan controller.
· Leash Electronics fan relay.
· Cougars Unlimited electronic sequential turn signal controller.
· Custom made entire rear harness incorporating sequential controller and LEDs.
· Six 48 LED flat panels for stop and turn.
· Two 48 LED flat panels for back up lights.
· Two 24 LED flat panels for rear running lights.
· Four 5 LED side marker lights and custom Cougars Unlimited LED adaptor.
· Front turn signals modified to house two 48 LED panels for turn signals and running lights.
· LDO dome/map light with two 48 LED flat panels and two LED bulbs for the map light.
· LDO LED foot well lights.
· LDO LED trunk light.
· All other instrument panel and license plate lights replaced with LEDs.
· Headlight buckets powder coated and rebuilt.
· Lucas European headlight housings with Sylvania H4 bulbs.
· Lucas "Square 8" (Shelby & California Special) driving lights installed in a modified grill using modified original sport lamp mounts and controlled by a Hella relay using the original Sport Lamp switch.
· NOS turn signal switch.
· Trunk mounted fuel pump relay.
· 3g Alternator conversion.
· NOS fuel sender.
· Cigar lighter added.
· Ashtray light added.
ENGINE
· 1989 SSP Mustang 5.0.
· Eagle 347 rotating assembly.
· Neutral balanced.
· Icon forged pistons, 9.5 CR.
· Hastings rings.
· AFR 185 Renegade 58 cc aluminum heads
· ARP Studs and bolts.
· Mildon Oil pan and pump.
· Comp Cams XE-270-HR
· Edelbrock Performer RPM II intake.
· Edelbrock fuel rail kit.
· Aeromotive fuel regulator
· Accufab 75 mm throttle body and blank EGR plate.
· Ford Racing/Dunne-Rite EFI harness.
· Ford Racing 39# injectors, M-9593-M39.
· MSD Pro-billet distributor.
· MSD TFI Coil.
· MSD Spark Plug Wires.
· SCT 5 bank programmable chip.
· Ford Racing 90 mm Lightning MAF M-1259-L54
· Custom Dyno tuned.
· Custom fabricated air intake.
· K&N air filter.
· OEM SSP oil cooler.
· MPG Head Services Falcon Export Brace with custom firewall mount.
· March Serpentine pulley set.
· Doug Thorley shorty headers.
· Custom 2½" exhaust with X pipe and Magnaflow mufflers.
· Tanks Inc fuel pump.
· Custom metal fuel lines covered with silicone and aluminum heat shield material.
· Custom braided fuel lines with AN fittings.
· AOD Trans with a Yank Performance 3,000 RPM non-lockup converter and a Hughes deep sump pan.
· All brackets powder coated flat black.
· Lokar throttle cable
· Lokar AOD cable.
· Block, stock valve covers, radiator and transmission painted charcoal metallic to match interior.
· All new sensors.
· 326 RW HP at 6,200 RPM and 4,500 feet.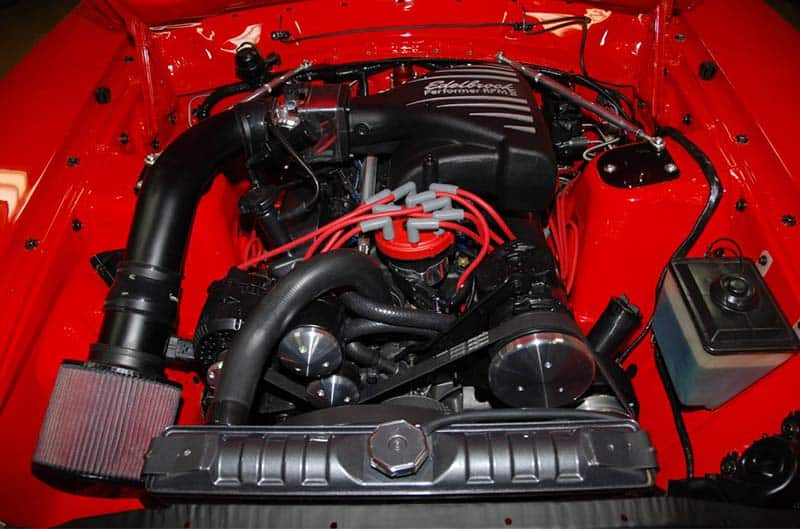 MISCELLANEOUS
· All original nuts, bolts and hardware re-plated in black cadmium.
· Custom box fabricated into right foot well for EFI computer and fan controller.
· Every possible bracket or part was powder coated.
· Trunk painted charcoal metallic, floor sound proofed and custom color trunk mat installed.
WHAT REMAINS OF THE ORIGINAL MAVERICK MY GRANDPARENTS HAD PURCHASED:
· Body shell: Except roof, radiator support, tail light panel, quarter panels, front valance, rear valance, fenders, hood and front cross member.
· Doors
· Window regulators
· Metal dash
· Speedometer
· Drive shaft
· Footwell panels
· Vinyl door panels
· Arm rests
· Rear interior panels
· Interior door and window handles
· Rear view mirror
· Door latches and strikers
· Trunk lid
· Gas tank vent line
· Charcoal canister
· Front spindles
· Some of the steering column
· Some of the window trim pieces
· Some of the nuts, bolts and washers
· Most of the headliner bows
· Passenger door hinges
· Hood hinges.
"Check out my photos to see the results – and thanks for your consideration!"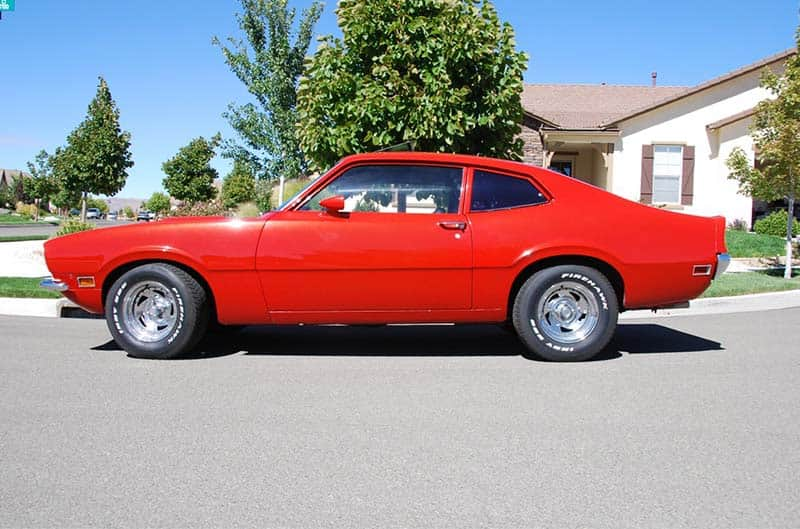 Here's How YOU Can Get In The Spotlight: For nearly 15 years now, one of the most popular features on FordPerformance.com and in our weekly Fast News e-newsletter continues to be "Ford Fan Spotlight," where readers can send in their own reasons why they're fans of Ford Motor Company and its vehicles. You know who they are: Ford "superfans;" grassroots Ford racers; unique Ford vehicle owners; loyal Ford enthusiasts; notable Ford club people; special Ford families; and/or any avid supporter of Ford, Ford vehicles, Ford motorsports or Ford Performance who deserves a little bit of special recognition.

All you need to do to get you, your car or candidate considered is to send in a brief description (200-500 words or less) and a few photos (in .jpeg format, preferably around 1 mb in size) with the owner's full name and hometown, please. Just tell us about the vehicle(s) and why you think Ford Performance should feature it (them) in the "Ford Fan Spotlight" for an upcoming installment of Fast News as well as for posting on FordPerformance.com. Then email it to: ClubHub@Ford.com with your contact info. Should you wish to send a video, you simply need to post it on www.YouTube.com (preferably 1-2 minutes long) and send in the link, along with a brief description, to that same ClubHub@Ford.com email address. Your submission allows us the rights to use your words and images (along with any edits) for editorial purposes; we'll choose one submission in random order each week to post online. We hope to see YOU and your Ford in our Spotlight soon!