You don't need a marketing degree to know that the Mustang hobby is a high-visibility activity that reaches far into the very fabric of modern American culture. In fact, it's no stretch to say that everyone has a Mustang story, even if they've never owned one. That's why the Mustang has long been the perfect vehicle (pun intended) to tell the story of the people involved with the lifestyle that surrounds driving this iconic car. If you are active in the car show scene, then you've likely noticed a variety of promotional and "tribute" Mustangs that leverage the reach of the Mustang to tell an important story or support a worthy cause. One eye-catching example that we'd like to promote over this Independence Day weekend is Eric Palmer's "Detroit RedTail" 2011 Mustang V-6 Convertible that tells the story of the famed WWII "Tuskegee Airmen. Check out his educational and inspirational Detroit RedTail purpose and journey below:
"Hi, Ford Performance. My name is Eric Palmer, and I'm founder and president of Detroit RedTail, Inc. The purpose behind my "Detroit RedTail" 2011 Ford Mustang V-6 Convertible is to participate in the American car culture and venture to those venues and events only reachable by motor vehicle and minister about the legacy of the Tuskegee Airmen. I personally custom-designed the wrap on my car, which pays tribute to the "Red Tail" P-51 Mustang fighter planes flown by the brave and valiant fighter pilots of the 332nd Fighter Group during World War II.


"Red Tails" was the nickname the bomber pilots of the 15th Air Force gave the "All-Negro" 332nd Fighter Group who protected them during bomber missions throughout Europe because the tails of their P-47 Thunderbolts and then P-51 Mustangs were painted red for aerial identification. Many are familiar with the term Tuskegee Airmen, which refers to the over 15,000 U.S. Army Air Corp personnel that were a part of a separate and segregated Army Air Corp that supported the missions of the 99th Fighter Squadron and then the 332nd Fighter Group during World War II domestically and overseas. But the term Red Tail is more specific. It refers to the approximately 355 single-engine pilots who served in combat in Europe for the 332nd Fighter Group.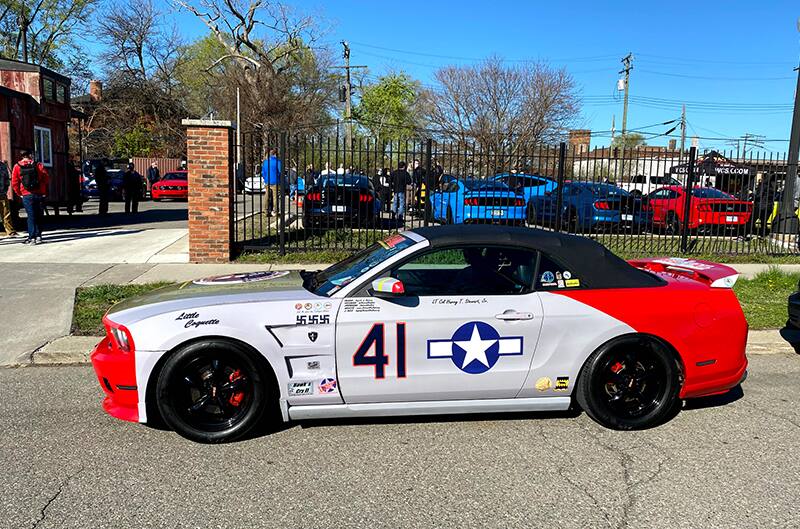 "Because the military was segregated at the time, non-white men who wanted to enlist to serve as pilots in the Army Air Corp were denied the opportunity because there was no segregated unit to place them. So, instead of desegregating, the war department decided to "experiment" with a separate and segregated Army Air Corp to be trained at the Tuskegee Army Air Filed in Alabama during WWII. These pilots became the first black military aviators in the Army Air Corps (which later became the U.S. Air Force), and went on to fly about 15,000 combat sorties, destroy 260 enemy aircraft and earn 150 Flying Crosses and Legions of Merit and more than 700 Air Medals and clusters. As one of the most-decorated aviation units of the war, their impressive performance helped fuel the eventual integration of the entire U.S. armed forces.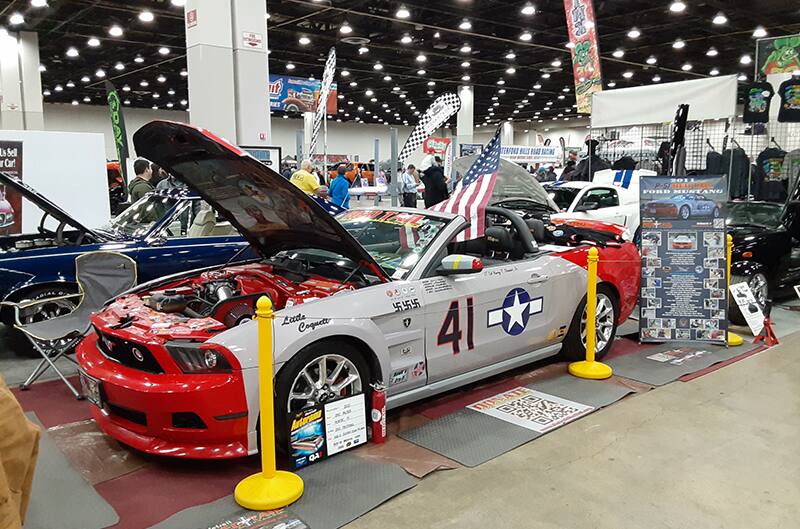 "We take our Detroit RedTail Mustang to well-attended social events and automotive activities to propagate the history and legacy of the famed Tuskegee Airmen. The custom wrap on the Mustang honors two living legends of the Detroit Chapter of Tuskegee Airmen, Inc., both of whom were actual "Red Tail" pilots -- LtCol (Ret.) Harry T. Stewart, Jr. (featured on the driver's side) and LtCol (Ret) Alexander Jefferson (on the passenger side). They are two of only eight Red Tail pilots still living. Each side emulates their P-51 Mustangs, so when our "RedTail" Mustang is on display, we not only have the opportunity to talk about the history and legacy of the Tuskegee Airmen, but we also tell Harry & Alex's stories as well.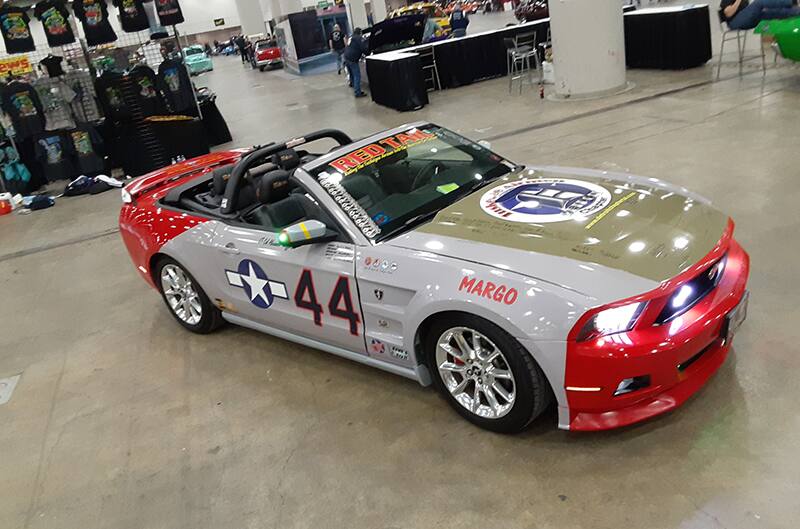 "Detroit RedTail, Inc., is a 501c3 nonprofit and is able to fulfill its mission through individual contributions and donations. For information on how to support our mission and to see pictures and videos of the events RedTail has participated in since 2017, please visit our website at www.DetroitRedTail.org."
How YOU can Get In The Spotlight: For the past decade, one of the most popular features on FordPerformance.com and in our weekly Fast News e-newsletter continues to be "Ford Fan Spotlight," where readers can send in their own reasons why they're fans of Ford Motor Company and its vehicles. You know who they are: Ford "superfans;" grassroots Ford racers; unique Ford vehicle owners; loyal Ford enthusiasts; notable Ford club people; special Ford families; and/or any avid supporter of Ford, Ford vehicles, Ford motorsports or Ford Performance who deserves a little bit of special recognition.

All you need to do to get you, your car or candidate considered is to send in a brief description (200-500 words or less) and a few photos (in .jpeg format, preferably around 1 mb in size) with the owner's full name and hometown, please. Just tell us about the vehicle(s) and why you think Ford Performance should feature it (them) in the "Ford Fan Spotlight" for an upcoming installment of Fast News as well as for posting on FordPerformance.com. Then email it to: ClubHub@Ford.com with your contact info. Should you wish to send a video, you simply need to post it on www.YouTube.com (preferably 1-2 minutes long) and send in the link, along with a brief description, to that same ClubHub@Ford.com email address. Your submission allows us the rights to use your words and images (along with any edits) for editorial purposes; we'll choose one submission in random order each week to post online. We hope to see YOU and your Ford in our Spotlight soon!