If there's one certainty in the Ford enthusiast world, it's that FoMoCo fans enjoy seeing photos of collectible Fords. That's precisely why we created our "Quick Look" photo gallery series in the Enthusiasts section of FordPerformance.com. We know that Ford lovers can spot even an obscure detail in a photo if it has something to do with one of their favorite Blue Oval rides. We were reminded of just that when car-show producer John Pullaro of Chicago reached out to us recently after spotting a photo of one of our Ford Performance Enthusiast Communications team members at a Mustang show. His note to us below is proof positive that even a quick look can deserve a long look when it comes to our favorite Fords:
"Hi, Ford Performance! My name is John Pullaro. I just had to contact you after seeing a photo of you from a few years ago, walking among rows of Mustangs at the annual MOCSEM Mustang Memories show behind Ford World Headquarters, probably from 2019. It appears you have a dream job! I couldn't help but notice a Grabber Green 1970 Mustang Convertible with a Shaker hood in that photo – so cool!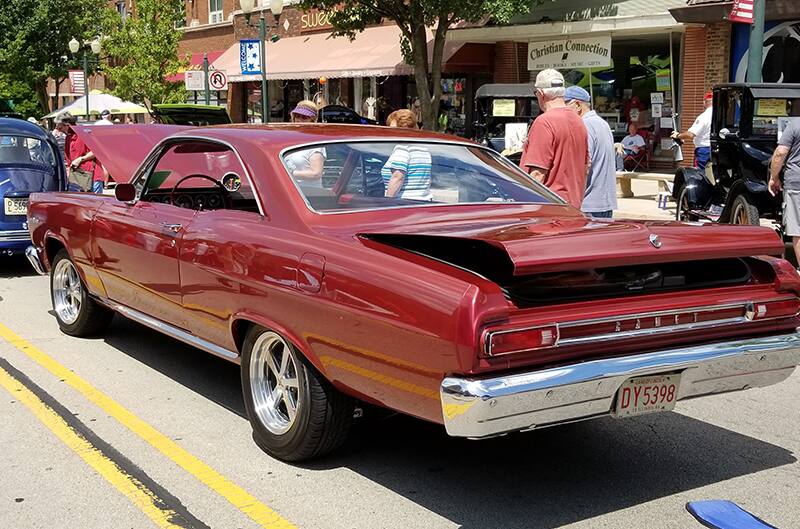 "I run car shows in the Chicago suburbs and was sad to have missed out on the 2020 car show season. I have a 1966 Mercury Comet (see photos), and my son has an '89 Mustang notchback, so you can see we are Ford fans. If you're ever in Chicago in the summer, we have car shows and cruise nights all the time here and would love to have Ford Performance attend! Thanks!"
How YOU can Get In The Spotlight: For the past decade, one of the most popular features on FordPerformance.com and in our weekly Fast News e-newsletter continues to be "Ford Fan Spotlight," where readers can send in their own reasons why they're fans of Ford Motor Company and its vehicles. You know who they are: Ford "superfans;" grassroots Ford racers; unique Ford vehicle owners; loyal Ford enthusiasts; notable Ford club people; special Ford families; and/or any avid supporter of Ford, Ford vehicles, Ford motorsports or Ford Performance who deserves a little bit of special recognition.

All you need to do to get you, your car or candidate considered is to send in a brief description (200-500 words or less) and a few photos (in .jpeg format, preferably around 1 mb in size) with the owner's full name and hometown, please. Just tell us about the vehicle(s) and why you think Ford Performance should feature it (them) in the "Ford Fan Spotlight" for an upcoming installment of Fast News as well as for posting on FordPerformance.com. Then email it to: ClubHub@Ford.com with your contact info. Should you wish to send a video, you simply need to post it on www.YouTube.com (preferably 1-2 minutes long) and send in the link, along with a brief description, to that same ClubHub@Ford.com email address. Your submission allows us the rights to use your words and images (along with any edits) for editorial purposes; we'll choose one submission in random order each week to post online. We hope to see YOU and your Ford in our Spotlight soon!