True-blue Ford fans not only like to know everything they can about classic Fords, but also even about the people who helped develop them. Often the Ford execs, designers and engineers who helped create the cars and trucks we love are still connected to the Ford enthusiast community, and that's certainly the case with retired Ford VP of Global design Jack Telnack. Telnack is oft-celebrated as the father of the Fox Body Mustang, although his greatest contribution to Ford is considered to be his design leadership of Team Taurus that delivered the breakthrough 1986 Ford Taurus design language. We get to see Telnack at various Mustang Owners Club of SouthEastern Michigan (MOCSEM) events each year, and it's always a treat talking to him. Jack contacted us recently, asking if we could help track down an out-of-print Mustang poster for his nephew, Peter Rosinski. In doing so, we discovered that Rosinski is himself a huge Mustang fan, proving the Ford apple doesn't fall far from the Telnack family tree. Check out Peter's email to us below to see what cool Fords are in his garage:
"Hi, Ford Performance. I'm Peter Rosinski, Jack Telnack's nephew and the very happy recipient of the 50th anniversary Mustang poster you sent me. It just arrived, and I want you to know how much I appreciate your taking the time to find one for me. I see this poster every time I get the oil changed in my '13 Focus ST at Dean Sellers Ford (in suburban Detroit), and have been hoping I might get a hold of one ever since. It's going to have a great spot on the wall in my study.

"Jack may have told you that I've been a Mustang fan since just about the day I was born when he gave me a Mustang pedal car my first Christmas (so you know how old that makes me now)! While I don't, unfortunately, have that "1st Mustang" any more, I do still have my first full-size version, a '65 convertible that I bought and restored in high school (and again since). Thank you for this latest bit feeding my Mustang habit! When you asked me for a photo, my dilemma was, which one of the thousands of pics I have of my car should I send you?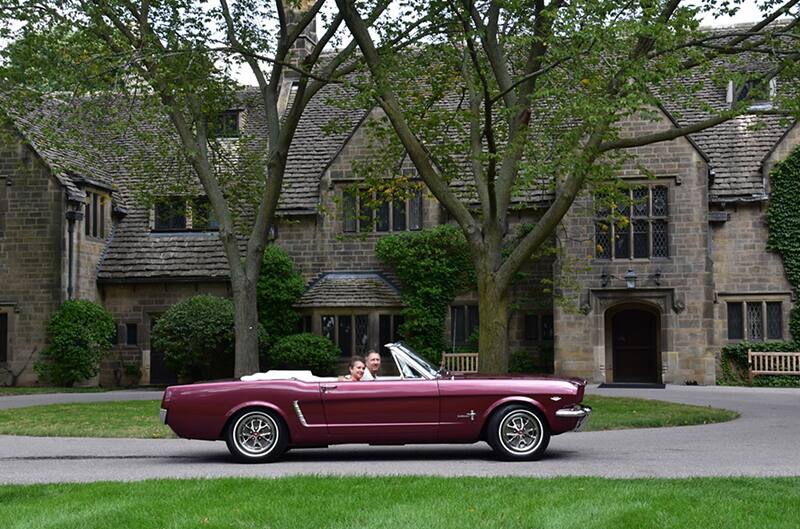 "I think that it the ones shown here could be the most appropriate. They were taken at one of the two 'Eyes on Design' drive-in shows that took place 2020 in lieu of their normal Concours event. My uncle was a judge at 'Eyes' for many years, and I've been volunteering there almost as long. It's such a great show, but I'd never been invited as an entrant. I applied for selection to be one of the 200 selected to participate in the unique 2020 "drive- in" event, and was thrilled to get picked!
"In fact, there were two of these events last year, one in spring and another in the fall. For the spring drive, I actually got picked to bring my 1972 Ford LTD convertible (I mention this since you are all Ford Performance, right? So I included a pic of that one, too). The Mustang was picked for the fall event. It was so much fun to get photos of both my rides in front of the famed Edsel and Eleanor Ford House in Grosse Pointe Shores, Michigan, host of the 'Eyes' show every year.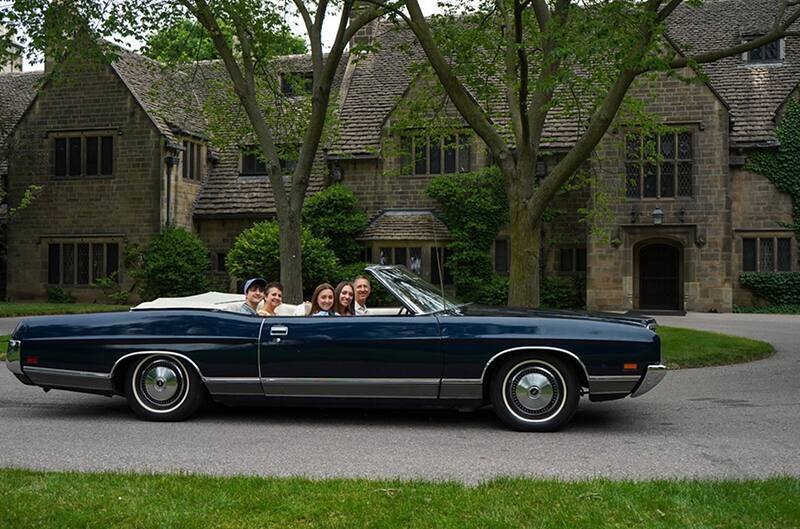 "This is all probably TMI, but I've been a huge Ford fan my whole life as my uncle will attest. I'll keep my eyes trained on FordPerformance.com, and thank you very much for considering me to be featured in your Ford Fan Spotlight!"
How YOU can Get In The Spotlight: For the past decade, one of the most popular features on FordPerformance.com and in our weekly Fast News e-newsletter continues to be "Ford Fan Spotlight," where readers can send in their own reasons why they're fans of Ford Motor Company and its vehicles. You know who they are: Ford "superfans;" grassroots Ford racers; unique Ford vehicle owners; loyal Ford enthusiasts; notable Ford club people; special Ford families; and/or any avid supporter of Ford, Ford vehicles, Ford motorsports or Ford Performance who deserves a little bit of special recognition.

All you need to do to get you, your car or candidate considered is to send in a brief description (200-500 words or less) and a few photos (in .jpeg format, preferably around 1 mb in size) with the owner's full name and hometown, please. Just tell us about the vehicle(s) and why you think Ford Performance should feature it (them) in the "Ford Fan Spotlight" for an upcoming installment of Fast News as well as for posting on FordPerformance.com. Then email it to: ClubHub@Ford.com with your contact info. Should you wish to send a video, you simply need to post it on www.YouTube.com (preferably 1-2 minutes long) and send in the link, along with a brief description, to that same ClubHub@Ford.com email address. Your submission allows us the rights to use your words and images (along with any edits) for editorial purposes; we'll choose one submission in random order each week to post online. We hope to see YOU and your Ford in our Spotlight soon!