First-gen Mustang owners tell us there's something special about having their cars passed down to them from their parents. It's not unusual to see these cars serving yet another generation of drivers before being stored and eventually restored to become a family treasure. That's precisely the case with Chris Norris of Knoxville, Tennessee, who got his dad's 1966 Mustang daily driver in his youth and eventually made it his own daily driver. After being stored it's now been restored, with Chris and his wife, Laura, enjoying this upgraded classic with fellow members of the Tennessee Valley Mustang Club. To find out about some of the modifications made on this sweet 66, check out Norris' email note to us below:
"Hi, Ford Performance! I'm Chris Norris of Knoxville, Tennessee. My wife Laura and I are members of the Tennessee Valley Mustang Club. This 1966 Nightmist Blue Mustang Coupe was purchased new for $2,889 by my father on November 23, 1965, from Hull-Dobbs Ford in Memphis, Tennessee, and it's been in the family ever since. It was his daily driver for 21 years, making daily commutes to and from his job in Memphis. For 12 of those years following our family's move to Henning, Tennessee, in 1974, my dad drove the car 50 miles each way to and from work in Memphis.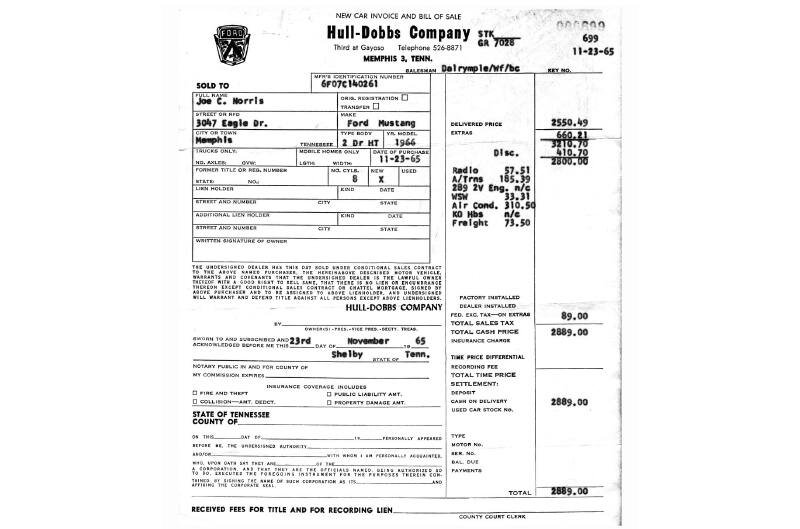 "When I turned 16 in 1986, and with 248,000 miles on the odometer, the car became my daily driver. During the summer of 1988, my grandfather assisted in readying the car for the 350-mile trips to and from college in Knoxville, Tennessee. We rebuilt the engine, converted it over to electronic ignition (salvaged from a Lincoln Continental) and added new front spindles and front disc brakes (salvaged from a Ford Granada).

"With few other changes, I drove the car through college and for the first two years of my own career. It was then parked and eventually fell into disrepair until, in August of 2011, a full restoration project began. The 289 cubic-inch V-8 (C-code) and C4 automatic transmission were rebuilt. Significant upgrades were made to the suspension and steering where adjustable coil-overs were installed front and rear and electric power steering was added. Four-wheel disc brakes were also added. New upholstery, carpet, dash pad, and headliner were installed. Interior upgrades included the addition of a digital gauge system, a headrest kit, a tilt steering column, and a black mahogany steering wheel.

"Exterior upgrades included the addition of a GT rear valence, LED taillights. smoked glass, and American Racing 16x7-inch Torq Thrust II polished wheels with BFGoodrich g-Force Sport 215/55-16 tires. All of the work was performed by Owens Oldies in Crossville, Tennessee, with some additional fine-tuning completed by Precision Rod and Customs in Sevierville, Tennessee. "The full restoration project can be viewed at https://norrisrestorationblog.blogspot.com and you can see and hear it run at https://youtu.be/iZa5NAjh98I Thanks for letting us share!"

How YOU can Get In The Spotlight: For the past decade, one of the most popular features on FordPerformance.com and in our weekly Fast News e-newsletter continues to be "Ford Fan Spotlight," where readers can send in their own reasons why they're fans of Ford Motor Company and its vehicles. You know who they are: Ford "superfans;" grassroots Ford racers; unique Ford vehicle owners; loyal Ford enthusiasts; notable Ford club people; special Ford families; and/or any avid supporter of Ford, Ford vehicles, Ford motorsports or Ford Performance who deserves a little bit of special recognition.

All you need to do to get you, your car or candidate considered is to send in a brief description (200-500 words or less) and a few photos (in .jpeg format, preferably around 1 mb in size) with the owner's full name and hometown, please. Just tell us about the vehicle(s) and why you think Ford Performance should feature it (them) in the "Ford Fan Spotlight" for an upcoming installment of Fast News as well as for posting on FordPerformance.com. Then email it to: ClubHub@Ford.com with your contact info. Should you wish to send a video, you simply need to post it on www.YouTube.com (preferably 1-2 minutes long) and send in the link, along with a brief description, to that same ClubHub@Ford.com email address. Your submission allows us the rights to use your words and images (along with any edits) for editorial purposes; we'll choose one submission in random order each week to post online. We hope to see YOU and your Ford in our Spotlight soon!