When Jeff Wise read a story about a 100,000-mile Mustang in his Mustang Club of America's Mustang Times magazine, he told us that he recalled being "somewhat impressed, but I can't say I was overwhelmed" -- since, his '06 GT has over 303K miles on it since purchasing it new and using it as an everyday driver up until last September. We asked him to share with us this all-original story (as in original owner, engine, transmission, etc.), so he sent us the email below:
"Hi, Ford Performance! My name is Jeff Wise. What makes the story of my Mustang special is that this 2006 4.6-liter Mustang GT is a true testament of Ford quality. Why do I say this? At 303,000-plus miles I am still running with the original engine, transmission, and clutch. Yes Clutch! Not a thing has been done to the drivetrain except for the normal maintenance such as fluid changes, spark plugs, etc.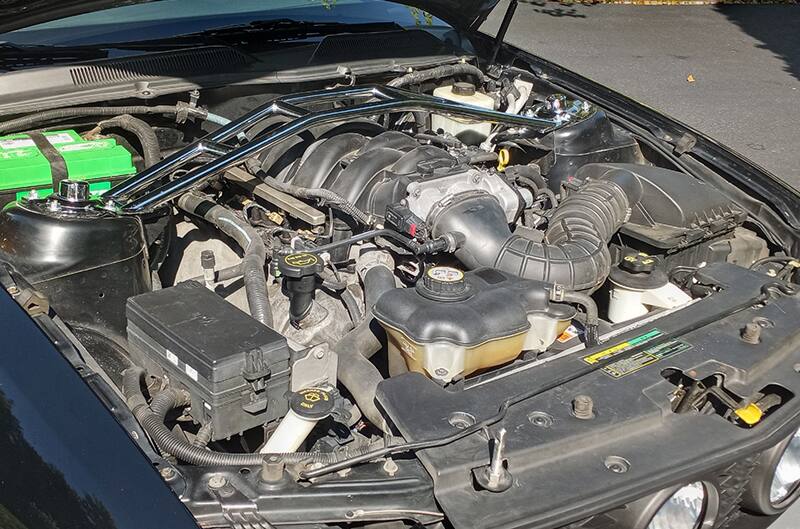 "Well, maybe there was one change. At 272,042 miles I thought the clutch went out, but found out that the problem was actually that the clutch pedal broke. It was metal fatigue -- the clutch was fine. Lastly, from a quality standpoint, was how long the original brakes lasted. The original rear set was replaced at 55,967 miles, or pretty normal. The original front brakes were replaced at 180,930 miles, which is not so normal. (I have all the service records to prove it.) This car was definitely 'Built Ford Tough.'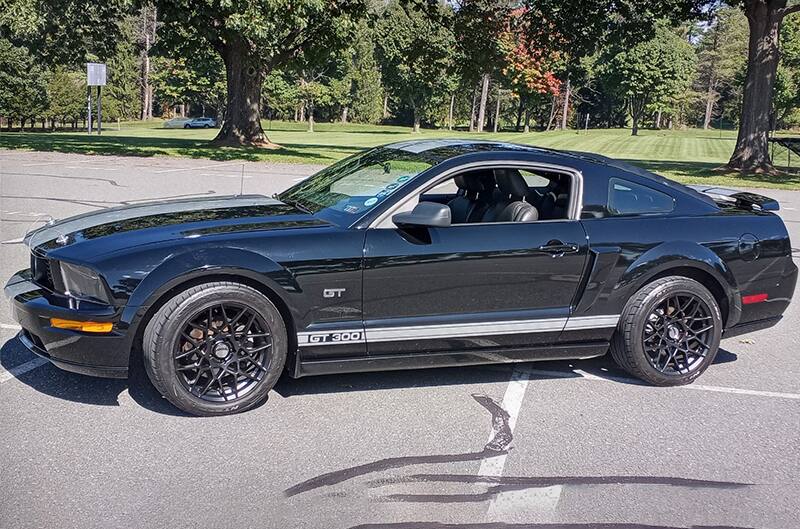 "ln the fall of 2003, l had just changed jobs and was looking to purchase a new car for my everyday commute to work in Northeast Philadelphia. This was a daily round-trip of 106 miles from where I live. After reading and then seeing what this retro-looking 2005 Mustang was going to look like, I held off dropping money on another car, because I just loved the look. It reminds me of a 1969 Fastback I owned back in my college days which I purchased after owning a Black '66 Mustang Hardtop Coupe. My mind was made up to place an order as soon as I could. ln 2005 I placed an order for a White Premium Mustang GT at Fred Beans Ford in Boyertown, Pennsylvania. But the order was never confirmed by Ford, and I have no idea what the issue was. After waiting a long time and conferring with the dealership, the order was rolled over to an '06. But again, l still wound up waiting.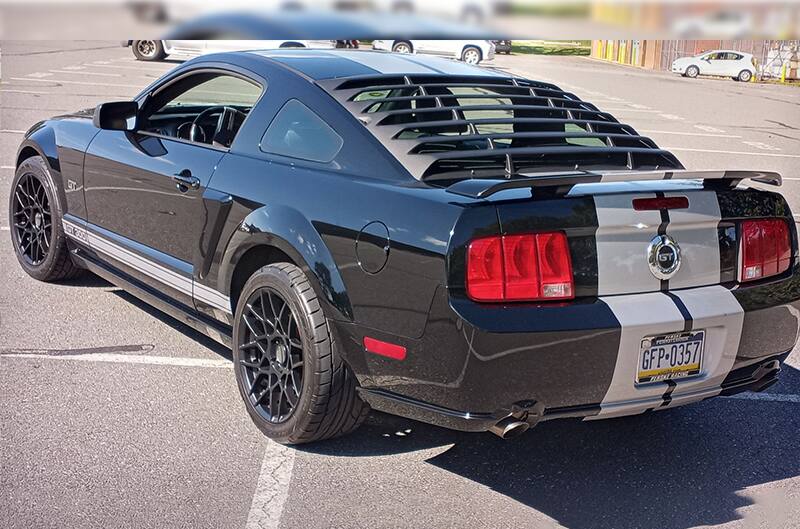 "One mid-October day on my lunch break I happened to drive down to Chapman Ford (as they say in Philly, 'On The Boulevard') to see if by chance they had any 2006 Mustang GTs with the Premium Package. I was not expecting to see any available since my own order still had not been confirmed. Lo and behold, they had two cars there just waiting to be purchased. There was a silver one and the other was black-on-black, just like my first car, the 66 Mustang. After haggling with the sales manager for a few days, I purchased it after work on November 2nd, 2005. Finally, after waiting over a year I finally had my dream car; but, did l?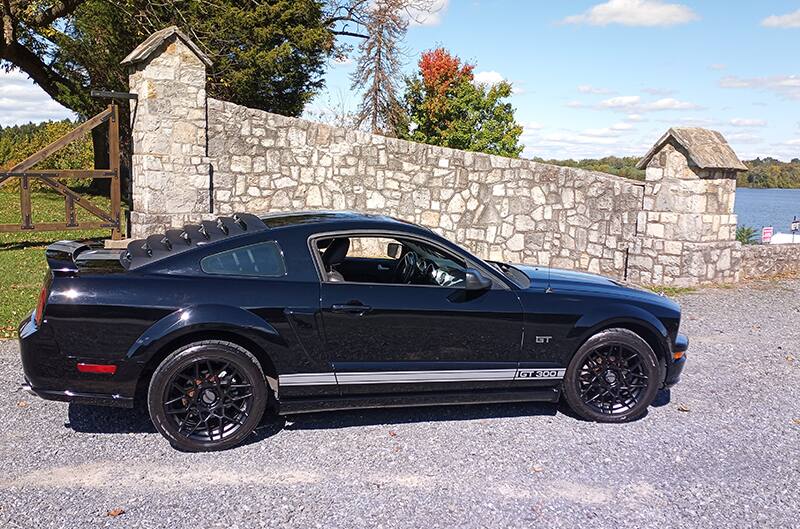 "Just 11 hours after driving out of the dealership and into some dense fog, a deer came out of nowhere and took out the front end of my new car. Unbelievable! As you would expect, I was devastated. My insurance company had it towed to Fred Beans Ford of Boyertown. Yes, the same dealer that I had initially ordered the car from. He probably made more money off of me by doing the repairs than if he had sold me the car in the first place. Like most people, I was concerned about the quality of the repair. Would the front end match the rest of the car paint-wise? Would it have rattles? How would it handle?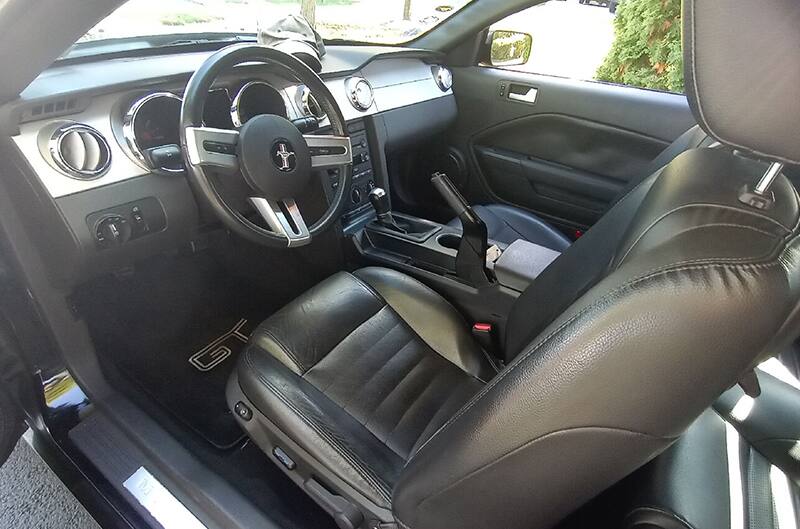 "When I got my car back a month later, I was pleasantly surprised. The repairs could not have been performed any better. At this point, the'06 Mustang became my everyday driver until I retired. We muscled thru all different kinds of weather here in the mid-Atlantic -- sun, rain, sleet, ice, and snow. When I retired some 12 years later in 2018, the odometer read 298,497. Not bad, huh?
"What is so great about these cars is the amount of aftermarket add-ons available from so many suppliers. I have added a few. All Class Auto Body of Bensalem, Pennsylvania, laid down the painted silver stripes. (Kevin did an awesome job). Bolt-on hood struts, a strut tower brace, billet aluminum hood pins, and side scoops have also been added. ln addition, it has SpeedForm ABS rear window louvres, Eleanor Honeycomb grille with center-mounted fog lights, and an 8-inch shorty antenna. Lastly (for now anyway), I put on Nitto 255/452R-18 and 275/40ZR-18 tires with satin black rims for that summer cruising time.

"With more than 300,000 miles, this ain't a trailer queen. It still looks pretty darn good and is going strong. These fun cars are meant to be driven, so drive on. Be safe out there and . . . just watch out for those deer."
How YOU can Get In The Spotlight: For the past decade, one of the most popular features on FordPerformance.com and in our weekly Fast News e-newsletter continues to be "Ford Fan Spotlight," where readers can send in their own reasons why they're fans of Ford Motor Company and its vehicles. You know who they are: Ford "superfans;" grassroots Ford racers; unique Ford vehicle owners; loyal Ford enthusiasts; notable Ford club people; special Ford families; and/or any avid supporter of Ford, Ford vehicles, Ford motorsports or Ford Performance who deserves a little bit of special recognition.

All you need to do to get you, your car or candidate considered is to send in a brief description (200-500 words or less) and a few photos (in .jpeg format, preferably around 1 mb in size) with the owner's full name and hometown, please. Just tell us about the vehicle(s) and why you think Ford Performance should feature it (them) in the "Ford Fan Spotlight" for an upcoming installment of Fast News as well as for posting on FordPerformance.com. Then email it to: ClubHub@Ford.com with your contact info. Should you wish to send a video, you simply need to post it on www.YouTube.com (preferably 1-2 minutes long) and send in the link, along with a brief description, to that same ClubHub@Ford.com email address. Your submission allows us the rights to use your words and images (along with any edits) for editorial purposes; we'll choose one submission in random order each week to post online. We hope to see YOU and your Ford in our Spotlight soon!