Like many Mustang Club of America members, Ron Brass of Dubuque, Iowa, first reached out to us via ClubHub@Ford.com to comment on the monthly "Ford Performance Corner" column that he'd read in his Mustang Times club magazine. While that column had to do with vehicle nomenclature and Ron had commented on the color of his 2015 Mustang being named "Guard," he also happened to mention that he owns '65 and '67 Mustang Fastbacks and a '67 Mercury Cougar. That's when we asked him for the story behind each of those cars, which he shares with us below. Enjoy:
"Hi, Ford Performance! This is Ron Brass, and here's the story I promised you: I grew up in north-central Iowa in an era when farm kids commonly started operating equipment and vehicles well before the legal driving age. But a real driver's license was like a right-of-passage for a rural teenager. Over my mother's objections, my more sympathetic father allowed me to skip a couple of hours of school and drove me to the driver's license station on the morning of my 16th birthday. It took a few months to find an affordable car – but I finally landed a 4-year old 1957 Ford – in pretty good condition. My father paid half, his logic being that half-interest allowed him a say in how I drove and took care of the car. And, in the next few years, whenever there wasn't something special going on, it was always time to work on cars with my cousins and friends.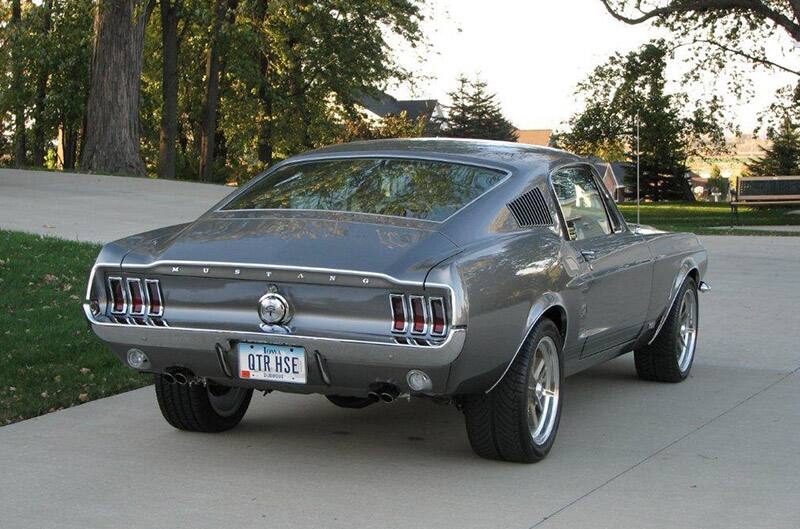 "In 1965, I was in college and the local Ford dealer advertised they would have their first fastback Mustang on display in their showroom. I had to see it! I was already hooked on the Mustang, but was now elevated to fastback 'fanship.' However . . . college tuition and a student loan assured I wasn't going to be a buyer anytime soon. The only choice was to nurse my '57 well over the 100,000-mile mark. Soon the things of life -- a full-time job, children, buying that first home, and all that each entails -- made more generic family transportation more important than Mustangs.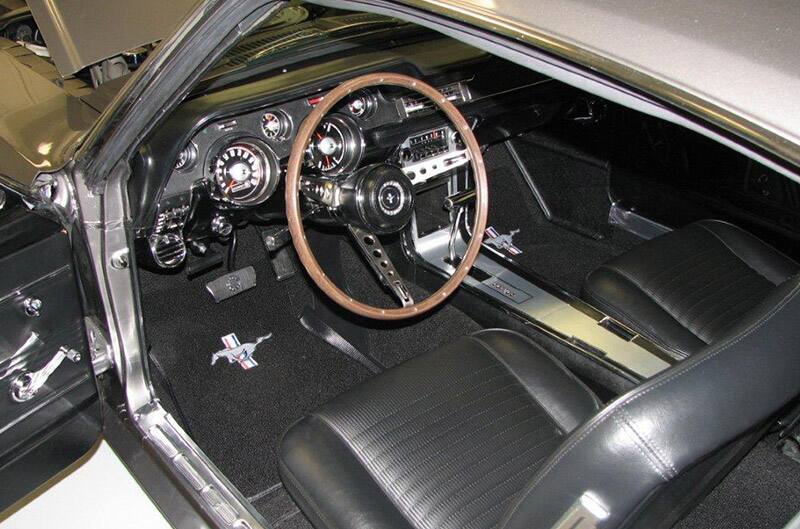 "By 1983 my wife and I had accumulated a small amount of uncommitted funds, and I convinced her an older Mustang would be a good investment -- and a lot of fun. Of course, this possibility was partially motivated by a 1965 Mustang fastback I had uncovered locally -- with an owner thinking he might sell. It was a black car with a recently overhauled 2-barre 289, automatic transmission, wire wheel covers, and an odometer indicating 112,000 miles. It had been repainted 10 years prior, hadn't been driven much since, and looked pretty good on the outside. Actually, very good for a Midwest car.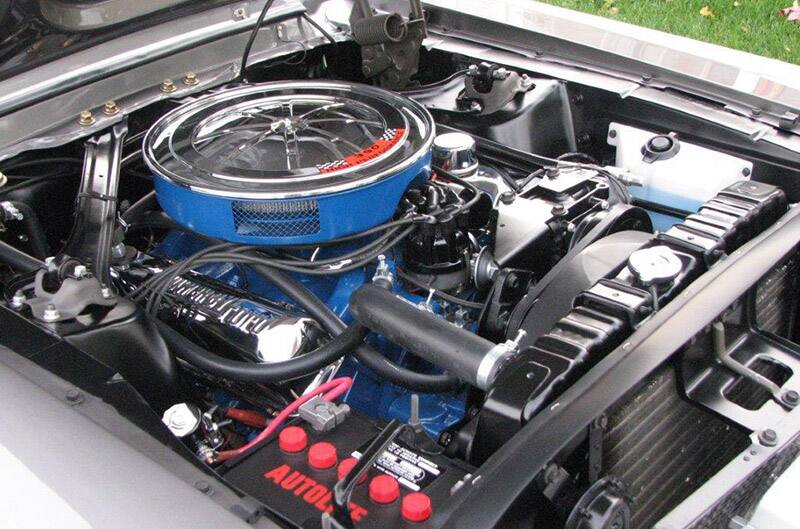 "It had a few mechanical problems, some rust-through in the passenger floor pan, and the interior was a little frayed and worn. But test-driving it was true memory lane. I made the necessary repairs right away, bought some new tires and then worked on minor repairs and cosmetic problems over the next 15 years as my limited time permitted. I added GT fog lights and refurbished the floor console. One year I stripped the engine compartment, removed everything I could from the engine, added a 4-barrel manifold and carburetor, and painted everything in the engine bay correctly – all in the mid-winter confines of my home garage. Some years we took the car out a lot, other years we hardly had time for it at all, but we always kept it warm and dry. Then I put this project on hold for a while to work on another car.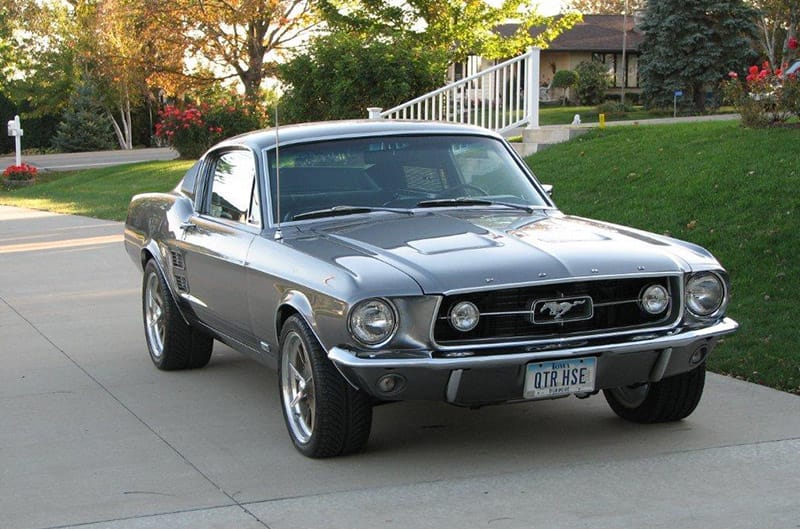 "In early 2010 I took a serious look at this partially refurbished car – now a strange mix of really good and pretty mediocre items. The interior still needed new carpeting, seat upholstery, door panels, a dash pad and dashboard touch up. I had always felt the exterior paint wasn't really good, but was too good to re-do. I finally broke down and decided to paint it right. As the body shop stripped the car, several patch panels were found of questionable quality. All were repaired properly. A fresh coat of Ford Aspen Green was applied. GT stripes were added – my choice of light grey-green instead of white. I decided to keep the white sidewall tires as a nice contrast to the dark green, and added 14 x 6-inch styled steel wheels. I opted for a stainless exhaust system – the very last set-up that Stainless Works in Ohio made for a first generation Mustang. My final addition was a CD player – mounted securely in the glove box. This car was never on a rotisserie, but is pretty much a complete restoration with an original look.
"At the end of 2001 I retired from my job as an engineer in John Deere's Construction Equipment Division. With a little more time on my hands I searched for a 1967 Mustang fastback – my favorite of all cars since they first arrived. I had my heart set on a GT with its 390 CID engine and a manual transmission. I found that a good example was getting hard to find. I looked at a couple for sale, each with rust that looked far beyond repair. I wanted to make the car my own, so I didn't really want a fully restored car – and couldn't afford that anyway. I bid on a GT on eBay, but it sold for twice what I was willing to pay.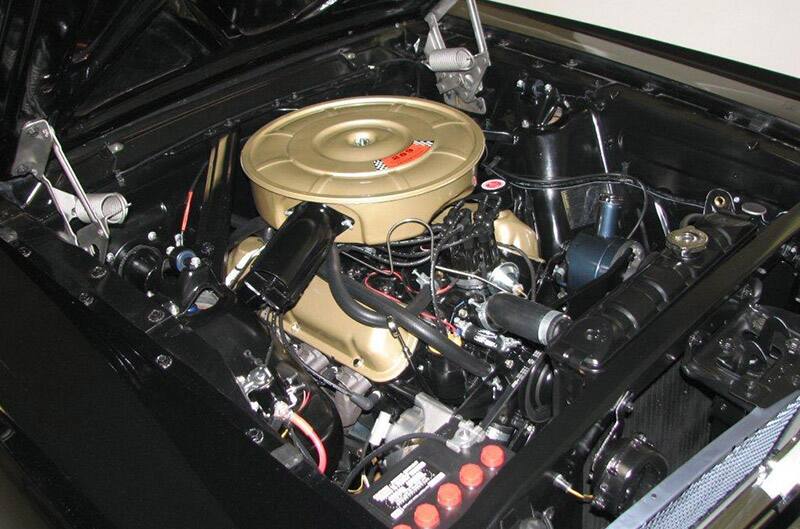 "After two years I saw a GTA fastback advertised in Kentucky – with an engine in sorry shape but a pretty good body. When I called, I found it was owned by a young man who had brought it from California, but ultimately didn't have the money to repair it. He told me he thought he already had it sold, but took my phone number just in case. Two weeks later he called – told me the sale had fallen through. He e-mailed me a bunch of photos. I decided maybe a manual transmission wasn't really necessary, and that a ravaged interior wasn't really beyond repair. Maybe even a couple of years of abuse on a California drag strip didn't matter all that much. We negotiated, but I felt he knew I wanted the car. Okay, so I paid a little too much – for a car I hadn't even seen in person. (It's hard to see that both front buckets are passenger-side seats in a photo.)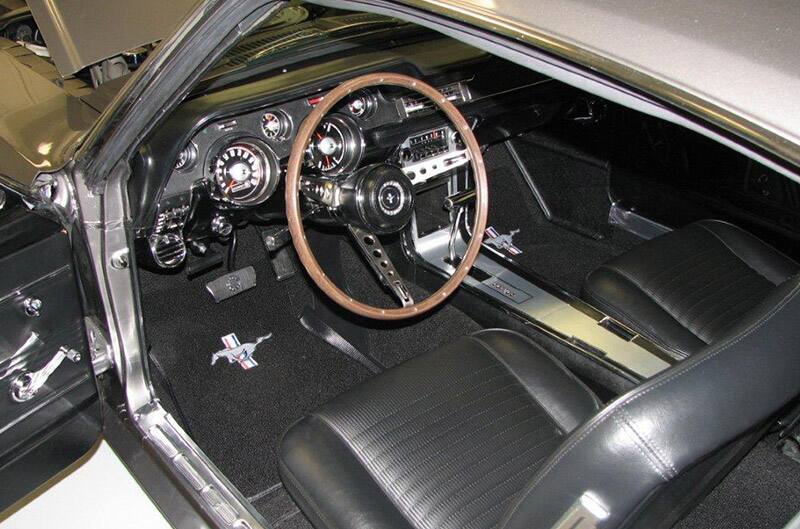 "It wasn't really a surprise that when I got the car home it was even worse than I expected. However, I had some time -- and a vision. I had found a body shop in the area that had a reputation for truly excellent work. I had never painted a car. (I always tell people that I don't want the first car I paint to be my own!) Professionals were doing Eleanors – I just wanted a special car.
"My body shop rented a rotisserie. I took everything off and out of the car. Everything. I stripped off the old sound deadener using a heat gun. My wife and I repeatedly drove through every car lot in the city to visualize a color more exciting than the original white. We decided on a light silver-grey. I added a floor console and an overhead console, and restored the factory air conditioning. (All of the under hood components had been removed during the car's drag racing days.) I made a number of subtle changes most people don't often notice. For example, I deleted the rocker panel moldings. (I've always felt the rocker moldings on '67s took away from the GT stripe.)
"I found a set of Cobra Jet manifolds and added 2-inch exhaust. A Speed Demon carburetor, Edelbrock intake, cam upgrade and transmission shift-kit helped with performance. A detailed engine bay and complete underbody painting boost the overall looks. A set of genuine PSE 17-inch wheels offer a major appearance upgrade. The project was finally complete in 2007, and we have taken it to numerous shows, including national MCA events. The 'QTR HSE license plate plays to the car's time on the drag strip and is a great conversation starter. This car has earned several "Best in Show" awards.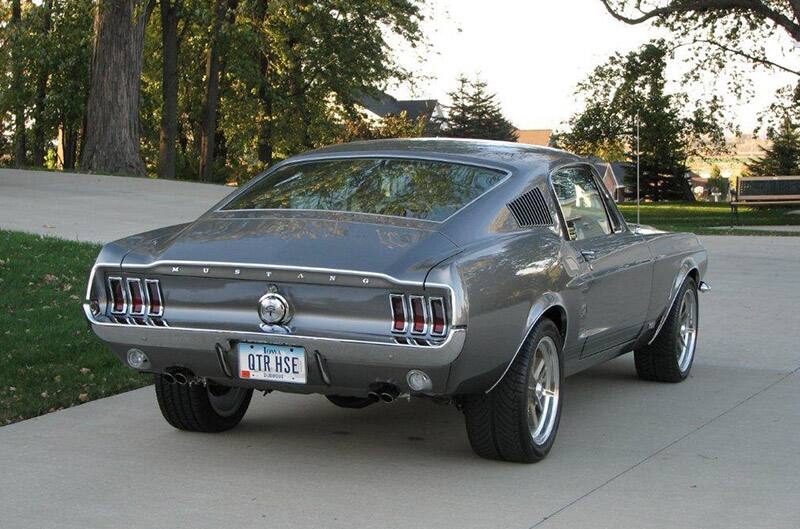 "Early in 2016 I was browsing through an old magazine, and saw a picture of a really nice Mercury Cougar. Once again with idle hands, and having the knowledge gained working on my '67 Mustang, I thought, 'Why not?' The first-generation Cougars were clearly a favorite because of the unique, original body. A GT with the 390 engine seemed a good choice because of rarity. (Searching for a specific car is actually a lot of fun.) Within a few months I'd found a non-running GT in California that hadn't sold because of a stratospheric asking price. The car hadn't been driven for 30 years, plus had a bad engine and some missing parts. However, the engine, 4-speed manual transmission and rear axle were all original. The body was well above average. We negotiated a more reasonable price. (I'm sure I still paid too much – just not quite an unreasonable too much.) The add $1,200 to ship the car from the West Coast.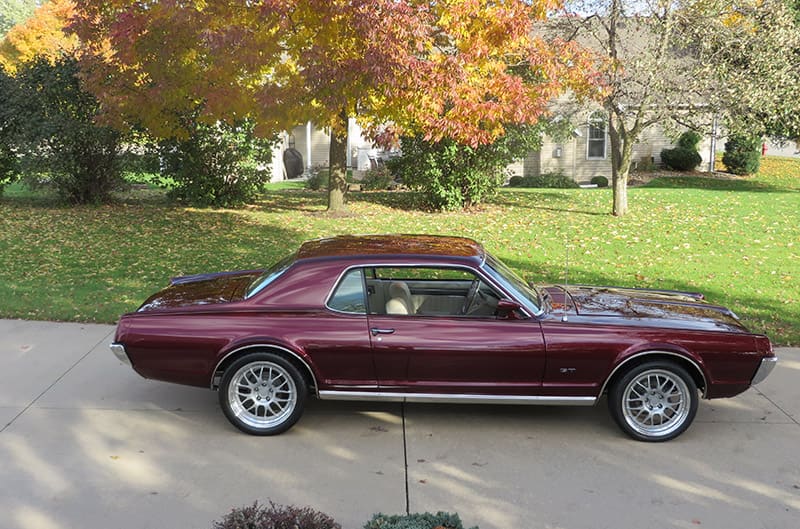 "I again decided on a number of minor modifications to try to clean up and personalize the car, but I wanted to be careful not to change any of the salient features so it would easily be recognized as a Cougar. To save some time, a friend rebuilt the engine for me. The only engine changes have been replacement of the cast-iron intake with an aluminum Edelbrock and a slightly more aggressive cam. Saving about 60 pounds of up-front weight with the new intake allowed addition of a factory air conditioning system without changing the front springs.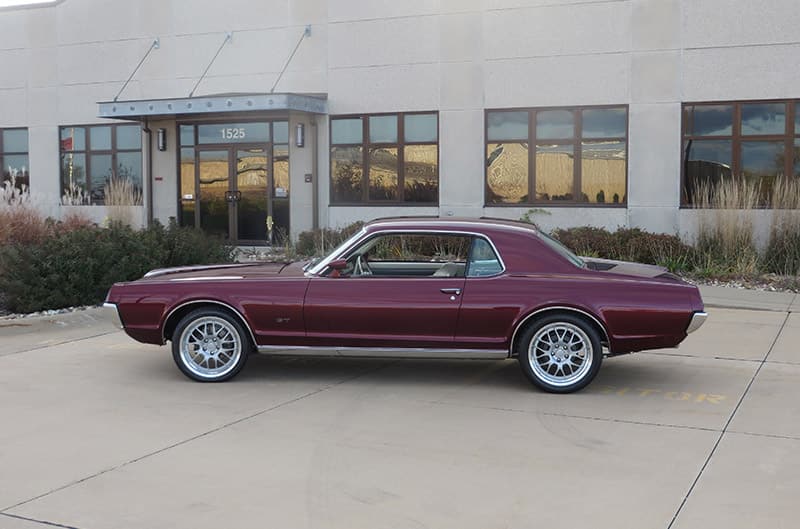 "Again it was onto a rotisserie for complete disassembly – and a lot more sound deadening to remove than on a Mustang. I played with various colors for the exterior, finally deciding on the current Chrysler Velvet Red. Exterior modifications included eliminating the original parking lights in favor of rectangular units from a Torino, eliminating the backup lights and adding exhaust flairs to the rear valance to accommodate 3-inch extensions from a Ram pickup. The new exhaust system is also stainless.

"Body modifications include removal of the Mercury scripts, removal of the rear quarter emblems, addition of a two-color pinstripe and 1968 rocker panel trim. The front door-vent windows were removed to accommodate one-piece door glass, and 1970 Torino racing mirrors were modified to fit the unique Cougar body contour. Headlight doors have been changed from vacuum to electric, and the sequencing tail lights are now electronic. Lots of extra sound deadening was added to make the car noticeably quieter.

"Inside, floor and overhead consoles were added, the seats were reupholstered in leather with two-color and complementing texture materials, and with a modified pattern to accentuate the bucket seat look, especially in the rear. A hand-made console pad now covers the entire floor console. The original 8-track stereo player was reconditioned and dual rear speakers were added. The dash and door panels and other surrounds were all painted with vinyl paint to a phantom white. The dash pad and carpeting are grey. Nothing inside the car has been neglected. The car rides on 18-inch ForgeLine wheels in staggered 7.5- and 8.5-inch widths.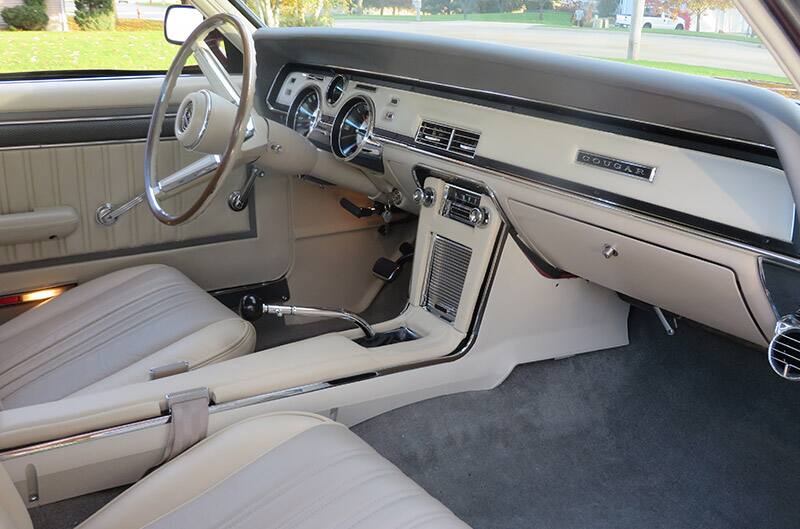 "When it comes to the 2015 GT, this is our third Mustang bought new. These cars have all been year-around daily drivers. Our 2004 Mustang GT was in 40th Anniversary trim – red with Arizona Beige accents. The 2010 was a black GT with leather seats and the Electronics Package. The current 2015 GT is a 50th Anniversary Edition. Ford calls the 2015 color "Guard," but my Iowa registration simply calls it grey. These cars have allowed me to enjoy driving a Mustang while keeping the collector cars from the harsh reality of every-day use.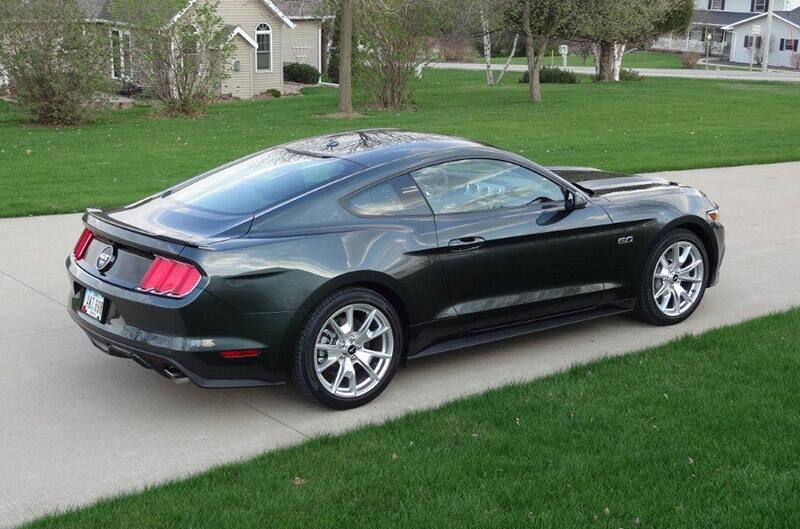 "In summary, we still have all of our collector cars. Each has made it to several local cruise-ins this year, but the pandemic has kept us from more distant shows. Each gets its share of looks. The 1965 Mustang gets noticed for its original appearance. The most frequent comment about the 1967 Mustang is that folks really like the color. And I find it interesting that so many people say the Cougar doesn't look like a 50-year-old car. Finally, each car has its own character – and each offers its own brand of fun."
How YOU can Get In The Spotlight: For the past decade, one of the most popular features on FordPerformance.com and in our weekly Fast News e-newsletter continues to be "Ford Fan Spotlight," where readers can send in their own reasons why they're fans of Ford Motor Company and its vehicles. You know who they are: Ford "superfans;" grassroots Ford racers; unique Ford vehicle owners; loyal Ford enthusiasts; notable Ford club people; special Ford families; and/or any avid supporter of Ford, Ford vehicles, Ford motorsports or Ford Performance who deserves a little bit of special recognition.

All you need to do to get you, your car or candidate considered is to send in a brief description (200-500 words or less) and a few photos (in .jpeg format, preferably around 1 mb in size) with the owner's full name and hometown, please. Just tell us about the vehicle(s) and why you think Ford Performance should feature it (them) in the "Ford Fan Spotlight" for an upcoming installment of Fast News as well as for posting on FordPerformance.com. Then email it to: ClubHub@Ford.com with your contact info. Should you wish to send a video, you simply need to post it on www.YouTube.com (preferably 1-2 minutes long) and send in the link, along with a brief description, to that same ClubHub@Ford.com email address. Your submission allows us the rights to use your words and images (along with any edits) for editorial purposes; we'll choose one submission in random order each week to post online. We hope to see YOU and your Ford in our Spotlight soon!