One of the reasons that our weekly "Ford Fan Spotlight" feature is so popular with our readers is that we get to see how the modifications made to personalize vehicles help make each and every car as unique as their owners. That's exactly what motivated Andy Helsinger of the Mustang Shelby Club of Long Island to transform his 2006 Mustang GT into something he calls "The Green Monster." After you hear what Andy has done to the car and how much fun he has with it (see below), you'll understand why we chose him and his modded Mustang to appear in this week's Spotlight: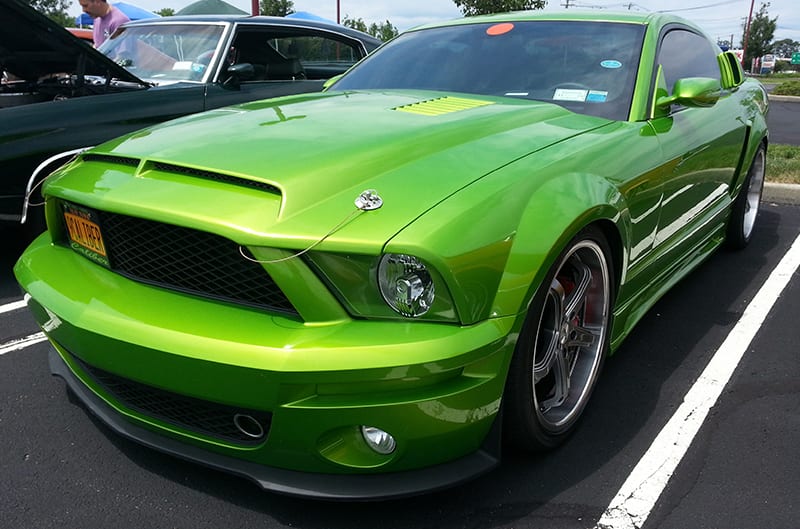 "Hi, Ford Performance! My name is Andy Helsinger. I am 58 years old and am from Lindenhurst, New York. Here is my 2006 Mustang GT that we call 'The Green Monster.' I finished the modifications on this car in 2008 with only 25 miles on the clock. She has 6,000 on her now. The list of modifications include: Snakeskin green paint; shaved door handles; quarter-glasses and gas-cap door; door-popper attached to the factory remote; 1968 Shelby upper scoops modified to fit where the quarter-glasses used to sit; Cervini's lower scoops; Shelby nose, with a Trufiber hood; Saleen side skirts and rear bumper; coil-over shocks and a Steeda lowering kit; TSW Thruxton wheels; Wilwood front and rear brakes; watts link in the rear; bump-steer kit in the front; Ford 4.6 liter V-8 with a supercharger; factory 5-speed with Spec 2 clutch; American Racing headers; custom-bent exhaust leading to Saleen exhaust tips; interior is out of a 2008 Shelby GT500; 5-point racing seatbelts; battery mounted in the trunk; and a custom sound system with GPS.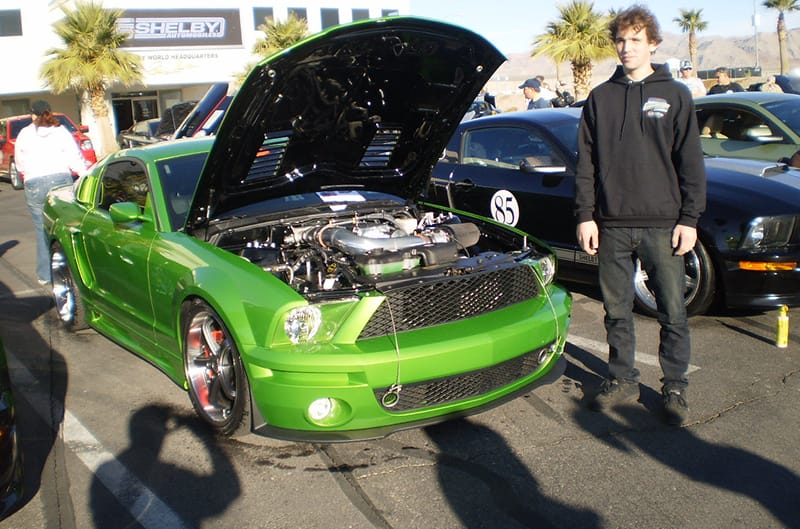 "Back in 2010 I had the car shipped out to California, where my son and I attended the 2010 Shelby Bash. We drove the car from the event in Gardena, California, to Las Vegas. About another 150 Mustangs went on that trip, and along the way, the whole group of us got pulled over by the Highway Patrol! Fortunately they let us off with a warning. When we arrived in Las Vegas, we spent two days racing around the road course at the Las Vegas Motor Speedway. The third day we attended the car show at Shelby Las Vegas. I won a trophy signed by Carroll Shelby – and it is still hanging in my home's hallway today.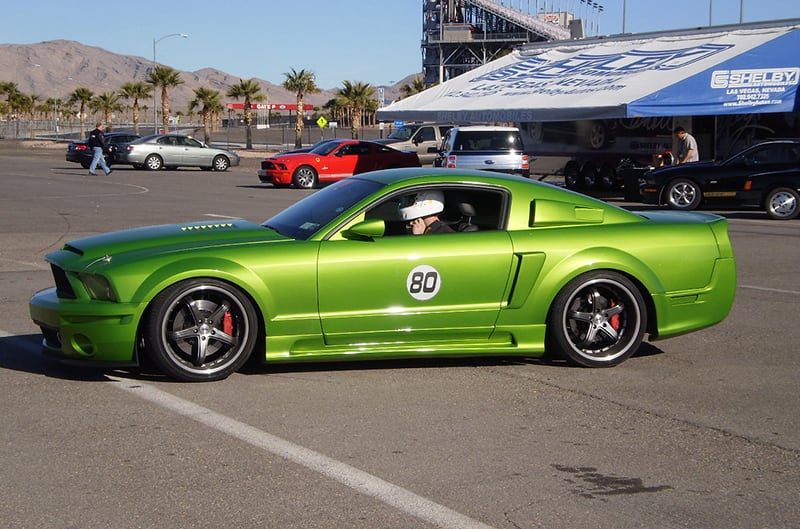 "I have also had track time with The Green Monster at Thunderbolt and Lightning tracks in Millville, New Jersey. I am a member of the Mustang Shelby Club of Long Island New York, and this car is often a favorite at our local shows."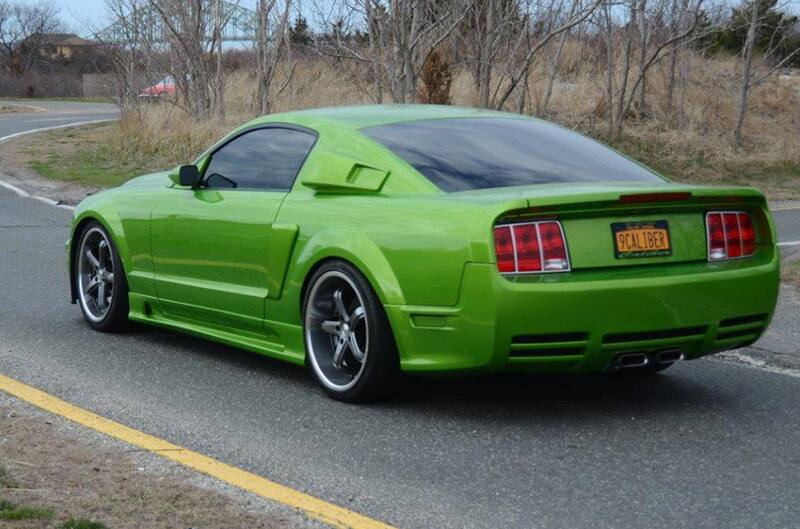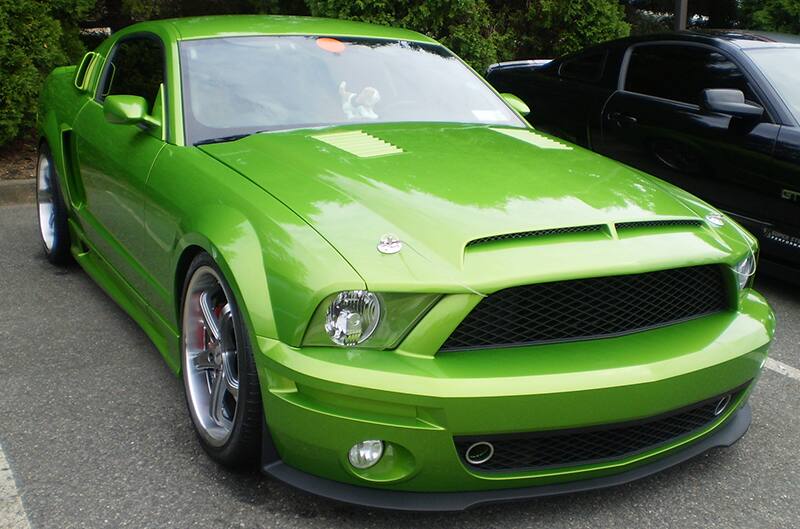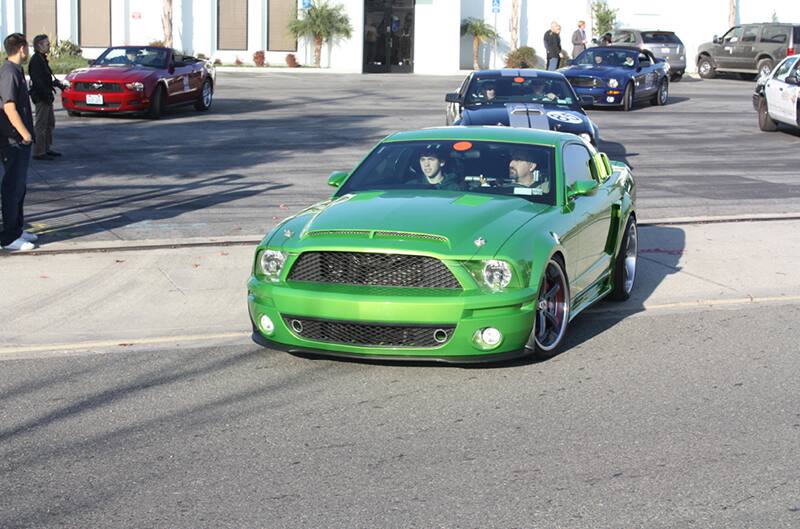 How YOU can Get In The Spotlight: For the past decade, one of the most popular features on FordPerformance.com and in our weekly Fast News e-newsletter continues to be "Ford Fan Spotlight," where readers can send in their own reasons why they're fans of Ford Motor Company and its vehicles. You know who they are: Ford "superfans;" grassroots Ford racers; unique Ford vehicle owners; loyal Ford enthusiasts; notable Ford club people; special Ford families; and/or any avid supporter of Ford, Ford vehicles, Ford motorsports or Ford Performance who deserves a little bit of special recognition.

All you need to do to get you, your car or candidate considered is to send in a brief description (200-500 words or less) and a few photos (in .jpeg format, preferably around 1 mb in size) with the owner's full name and hometown, please. Just tell us about the vehicle(s) and why you think Ford Performance should feature it (them) in the "Ford Fan Spotlight" for an upcoming installment of Fast News as well as for posting on FordPerformance.com. Then email it to: ClubHub@Ford.com with your contact info. Should you wish to send a video, you simply need to post it on www.YouTube.com (preferably 1-2 minutes long) and send in the link, along with a brief description, to that same ClubHub@Ford.com email address. Your submission allows us the rights to use your words and images (along with any edits) for editorial purposes; we'll choose one submission in random order each week to post online. We hope to see YOU and your Ford in our Spotlight soon!