Many owners we've featured in our Fan Spotlight have restored their classic Fords, and some of have even resto-modded their vehicles. But few have taken one Ford classic – in this case a 1970 Mustang Mach 1 – and turned it into another Ford classic, like the Boss 202 clone seen here. Not only that, the owner of this supercharged Mustang restomod wanted to complete this transformation by the car's 50th birthday. All this is why you have to check out Sam Moody's story below:
"Hello, Ford Performance! My name is Sam Moody. I've been a Ford fanatic (especially Mustangs) for many years now, thanks to my Dad's love of them, which was first passed down from his Dad. I have personally owned eight Mustangs (among many other Fords) over the past 20 years, starting with my very first car -- a 1989 4-cylinder hatchback.

"Subsequent Mustangs were multiple 5.0 Fox-bodies, a 1967 Coupe, and then, later, a 2003 SVT Mustang Cobra. I have always loved the looks of the classic Mustangs, but my '67 was not as fun or as easy to drive compared to the modern cars we have today. On the other hand, my 2003 'Terminator' Cobra was my favorite Mustang; so much power on tap yet so much reliability and drivability for everyday use. Here is where my idea was born -- to merge a classic Mustang with the drivability and power of a newer Mustang.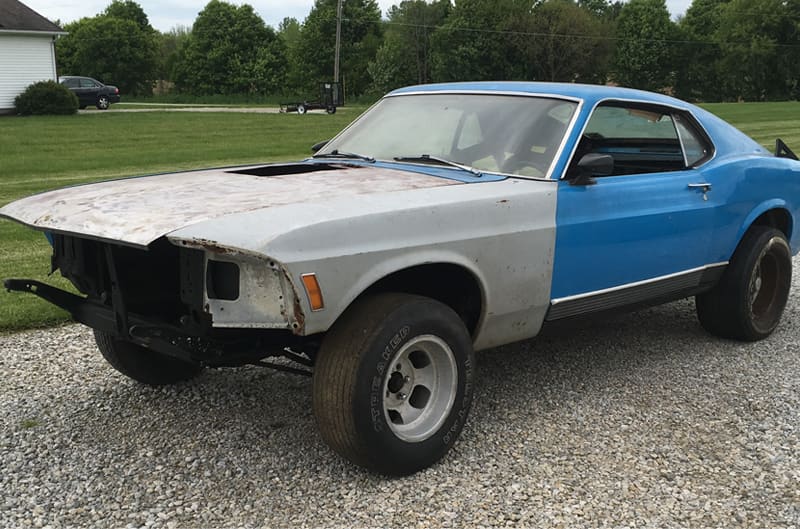 "This probably sounds like the beginning of most stories you read in magazines, but this is the point of the story where the owner usually contacts a custom build/restoration shop to turn their dream into a reality. Not me.

"My Dad and I have restored several Mustangs together through the years, one of which was a 1969 Mach 1 that took home multiple trophies from car shows, including a best-of-show at an all-Mustang car show. While these were all restorations, we had never built a restomod. I began my extensive research on what needed done and thought, 'We can do this!' With that, the search for my platform began.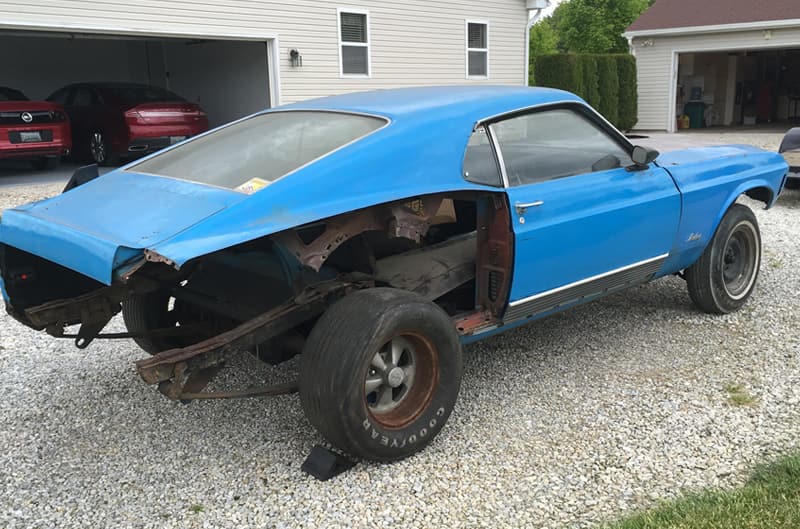 "The 1970 Boss 302 has been my all-time favorite Mustang since I was a kid, so I chose to build this idea out of a 1970 Mustang fastback with the looks of a Boss 302. So I purchased a 1970 Mach 1 in March of 2016 that had solid bones with little rust, as it had been in storage since 1984. For the engine, after experiencing the greatness of the 2003 Cobra I knew I had to have a supercharged Ford powerplant. I found a company selling complete engine/transmission/wiring assemblies out of wrecked Mustangs, and purchased a complete unit out of a 2009 Shelby GT500.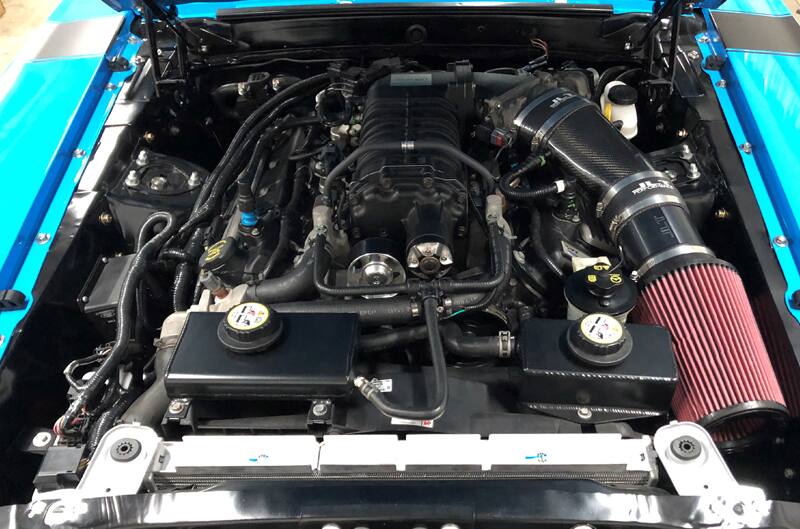 "I spent the next four years working on this to make it a reality for myself, and my personal goal was to have this build completed by the car's 50th birthday. I thought it would be neat to say that 50 years after rolling off the Ford assembly line, it's now rolling out of my garage with a new lease on life. I'm proud to say that my dream and hard work came to fruition as the project was completed on the same day the car reached its 50th birthday, on May 15, 2020. According to the Marti Report, my car was built on May 15, 1970, at the Dearborn Assembly Plant.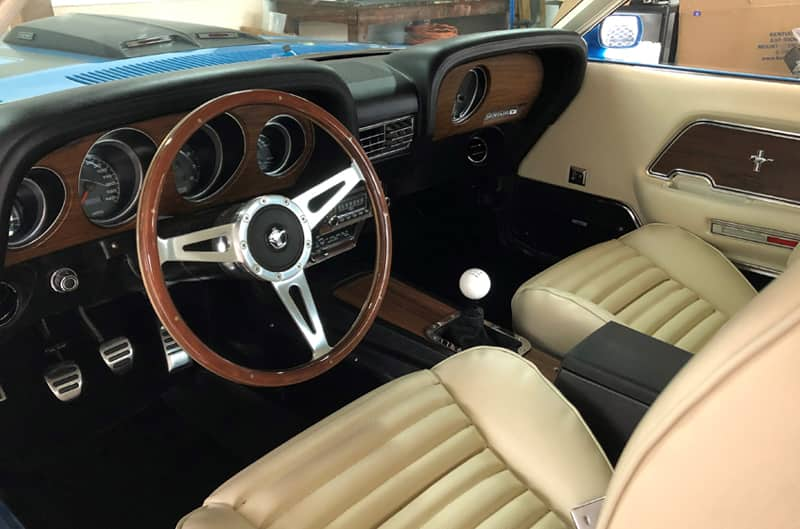 "I'd like to thank your (800-FORD-788) Info Center staff at Ford Performance (especially Steve Horn) for helping me with the computer for this project. While I was building this car, the control pack for the 5.4L became obsolete. I was able to locate one of the last control packs for the 4.6L that I could find in the U.S., and Steve helped me to reprogram the stock computer from the GT500 to work for my car. Thank you! I hope you enjoy this story and the attached pictures."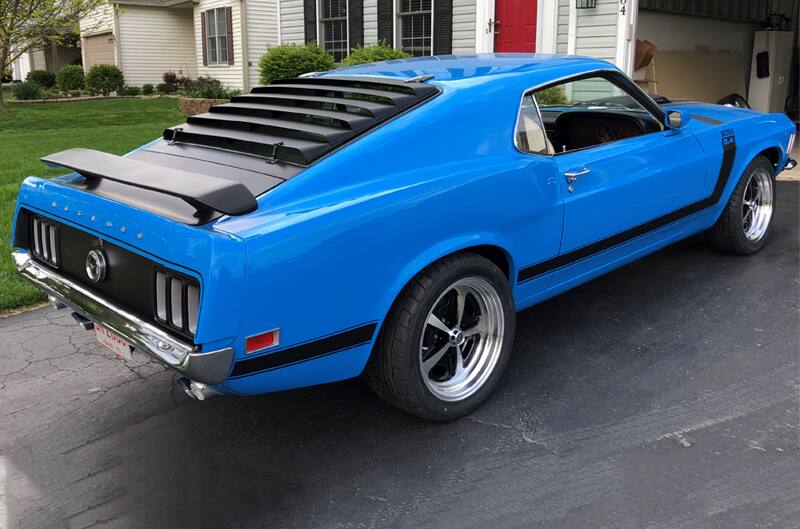 How YOU can Get In The Spotlight: For the past decade, one of the most popular features on FordPerformance.com and in our weekly Fast News e-newsletter continues to be "Ford Fan Spotlight," where readers can send in their own reasons why they're fans of Ford Motor Company and its vehicles. You know who they are: Ford "superfans;" grassroots Ford racers; unique Ford vehicle owners; loyal Ford enthusiasts; notable Ford club people; special Ford families; and/or any avid supporter of Ford, Ford vehicles, Ford motorsports or Ford Performance who deserves a little bit of special recognition.

All you need to do to get you, your car or candidate considered is to send in a brief description (200-500 words or less) and a few photos (in .jpeg format, preferably around 1 mb in size) with the owner's full name and hometown, please. Just tell us about the vehicle(s) and why you think Ford Performance should feature it (them) in the "Ford Fan Spotlight" for an upcoming installment of Fast News as well as for posting on FordPerformance.com. Then email it to: ClubHub@Ford.com with your contact info. Should you wish to send a video, you simply need to post it on www.YouTube.com (preferably 1-2 minutes long) and send in the link, along with a brief description, to that same ClubHub@Ford.com email address. Your submission allows us the rights to use your words and images (along with any edits) for editorial purposes; we'll choose one submission in random order each week to post online. We hope to see YOU and your Ford in our Spotlight soon!