Whoever says that young people don't like cars and won't become Mustang club members or owners and collectors have never met 19-year-old Taylor Morris of Pasadena, California. Taylor is the youngest female member of the Route 66 Mustang Club and owns not one, but two Mustangs – a modern 2014 V-6 coupe and a classic 1967 V-8 Hardtop. Read her note to us below about driving her dream cars and her goals on furthering her Mustang love – and be prepared to vote for her someday to become the president of the Mustang Club of America!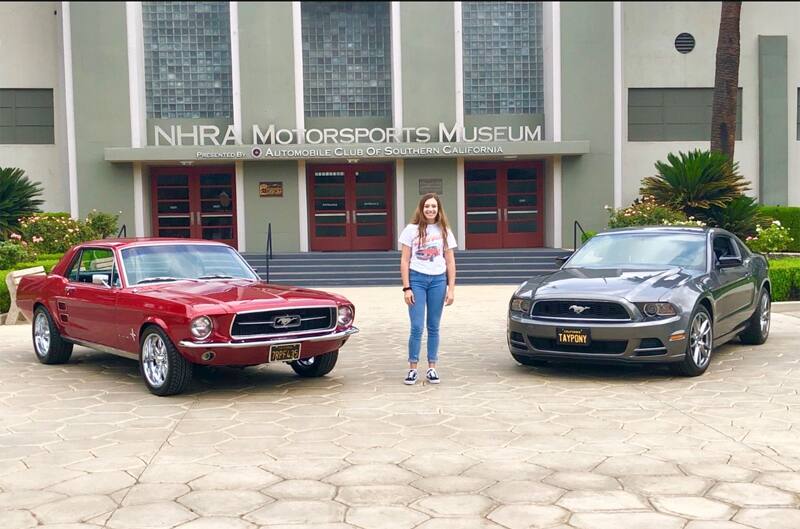 "Hi Ford Performance! My name is Taylor Morris and I am from Pasadena, California. I am 19 years old and I have two Ford Mustangs, a 2014 and a 1967. It'd be great to be featured in your Ford Fan Spotlight. I love my Mustangs so much and think of myself as a Ford superfan!
"When I was 15 years old, I got my first car. It was a 2014 V-6 grey Mustang coupe. I instantly fell in love with her. After two years of driving her, my obsession with Mustangs began to grow and so did my knowledge about the cars. It then became my dream to have my own classic 1960s-era Mustang.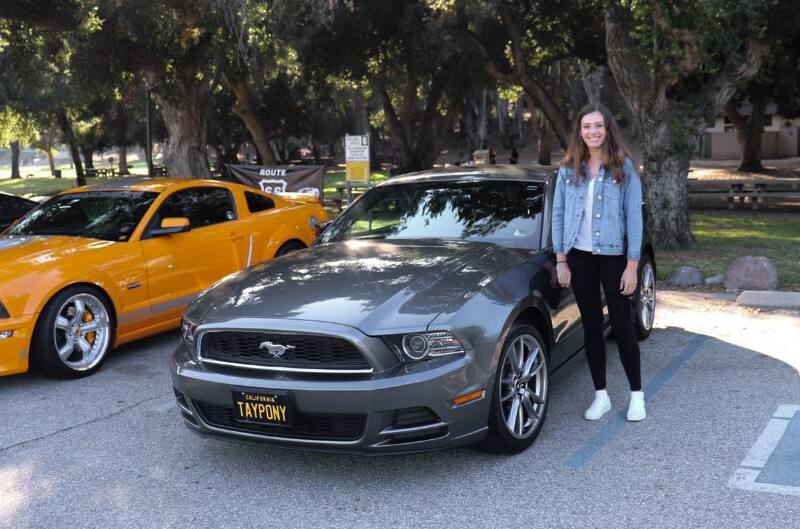 "After two years of searching I found my dream car. At the age of 18, I had found a 1967 V-8 red Mustang hardtop. It was everything I had hoped for and dreamed of! I am especially and forever grateful to the person who brought her into my life, and now could never ever imagine selling either one of my Mustangs. I am currently a member of the Route 66 Mustang Club and am the youngest female member of the group. I love being a part of this club and learning from all of the members -- I think of this club as part of my family.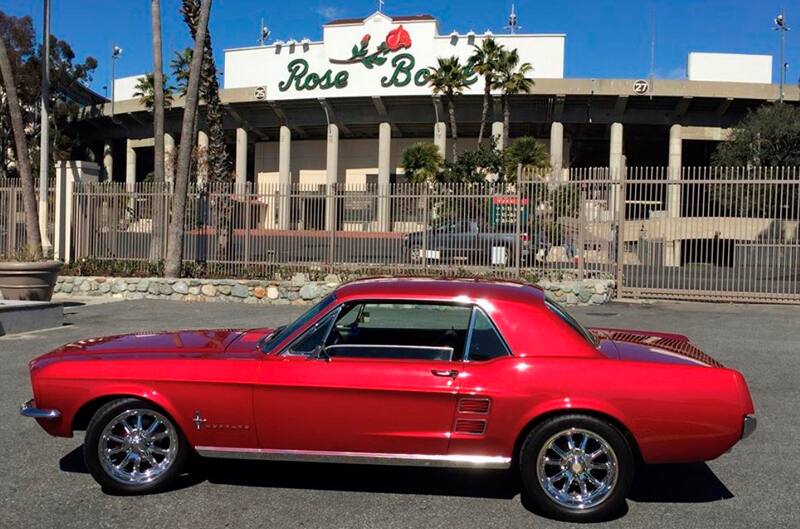 "As a Ford lover (and a Chevy hater), I have vowed to only drive Fords in my life. My goal in life is to collect a Mustang from every generation and to take a trip to Michigan one day to visit Ford's Flat Rock Assembly Plant where the Mustangs are built. In my free time I love driving both of my Mustangs, detailing them, going to car shows and reading books to further my knowledge about Mustangs.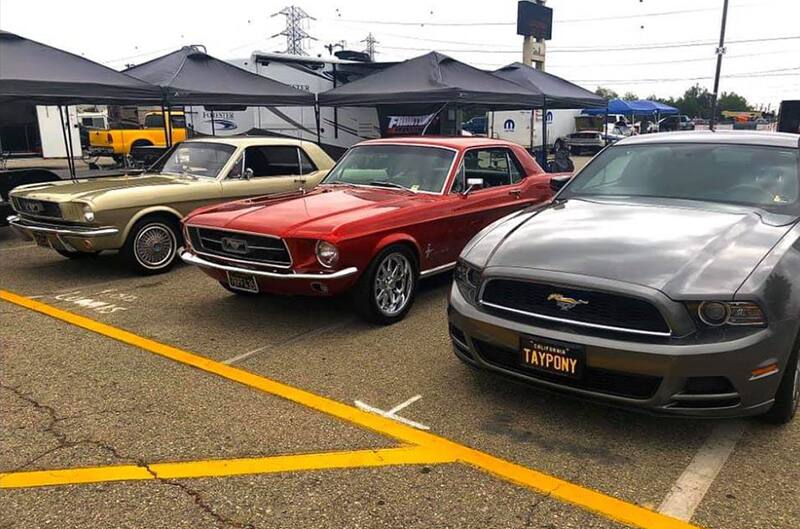 "To me, when I go to car shows I only see Fords and Mustangs. They are the most beautiful cars -- and I never get tired of looking at them. I think they are the true embodiment of American history and muscle. I hope that one day I can pass on my love for Mustangs and Fords down to my future children, who of course will be named Shelby and Ford.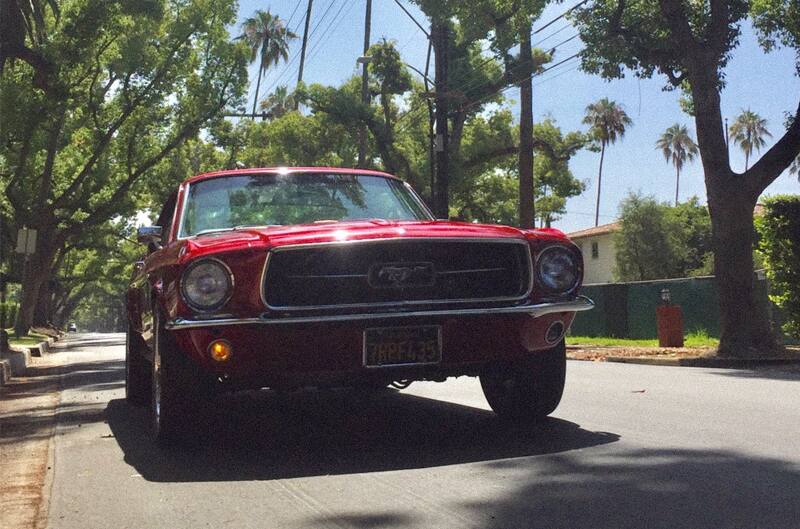 "Thank you for considering my Mustang story!"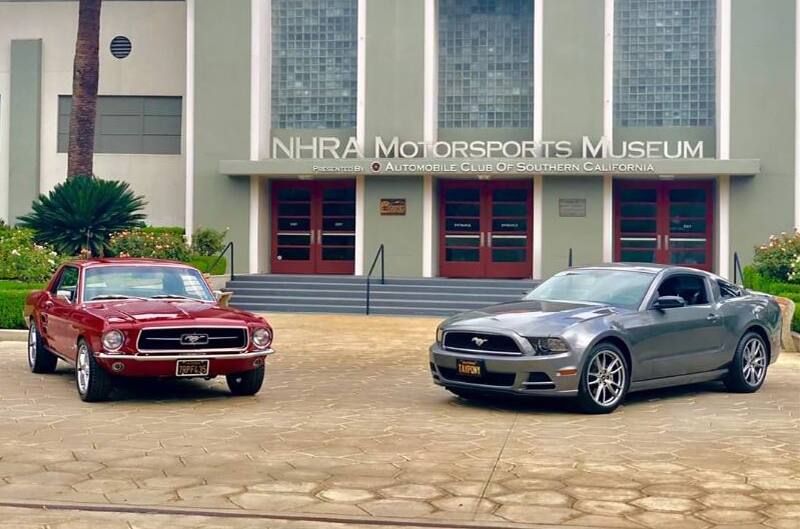 How YOU can Get In The Spotlight: For the past decade, one of the most popular features on FordPerformance.com and in our weekly Fast News e-newsletter continues to be "Ford Fan Spotlight," where readers can send in their own reasons why they're fans of Ford Motor Company and its vehicles. You know who they are: Ford "superfans;" grassroots Ford racers; unique Ford vehicle owners; loyal Ford enthusiasts; notable Ford club people; special Ford families; and/or any avid supporter of Ford, Ford vehicles, Ford motorsports or Ford Performance who deserves a little bit of special recognition.

All you need to do to get you, your car or candidate considered is to send in a brief description (200-500 words or less) and a few photos (in .jpeg format, preferably around 1 mb in size) with the owner's full name and hometown, please. Just tell us about the vehicle(s) and why you think Ford Performance should feature it (them) in the "Ford Fan Spotlight" for an upcoming installment of Fast News as well as for posting on FordPerformance.com. Then email it to: ClubHub@Ford.com with your contact info. Should you wish to send a video, you simply need to post it on www.YouTube.com (preferably 1-2 minutes long) and send in the link, along with a brief description, to that same ClubHub@Ford.com email address. We'll choose one submission each week. We hope to see YOU and your Ford in our Spotlight soon!