If you are a regular visitor to the Enthusiasts section of FordPerformance.com, then you likely know about young Bradley Belcher. He not only owns and shows a stunning 1965 Mustang Fastback that he helped build himself as a teen, but he's also the founder and president of the Millennial Mustang Registry Bradley hosts MMR mini-meets at Mustang club shows around the country, and did exactly that during the Show Me Mustang Club's annual All-Ford Stampede in St. Louis this past summer. After the show, Bradley sent us the report below about attendee Nick Waltke, who we think deserves to be in our Ford Fan Spotlight:

"Hello Ford Performance! While we were at the Show-Me Mustang Club17's All Ford Stampede this summer, I saw one of our MMR member's cars that I thought would interest you. Nick Waltke, MMR #203, brought this beautiful S550 to the show with a built-in second mode of transportation! Nick works at a vintage bicycle shop and needed a vehicle that he could haul bikes with -- yet he loved driving his Mustang too much to get a truck or SUV. So he modified it so that he could continue to enjoy both of his transportation passions. He had a special hitch custom made and welded to the frame so that he could attach a bike rack. He informed us at the show that his record was carrying a total of seven bicycles on the back of that car!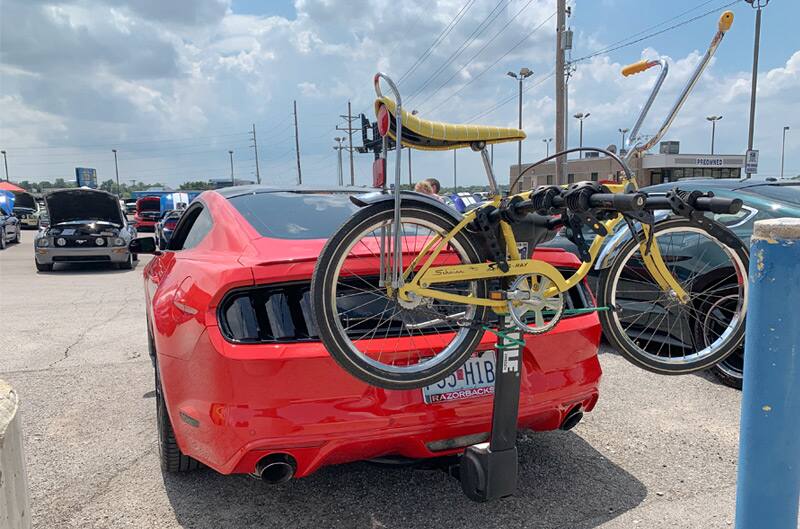 "Nick has done a lot of other work to his Mustang to make it 'his own.' He showed us a 'before' picture, and I didn't think it was the same car at first because of how different it now looks from stock. Everything that is black on there he did himself, including a custom hood with turn-signal indicators in the hood vents. He even has a Tesla-style touch screen console inside of the car.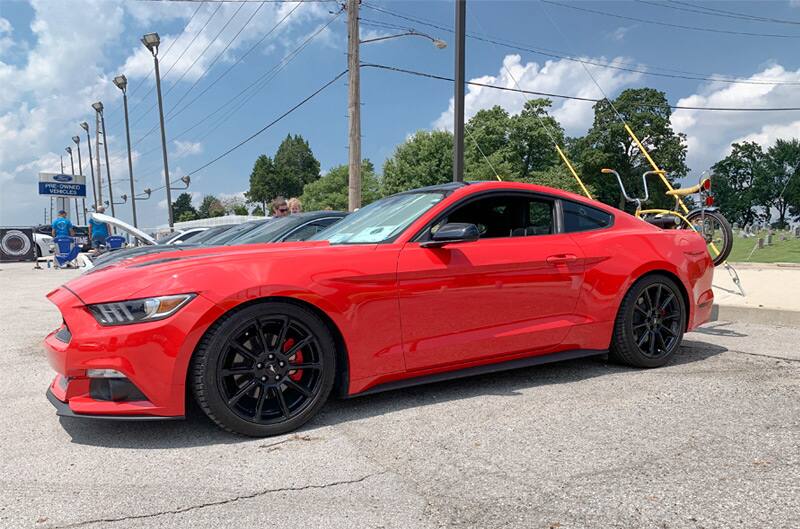 "I gave Nick the 'MMR Best of Show' award at this event because I always love seeing something different, and I love how much work he did on his Mustang by himself. I figured that this was something interesting and unique that Ford Performance readers might enjoy seeing."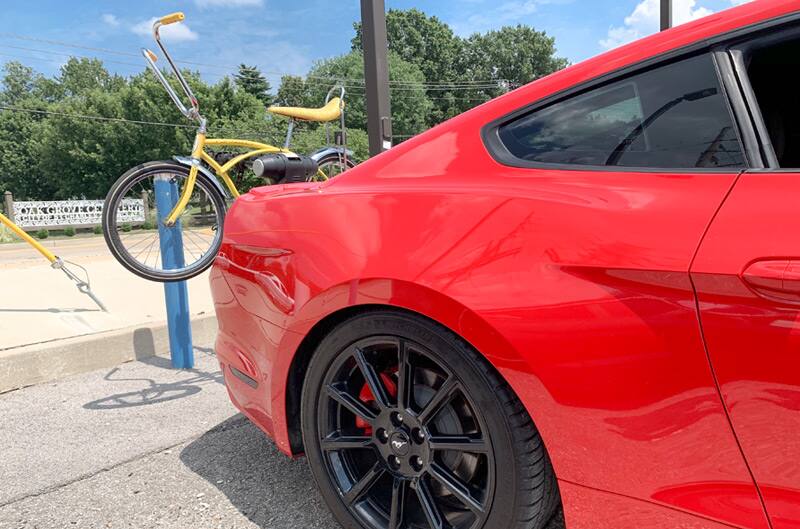 How YOU can Get In The Spotlight: For the past decade, one of the most popular features on FordPerformance.com and in our weekly Fast News e-newsletter continues to be "Ford Fan Spotlight," where readers can send in their own reasons why they're fans of Ford Motor Company and its vehicles. You know who they are: Ford "superfans;" grassroots Ford racers; unique Ford vehicle owners; loyal Ford enthusiasts; notable Ford club people; special Ford families; and/or any avid supporter of Ford, Ford vehicles, Ford motorsports or Ford Performance who deserves a little bit of special recognition.

All you need to do to get you, your car or candidate considered is to send in a brief description (200-500 words or less) and a few photos (in .jpeg format, preferably around 1 mb in size) with the owner's full name and hometown, please. Just tell us about the vehicle(s) and why you think Ford Performance should feature it (them) in the "Ford Fan Spotlight" for an upcoming installment of Fast News as well as for posting on FordPerformance.com. Then email it to: ClubHub@Ford.com with your contact info. Should you wish to send a video, you simply need to post it on www.YouTube.com (preferably 1-2 minutes long) and send in the link, along with a brief description, to that same ClubHub@Ford.com email address. We'll choose one submission each week. We hope to see YOU and your Ford in our Spotlight soon!