The best thing about reading our Ford Fan Spotlight every week is finding out about all the great Blue Oval rides that come out of the garages of Ford enthusiasts who know how to turn a wrench. So when Ryan LaBombard of Killingworth, Connecticut, wrote us to talk about his resto-modded 1987 Merkur XR4Ti powered by a 2.0L EcoBoost crate engine, we couldn't wait to hear more about it. We know you can't either, so check out his email to us below:
"Hello Ford Performance. My name is Ryan LaBombard, and I live in Killingworth, Connecticut. I just wanted to share the story behind my 1987 Merkur XR4Ti restomod. I bought the car six years ago. It was completely stock. I was frankly disappointed by the factory 2.3-liter four-cylinder engine and the T-9 transmission, so I didn't really drive the car very much.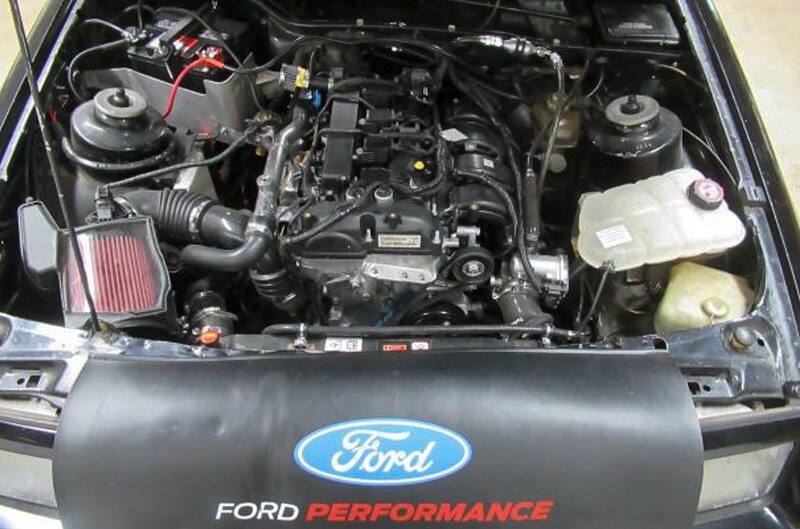 "Four years ago, I bought a 2.0L EcoBoost crate engine (M-6007-20T) and the Controls Pack (M-6017-20T) from what was then Ford Racing and got to work on installing it in my Merkur. Luckily, the new EcoBoost Mustang was just being released at the time and things like the intake manifold, engine brackets and cooling system parts to turn the engine from front- to rear-wheel-drive became available from my local Ford dealer.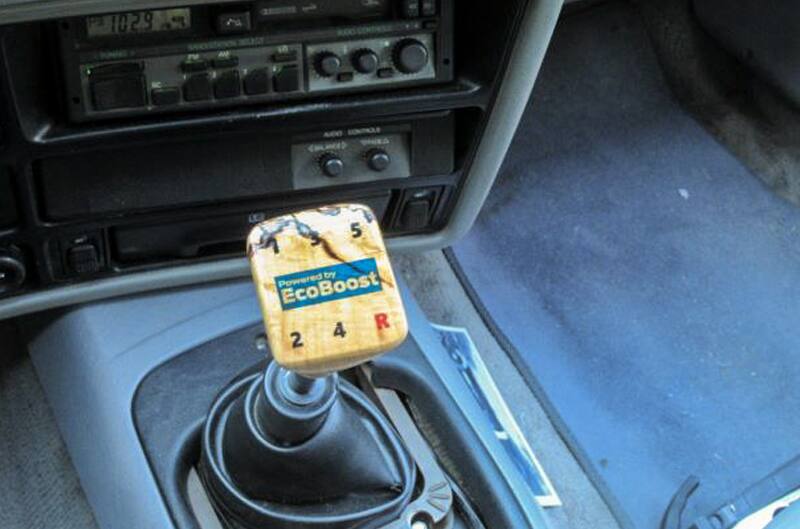 "I did have to borrow some parts from other Fords. I used the oil pan from a second-generation Ranger pickup. I used a T-5 manual transmission, so I was also able to use parts from the Ford Sierra RS Cosworth such as the crossmember. I also used the front-mounted intercooler from the Sierra Sapphire RS Cosworth 4x4, which bolts into the factory holes on the Merkur.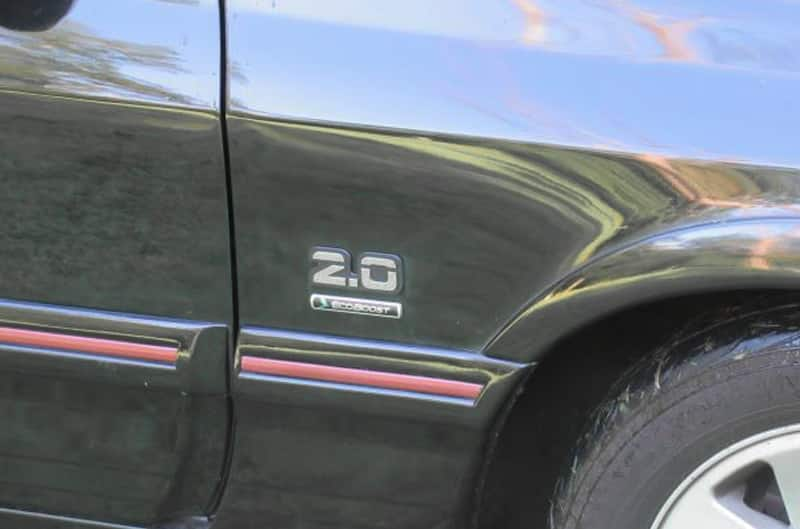 "I just wanted to thank you guys at Ford Performance for making the install so easy with the Controls Pack. It was literally plug-and-play, and it has never not started and has run perfectly for me in over 1,000 miles of break-in driving. With the EcoBoost, I have driven this car more in the past three months than I ever did in the first six years of ownership. I even just drove it 160 miles round-trip in 95-degree heat to the IMSA Northeast Grand Prix at Lime Rock, where I saw the Ford GTs come in 1st and 3rd!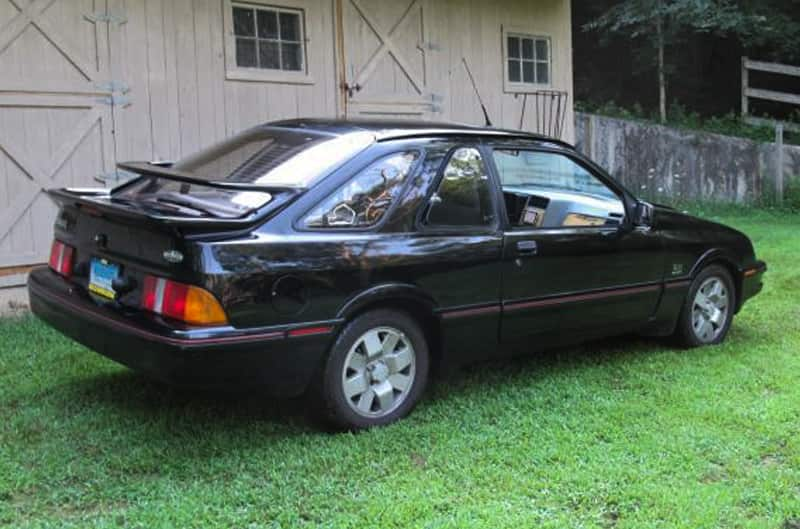 "Thanks to you guys I can daily drive a car that is reliable, clean (the downpipe has a cat), and performs amazingly well. This car only weighs about 2,800 pounds so the performance is brisk to say the least. And, since the Merkur had A/C and the Controls Pack is wired for it, I can add it without too much trouble. I really love this car now and actually think about driving it when I'm not – and that never happened before! Check out my photos. I also made some videos and posted them on YouTube if you'd like to watch them. (My channel is "ecoboostmerkur2.0". Thanks again for all you guys do!"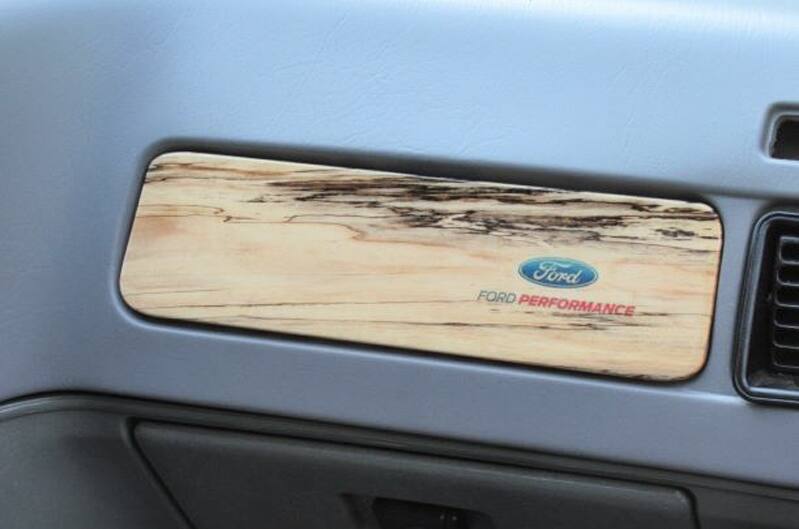 How YOU can Get In The Spotlight: For the past decade, one of the most popular features on FordPerformance.com and in our weekly Fast News e-newsletter continues to be "Ford Fan Spotlight," where readers can send in their own reasons why they're fans of Ford Motor Company and its vehicles. You know who they are: Ford "superfans;" grassroots Ford racers; unique Ford vehicle owners; loyal Ford enthusiasts; notable Ford club people; special Ford families; and/or any avid supporter of Ford, Ford vehicles, Ford motorsports or Ford Performance who deserves a little bit of special recognition.

All you need to do to get you, your car or candidate considered is to send in a brief description (200-500 words or less) and a few photos (in .jpeg format, preferably around 1 mb in size) with the owner's full name and hometown, please. Just tell us about the vehicle(s) and why you think Ford Performance should feature it (them) in the "Ford Fan Spotlight" for an upcoming installment of Fast News as well as for posting on FordPerformance.com. Then email it to: ClubHub@Ford.com with your contact info. Should you wish to send a video, you simply need to post it on www.YouTube.com (preferably 1-2 minutes long) and send in the link, along with a brief description, to that same ClubHub@Ford.com email address. We'll choose one submission each week. We hope to see YOU and your Ford in our Spotlight soon!