Mustang owner, Mustang Club of SouthEastern Michigan (MOCSEM) member, and Ford blue-blood Jeff Beyar is the quintessential Mustang hobbyist influencer. He lives and breathes Ford and the Mustang, and his life as a brand disciple impacts all who come into contact with him – from those in his own family on out. When we spotted his wife Kimmie's beautiful 2013 Gotta-Have-It Green Roush RS Mustang recently, he said there was a pretty cool story behind how she got that car. When we told Jeff we'd like to hear it, he sent us the "How Kimmie Got Her 2013 Roush RS Mustang" story below, which we present to you in this week's Fan Spotlight:
"In August of 2011, I bought a 2010 Mustang GT with 4,000 miles on it off the showroom floor at Mike Dorian Ford in Clinton Township, Michigan. We picked it up mid-day on Woodward Dream Cruise Saturday, and went directly to the cruise. We had a great time. This was my second Mustang, after buying a 1988 Mustang GT brand-new in March of 1988. That was my first Mustang and my first new car.

"In March of 2013 I bought a 2000 Mustang V-6 convertible for my youngest daughter, Allana. It was her first car -- Bright Atlantic Blue with a white top and white leather interior. We had a lot of fun taking both cars to shows and cruising, etc.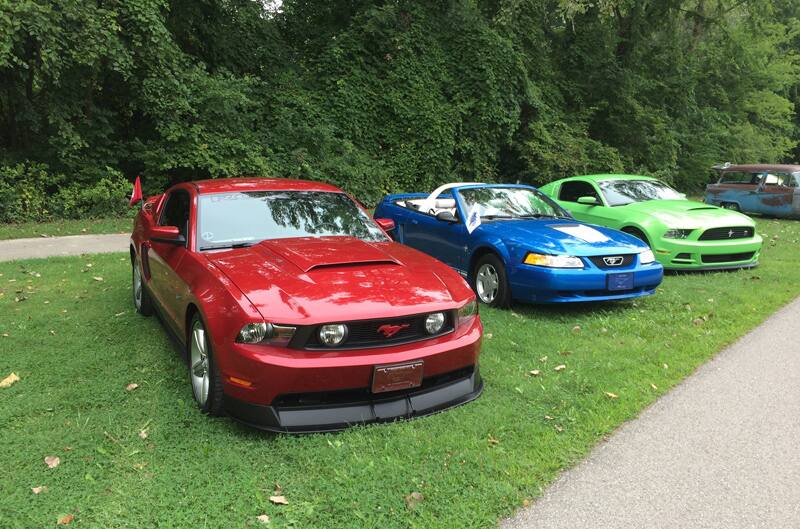 "This is where my wife, Kimmie, comes in. She made a comment several times that, 'I'm the one who was born in 1964; I should have a Mustang -- we were born in the same year!'

"Well, that got me to thinking. The kids are older now and have their own cars, so maybe we can sell our 2005 Ford Five Hundred that she was driving and replace it with a Mustang. We still had our 2002 Ford F-250 Crew Cab to haul stuff and people around, when needed.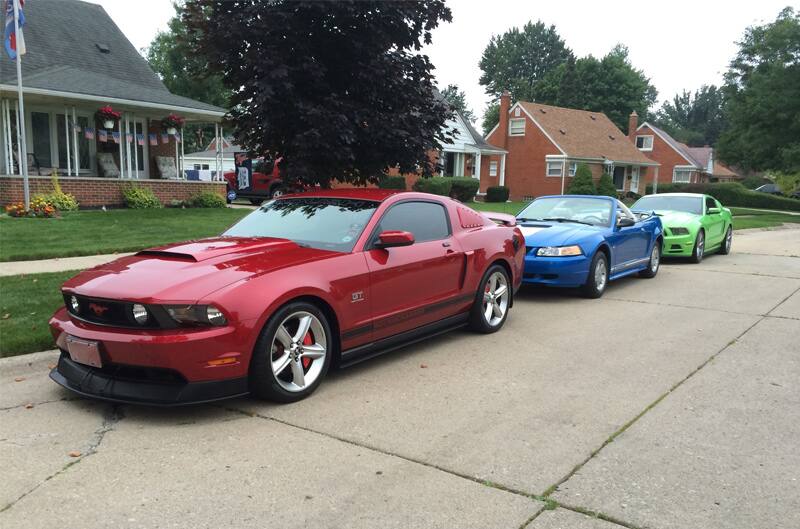 "We looked a bit online and talked a bit about it, but weren't sure we wanted to take on a new car payment so we just waited. When we were looking at Mustangs online we did see a very nice Roush RS in 'Gotta Have it Green' at Brondes Ford in Toledo, Ohio. It was a nice package, and perfect for her to even daily-drive. But we still waited.
"Well Dream Cruise weekend came again and Allana and I had our Mustangs there, and I could see that Kimmie felt a little left out. So, this being 2013 and the year of our 20th wedding anniversary, I decided a Mustang would make great surprise gift for Kimmie.
"But I had to do a little bit of covert questioning to determine if she preferred the S-197 or the S550 Mustang that was due out in 2015. (I would hate to have purchased an S197 only to find she preferred the S550, or vice-versa.) In the end it was clear she preferred the S197, with a bit more of the retro Mustang look. So I set things into motion.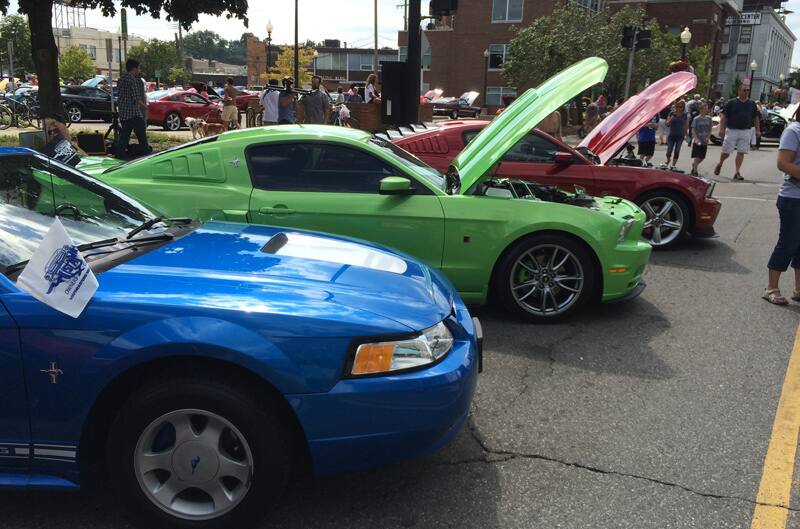 "It is important to note that we had attended the Toledo Mustangs car show at Brondes Ford the previous September and really enjoyed it. So we made plans to attend the 2013 show. It would work perfect, as the show was in mid-September and our wedding anniversary is September 25th.

"So I contacted the dealer and made arrangements to purchase the car. I also contacted the Toledo Mustangs club and told them I wanted to give my wife the 2013 Roush RS Mustang they had in 'Gotta Have it Green' car during their show. They loved the idea and were very helpful.
"I took half-a-day off work and went to our credit union and insurance company, then to Brondes Ford, which is about an hour's drive from my house. I signed all the paperwork and left the car there. Yep, left it there -- very strange to buy a new car and not take it home!
"But I worked out a plan with Tony, our salesman, to have the car taken from in front of the dealership and put into the showroom. I had Tony put a sign under the hood that said, 'Happy Anniversary, Kimmie!' I worked out with the Toledo Mustangs club to break a show rule and save an extra spot for us when my daughter and I parked at the show.

"We showed up and parked our two Mustangs and started walking around the show. I found Tony and he started telling me about a Roush brake package that he thought I would be interested in purchasing -- a conversation we had planned. So Tony took us inside the dealership. While walking past the window, Kimmie saw the Gotta Have it Green Roush Mustang and asked me if that was the one we had looked at online. I said, 'I'm not sure but we can check it out.'
"We walked over to the car and I said, 'I think this is it, but let's open the hood to see if it's a V-6.' That's when she saw the sign and realized that this was HER car. Of course she cried, and said a few words I cannot repeat here. Something like 'No f@#&$#@ Way!' … LOL!
"Then came the best part, in my view. Tony and his guys opened the big, glass door of the dealership and handed Kimmie the keys to her new Mustang -- and she drove it right off the dealership's showroom floor!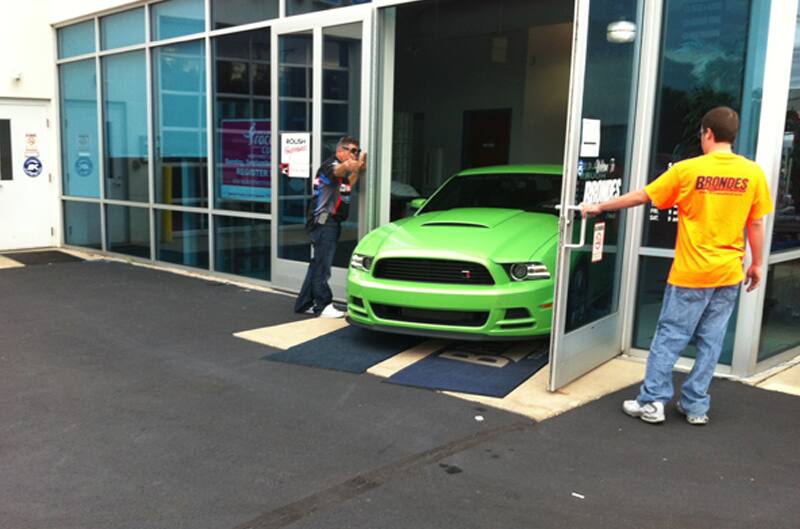 "Now I have heard people say this many times over the years -- that they bought a car right off the showroom floor -- but do not know anyone personally at least that actually drove it right out of the showroom themselves.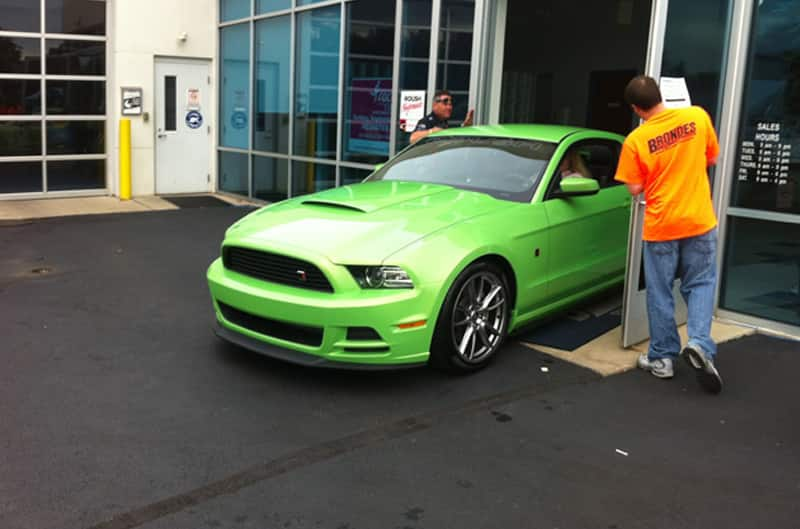 "Kimmie then proceeded to drive to the saved parking spot between our other two Mustangs. It was a great day. Kimmie drove the car year-round daily for two years before making it a summer-only car. Now it sees regular daily use in the summer months only and takes a rest in the stable next to mine for the winter. This gift overflowed a bit into Kimmie's 50th birthday (and the Mustang's 50th as well) so she got a pretty cool cake at her surprise party.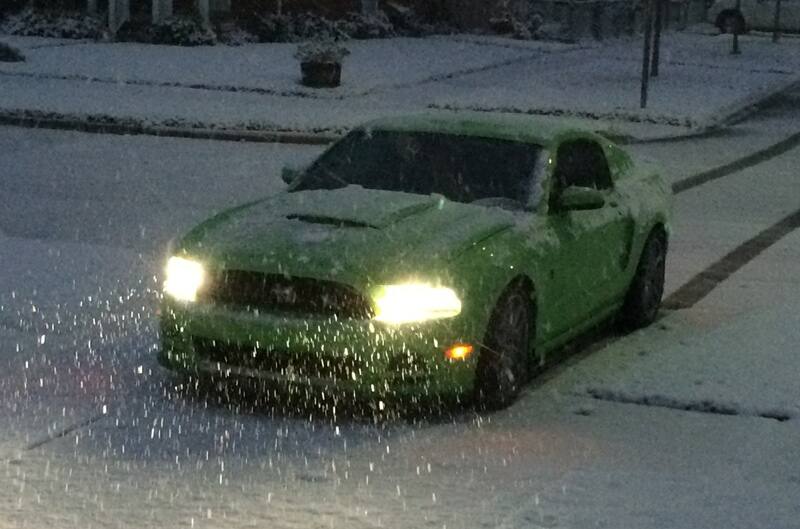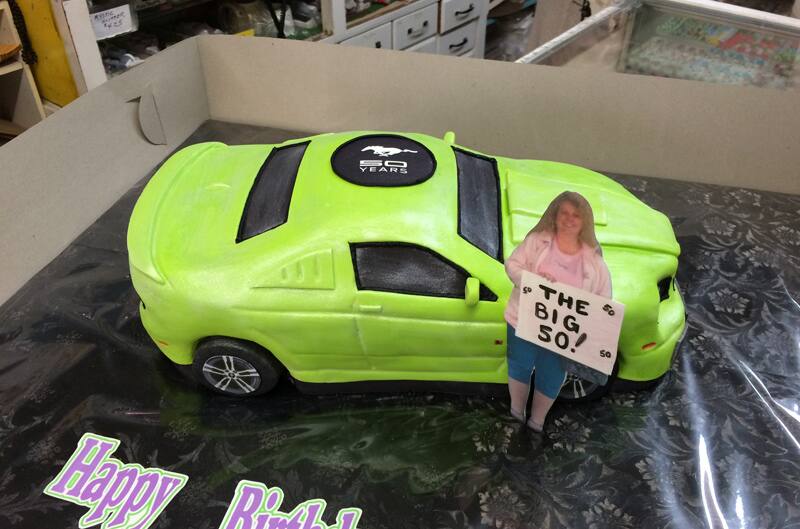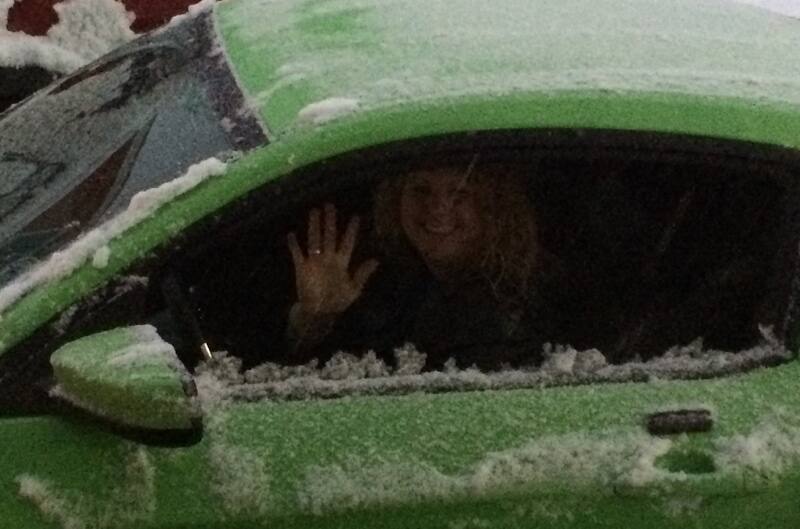 "This is just one of many examples of how the Ford Mustang is so much more than just another a car. How it influences and enriches the lives of those who love them. We have since gotten the car signed by many of our Mustang 'heroes' -- such as Gale Halderman, Jack Roush Sr, Jack Roush Jr, Susan Roush-McClenaghan, the late Giuliano Zuccato, plus Ford's Dave Pericak, and a few others. We've even won a couple of awards with it at some shows, and have taken a few road trips with -- it and really enjoy it.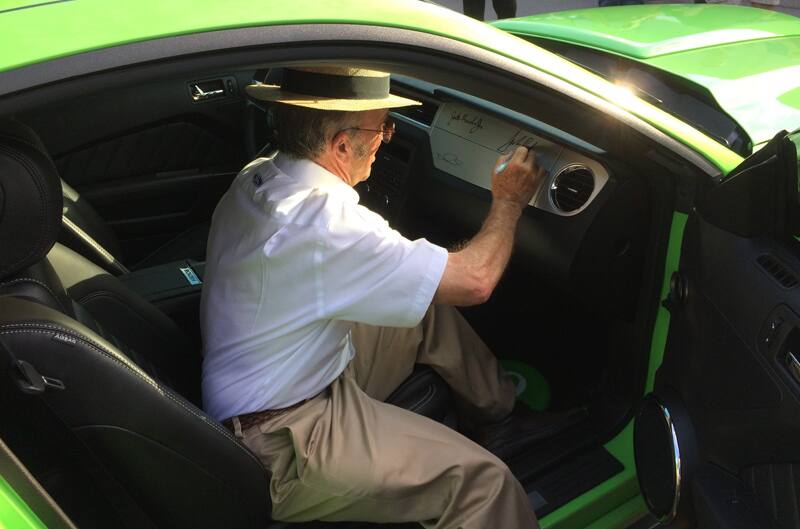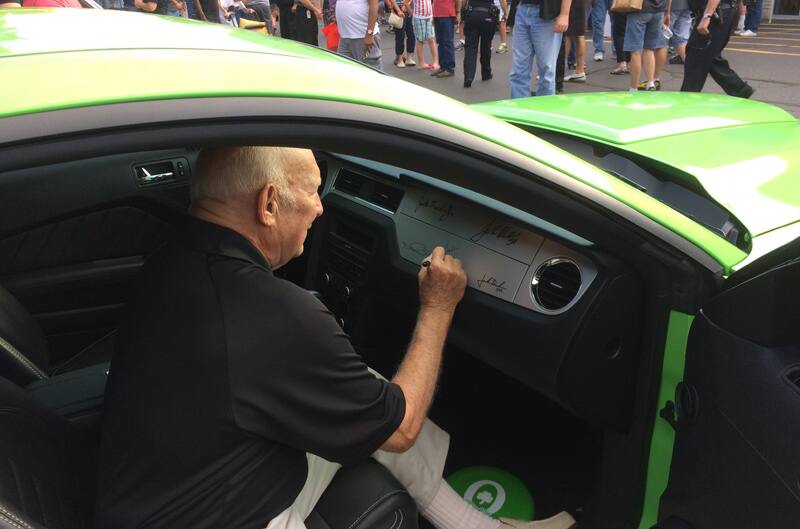 "Our thanks to the great people at Brondes Ford, the great people in Toledo Mustangs, our great Mustang club experiences and just the great Mustang community in which we play."

How YOU can Get In The Spotlight: For the past decade, one of the most popular features on FordPerformance.com and in our weekly Fast News e-newsletter continues to be "Ford Fan Spotlight," where readers can send in their own reasons why they're fans of Ford Motor Company and its vehicles. You know who they are: Ford "superfans;" grassroots Ford racers; unique Ford vehicle owners; loyal Ford enthusiasts; notable Ford club people; special Ford families; and/or any avid supporter of Ford, Ford vehicles, Ford motorsports or Ford Performance who deserves a little bit of special recognition.

All you need to do to get you, your car or candidate considered is to send in a brief description (200-500 words or less) and a few photos (in .jpeg format, preferably around 1 mb in size) with the owner's full name and hometown, please. Just tell us about the vehicle(s) and why you think Ford Performance should feature it (them) in the "Ford Fan Spotlight" for an upcoming installment of Fast News as well as for posting on FordPerformance.com. Then email it to: ClubHub@Ford.com with your contact info. Should you wish to send a video, you simply need to post it on www.YouTube.com (preferably 1-2 minutes long) and send in the link, along with a brief description, to that same ClubHub@Ford.com email address. We'll choose one submission each week. We hope to see YOU and your Ford in our Spotlight soon!