We met Tyler Ahern of Dumfries, VA, after he attended our Ford Performance Club Connect seminar presentation at this year's Carlisle Ford Nationals. When we heard he was an SVT "Terminator" Mustang Cobra owner and fan, we shared some SVT stories with him – asking in return that he share his Mustang story with all of us here in our Ford Fan Spotlight. See his note to us below to learn how experiencing Carlisle left him singing the praises of this annual must-see Ford event:

"Hi, Ford Performance! I'm Tyler Ahern of Dumfries, Virginia. I wanted you to know that I thoroughly enjoyed your presentation at Carlisle. It gave me plenty to think about in terms of car clubs and the next generation of Mustang enthusiasts (a.k.a. my generation). If it wasn't for your work in the Mustang world, I don't think us normal Joes would feel like we have a voice or someone from Ford who actually listens. You'll recall I was the guy with the Terminator Cobra.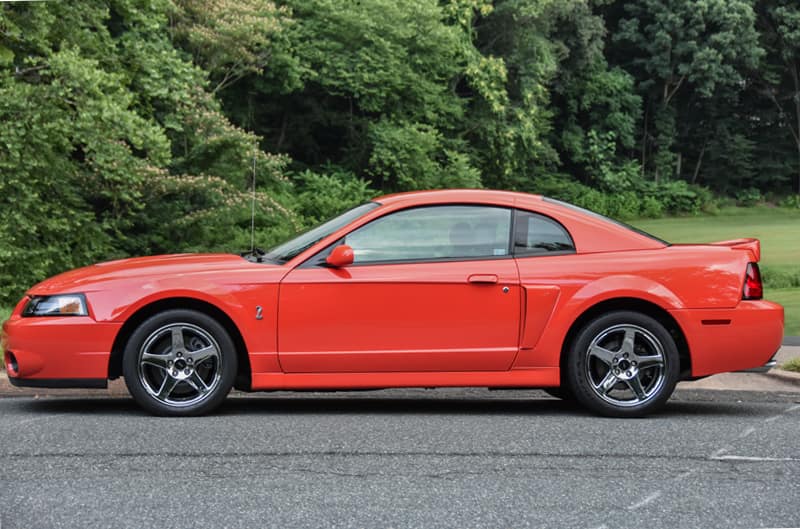 "My father and I work in the HVAC industry as tradesmen and I'm sure you know that summertime is A/C time, and our work during this time of year is always booming. That work, along with my new 9-month-old son (baby Wyatt) makes it extremely difficult to find time to just relax -- let alone time to work on my Mustang Cobra or go to a car show.

"Despite those demands on our time and after much careful planning, we decided to make our first big trip to go to the Carlisle Ford Nationals for the first time! After hearing so many stories and seeing coverage of the show online and in magazines, we finally got to experience the energy and excitement that was packed into the Carlisle Fairgrounds on that all-Ford weekend.
"The 2003-04 SVT Mustang Cobra truly ignited my passion and my interest in John Coletti's 'Terminator' was high even as a young high-schooler -- before I could even drive. I've had a Mustang GT before, but nothing compares to my Terminator. The history behind this car, and the blood, sweat and 'gears' that SVT put into this Cobra is the stuff of legends. To say I'm an SVT fan, and a Terminator Cobra fan, is an incredible understatement!

"Never in my wildest dreams did I think I would ever come across a representative from Ford Performance who had worked at SVT when the Terminator was developed. I wanted to sincerely thank you for taking the time to chat with us and for telling us the coolest SVT stories – they had us drooling like dogs! We had a blast at the Carlisle Ford Nationals, between seeing the cars and people and feeling all of that Ford energy. To top it all off, I even found a super-rare unsigned Romeo Engine Line Cobra valve cover engine builders' signature plaque. How cool is that?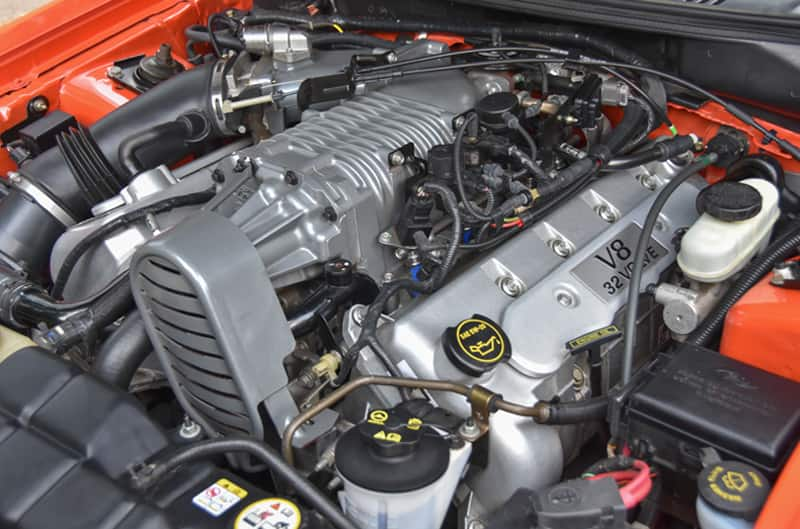 "As promised, I've sent along a couple of pics of my car as well as a photo of my little co-pilot. My Mustang story is simple: After seeing all the beautiful Mustang Cobras at car shows, I decided to pursue getting my dream-color – a 2004 Competition Orange SVT Cobra -- and made the tough decision to sell my Sonic Blue coupe. After some serious online searching I finally found a 12,000-mile, original-owner totally stock Comp Orange coupe! The car is exactly what I was looking for -- a real time capsule! And it was bone stock with no modifications at all. Even the exhaust was still factory!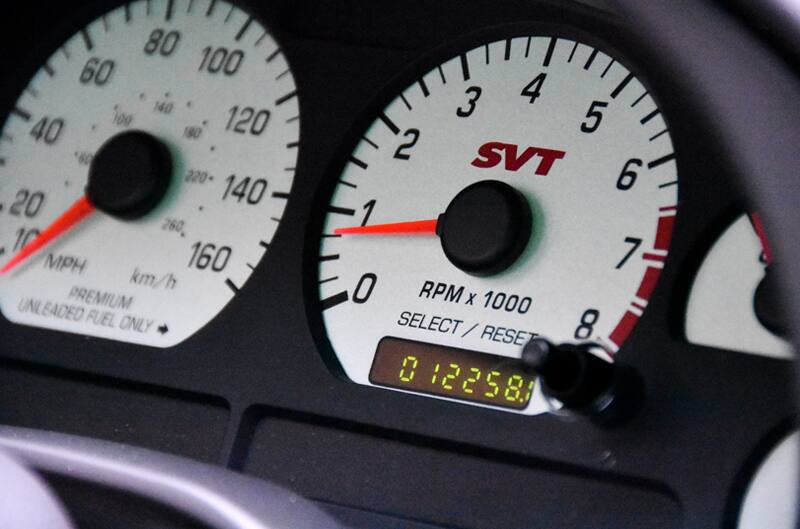 "Of course I bought it. You have to understand that I was only 13 years old when these cars came out, so I never had the opportunity to purchase one new, or test-drive these fine machines when they first hit the market. Heck, the only thing I could do back then was to press my face up against the dealership glass to get a close look at one!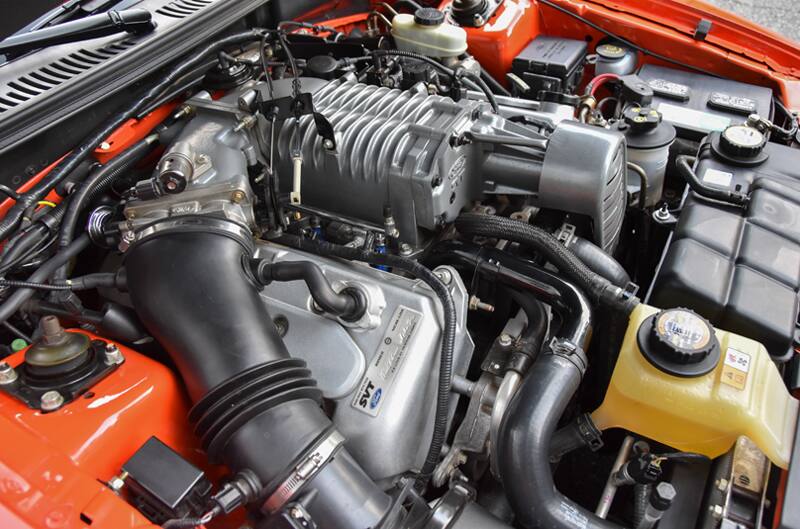 "For me, owning this car is like going back in time – I can just hop in this car and enjoy it just the way it would have been when it was brand-new in 2004. I thoroughly enjoy firing it up and hearing the supercharger whine in the higher rpms. It's like music – like a private symphony of internal combustion right under my right foot. Thanks again for taking the time to talk to us – how Ford connects with enthusiasts is what makes the Mustang hobby so special!"
How YOU can Get In The Spotlight: For the past decade, one of the most popular features on FordPerformance.com and in our weekly Fast News e-newsletter continues to be "Ford Fan Spotlight," where readers can send in their own reasons why they're fans of Ford Motor Company and its vehicles. You know who they are: Ford "superfans;" grassroots Ford racers; unique Ford vehicle owners; loyal Ford enthusiasts; notable Ford club people; special Ford families; and/or any avid supporter of Ford, Ford vehicles, Ford motorsports or Ford Performance who deserves a little bit of special recognition.

All you need to do to get you, your car or candidate considered is to send in a brief description (200-500 words or less) and a few photos (in .jpeg format, preferably around 1 mb in size) with the owner's full name and hometown, please. Just tell us about the vehicle(s) and why you think Ford Performance should feature it (them) in the "Ford Fan Spotlight" for an upcoming installment of Fast News as well as for posting on FordPerformance.com. Then email it to: ClubHub@Ford.com with your contact info. Should you wish to send a video, you simply need to post it on www.YouTube.com (preferably 1-2 minutes long) and send in the link, along with a brief description, to that same ClubHub@Ford.com email address. We'll choose one submission each week. We hope to see YOU and your Ford in our Spotlight soon!