Dearborn, Mich. -- We love when Ford owners tell us that driving a Ford has kept them so loyal to the Ford brand that they've made sure their entire family winds up driving a Ford. And while we know it's great having a Ford or two – or three, or maybe even four – parked in your family's driveway, how about having a half-dozen, or maybe even eight Fords in your immediate family? We'll that's exactly how many Fords are in Lance Olsen's family of fine cars – which brings his total Ford ownership experience to 19 vehicles. For the Olson's Fords are a family affair – and we'd like to share their story with you via Lance's email to us, below:
"Hi, Ford Performance! My name is Lance Olson. I thought you might like to see a picture of our thought you might like to include us in your Ford Fan Spotlight. If you look at our photo, you'll see all six of the Olson family members -- Talia, Chris, Lance, Dana, Kelsey, and Natasha. The vehicles we own include (L to R in photos) a 2007 Ford Crown Vic P71; 2011 Ford Escape; 1994 Ford Ranger; 2000 Ford F-250; (a 2008 Rance Renegade trailer w/ Ford Racing Decal); 2011 Ford F-150; 2015 Ford Explorer; 2006 Mercury Milan; and a 2006 Ford Mustang GT with 2007 GT500 Ford Racing parts.

"As you might guess, we are die-hard Ford fans and have Ford merchandise all over in my shed and house. We truly love our Ford vehicles. Here's a little of our Ford history:

"My first car was a 1976 Ford Torino with 351 Windsor V-8. My first brand-new Ford was a 1989 Ford Mustang LX that I bought right off the showroom floor. My first new truck was a 1995 Ford F-150 Eddie Bauer Edition with a 5.0-liter V-8. Then I bought a new 1997 Ford F-150 Extended Cab with the third door because we had our first child, Chris. Then we had Natasha and Kelsey so we traded-in the 1997 F-Series for a 1999 Ford F-350 Super Crew with a V-10. I eventually traded that truck for 2006 F-350 Super Cab V-10. Eventually, I traded that truck for my 2011 Ford F-150 Super Crew with the 3.5 EcoBoost V6.
"As for my Ford cars, I had a 2001 Ford Mustang GT convertible, then I traded in that for the 2006 Mustang GT. My other Ford car is the 2007 Ford Crown Vic P71 with 161,000 miles on it. My wife, Dana, started her Ford journey back in 2002 with a Ford Windstar minivan. (She had Bow Tie products before that and I finally converted her.) Then she traded that in for a new 2005 Ford Freestyle, and then a 2009 Ford Expedition, and now her 2015 Ford Explorer.

"Daughter Natasha's first car was the 2007 Mercury Milan, and it has over 280,000 miles on it now with the original powertrain intact. Kelsey has the 2012 Ford Escape, and it has roughly 150,000 miles on it. Chris's first truck was the 1994 Ford Ranger Extended Cab with the 4.0-liter V-6, and it was Kelsey's first truck also -- and now has 240,000 miles on it. Chris then had a 2012 Mustang GT and traded that in for his 2000 Ford F-250 Super Cab diesel truck.

"The family has had a total of 19 Ford vehicles over the years, eight of which we still own and drive. My son Chris is married to Talia, and Talia is driving a Bow Tie truck now, but I am convinced that after all the grief she gets daily from the family for driving the wrong brand, that she will be driving a Ford product soon enough!"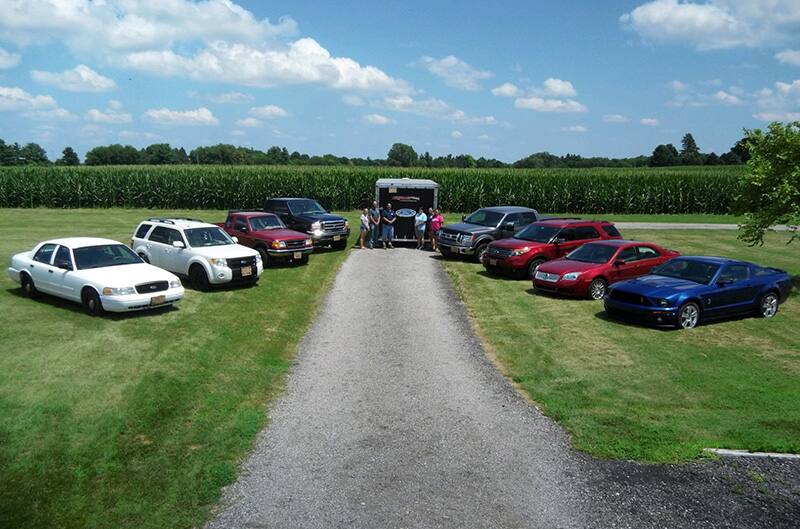 How YOU can Get In The Spotlight: For the past decade, one of the most popular features on FordPerformance.com and in our Fast News e-newsletter continues to be "Ford Fan Spotlight," where readers can send in their own reasons why they're fans of Ford Motor Company. You know who they are: Ford "superfans;" grassroots Ford racers; unique Ford vehicle owners; loyal Ford enthusiasts; notable Ford club people; special Ford families; and/or any avid supporter of Ford, Ford vehicles, Ford motorsports or Ford Performance who deserves a little bit of special recognition.

All you need to do to get you, your car or candidate considered is to send in a brief description (200-500 words or less) and a few photos (in .jpeg format, preferably 300 dpi) of a person (full name and hometown, please) and vehicle that you think Ford Performance should feature (and why) in the "Ford Fan Spotlight" for an upcoming installment of Fast News and posting on FordPerformance.com. Then email it to: ClubHub@Ford.com. Should you wish to send a video, you simply need to post it on www.YouTube.com (preferably 1-2 minutes long) and send in the link, along with a brief description, to that same ClubHub@Ford.com email address. We'll choose one submission each week. We hope to see YOU and your Ford in our Spotlight soon!