People who have been involved in the Mustang club world for a while will likely know about Dave and Gloria Carroll of Tucson, Arizona. They are members of the Southern Arizona Mustang Club (SAMC), which is the longest-surviving Mustang club in the continental United States, if not the world. The Carrolls have been SAMC members since 1965 and still help run the club to this day. They maintain a huge archive of SAMC photo albums, documentation, and memorabilia dating all the way back to when the Mustang club hobby was born with Ford's own National Council of Mustang Clubs. So when we get an email from Dave Carroll, you can bet it will be cool. Read his note to us below to find out why this special couple is featured in this week's Ford Fan Spotlight:
"Hello Ford Performance! Dave Carroll here. It's not often that we hear about any people celebrating their 50th wedding anniversary with the very car they went on their honeymoon in. But that's the story behind our recent anniversary party.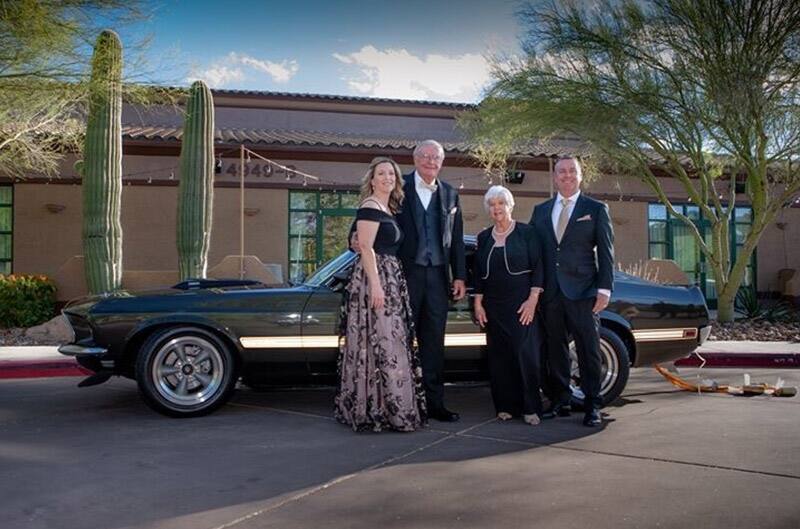 "This past April, Gloria and I celebrated our 50th wedding anniversary. The party was held at the beautiful Highlands at Dove Mountain in Tucson with over 100 friends and family attending. Our son, Chris, and his family and our daughter, Noelle McHone, and her family did a great job planning the party -- as well as the many friends helping out. It was a beautiful event, and our thanks go out to everyone for their efforts.
"This is where the car guy steps in. I have included a few pictures that include "Hobby," which is the name we gave our 1969 Mustang Mach 1. The reason I wanted to include this car in the photos was because Hobby played an instrumental role in our marriage.


"It was the car that took us on our honeymoon 50 years ago. Today, Hobby is looking even better than when it was new. (Thanks, Forrest Robinson, for the 'spa days' for Hobby at your house, and a big thanks to Mike Champlin for the great pictures.) It was a wonderful party that was even more wonderful because Hobby was there to help celebrate. Who says Mustangs aren't part of the family?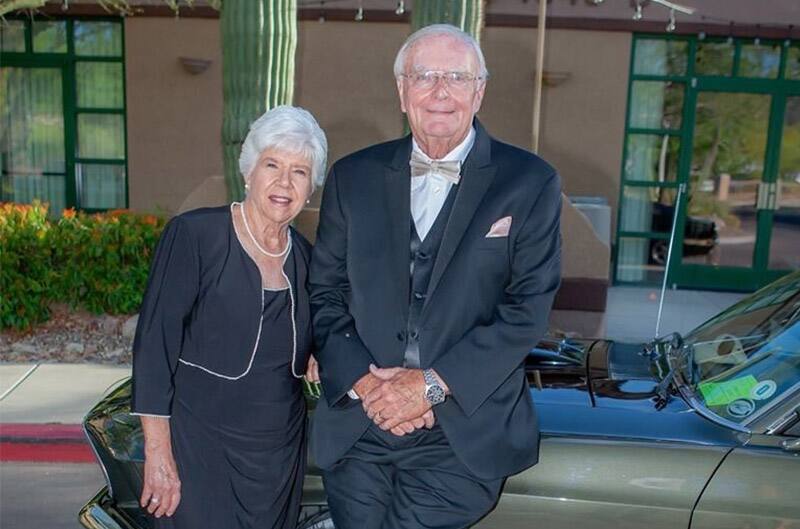 "Note: Hobby was purchased from Holmes Tuttle Ford in Tucson back in October of 1968. I bought it from Bill Laird, who had started SAMC just 3 years prior. Talk about a lasting Mustang connection! Thanks for sharing."
How YOU can Get In The Spotlight: For the past decade, one of the most popular features on FordPerformance.com and in our Fast News e-newsletter continues to be "Ford Fan Spotlight," where readers can send in their own reasons why they're fans of Ford Motor Company. You know who they are: Ford "superfans;" grassroots Ford racers; unique Ford vehicle owners; loyal Ford enthusiasts; notable Ford club people; special Ford families; and/or any avid supporter of Ford, Ford vehicles, Ford motorsports or Ford Performance who deserves a little bit of special recognition.

All you need to do to get you, your car or candidate considered is to send in a brief description (200-500 words or less) and a few photos (in .jpeg format, preferably 300 dpi) of a person (full name and hometown, please) and vehicle that you think Ford Performance should feature (and why) in the "Ford Fan Spotlight" for an upcoming installment of Fast News and posting on FordPerformance.com. Then email it to: ClubHub@Ford.com. Should you wish to send a video, you simply need to post it on www.YouTube.com (preferably 1-2 minutes long) and send in the link, along with a brief description, to that same ClubHub@Ford.com email address. We'll choose one submission each week. We hope to see YOU and your Ford in our Spotlight soon!