DEARBORN, Mich. - Kirk Gardiner of Scottsdale, Arizona, could be the poster child for proving the marketing power of the Mustang in Ford's vehicle lineup. Like many other Ford enthusiasts, an early attraction to the Mustang is what has made Kirk such a true-blue Ford guy today. Just check out the photo of his high-performance Ford driveway, and then check out his email note to us below:
"Hello, Ford Performance! My name is Kirk Gardiner. I have owned my 1970 Boss 302 Mustang since December 1976. I purchased this car for just $2,150 from an AMC dealership. While at the dealership, another person was test-driving the car while the salesman was closing the deal with us. I remember the other potential buyer let out an expletive when he got back from his test drive and found out the car was sold.
"After my father had finished the paperwork and taken the car for a test drive, he drove it home. My brother came over and tuned-up the car and then drove it around and even let my sister-in-law drive it. It wasn't until I came home after school before I finally got to drive my own car!
"My high school friends used to call my Boss 'puke green' but now the Grabber Green is a very desirable color. The Boss 302 survived my high school days with only one incident, when I raced a Chevy Nova. The race was over when I pulled past him by the top-end of second gear. I won the race but in doing so had over-revved the motor, which caused some valve train damage. I had just disconnected the rev-limiter. Luckily all I had to do was to replace valve retainer cup, one valve and a pushrod and my Boss was back on the road. I did not reconnect the rev-limiter, but I did get a tachometer.

"I stored the Boss in my parents' backyard with a car cover while I was away in college. My mother used my windshield to defrost meat and my hood to set her laundry basket on. My father started the Boss for me once a month while in storage. I moved to Scottsdale, Arizona, after college and the Boss has resided there with me to date. I have had to rebuild carburetor about a half-dozen times but the Boss always starts up every month now that I use fuel stabilizer without the need for a trickle charger.

"My Boss currently has around 47,000 miles on it and I take the car out to local car shows on a regular basis. I recently went to a local Mustang restoration shop get-together and they would not let me leave alone because my car was considered a true "Survivor" car and they wanted pictures of all the original equipment. I have rounded out my Ford family of vehicles with a 2003 Ford SVT Lightning pickup and a 2005 Ford GT. Thanks for sharing my story in your Ford Fan Spotlight!"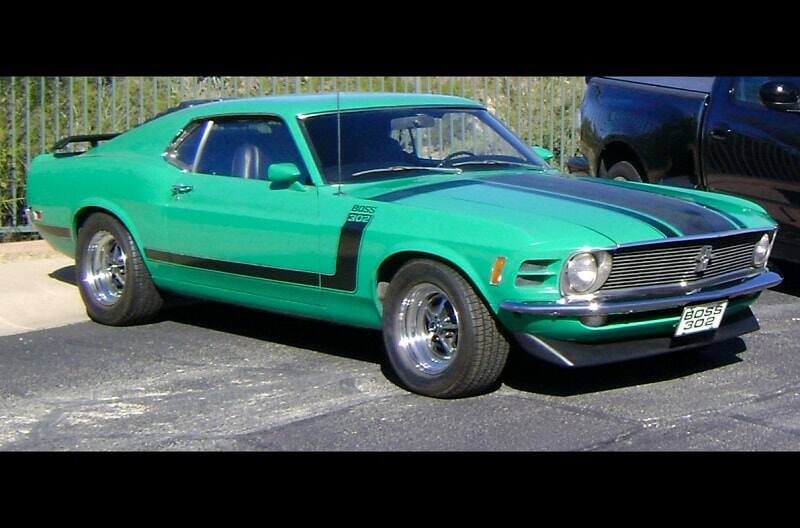 How YOU can Get In The Spotlight: For the past decade, one of the most popular features on FordPerformance.com and in our Fast News e-newsletter continues to be "Ford Fan Spotlight," where readers can send in their own reasons why they're fans of Ford Motor Company. You know who they are: Ford "superfans;" grassroots Ford racers; unique Ford vehicle owners; loyal Ford enthusiasts; notable Ford club people; special Ford families; and/or any avid supporter of Ford, Ford vehicles, Ford motorsports or Ford Performance who deserves a little bit of special recognition.

All you need to do to get you, your car or candidate considered is to send in a brief description (200-500 words or less) and a few photos (in .jpeg format, preferably 300 dpi) of a person (full name and hometown, please) and vehicle that you think Ford Performance should feature (and why) in the "Ford Fan Spotlight" for an upcoming installment of Fast News and posting on FordPerformance.com. Then email it to: ClubHub@Ford.com. Should you wish to send a video, you simply need to post it on www.YouTube.com (preferably 1-2 minutes long) and send in the link, along with a brief description, to that same ClubHub@Ford.com email address. We'll choose one submission each week. We hope to see YOU and your Ford in our Spotlight soon!