CLINTON, Ill. – We usually meet up with Andy Harpst during the annual Anderson Ford Car Show in Clinton, Illinois, each year. There, we get to see and talk about his pristine 2008 Warriors In Pink Mustang convertible. Andy has been a champion of trying to get official Ford Performance "Certificates of Authenticity" created for all the 2008-09 Warriors In Pink Mustangs produced by Ford. ("Warriors In Pink" is a Ford-sponsored program to help those touched by breast cancer. In fact, 2018 marks Ford's 24th year in the fight against breast cancer with over $136 million dedicated to the cause so far!) While we're still hoping we can launch a Certificate program for WIP Mustangs, Andy is still driving and showing his '08 WIP Mustang droptop. With October being "Breast Cancer Awareness Month," check out Andy's story below:

Andy Harpst of Mahomet, Illinois, has always been a 'Mustang guy,' ever since acquiring his first 1967 coupe in 1982 at age 16. Over the next 25 years, he's owned five different Mustangs. So later on, after getting married, he and his wife Allyssa always toyed with the idea of getting another Mustang.

Allyssa joked that if they did get another Mustang, she'd want to paint it pink. In February of 2009, they lost Allyssa's mom to cancer. Later that summer, they bought this 2008 Warriors in Pink edition Mustang. It was a 'win-win' because it fit Allyssa's criteria for a 'pink' Mustang, and it was also a way to memorialize her mother.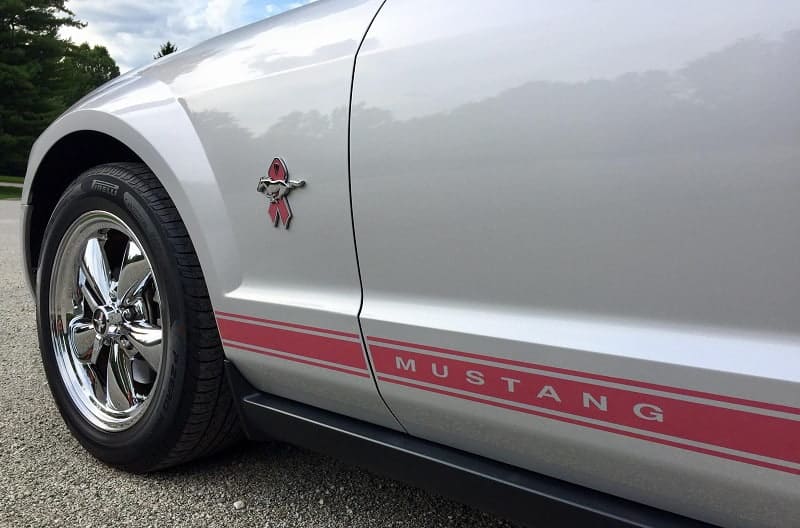 But the car was somewhat of a mystery. They bought it with only 428 miles on the odometer in July of 2009 from a dealer who'd purchased it at auction. The mystery was that it was a 2008 sporting the slightly-different 2009 WIP package (billet grille, hood stripe, and pink ribbon-style rocker stripe).
A CarFax report revealed the only prior title of record was to Ford Motor Company itself. Decoding the build date on the VIN also showed that it was built very early in the '08 model year (April 2007). So the couple theorized that Ford had likely used this '08 as a test platform when they were designing the Warriors in Pink package. And since it's a 2008 with the 2009 WIP edition package, they've always believed it to be a one-of-a-kind car.
That theory proved to be true when Andy ordered a Marti Report® which showed that it WAS actually ordered by Ford as a test vehicle! The Marti Report also shows some other cool nuggets of info: In 2008 there were only 510 WIP convertibles produced, and only 64 Silver Metallic WIP convertibles produced.
Andy and Allyssa have kept this WIP Mustang mostly stock, only adding a V-6 Cold Air Kit and Dual Exhaust Kit from Ford Performance Parts, plus chrome OEM rims, and a few other cosmetic add-ons. This is indeed a very special car for several reasons, and the Harpst's plan to keep it for quite some time.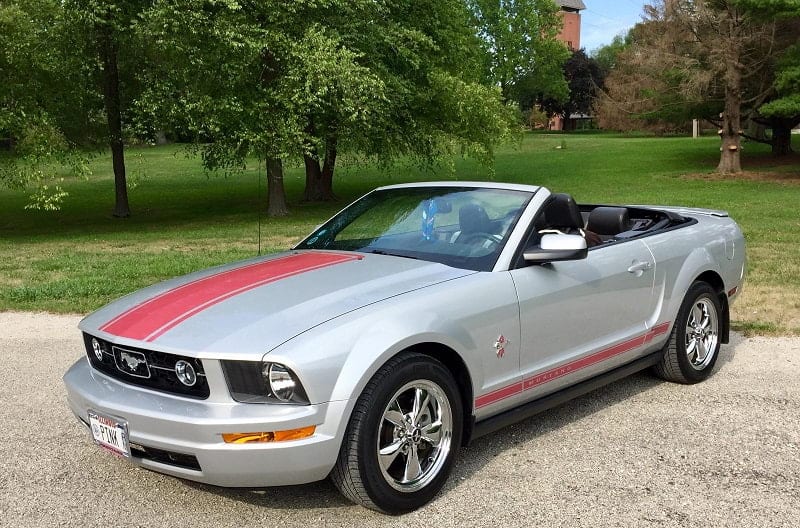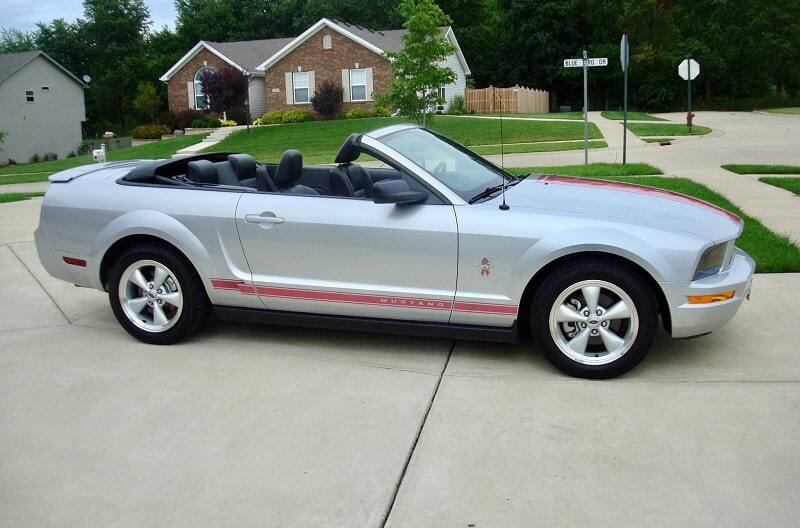 How YOU can Get In The Spotlight: For several years now, one of the most popular features on FordPerformance.com and in our Fast News e-newsletter continues to be "Ford Fan Spotlight," where readers can send in their own reasons why they're fans of Ford Motor Company. You know who they are: Ford "superfans;" grassroots Ford racers; unique Ford vehicle owners; loyal Ford enthusiasts; notable Ford club people; special Ford families; and/or any avid supporter of Ford, Ford vehicles, Ford motorsports or Ford Performance who deserves a little bit of special recognition.
All you need to do to get you, your car or candidate considered is to send in a brief description (200-500 words or less) and a few photos (in .jpeg format, preferably 300 dpi) of a person (full name and hometown, please) and vehicle that you think Ford Performance should feature (and why) in the "Ford Fan Spotlight" for an upcoming installment of Fast News and posting on FordPerformance.com. Then email it to: ClubHub@Ford.com. Should you wish to send a video, you simply need to post it on www.YouTube.com (preferably 1-2 minutes long) and send in the link, along with a brief description, to that same ClubHub@Ford.com email address. We'll choose one submission each week.