DEARBORN, Mich. - Every single day we at Ford Performance do our best to show why our connection with enthusiasts both outside and inside of the company is an important differentiator for Ford. You can now add Robert Blackwell's name to the long list of Ford fans who are glad that Ford Performance provides a direct link to the factory through our enthusiast outreach activities such as the Ford Performance Info Center (800-FORD-788) and our innovative Ford Performance Club Connect (www.FordPerformanceClubConnect.com) program. That's because Blackwell's contact with Ford Performance is likely the only way he could have validated that his 1993 Mustang LX 5.0 is quite possibly the last Fox Body ever built. To learn how we helped him unravel the mystery of finding factory worker initials marked on the underside of a seat cushion in his '93 Mustang, read his email to us below:
"Hello, Ford Performance. My name is Robert Blackwell. Back in 2013, my wife Sherri and I found a nice 1993 Mustang LX 5.0 for sale on Craigslist in Marshville, North Carolina. We called the owner and struck up a deal to purchase the car and went down to the Carolinas that next weekend and got it. During a conversation with the owner at that time, he told us that the car had been sitting outside next to a barn for about five-plus years, with the windows covered up and the seats covered with towels. He was the third owner of this Mustang, and knew the previous owner had it for approximately 18 years. He got it from the original owner with just 7,500 miles on it. The Mustang now has 80,000 miles on it.
"Right after we got the car cleaned up, a gentleman who spotted it at our house called and asked if it was for sale, and I said, 'Not really.' He asked if he could at least come by and look at the car. We said yes, and he came over the very next day to see the car. After looking it over, he then asked if I was ever going to sell the car, how much would I ask for it? I gave him a price, which was a bad mistake because the day after that he came back with the money.
I thought my price was high! Anyway, we signed off on the sale on the condition that if he were ever to sell Mustang, we would get the first chance at buying it back. Well, that chance came in February of 2018, when my wife and I were watching TV coverage of a Barrett-Jackson auction and saw a collection of Fox Body Mustangs being sold off. That got us thinking about the '93 LX we had sold a few years ago, and how we wished we still had it. So my wife and I called the owner and asked if we could buy the Mustang back -- and he agreed!
"We got the car home, and by March decided that we wanted to take our 2003 SVT Mustang Cobra to a big car show weekend called Ponies in the Smokies in Pigeon Forge, Tennessee. At the show they had several Mustang parts vendors there, including some who had parts for the restoration of Fox Mustangs. After talking with them, my wife and I decided to buy some things to help us start a restoration on our recently reacquired '93 Mustang LX 5.0.
"Right after we got home from the show, I started taking the interior out of the Mustang. When I removed the passenger seat, I found on the exposed foam on the underside of the lower seat cushion what appeared to be signatures and initials in black marker of people who worked on the assembly line. Also visible in white marker were the words 'Last Mustang' and '8 - 25 - 93.'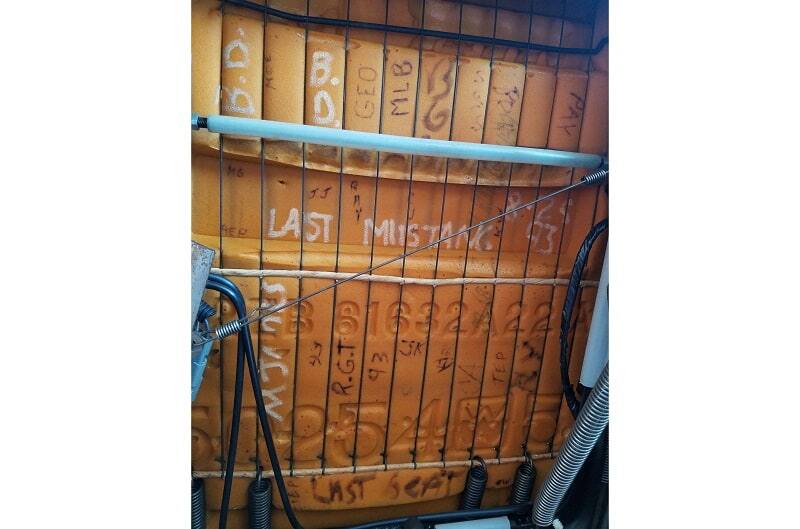 "I looked online and found FordShowParts.com, which had the toll-free phone number of the Ford Performance Info Center. After talking with one of the staffers, they suggested I email them some pictures of the seat bottom. They said they have a Mustang expert on staff, and would show the photos to Ford Performance Enthusiast Communications manager John Clor.
"It turns out that Mr. Clor, who also manages the Ford Performance Club Connect program, recalled attending a club event from years past where noted Fox Body Mustang collector Terry McCoy hosted a luncheon discussion with retirees from the now-defunct Dearborn Assembly Plant to talk about their careers building Mustangs (and more) at the DAP. Clor knew that a club principal at the time, Marcie Cipriani, had documented the retirees' comments, so he called her to see if she still had any of that event's attendee contact information. Amazingly, she was able to send Clor a copy of the original sign-in sheet from that event so many years ago.
"Clor scanned through the list of DAP retiree names to see if he knew any of them – and low and behold – the name 'Ray Lucarelli' jumped out at him. Like Clor, Lucarelli is a member of the local Mustang Owners Club of SouthEastern Michigan (MOCSEM), so Clor emailed him with my note and photos of the seat bottom to ask if he could shed any light on the markings. When Ray told him, 'Yes! MY initials are on there! I know all about that car!' Clor got in touch with us to tell us that he found out a source of info on our car. We could barely believe it! Clor was able to put us in touch directly with Lucarelli, a former DAP assembly line worker.
"Upon further investigation we found out that Mr. Lucarelli indeed had signed the seat bottom on our '93 Mustang! Needless to say we were excited to hear this and worked with him to put things together on the history of this car. We found out that on the seat bottom where it says 'Last Mustang 8 - 25 - 93,' it was written in white because that was the color of the car. We also found out 1993 was the last year that Ford built the seats for the Mustang in-house. We have since had the chance to obtain the Marti Report on our Mustang, confirming it was built on the last day of Fox Body Mustang production at DAP. We also discovered it is a 1-of-1 build!
"We have had so many surprises from this little Fox Body Mustang, it's just been unreal! We have also made so many new friends -- all because of this Mustang. We have decided to leave the car just as is right now, and not change anything from the time we found the seat bottom on April 28th of 2018. Funny thing is that this Mustang is still pretty much original, with no modifications done to it. It still retains its original exhaust, radio, wheels, etc. In fact, I was the first person to have the car tuned up! (Yes, we saved the original plugs, wires, distributor cap and the rotor.)

"We just want to say thanks to everyone that's been a part of discovering and verifying the historical significance of this wonderful 1993 Mustang LX 5.0. Had it not been for Ford Performance, we could never have been connected with the right people or information. Our personal thanks go out to John Clor, Ray Lucarelli, Roger Bonneau, Rodger Tisdale, Rob Webber, Rick Schmidt, Matthew laszaic, and Steve Hall, as well as to FordShowParts and National Parts Depot. It's great to see that the enthusiast hobby is supported by Ford!"
How YOU can Get In The Spotlight: For several years now, one of the most popular features on FordPerformance.com and in our Fast News e-newsletter continues to be "Ford Fan Spotlight," where readers can send in their own reasons why they're fans of Ford Motor Company. You know who they are: Ford "superfans;" grassroots Ford racers; unique Ford vehicle owners; loyal Ford enthusiasts; notable Ford club people; special Ford families; and/or any avid supporter of Ford, Ford vehicles, Ford motorsports or Ford Performance who deserves a little bit of special recognition.

All you need to do to get you, your car or candidate considered is to send in a brief description (200-500 words or less) and a few photos (in .jpeg format, preferably 300 dpi) of a person (full name and hometown, please) and vehicle that you think Ford Performance should feature (and why) in the "Ford Fan Spotlight" for an upcoming installment of Fast News and posting on FordPerformance.com. Then email it to: ClubHub@Ford.com. Should you wish to send a video, you simply need to post it on www.YouTube.com (preferably 1-2 minutes long) and send in the link, along with a brief description, to that same ClubHub@Ford.com email address. We'll choose one submission each week.