DEARBORN, Mich. - Back in 2015, we told you about Mark Badgley, a director for the Mustang Club of Indianapolis who has fielded a whole family of Ford fans, including his wife Darlene, and daughter Alyssa, who enjoy their three Ford Mustangs. But when Mark served as the executive director for the MCA's 40th Anniversary Show that was held at the Indianapolis Motor Speedway back on Labor Day Weekend of 2016, they had decided to buy a "Track Car" to use at the event and then eventually sell it once the event was over. The only problem is, they never wound up selling it. To find out why, read their story below:
"Mark and Darlene Badgley bought this 2013 Boss Laguna Seca to take on-track at the Indianapolis Motor Speedway for the MCA 40th but now, more than two years later, they still have the car.
"About three years ago, Mark and Darlene decided to go find a 2013 Mustang Boss 302 Laguna Seca model to take on the track at IMS with the agreement that they would sell the car after the weekend of track time was over.
"The car needed some work, but they found the proper brake ducts with some help from Ford Performance. After a visit to the annual PRI show in Indianapolis, they added the front splitter, the Track Key, trans cooler and Hawk Brake pads to be sure the car would be consistent over the course of the on-track weekend.
"After going through the track preparation process listed in the owner's manual, the couple thought they were well-prepared for the weekend. At one point, Mark even had the chance to share a very special moment by taking his daughter and crew chief, Alyssa Badgley, on course for one of the sessions.
"But once the weekend was over, they found themselves with a real attachment to the car, and since that time have shown the car at the World of Wheels and various other local club shows. Darlene says she knew that Mark would never sell the car, but he is sticking with his story that was the initial plan . . . at least to the best of his fading recollection!"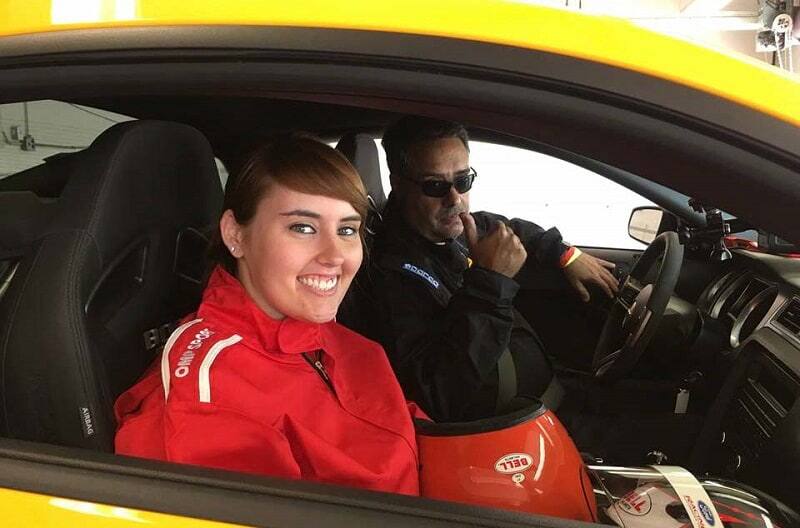 How YOU can Get In The Spotlight: For several years now, one of the most popular features on FordPerformance.com and in our Fast News e-newsletter continues to be "Ford Fan Spotlight," where readers can send in their own reasons why they're fans of Ford Motor Company. You know who they are: Ford "superfans;" grassroots Ford racers; unique Ford vehicle owners; loyal Ford enthusiasts; notable Ford club people; special Ford families; and/or any avid supporter of Ford, Ford vehicles, Ford motorsports or Ford Performance who deserves a little bit of special recognition.

All you need to do to get you, your car or candidate considered is to send in a brief description (200-500 words or less) and a few photos (in .jpeg format, preferably 300 dpi) of a person (full name and hometown, please) and vehicle that you think Ford Performance should feature (and why) in the "Ford Fan Spotlight" for an upcoming installment of Fast News and posting on FordPerformance.com. Then email it to: ClubHub@Ford.com. Should you wish to send a video, you simply need to post it on www.YouTube.com (preferably 1-2 minutes long) and send in the link, along with a brief description, to that same ClubHub@Ford.com email address. We'll choose one submission each week.