DEARBORN, Mich. - Rick Mitchell bought his 2104 3.7L V-6 Mustang new in September of 2014 and says he's enjoyed every minute of it since. "It just passed 13,000 miles after 82 shows in four states," he told us. "I'm sure you've heard the tired old saying, 'I plan to keep it forever,' but I think for the first time in my life that may be true. What is there to not like about over 300 horsepower and over 30 mpg on trips in a Mustang?" What, indeed. Turns out Rick not only has been a six-cylinder Mustang owner and fan who has been writing about these cars for years, but he's also organized a few enthusiast organizations around six-bangers, the latest of which is known as "Mustang 3.7 Connection." See below to hear Rick's amazing six-cylinder Mustang story:
"My first Mustang was an Arcadian Blue '66 Sprint 200 that I owned from '81 to '93. I restored it and went to 69 shows. I later owned new '95, '00 and '04 V-6 Mustangs, but these were daily drivers and not shown at car events.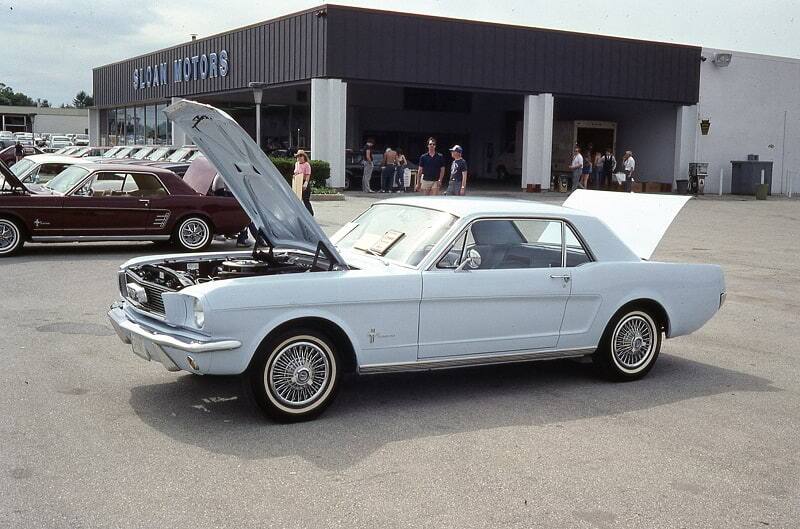 "In February of 2014, I bought an '04 V-6 and semi-restored it. It was in nine shows before I traded it in during September of 2014 for my current Sterling Grey '14 V-6. I have extensively but conservatively modded this car. I recently topped 80 shows with it, and am planning to attend several more through early November, when the car show season ends here in Maryland.
"I have written three books on military aviation plus hundreds of short articles for my past newsletters dedicated to the P-39, P-51, P-63, F-84, F-86, F-100, F-4, F-5, F-15, F-16 and A-7. My Dad was a WWII fighter pilot who flew in the MD Air Guard through 1976, so I grew up surrounded by the fighter pilot culture. I currently also run the Sabre Jet Association with over 800 members. I was never a pilot, but I am completely at ease working with these folks.
"Back to Mustangs. I created the 1966 Sprint 200 Registry in '83 that evolved into the Early Six Mustang Registry. That stopped in '89 when I got out of the hobby. I got back in in 2012 or '13, reactivated my six-cylinder newsletters, and formed the Mustang 6 Association. I ran that for two years when Terry Reinhart took it over. I then ran my Catonsville Mustang Club for a year and half (named after my town, but it was all online with no meetings or shows; essentially just a name). Stopped that for a few months after hearing that the 3.7L was being discontinued.
"I was very unhappy with that news, just as my V-6 friends were, so I started the 'Mustang 3.7 Connection' to continue writing and publishing, but now strictly about the 3.7L-powered Mustangs. It's hard to express how incredibly pleased I am with my 3.7L Mustang, so I developed M37C to channel that enthusiasm in that direction and share it with others. I've always needed good, creative outlets, and writing about Mustangs and jet fighters does that for me, plus going to umpty-ump car shows! Hope all six-cylinder Mustang fans enjoy M37C as much as I do putting it together. Thanks for considering me for your Ford Fan Spotlight!"

Editor's Note: One of the most popular features on FordPerformance.com and in our Fast News e-newsletter continues to be "Ford Fan Spotlight," where readers can send in their own reasons why they're fans of Ford Motor Company. You know who they are: Ford "superfans;" grassroots Ford racers; unique Ford vehicle owners; loyal Ford enthusiasts; notable Ford club people; special Ford families; and/or any avid supporter of Ford, Ford vehicles, Ford motorsports or Ford Performance who deserves a little bit of special recognition.

All you need to do to get you, your car or candidate considered is to send in a brief description (200-500 words or less) and a few photos (in .jpeg format, preferably 300 dpi) of a person (full name and hometown, please) and vehicle that you think Ford Performance should feature (and why) in the "Ford Fan Spotlight" for an upcoming installment of Fast News and posting on FordPerformance.com. Then email it to: ClubHub@Ford.com. Should you wish to send a video, you simply need to post it on www.YouTube.com (preferably 1-2 minutes long) and send in the link, along with a brief description, to that same ClubHub@Ford.com email address. We'll choose one submission each week.