DEARBORN - Bob and Chris LaFata of Marine City, Michigan, have loved and enjoyed Mustangs all their lives. They eventually collected so many that they felt the need to thin the herd, so they fixed up their fleet and took some to a show with the hopes of selling them. But attending the annual Mustang Memories show at Ford World Headquarters only served to give them Mustang fever all over again. To hear what happened to them there, read their email to us below:
"Hello, Ford Performance! My name is Bob LaFata. My wife Chris and I are big Ford fans. It's great to see your tent at our regional car show, and we always enjoy reading the monthly Ford Performance Corner column in Mustang Times magazine. We'd like to share with your readers how Mustangs always have been, and still are today, a part of our family here in Marine City, Michigan.
"Chris graduated from high school in 1966. After saving for a down-payment on her first car, she bought a 1966 Silver Blue Mustang 289 automatic. Three days after I graduated from high school in June of 1967, I began working at the Ford Rouge Plant. My first job title was Final Line Inspector at Dearborn Assembly. I can still smell the new Mustangs we made there! After a change-over to the 1968 models, I began a Ford apprenticeship in the old Rouge Iron Foundry.
"Chris and I married in 1968, and in 1969 we bought a beautiful Silver Jade Mustang Mach 1 with a 390 and a 4-speed. Wow, was that an amazing car! We were a two- Mustang household for a while. Eventually the Mustangs were replaced with other cars and trucks as our transportation needs changed.
"In about 1991, Chris started talking about how she used to love her first Mustang, and wouldn't it be great to have a Mustang convertible? In the 1990's it was easy, it seemed, to find older Mustangs for sale almost everywhere. We had actually spotted a convertible sitting beside a barn about 5 miles from our home in Marine City. One day we stopped and asked if we could look at the car and inquired if it might be for sale.
"This was an early car, a 64½ Caspian Blue Mustang ragtop. It looked pretty sorry, but this Mustang just needed someone to take care of it. Unfortunately the people weren't ready to sell it because they said their teenage son was going to restore it.
"So we went home and I began buying Mustang magazines and dreaming about that convertible. In the spring of 1993, we went back to that barn, and there it still sat. This time a deal was made, and we finally drove home our treasure!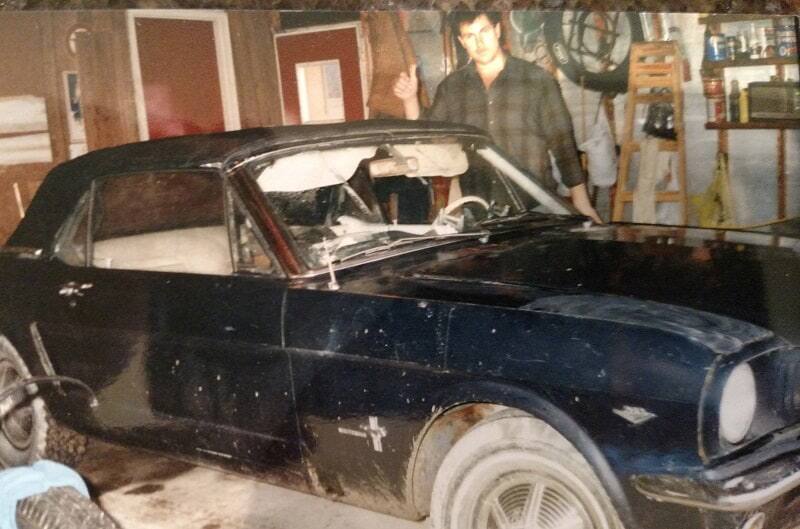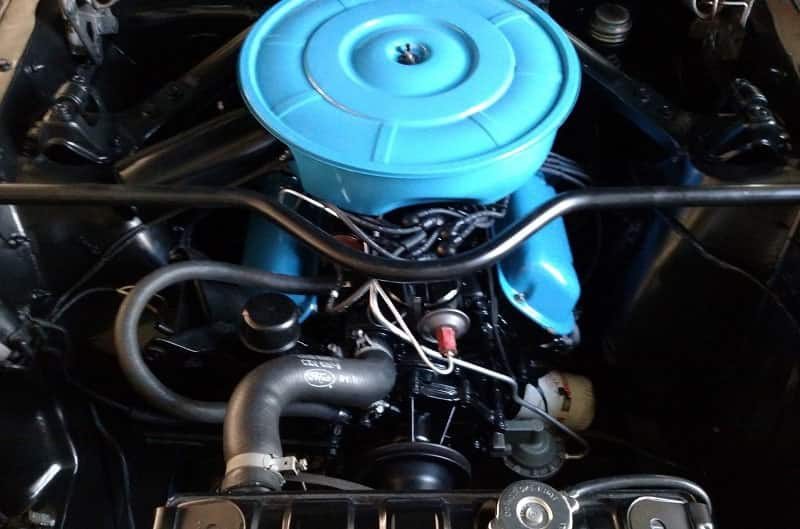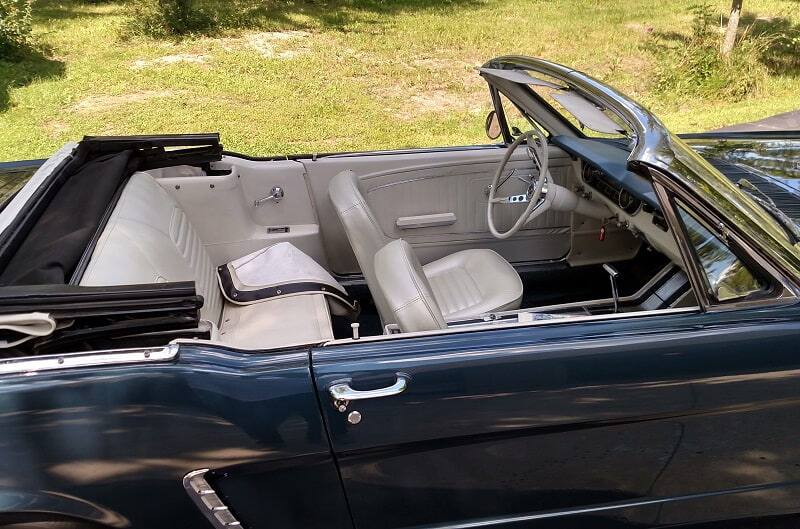 "Restoration began in my garage in November of 1994 and it was back on the road in 1995, looking amazing. We have a pole barn, so it was easy to understand why having space allows Mustang fever to happen. About a year later, I bought a 1969 Mach 1, then a Springtime Yellow Coupe, then another 1969 Indian Fire Mach 1 (I've included a photo of that one), then yet another rusted 1966 Mustang 289. I even got a 1988 Mustang GT to add to the barn. It seemed that great deals on used Mustangs were everywhere. Retirement from Ford's Utica Trim Plant came in 1998. Life changed. I finally learned that too many cars means . . . that none really get the attention they deserve, because they all sat pretty much neglected until spring of 2016. We did lease a new Mustang Mach 1 in 2003, just for old time's sake.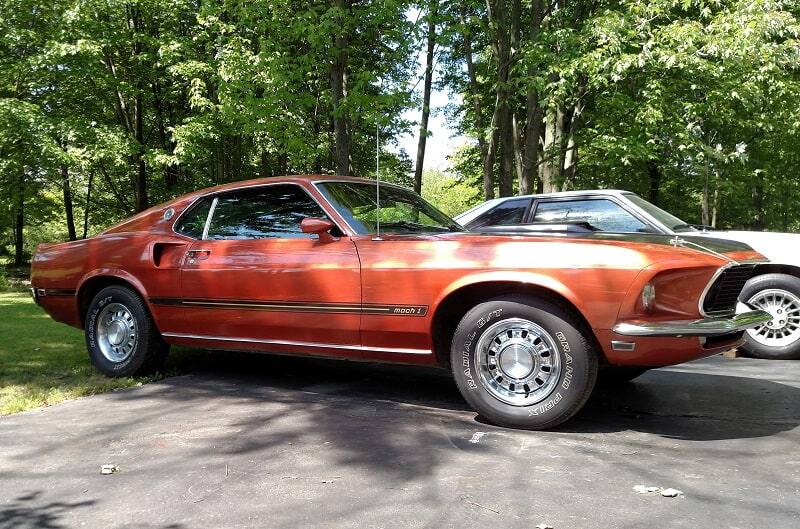 "A year or so ago, I decided that the herd needed to be sold. One by one I began pulling Mustangs out of the barn – "pulling" them because none of them had run in about 15 years. I began to bring the cars back to life, fixing and polishing. We took pictures of them all and decided to attend the local Shelby show and then the big MOCSEM "Mustang Memories" show at the Glass House in Dearborn. We wanted to find out what our cars might be worth, with intentions to sell everything.

"But after working on our cars and then seeing so many more of the classics along with the new Mustangs at the show and talking to all the owners that day at Ford World Headquarters, our Mustang fever started again. On the way out of Mustang Memories, one of the show committee invited us to be part of MOCSEM and we joined the club. Within a month, we leased a triple-Yellow Mustang EcoBoost Premium, and drove it to our first MOCSEM meeting! We're now attending events and club outings and even helping at Mustang Memories. Guess Mustangs have almost always been part of our lives – and that's not going to change!"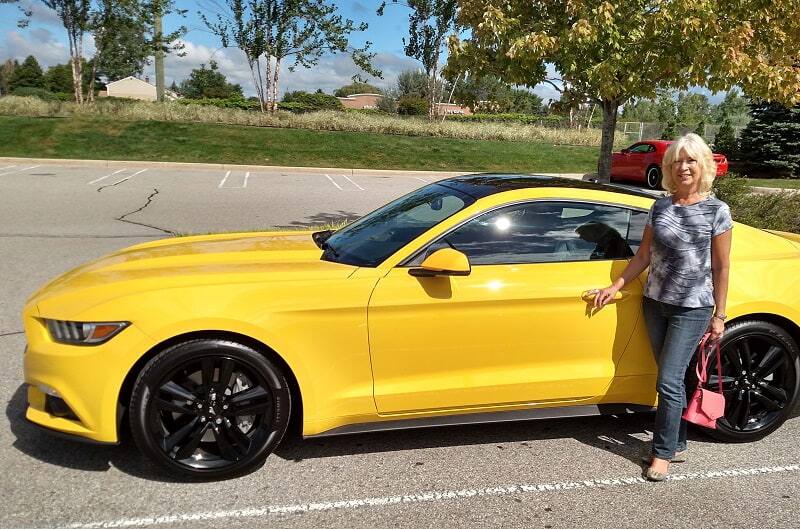 Editor's Note: One of the most popular features on FordPerformance.com and in our Fast News e-newsletter continues to be "Ford Fan Spotlight," where readers can send in their own reasons why they're fans of Ford Motor Company. You know who they are: Ford "superfans;" grassroots Ford racers; unique Ford vehicle owners; loyal Ford enthusiasts; notable Ford club people; special Ford families; and/or any avid supporter of Ford, Ford vehicles, Ford motorsports or Ford Performance who deserves a little bit of special recognition.

All you need to do to get you, your car or candidate considered is to send in a brief description (200-500 words or less) and a few photos (in .jpeg format, preferably 300 dpi) of a person (full name and hometown, please) and vehicle that you think Ford Performance should feature (and why) in the "Ford Fan Spotlight" for an upcoming installment of Fast News and posting on FordPerformance.com. Then email it to: AskTFR@Ford.com. Should you wish to send a video, you simply need to post it on www.YouTube.com (preferably 1-2 minutes long) and send in the link, along with a brief description, to that same AskTFR@Ford.com email address. We'll choose one submission each week.