DEARBORN - Steve Lensegray has loved Mustangs since driving a '71 Fastback in high school, but wound up selling it 17 years ago after his second child came along. When he was finally able to get back in the Mustang saddle, he dreamed of an S197-era California Special five-speed in Grabber Orange – except those are quite rare. But just as he was about to give up his search, he spotted his dream car on the Ford Pre-certified site, and landed a low-build-number beauty. To find out just how low, read his email to us below:
"Hi, Ford Performance! I thought I'd share my 'lucky find,' with your Fan Spotlight readers! In the spring of 2012, I was overcome by the itch to get another Mustang. I drove a Cleveland-powered '71 Fastback in high school and college, but that beauty got sold in 2001 for financial reasons when the second child came along. When it was time to buy, I searched the entire country on different forums, online retailers and the auction sites for months with the criteria that it had to be a Mustang GT, have a 5-speed manual, needed to be the 2005-2009 body style, and needed to have the Shaker 1000 sound system – plus have low miles. I figured if you're going to have a midlife boost, it should be done right!
"Anyway, I was having trouble finding the 'perfect one' when I came across a Shelby GT that was finished in Grabber Orange with the silver overbody stripes (I didn't like the Grabber Orange on the production GT as much) and fell in love with it. However, finding one of those Shelby GT's in my price range was not happening. So I decided that the California Special was going to be the style I would continue to pursue, as they look very similar but cost less money. The downfall was that I likely wasn't going to be able to get one in Grabber Orange as I had never seen one in all my years of loving Mustangs and looking online. Well, I thought, that's O.K.; maybe the black/flat black or blue-on-black would do just fine.
"Then one day, I got on the Ford Pre-Certified website and searched the online inventory. Low and behold, in Nampa, Idaho, was a 2008 Grabber Orange California Special with just 10K miles on it! How could that be -- I didn't even know they existed! I looked further into it and the description said it was an automatic with a Shaker 500. Dang it, the wrong transmission. But wait a minute – why do the pictures of the interior show a stick shift? The insignia on the center stack says 'Shaker 1000,' but that gear selector sure looked like a 5-speed to me, I swear!
"With fingers crossed, I called the dealership in Idaho and asked the salesman to go out and check the car to verify the transmission for me, and sure enough -- it was indeed my five-speed dream car, dressed in Grabber Orange with all the goodies that I wanted! It didn't take long for me to decide to drive to Idaho and bring it home. I named it Cali, and it proudly wears its name on its license plate to this day.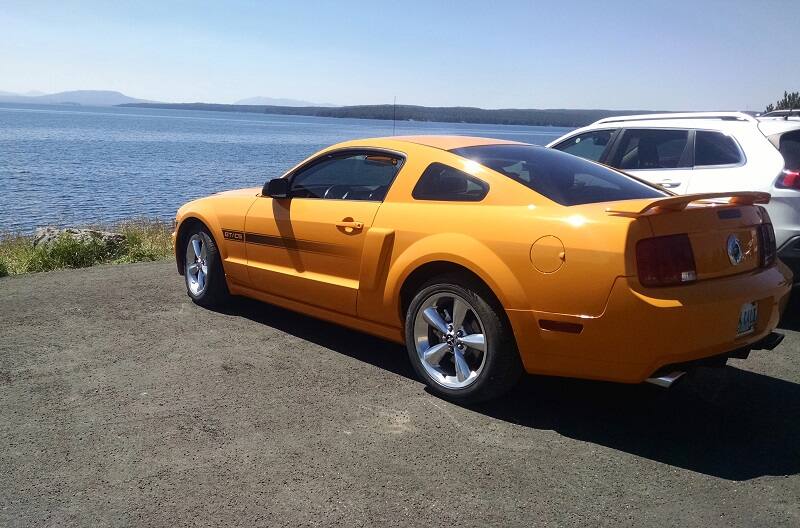 "Once I got it home, I started doing a little digging about the car and its color. Turns out that Ford did make a few California Specials in Grabber Orange for 2008, but in very low numbers, especially when compared to the other colors for the GT/CS model that year. Then I checked out the n I came across the late-model California Special online registry known as GT/CS Registry.com. So, I contacted them to register my car and they did a VIN breakdown for me that blew my mind!
"Turns out that my 'Cali,' according to the Registry, is a 1-of-1 car! Now, I don't know if this really adds much to the car value-wise (probably can't hurt), but I can tell you that it certainly made my California Special a little more special for me. I do enjoy driving the car, as it now has 24K miles on it. Due to its rarity, I have kept my modifications to it rather subtle, as I have added a Ford Racing stinger exhaust, a Ford Racing cold-air intake from a Shelby GT, sequential taillights, and even a tune liven it up even a little more.
"Cali enjoys life with its older brother, my super-clean, hard-to-find, late-build 1997 Ford F-250 Heavy Duty PowerStroke Crew Cab that has only 115,000 miles on it. But that is another story for perhaps another Fan Spotlight!"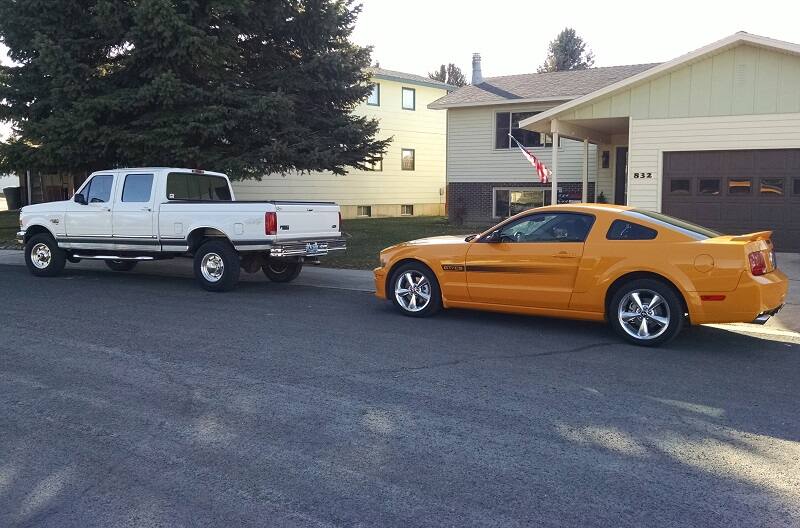 Editor's Note: One of the most popular features on FordPerformance.com and in our Fast News e-newsletter continues to be "Ford Fan Spotlight," where readers can send in their own reasons why they're fans of Ford Motor Company. You know who they are: Ford "superfans;" grassroots Ford racers; unique Ford vehicle owners; loyal Ford enthusiasts; notable Ford club people; special Ford families; and/or any avid supporter of Ford, Ford vehicles, Ford motorsports or Ford Performance who deserves a little bit of special recognition.

All you need to do to get you, your car or candidate considered is to send in a brief description (200-500 words or less) and a few photos (in .jpeg format, preferably 300 dpi) of a person (full name and hometown, please) and vehicle that you think Ford Performance should feature (and why) in the "Ford Fan Spotlight" for an upcoming installment of Fast News and posting on FordPerformance.com. Then email it to: AskTFR@Ford.com. Should you wish to send a video, you simply need to post it on www.YouTube.com (preferably 1-2 minutes long) and send in the link, along with a brief description, to that same AskTFR@Ford.com email address. We'll choose one submission each week.