Tampa Bay resident Erica Beck comes from a Ford enthusiast family, so it didn't take very long for her to become a big Blue Oval fan. Getting a Focus as her first car only fanned the Ford flames, and after landing her Master's degree, she rewarded herself by buying a 2016 Mustang GT. Now she's thinking of starting a "Mustang Sallies" female-based Mustang owners club:
"My name is Erika Beck, a Tampa Bay resident and owner of a 2016 Mustang GT, Race Red with the black accent package that I call 'Rosie.' I have been a car enthusiast all of my life, starting with my father's Ford Ranchero while I was young. About 18 years ago he bought a '70 Torino GT which he still shows on a regular basis.
"I have always loved Fords and to get my Ford 'fix' I have gone to Ford's Garage in Brandon, Florida, several times! (I wish that there was one of those restaurants closer to me!). The first car I got to drive was my parents' black '93 Taurus LX, and then I was able to purchase my own first car, a 2006 Screaming Yellow Focus ZX3 SES. I had my Focus until I bought my Mustang last October.
"My new Mustang was my MBA graduation present to myself. My father now owns my Focus as he sold his 2004 Mustang GT after he retired. (The Mustang's manual shift was just getting too difficult for him to drive.) I sent along a photo of our Ford fleet. Dad and I show both of our cars on a regular basis, and his Torino really is a big draw for spectators.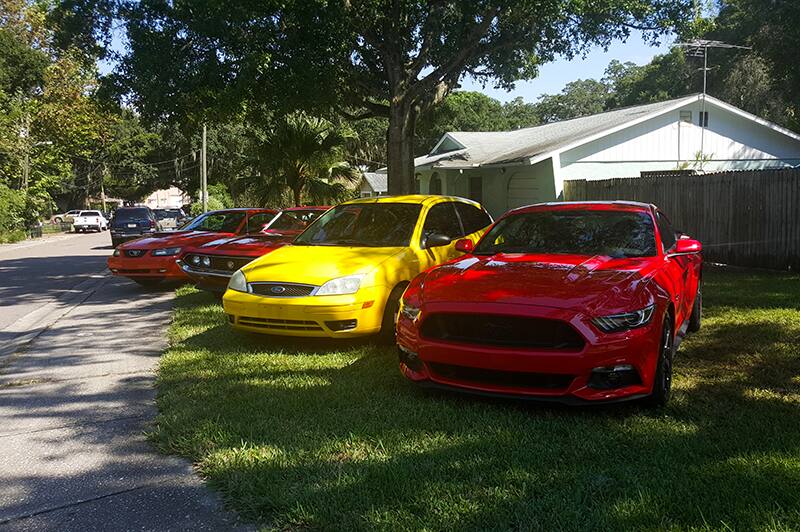 "While it'd be great to appear in your Ford Fan Spotlight, what I'd really want to do is explore an idea that I have for the establishment of a new Mustang club or registry. I want to create and develop a female-based Mustang owners club! I am very active in the Tampa Bay area with car shows and through my membership in the Mustang Club of Tampa and the Red Mustang Registry (RMR). I also participate in several Facebook groups. But I'm finding that there is an under-representation of female owners. We are out there – so I want to highlight more of us!
"I know that there are lots of clubs and online groups out there, with most of them not having any relationship with Ford. What I am trying to figure out is a way to gauge interest in some sort of 'Mustang Sallies' group, and how we could set ourselves apart from other clubs and get recognized by Ford. To that end, I'd like to thank your toll-free 1-800-FORD-788 Ford Performance Info Center for helping me connect with you!"
Editor's Note: One of the most popular features on FordPerformance.com and in our Fast News e-newsletter continues to be "Ford Fan Spotlight," where readers can send in their own reasons why they're fans of Ford Motor Company. You know who they are: Ford "superfans;" grassroots Ford racers; unique Ford vehicle owners; loyal Ford enthusiasts; notable Ford club people; special Ford families; and/or any avid supporter of Ford, Ford vehicles, Ford motorsports or Ford Performance who deserves a little bit of special recognition.

All you need to do to get you, your car or candidate considered is to send in a brief description (200-300 words or less) and a few photos (in .jpeg format, preferably 300 dpi) of a person (full name and hometown, please) and vehicle that you think Ford Performance should feature (and why) in the "Ford Fan Spotlight" for an upcoming installment of Fast News and posting on FordPerformance.com. Then email it to: AskTFR@Ford.com. Should you wish to send a video, you simply need to post it on www.YouTube.com (preferably 1-2 minutes long) and send in the link, along with a brief description, to that same AskTFR@Ford.com email address. We'll choose one submission each week.