DEARBORN - NASCAR Hall of Famer Walter "Bud" Moore, a World War II hero and champion car owner, passed away Nov. 27.
The South Carolina native won 63 races and two championships as a NASCAR team owner, and also led Ford Motor Company to the 1970 SCCA Trans-Am championship with Parnelli Jones in the Boss 302 Mustang.
Among the legendary drivers who drove for him in NASCAR were Bobby Allison, Buddy Baker, Earnhardt, Ricky Rudd, Morgan Shepherd, Fireball Roberts, David Pearson, Rex White, Cale Yarborough, Tiny Lund, Darrell Waltrip, Benny Parsons and Bobby Isaac.
He stormed the beaches on Normandy on D-Day during World War II, and also fought in the Battle of the Bulge. During his service during that time, he earned five Purple Hearts and two Bronze Stars for his action in battle.
Besides his induction into the NASCAR Hall of Fame in 2011, Moore is a member of the Stock Car Hall of Fame (2002), the International Motorsport Hall of Fame (2009) and the Motorsport Hall of Fame of America (2013). He was also given Ford Motor Company's highest racing honor – the Spirit of Ford – in 1995.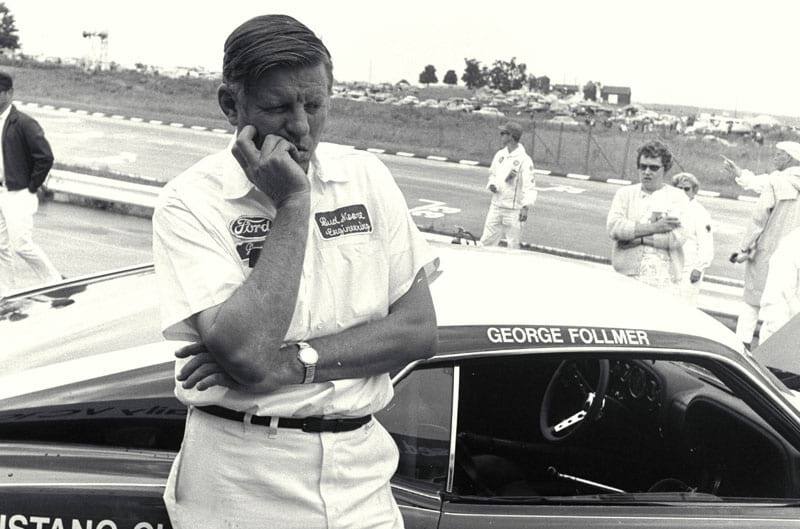 "All of us involved in Ford's racing program mourn the passing of Bud Moore," said Edsel B. Ford II, member, Ford Motor Company Board of Directors. "He embodied the true meaning of the word hero, from storming the beaches of Normandy during D-Day in World War II to working his way up to the top levels of both the SCCA and NASCAR as a championship car owner.
"Bud changed the lives of countless drivers and crew members for several decades on his way to the NASCAR Hall of Fame, but he was a humble, simple man who never forgot his South Carolina roots. A loyal Ford man and a man of honor. We send our deepest condolences to his sons Greg, Daryl and Brent."
Ford Performance did a Q&A with Bud Moore and Edsel Ford on his induction into the NASCAR Hall of Fame in 2011.
Here is a transcript of those interviews:
BUD MOORE
WHAT MADE FORD INTERESTED IN BUD MOORE? HOW WERE YOU DISCOVERED?
"I ran Fords back when they were running modifieds for the flathead back in the late forties. I first started running Ford in 1955 or '56 on the NASCAR circuit. Pete DePaolo was over Ford Racing back then and that's who I first got acquainted with. Then I went with Chevrolet in 1957, '58 and '59, Pontiac in '60, '61 and '62, and then Dick McCann worked for Lincoln-Mercury. We were leading the point championship in 1963 and about halfway through '63 Pontiac pulled all their support from us. We were at the races and Dick McCann came over said, 'You need to be running a Mercury,' so we worked out a deal and we ran the rest of the year in a Mercury in 1963 and won the championship that year with Joe Weatherly. We ran Mercury through '63, '64, '65 and '66."
"The first time I remember meeting Edsel was when we were running the Cougars in 1967 on the Trans-Am Series. He used to come to all the Trans-Am races with us."
WHAT WAS YOUR RELATIONSHIP LIKE WITH EDSEL BACK IN THOSE DAYS?
"We had a very, very good relationship. He came to Spartanburg a few times and he was going to college when I first met him. When he was going to college he bought himself a King Cobra, but when he graduated and started to work for the company, they were about to send him to Australia to run things over there. So I went up to Connecticut or somewhere up there and picked that Cobra up and brought it back. He had a whole list of stuff he wanted me to do to it and he said, 'You've got three years to do it in.' Charlie Gray was the head of Ford Racing back then and I hadn't done anything to it. I had it sitting back in the shop covered up with a tarp and finally Charlie Gray called me and said, 'You know, the young man is coming home in three or four months. You've got his Cobra ready?' And I said, 'No, I better go to work on it.' So I went to work on it and got it all done for him. When he did get back I sent it up to Detroit for him and I think he was real thrilled with the work we did for him."
WHAT DO YOU CONSIDER YOUR GREATEST IMPACT ON CARS AND THE AUTO INDUSTRY?
"We did a lot of work on the cars. We're the ones that pioneered the 302 engine and also the 289 in the Trans-Am Series. Then when Ford pulled out in 1970, I think we were the only ones that didn't completely lose our deal. We started working on the 351 Cleveland small block and NASCAR was running the big block, the 427s and the 429s. We were pioneering the 351 and I finally started racing the 351 Cleveland in 1972 and we ran quite a few races with it and it ran well. Finally, I convinced France. I told him, 'You need to get rid of those big old motors and get rid of those restrictor plates you've got on them and run a small block.' He said, 'What do you mean?' I said, 'I'm running a small block. Why don't you make everybody else run one?' I convinced him that was the way to go and that's what he did. In 1973 he told everybody that starting in 1974 they were gonna have to start running the 351 and they did. In '74 they came out with the rules that said nothing bigger than 358 cubic inches and that's what they're still running today."
DO YOU FEEL YOU WERE AHEAD OF YOUR TIME IN THAT REGARD?
"I've been racing over 50 years with all this stuff going on. I've done a lot of work for NASCAR and the Frances and have done a lot of stuff as far as safety was concerned. We came up with the jockey strap to keep the seat belts in place, and came up with the window net. We also came up with the safety check valve in the fuel tank. We came up with that deal. A lot of the safety stuff that went in the cars, we first pioneered all that stuff back in the sixties and seventies."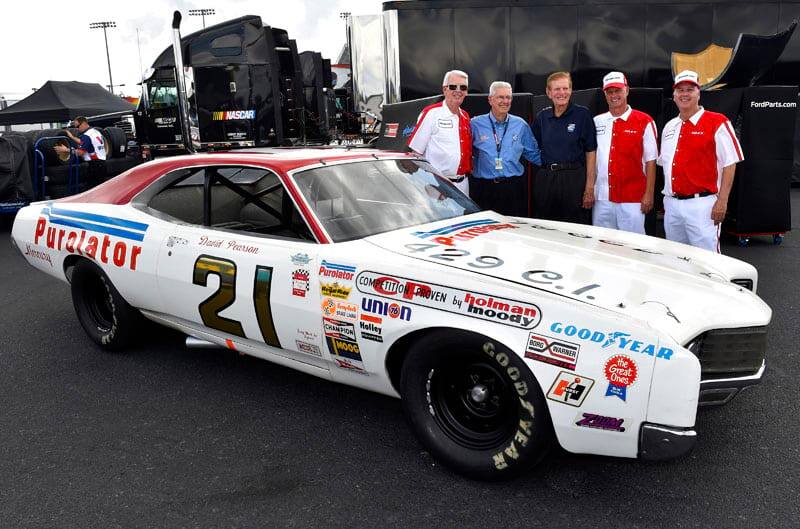 WHAT GOT YOU INTO RACING?
"Back when we lived on the farm my daddy took in a lot of T Models because of his grocery business. He ran grocery stores and we had these T Models down there when I was a young boy and we stripped them down and cut them down and raced them all over the farm back then. We kept the store open until 10 o'clock at night and I do remember daddy came home for lunch and would check things out at the farm, then he'd go upstairs at the house and lay down to take a nap for a couple of hours. We would be out there running those T Models with no mufflers on them making all that racket and he got on us a couple of times. One day he must have been in a bad mood because he came out of the house with an ax and chopped my T Model up. It took me about a month to find enough parts and pieces to get it back going. I tell you one thing, when I knew he was up there asleep, we didn't run it anymore."
EDSEL FORD
HOW DID FORD LAND BUD MOORE?:
I remember Bud telling a story about when he was a little boy. His father owned a bunch of T Models, as he called them, and Bud would strip those cars down and race them on the family farm. Well, one day his father came home and while he was taking a nap, Bud started racing that car and making all kinds of noise. His dad got so mad that he came out of the house with an ax and started smashing away at that car. Bud said it took him a month to find the parts and pieces to get it running again, but Bud was a Ford man from the time he was young.
He ran some modified Fords before NASCAR was officially formed in the forties and then starting around 1963 he ran nothing but Ford products in what was then called the Grand National Series. We leaned heavily on Bud over the next four decades to not only win races and championships in NASCAR, but in other forms of motorsports like the Trans-Am Series during the sixties and seventies.
WHAT IMPACT DID HE HAVE ON THAT TRANS-AM PROGRAM:
The impact was big because, at the time, Mustang was still in its infancy when we went to Bud and talked to him about running for a championship in the Trans-Am Series in the late sixties. We felt that Mustang was a car "Born To Race" from the minute it came off the assembly line in 1964, but we wanted to prove it. So we gave Bud control to put the program together and run it how he wanted, and in 1970 he delivered a championship with Parnelli Jones and George Follmer. That enabled us to brand Mustang as a true race car and show prospective competitors that our products were the best in the business.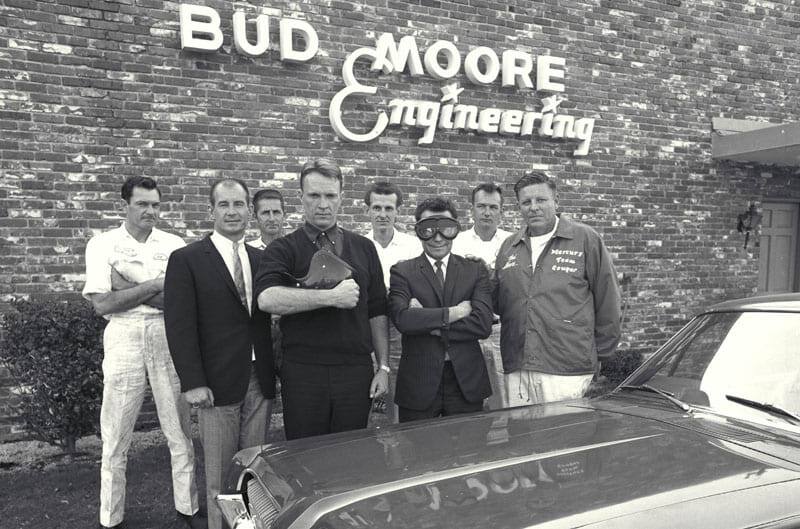 WAS BUD SOMEWHAT OF A MECHANICAL GENIUS?
Well, he was a mechanical genius for me personally, I can tell you that. I had just purchased a King Cobra Mustang before heading off to work at Ford of Australia and I asked Bud to do some work for me while I was gone. I told him he had three years to get it done, and I don't think I ever had a car that made me feel like I could fly as much as that one did by the time he finished it. That car was unbelievable.
I think Bud was ahead of his time in many ways, but in particular when it came to engines. He was one of the pioneers in developing the BOSS 302 engine in the Trans-Am Series, and then he worked on developing the 351 Cleveland small block engine for his NASCAR team. While everyone else was running 427 and 429 big block designs, Bud was running a small block that was competitive and eventually he convinced NASCAR that his design was the way to go. I don't know of many people who could sway Bill France, Jr., but Bud Moore was one of them.
BUD'S LEGACY IN NASCAR STOCK CAR RACING:
Bud Moore did a lot to advance safety and, as we know, safety in these stock cars is an ongoing process. But back in the sixties and seventies, Bud was at the forefront of trying to make the cars safer. He developed a device that went under the seat and helped keep the seat belts in place, and he was one of the first to install a window net on the driver's side door.
But whatever Bud's legacy is in NASCAR, it pales in comparison to what he did for this country in World War II. When I think of what I was doing at 19 years of age, and then look at someone like Bud, who was storming Utah Beach and fighting under General George Patton, I realize just how fortunate we are to have true American heroes like him in our sport. So having Bud Moore in the NASCAR Hall of Fame is truly fitting because now fans of all ages can hear about his fascinating life on and off the track."