DEARBORN – NASCAR pit crew members get credit for helping their drivers win races with their agility, quickness and highly specialized skills when they fly over the pit wall numerous times during a race.
But some pit crew members are even racers themselves, like Ryan Flores of the Motorcraft/Quick Lane Racing team.
Flores is the front tire changer on the Wood Brothers' iconic No. 21 Ford Fusion and in January won the VP Indoor Auto Racing Championship driving a TQ (three-quarters) midget, which is a specially built tubular racing frame with a 750cc motorcycle engine.
"I own the car and operate the team with help from my family and some great friends that come racing with us," said Flores of his racing operation. "It is a nice way to have a mini family reunion before getting back on the road full time with the NASCAR schedule."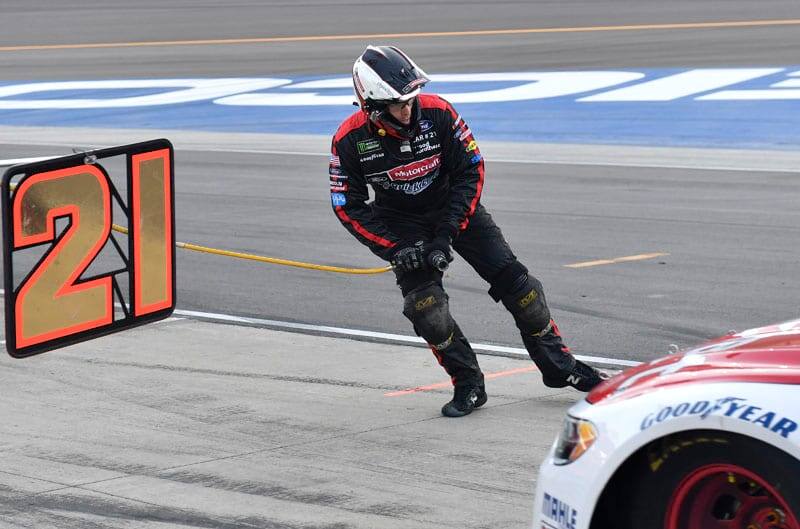 Flores, who NBC Sports named to its first Pit Crew All-Star Team in July, amassed three wins, two seconds and a 10th en route to his title. The series is contested over three race weekends in Trenton, N.J., Allentown, Penn., and Atlantic City, N.J. with a pair of feature races at each event.
It's fitting that Flores won his championship in New Jersey as he is a native of Manasquan on the Jersey shore. Growing up two blocks from the Atlantic Ocean, Flores did a lot of surfing and fishing in addition to racing his first quarter midget at the age of 5.
"I graduated from Manasquan High School in 2005 and began working full time on race cars the day after graduation," he said. "My father was involved in multiple forms of racing including professional BMX, motocross and stock cars long before I was born. He turned all of my family onto the sport and had me racing BMX bikes by the time I was 3."
From quarter midgets, Flores moved into stock cars at age 14.
"Age restrictions at the time really limited the races I could run in New Jersey," Flores recalled. "So that meant we had to spend many weekends traveling to states like Pennsylvania to get seat time."
Family issues limited their racing activities for a time and Flores joined forces with the Blewetts, a well-known New Jersey racing family.
"This is where I really started to learn about race cars and how much hard work it took to get to the race track every weekend," Flores said. "They, along with their sponsors, provided me a car to race in a newly formed Bandolero series in New Jersey. I had good success winning multiple features the next two years."
When Flores turned 17, the family racing operation was back in business and ran a legend car, winning features and sweeping New Jersey's biggest race, the Turkey Derby, run at Wall Stadium. They also took the checkered flag at the Charlotte Motor Speedway Summer Shootout.
In 2006, at the age of 19, Flores headed to Charlotte to find a job with a NASCAR team.
"Luckily, I landed a full job as a fabricator at Roush Fenway Racing only weeks after moving," he said. "During my time at RFR I was very ambitious and learned to do just about every job I could."
He learned to be a tire specialist, a welder, a mechanic and how to change tires on his lunch breaks and after hours.
"After years of practice, and moving to Stewart-Haas Racing, I started changing tires full time in 2012," he said. "In 2014, I was presented the opportunity to change tires for the Team Penske then Wood Brothers Racing."
He considers himself fortunate to have been on pit crews that have won races in the top three NASCAR series, two XFINITY championships at Team Penske and the NASCAR Cup championship in 2011.
"In my first year as a back-up tire changer, I was on the No. 14 team with Tony Stewart when we won the 2011 Sprint Cup Championship," Flores says proudly.
The future looks bright for Flores as he prepares for a NASCAR Playoff run with Motorcraft/Quick Lane Racing. His long-term goals in the sport are to continue driving and perhaps become a promoter.