DEARBORN - Ever since Michigan International Speedway became a fixture on the Monster Energy NASCAR Cup Series schedule in 1969 it has served a backyard avenue of competition for auto manufacturers to grab bragging rights.
No company has been able to puff out its chest more than Ford, which has dominated the two-mile track ever since Cale Yarborough and the Wood Brothers won the inaugural event in a Mercury and David Pearson completed the season sweep a few weeks later in his Holman-Moody Ford.
Going into this weekend's event, Ford Motor Co. has won 47 of the 96 MENCS races held with 35 of those coming in a Ford and 12 in Mercury products. Even more impressive is the fact that a Ford vehicle has gone to victory lane at least once in 35 of the 48 years, including 12 season sweeps.
Along the way there have been several milestone wins, including Ford's 1,000th all-time NASCAR victory in 2013 by Greg Biffle and the inaugural Michigan Heritage Manufacturer's Trophy triumph by Joey Logano later that same year. But none meant more than when Kurt Busch drove his No. 97 Sharpie/Rubbermaid Taurus into the winner's circle on June 15, 2003.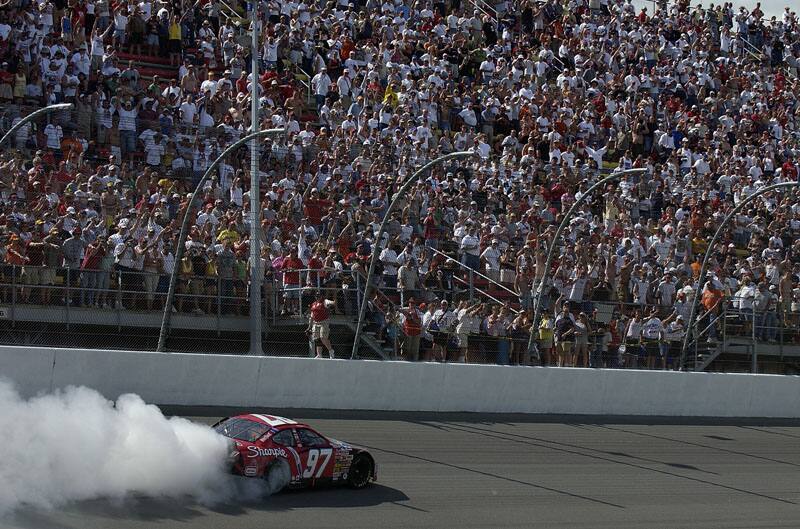 That's because just 80 miles away in Dearborn, Ford was in the midst of a weeklong festival celebrating its Centennial Anniversary. Racing legends such as Jackie Stewart, Dan Gurney, and Carroll Shelby participated in a myriad of events. Cars representing all brands past and present were on display for fans, who hopped on shuttle busses to see everything that was taking place on the sprawling world headquarters campus.
Included in the displays was Sweepstakes, the name founder Henry Ford gave the car that took him to victory in his one and only race on Oct. 10, 1901 over Alexander Winton. If it wasn't for Ford winning that race, many believe the company may not exist today. The publicity Henry generated that day paved the way for him to open the doors to what we know today as the Ford Motor Co. on June 16, 1903.
"I went to work in 1964 for Ford Motor Company as a kid right out of college, working in the plants. I worked for Ford for five years and was frustrated to not be able to work in research, so I left the company and then came right back a year later," said NASCAR team owner Jack Roush. "Ford is the river that runs through my entire racing, motorsport and engineering career. To be able to win on the 100th anniversary of the founding of Ford Motor Company and then secure the 1,000th win for Ford, those are two of my proudest life achievements."
Roush, who has amassed 137 career Cup victories, wasn't sure what was going to happen that day because Sterling Marlin and Tony Stewart dominated much of the afternoon, eventually combining to lead 153 of the 200 laps. But when Biffle and Ricky Craven made contact to bring out the caution on lap 172, it changed the event's entire complexion.
Jeff Gordon, who got the lead after passing Stewart on lap 160, restarted on the inside four laps later with Busch alongside. Gordon edged in front when the green flag fell, but Busch was able to stay close and passed him one lap later. Bobby Labonte made a bid late as one final restart with five laps to go made it interesting, but Busch pulled away for his seventh career win.
"It was really neat," said Busch. "In my office at the house, I have a letter from Edsel Ford congratulating our team on the race win. It's something I framed and put in a similar format to a letter that my grandfather got from Henry Ford when he was a Ford employee. It was really neat to have that moment and the lineage of our family of letters from the Ford family."
And as much as it meant to Busch, that day remains a highlight for Roush.
"I recall it being a very joyous celebration that day with all the Ford dignitaries in victory lane, including Edsel Ford himself and his family," said Roush. "Edsel has always been a huge supporter of ours and of motorsports, and I will always recall fondly celebrating with him on that special day for his company.
"People don't say they work for Ford, they say they work for THE Fords. It truly is a family company," continued Roush. "So, for me, a guy who spent his career with Ford, to celebrate with the Fords, a Ford win on the 100th anniversary of the Ford Motor Company in Michigan was truly remarkable."