CHARLOTTE N.C. - Fresh off a sweep at Talladega Superspeedway, Ford will look to continue its impressive start to the 2017 NASCAR season this weekend at Kansas Speedway. Ricky Stenhouse Jr. won his first career Monster Energy NASCAR Cup Series race on Sunday, giving Ford five wins in the first 10 events of the season. Here's a look at how Ford has fared at Kansas through the years.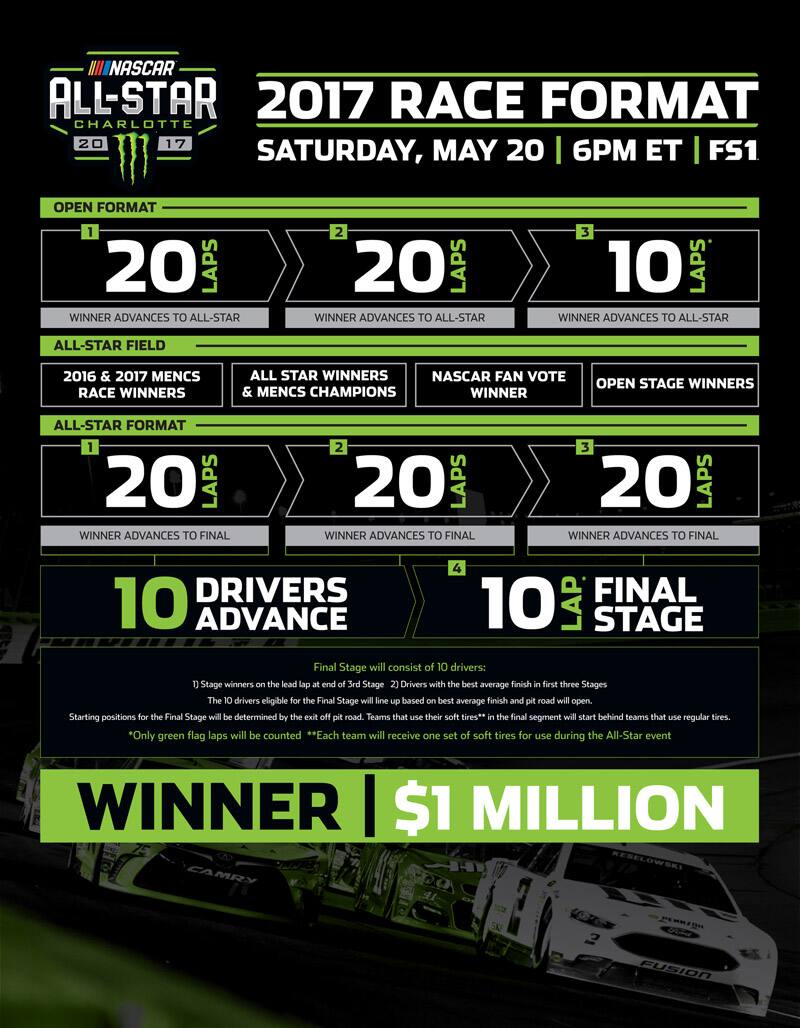 BEST START SINCE…
As mentioned above, Ford has won half of the 10 races held so far in 2017, making it the best start to a Monster Energy NASCAR Cup Series season since 2005. On that occasion, Ford also won five of the first 10 events and went on to win 16 times overall, led by Greg Biffle who posted six victories and finished second in the season-ending point standings.
81 AND COUNTING
The win by Stenhouse made him the 81st different driver to win a MENCS race behind the wheel of a Ford, and the first since Chris Buescher did it last year at Pocono. Stenhouse is also the ninth different driver to win a Cup race for car owner Jack Roush, who now has 136 all-time series triumphs. Ford's all-time winningest driver is Ned Jarrett, who won 43 Cup events from 1959-65. The current Ford driver with the most wins is Joey Logano with 16 while Team Penske teammate Brad Keselowski is next with 14.
84 AND COUNTING
In addition to being the 81st different Cup winner for Ford, Stenhouse became the 13th different Ford driver to win in a Fusion. Since becoming Ford's flagship vehicle for NASCAR's top touring series in 2006, Fusion has gone to victory lane 84 times. With five wins through the first 10 races this year, Fusion is on pace to challenge its single-season high of 14 victories, which came in 2014.
BACK-TO-BACK
Joey Logano became the first driver to automatically advance to the Eliminator Round of the Chase in 2014 as he took the lead from Ryan Newman with 29 laps to go and held off Kyle Larson to get his career-best fifth win of the season. In 2015, Logano ended up dueling with Matt Kenseth in a well-documented battle that resulted in contact as the two entered turn one with five laps to go. That controversial finish marked Logano's second straight win in the Chase and led to a sweep of the Contender Round as he took the checkered flag the following week at Talladega Superspeedway.
UNDER COVER OF DARKNESS
A couple of rain delays and impending darkness couldn't keep Greg Biffle from winning a shortened Lifelock 400 on Sept. 30, 2007. The race was delayed for more than three hours and NASCAR decided to shorten the distance from 267 laps to 210 laps when it became evident there wouldn't be enough daylight to finish the event. Biffle passed Kevin Harvick on lap 274, but when Juan Pablo Montoya blew a tire to bring out the caution with four laps to go it appeared he would have to survive a green-white-checker finish in order to win. NASCAR, however, decided to end the race under caution due to darkness. The win was Biffle's first of the season and snapped a 32-race winless drought.
ON THE MARK
Ford went to victory for the first time at Kansas Speedway on Oct. 9, 2005 when Mark Martin took the checkered flag in what was a Roush Fenway Racing runaway with teammates Greg Biffle and Carl Edwards finishing second and third, respectively. Martin led a race-high 139 laps, including 81 of the final 83 circuits, to win by one-half second. It marked the second time in as many months that RFR swept the top three spots, a feat it did two more times during that season. In addition, the victory ended up being Martin's last with Ford. His 35 series wins with the manufacturer ranks third all-time behind leader Ned Jarrett (43) and second-place Bill Elliott (40).
FORD MONSTER ENERGY NASCAR CUP WINNERS AT KANSAS
2005 – Mark Martin
2007 – Greg Biffle
2010 – Greg Biffle
2012 – Matt Kenseth (2)
2014 – Joey Logano (2)
2015 – Joey Logano (2)