PHOENIX, Ariz -- Ricky Stenhouse Jr. and crew chief Brian Pattie used a late race call to not pit to vault themselves to a Ford-best fourth place finish Sunday afternoon at steamy Phoenix International Raceway. Stenhhouse was the front end of a 4-5-6 finish for Ford with Brad Keselowski and Kevin Harvick rounding out the trio.
Race winner Ryan Newman (Chevrolet) also stayed out under the final caution to capture his first win in four year.
That final caution changed everything and was brought out by Ford's Joey Logano. Logano slammed hard into the wall in turn one after his right tire blew down the frontstrech with five laps remaining. Logano, who started on the pole, was running 11th at the time.
Logano wasn't the only Ford with issues throughout the race. Ryan Blaney, who started alongside Logano on row 1 would up placing 23rd after a broken track bar adjuster and a speeding penalty befell the 21 team. Meanwhile, Kurt Busch fought voltage issues early in the race and a speeding penalty mid-way through and wound up 25th.
Clint Bowyer (13th), Aric Almirola (17th) and Trevor Bayne (19th) rounded out the Blue Ovals in the top-20.
Keselowski stands as the top Ford in the driver point standings in second, six points behind leader Kyle Larson. Logano, Blaney, Harvick and Busch maintain positions 5-through-7 and 9th, respectively. Ford owns the manufacturer standings lead by nine points over Chevrolet and 10 over Toyota.
Next Up:
NASCAR's west coast swing continues at Auto Club Speedway (Fontana, CA) next Sunday afternoon. The Auto Club 400 starts at 3:30 p.m. EST with live coverage provided by FOX.
FORD FINISHING RESULTS
4th Ricky Stenhouse Jr.
5th Brad Keselowski
6th Kevin Harvick
13th Clint Bowyer
17th Aric Almirola
19th Trevor Bayne
22nd Danica Patrick
23rd Ryan Blaney
25th Kurt Busch
28th Landon Cassill
29th Matt DiBenedetto
31st Joey Logano (stage 1 winner)
35th David Ragan
RICKY STENHOUSE JR. (No. 17 Fastenal Ford Fusion) - Finished 4th
"That was a great run. I think we made a lot of changes overnight that really helped us turn. It was really nice for us. Everything stayed together. This is a big test for Doug (Yates) and Roush Yates Engines. They did their job and did their research from our test here when we had some issues. I am really proud of the whole team."
HOW ABOUT THE DECISION TO STAY OUT AT THE END? "(Brian) Pattie wanted to stay out and I kind of questioned it. When it came down to it I told him everybody was coming and he said to come but I had already kind of committed to stay out. I was hoping it would pay off since I accidentally committed to stay out after he told he to come in. I think his gut instinct to stay out was right and that is kind of what I went with."
BRAD KESELOWSKI (No. 2 Alliance Truck Parts Ford Fusion) - Finished 5th
"We ran kind of right in that second to fifth range the whole day. We clawed away. I thought we might have had a shot at getting the win but the 18 car was just a touch better. We were all real close there. Whoever got the track position was going to run away. The clean air was so important which was a bit frustrating. There was a lot of parity today and of course the crazy finish there at the end with the yellow coming out when it did and all the different strategies."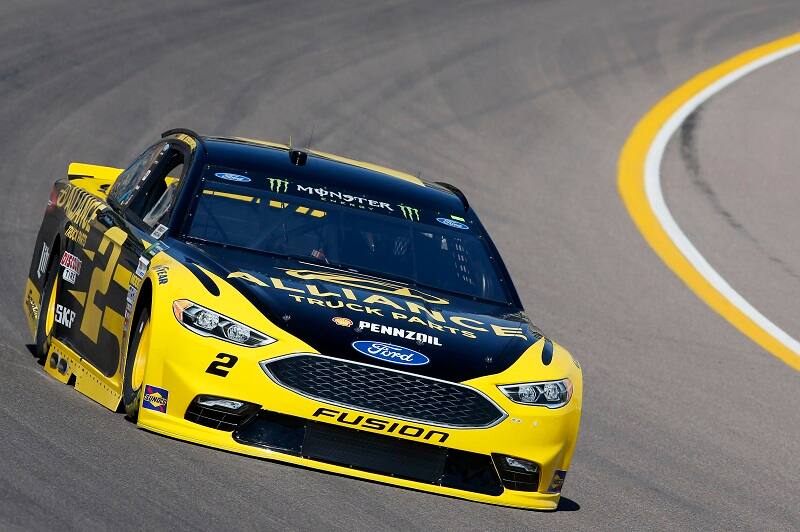 JOEY LOGANO (No. 22 Shell Pennzoil Ford Fusion) - Finished 31st
SINGLE CAR ACCIDENT WITH 5 TO GO: "The brakes are fine, we just blew a right front. Probably just overheated the bead. I am sure that is what it was. There is not much you can do when the right front blows out. We had a good car in the beginning of the race and then just fell off and got a pit road speeding penalty and it was hard to get back up there. We were getting closer but out long run speed was off. We have to figure out how to get faster here on the long run."
RYAN BLANEY (No. 21 Motorcraft/Quick Lane Ford Fusion) - Finished 23rd
"There was a lot of craziness out there today. I thought our car was okay in the beginning and we were trying to get it better. About halfway through the race our trackbar stopped working, which was bad. That really hurt us. That really hurt from being able to adjust our car throughout the run. That is what we needed. That really sucked when that stopped working. We take for granted those things. Then I sped on pit road and that put us in a bigger hole. We had an issue and then I compounded the issue by speeding and you can't have that. I made a mistake on that deal. We will just have to go on to Fontana and see what we've got."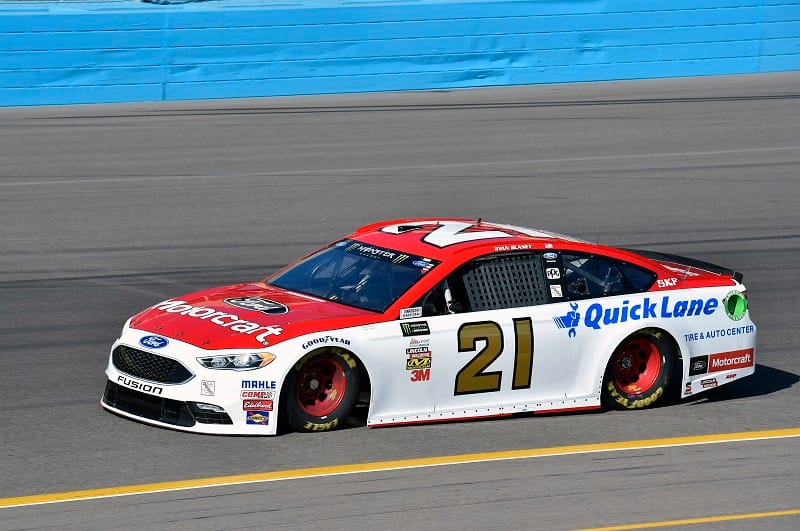 CLINT BOWYER (No. 14 Rush Truck Centers Ford Fusion) - Finished 13th
"It was that kind of weekend for us really. Just a little off all weekend long. We got it better Saturday and I really thought we were going to be alright there but we actually ended up racing the way we struggled all day Friday. We came full circle."
KEVIN HARVICK (No. 4 Jimmy John's Ford Fusion) - Finished 6th
"We just didn't ever get it exactly how we wanted all weekend. Luckily it is a good race track for us and we were able to battle and use all the tricks of the trade we know to get ourselves up in contention. We definitely need to do some work on this style race track with our Jimmy John's Ford but it was a heck of a battle all day."
DAVID RAGAN (No. 38 Jacob Companies Ford Fusion) -- ACCIDENT (Lap 206) -- Finished 35th
"Really Trevor Bayne is the one that is kind of to blame. He tried to wreck Danica three of four consecutive laps. He was driving over his head and all over the race track. I was kind of a result of their shenanigans. They were bouncing off each other and I tired to to go low and actually made contact with Matt DiBenedetto and had a tire rub and was going to come in that lap. Just cut our tire. I am proud of our Jacob Companies Ford Fusion team. They worked hard and we had a decent car today. We struggled some on Friday and Saturday but we made some good gains and you will have that. We have a lot of racing left this year."
RICKY STENHOUSE JR. POST RACE PRESS CONFERENCE
RICKY STENHOUSE JR. (No. 17 Fastenal Ford Fusion) - Finished 4th
"We weren't that great during practice as far as speed goes but I thought our car had good long run speed and we proved that today when we were able to get some long runs. We weren't as bad on restarts as I thought we were going to be. There at the end, I thought Brian (Pattie) wanted us to stay out and I kind of second guessed him. When I told him everyone was coming down pit road I had already committed to stay out and that paid off. We made the car better throughout the race and we stuck with it, passed a lot of race cars today and made it pretty fun."
DAVE PERICAK SAID ROUSH'S DAY WAS COMING AND NOT TO GIVE UP ON YOU GUYS YET. CAN YOU TALK A LITTLE BIT ABOUT THAT? HAVE YOU SEEN A MARKED DIFFERENCE IN THE QUALITY OF YOUR CARS THIS YEAR? "I have definitely seen a difference in the quality. We still have a long way to go but we have made a big improvement from last year, especially the end of last year. In Atlanta we had a really good car and got the right front fender tore off on the last restart. I thought we would finish 5th-10th there. I thought we had a 15th place car in Vegas and had an issue with the axle at the end. Today I thought we had a 10th place car on the long run and took a gamble and were able to get a better finish there at the end. I think our cars and the attitude at the shop is really good. Trevor has some solid finishes here in the first few races and that is something encouraging and something to build off of. I feel like we have had speed, just haven't gotten the finishes for the speed we have. It is better to have speed and have to figure out how to get the finishes."
"In Vegas our car was really loose. We got really loose into turn one and had to bring out the backup car but you know what, the good thing is that I thought our backup car was just as good as our primary car. That is what the guys have been preaching at the shop, not only bring the best cars we can but that the backup is just as good. You have to be prepared for anything. We had a brake issue going into turn one the first lap of the first practice on Saturday. Luckily we just had minor damage and in five minutes were back out logging laps. The axles last week cost us probably 15-20 spots. We have had some bad luck but today was fun. I thought we made our car better throughout the race and it has been awhile since we've done that so I was pretty happy."