ATLANTA - Brad Keselowski took advantage of a pit road speeding penalty by Kevin Harvick to pull away from the field in the final 14 laps for victory at Atlanta Motor Speedway Sunday afternoon. Kyle Larson (Chevy) came home second and Matt Kenseth (Toyota) third.
Despite the Keselowski win, what the race will likely be remembered for was it being the Kevin Harvick show all afternoon until disaster struck with 14 laps to go. After winning the first two stages in convincing fashion and looking headed to the win, Harvick was hit with a speeding penalty on pit road, one of 11 speeding penalties levied by NASCAR on the day.
NASCAR's new lower downforce package made its race debut at Atlanta. Compared to 2016 regulations, this year's rules feature a spoiler height decrease from 3.5 inches to 2.375 inches, a 3-inch reduction of the outboard regions of the splitter, and a tapered rear deck fin to match the spoiler's height.
Overall it was another very strong day for Ford with Joey Logano coming home sixth and Kurt Busch, the reigning Daytona 500 champion, seventh. Harvick powered his way back to a ninth place finish to make it four Fords in the top-10.
Clint Bowyer wound up just outside the top-10, finishing 11th after hitting the wall on lap 277 after a tire went down from earlier contact with the 77.
Roush Fenway Racing put together another solid day as well with Trevor Bayne coming home 12th and Ricky Stenhouse Jr. 13th.
FORD FINISHING RESULTS
1st Brad Keselowski
6th Joey Logano
7th Kurt Busch
9th Kevin Harvick
11th Clint Bowyer
12th Trevor Bayne
13th Ricky Stenhouse Jr.
17th Danica Patrick
18th Ryan Blaney
22nd Landon Cassill
23rd David Ragan
27th Aric Almirola
28th Matt DiBenedetto
UPDATED MONSTER ENERGY CUP DRIVER STANDINGS
UPDATED MONSTER ENERGY CUP MANUFACTURER STANDINGS
BRAD KESELOWSKI (No. 2 Autotrader Ford Fusion - RACE WINNER)
WITH EVERYTHING THAT YOU HAD TO OVERCOME TODAY, DID YOU THINK THAT YOU HAD A CHANCE TO CATCH KEVIN (HARVICK)? "You never know. That's how these races are. We had a lot of adversity today there's not doubt about that. These races aren't easy. They're 500 miles and a lot can happen and when you think you've got it they slip away. I know how it goes. This one kind of fell in our lap at the end and my team put it all together when it counted. They gave me a great Autotrader Ford Fusion and we were able to get by Kyle (Larson) there at the end. I knew that he wasn't going to be easy to pass. His car was great and I was able to make the right moves to get by him."
WHAT DOES IT MEAN TO WIN AT ATLANTA? "It means that I have to go find Marcus Smith and Ed Clark and beg them not to repave it (laughs). I don't think that I'll win that battle. Atlanta has always been one of those old school race tracks, look at victory lane...we're out here on the frontstretch… it feels old school. A great place to win. A track that I haven't won at before. Gosh darn it, it feels good."
EVERYBODY STAYED FOCUS WHEN YOU HAD TO MAKE UNSCHEDULED PIT STOPS: "Everybody stayed focused and nobody had to say anything. We know the deal. We know that this isn't going to be easy. you have to keep your head down and keep fighting at all times and that's what we did."
KEVIN HARVICK (No. 4 Jimmy John's Ford Fusion) -- Finished 9th
A SPEEDING PENALTY LATE IN THE RACE WAS YOUR UNDOING: "Ya, this place, for whatever reason, I just feel like I'm snake bitten. It's my own doing today. I really didn't think I was even close on pit lane. It gets to bouncing around, I thought I was being conservative, apparently I wasn't. I want to thank everyone on our Jimmy Johns Ford for everything they did this weekend. I was just pushing it too hard."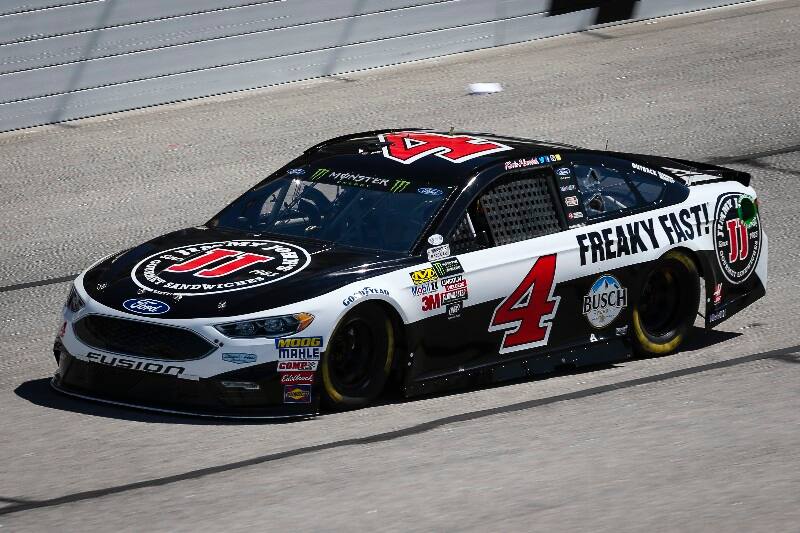 "I just made a mistake that I preach all the time that you don't need to make and beat yourself and then you go out and make it yourself instead of following all the things you preach. That part is hard for me to swallow. The good part about it is our Ford has been really fast. We didn't know what we were going to have when we got here and we had a great weekend the whole time. Man, I just, one way or another I have figured out how to lose races here at Atlanta after being so dominant. We will pick 'em up and start again next week."
JOEY LOGANO (No. 22 Shell Pennzoil Ford Fusion) -- Finished 6th
"We had some loose wheel issues and once the first one got loose it messes up the threads and then that is the end of that. We just kept battling and had a pit road speeding penalty, a loose wheel again and another loose wheel. Man, we were two down and before you know it we were back on the lead lap and had a shot there at the end, 13th to 6th the last 10 laps or so. Man, as fast as that thing was at the end, I wish we were toward the front. That is awesome for Brad and Autotraders first win with Team Penske so that is cool to see as well. The Fords had a lot of speed out there again today."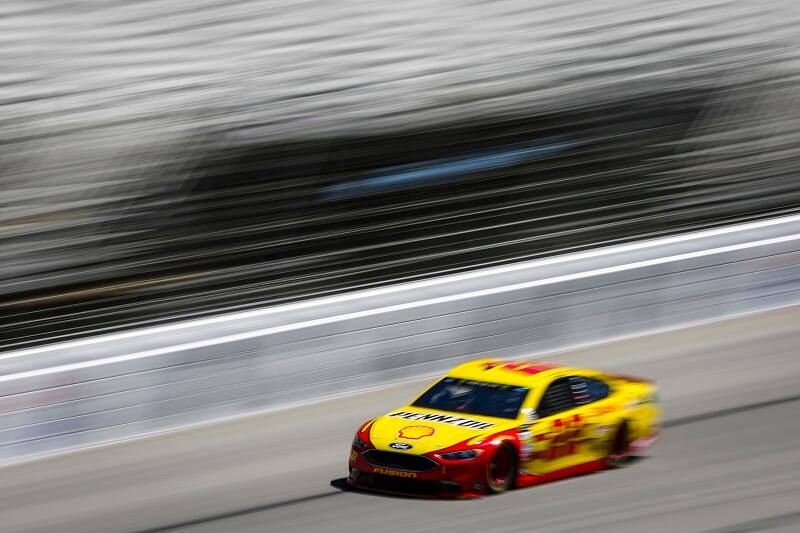 KURT BUSCH (No. 41 Monster Energy/Haas Automation Ford Fusion) -- Finished 7th
"It seemed like the stages really caught other teams off guard. We did a middle of the road approach. I liked it because we didn't quite have the speed in the car to attack for those points but didn't want to sacrifice tires and be caught at the end with fresh tires. We managed the stages, were just missing the handle. The 4 car was insane how good they were. We were really loose in, really tight in the center and loose off. We just had a lack of grip. The pit crew got us toward the top-five and we hung on to seventh. Nothing spectacular today, just need to fix what we have going wrong."
LANDON CASSILL (No. 34 CSX Play it Safe Ford Fusion) - Finished 22nd
"It was okay. I thought the car was alright, a little better than I thought based on Saturday. The caution at the end kind of killed us but I am pretty happy with the day overall."
DAVID RAGAN (No. 38 Camping World/Good Sam Ford Fusion) - Finished 23rd
"I am really proud of the team. We made great adjustments to start the race. We weren't expecting it to cool off and finish under the lights and I think I got a few adjustments behind. The first half of the race we were a top-20 car and just got off a little bit. That is a great race for our first downforce track back in the 34. We will learn some because the track changed a lot. I feel like our car was pretty good throughout the day but not as good as I needed it to be at the end."
PAUL WOLFE, ROGER PENSKE (RACE WINNER PRESS CONFERENCE)
PAUL WOLFE (crew chief, No. 2 Ford Fusion)
PAUL, TALK ABOUT THE FINAL RESTART AND WHAT PROPELLED THE TEAM TO VICTORY: "It was definitely a long day, and we had our fair share of issues and adversity we had to overcome with the tire trouble there mid‑part of the race with the right front coming apart, and then we had to come back down at one point for some lug nuts on the left rear. But Brad just drove a smart race. It's all about managing your tires and taking care of your car. It's such a long race here, and it's easy to get down when we have issues like we did, but he stayed focused all day and was able to get us back in position there at the end, and the 4 was definitely strong, but we felt like we weren't far behind, and when he had his issue there at the end, we were able to capitalize on it. It's just a perfect example of never give up, and we didn't do that today, and this team deserves the victory."
ON A DAY LIKE THIS WHERE YOU HAVE TO RALLY AND STILL GET THE WIN, WHAT DO YOU HAVE TO KEEP TELLING BRAD AND/OR YOURSELF DURING THE COURSE OF THE RACE TO MAKE SURE YOU GUYS DON'T LOSE THAT FOCUS AND KEEP SHOOTING TOWARDS THE GOAL? "Well, it can be tough. It can be frustrating at times for sure, and I think that's where when we get in a race like we were today, that's where Brad really shines, when he's got to be a leader and keep everyone focused and not get down on anyone, and he did that. He kept the guys motivated and showed that he wasn't going to give up on it. You know, the guys didn't either towards the end as we had plenty more pit stops after that. The guys did a great job, just a solid team effort, and you know, it's all about staying focused."
WHAT WAS YOUR REASONING BEHIND BRINGING HIM IN IF ONLY ONE LUG NUT WAS LOOSE? DID YOU DECIDE YOU HAD TO HAVE ALL FIVE OR WAS THERE MORE THAN ONE THAT WAS LOOSE? "No, we felt like we weren't confident that there was more than one loose. Our pit department does a great job of trying to monitor that and all the teams have these great cameras these days. You can see when these guys are hitting lug nuts, and we try to do the best we can to understand if someone has missed lug nuts, we have an idea of what we feel like we need to be tight, to not have a loose wheel, and we were in a point where we felt like it was best just to come down and make sure they were tight, and we felt like there was still enough time to recover and give us our best finish."
ANY IDEA WHY THERE WERE SO MANY GUYS SPEEDING ON PIT ROAD? WERE YOU GUYS DOING ANYTHING CONSERVATIVELY TO MAKE SURE THAT YOU DIDN'T? "Honestly, we played it like we normally do. You know, the timing segments any more are really short. I don't know if that catches guys off because you don't have a lot of time to give back, I guess, if you will, with the short segments. So I don't know if it was related to that or guys have just ‑‑ trying to step it up a little bit. But we definitely saw a lot of them, but we kind of ran our numbers what we felt, and we didn't have an issue. So I'm not really 100 percent sure on that.
ROGER PENSKE (owner, No. 2 Ford Fusion)
ROGER, THIS IS THE SECOND CONSECUTIVE VICTORY FOR FORD PERFORMANCE HERE IN 2017. IT HAS TO GIVE YOU A REALLY GOOD FEELING GOING INTO THE REST OF THE 2017 SEASON. "Well, as you know, we made the move to Ford several years ago, and they said they were going to bring on Stewart‑Haas and we said that's great because we really get some teammates, we've got benchmark, and certainly today my heart goes out to Kevin, certainly as he led the race, controlled it and then had that issue. But it's interesting when you go back and you think about the stop where Brad actually beat him out. I think that had him on a little bit of an edge there on that last ‑‑ when he had to go out on his last pit stop. That's why he maybe stepped on it a little bit more. But for Ford it's terrific that we kick off the season certainly with Kurt's win last week and the win this week for us. It's a great start to be in the Chase. To win a race here in Atlanta, this is a long race, it's a tough race, you can see it, some great cars had trouble. But at the end of the day we're thrilled with the weekend we had. We had a good run yesterday with XFINITY, which we were kind of weak last year. So we think that we kept some momentum we had at the end of the year with Joey and we brought it in here this weekend, and I guess it's the Ford One Team Penske this weekend, so we'll take this one and go home quick."
WHEN YOU GET A VICTORY WHERE A TEAM HAS STRUGGLED ALL DAY AND THEY NEVER GIVE UP, DOES THAT STAND OUT SPECIAL FOR YOU? "I think that's the DNA of our team. We've had a lot of adversities over the years and we've had some wins. But I think if somebody were listening to the radio, Brad said after we had came into the pits, he said, hey, we're all one team, we're going to go here, and he said that on the radio to the guys, and I think that was key. I think if you watched him during the race, he was managing his tires. He knew that he could hurt the right front, and I think at the end there when he had to go, he still had something left. Now, could we have caught the 4, probably not. But that's a special win for us. And that's what we have to be because you end up ‑‑ you lose more than you win in this sport, so I think that makes you tougher and stronger."
FORD OBVIOUSLY STARTS 2017 NOW TWO FOR TWO AND SO STRONG WITH THE ADDITION OF STEWART‑HAAS RACING. YOU MENTIONED BENCHMARKING. I KNOW THAT YOU GUYS PREFER TO HAVE THE UNFAIR ADVANTAGE, BUT ARE YOU WORKING A LITTLE BIT MORE WITH THE SHR TEAMS, OR IS IT THE BENCHMARKING THAT YOU GUYS ARE EACH PUSHING EACH OTHER TO DO MORE TO START THIS YEAR? "I think obviously worked with Roush last year, they weren't quite as competitive as maybe we were, but we knew coming in with Stewart‑Haas that they were going to be guys that could set a bar for us. In fact, we built some chassis for them before Daytona, some center sections, and we had our cars in the wind tunnel and compared them. So we know what they have and they know what we have. Then it's up to guys like Paul and certainly the SHR guys to set the cars up and we race them. But I felt that the camaraderie at Daytona was something we haven't had for a number of years because we pretty much played by ourselves, and I think that that's made us much stronger. But from a comparison standpoint, I think that we need that because if they're better than we are, we've got to figure out why and vice versa, and we'll shoot it out on the track there in the last lap or the last 10 laps. I think that's what happened today. But it was good from a Ford perspective, when you see two or three or four cars in the top 5 or six, you know how strong the Toyotas have been and the Chevys have been. This gives us at least a chance to say we're on par with these guys. Now with a couple of wins I'd have to say we might be an inch or two ahead."
BRAD KESELOWSKI RACE WINNER PRESS CONFERENCE
BRAD KESELOWSKI (No. 2 Autotrader Ford Fusion)
BRAD, YOU HAD TO OVERCOME A LOT OF ADVERSITY OUT THERE TODAY TO TAKE HOME THAT CHECKERED FLAG. WHAT WAS IT LIKE TO REALLY GET YOUR ENTIRE TEAM THROUGH THAT PROCESS AND TO OVERCOME THAT ADVERSITY AND GET YOUR FIRST WIN OF THE SEASON? "Wins are always special, but early in the season they're really good. You just can't take any wins for granted. I know I don't. I always feel like before a race, you obviously always want to win, and you always wonder yourself when your last win is going to be, and I'm not anywhere near retirement age, but you still think about those things and you think about how tough it just is to win at this level and how lucky you are to have a team to win. A great winning percentage at this level is one out of every 10 races, and one out of every 10 races, if you can pull that off, you're a Hall of Famer. I think that's just a testament to how tough it is. So today was a tough day for us, and we knew it was going to be a tough day. This is a track that really separates drivers of all sorts and teams of all sorts. It's early in the season. There's always going to be kind of those pre‑race jitters with a track that you know is tough to drive and with rules that are just coming into play with stages and pit roads. I think this track, they added a whole bunch of timing lines, and you're just getting back to being comfortable. You had the whole off‑season. Almost like any other sport where you hear about football teams, baseball teams that have those early season penalties and things of that nature, we have those, too, and I think you saw some of those today. We had some issues, as well. But that's part of the sport, and that's part of everything that's so challenging about it to win and making it special when you do is to overcome those things."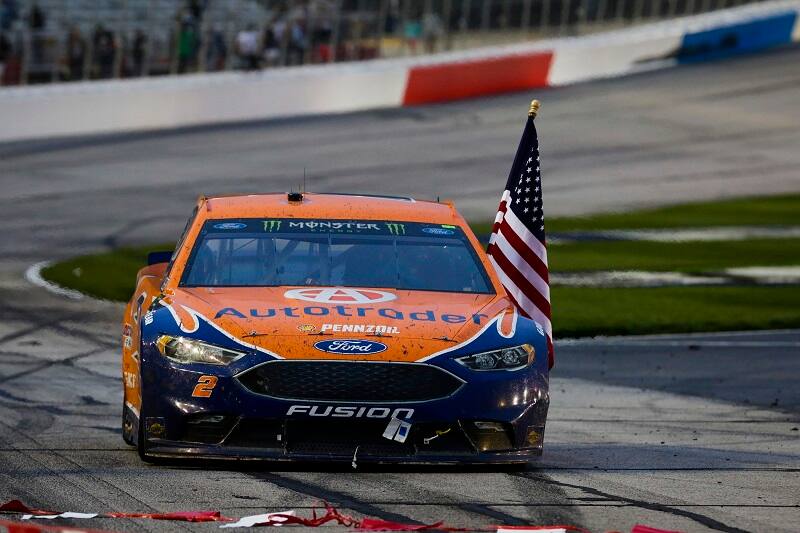 I ACTUALLY LEARNED SOMETHING THAT I NEVER REALIZED DURING THE FOX BROADCAST WHEN THEY MENTIONED THAT YOU WOULD HAVE ENLISTED HAD YOU NOT ENDED UP DRIVING RACE CARS. I'M CURIOUS IF YOU WOULDN'T MIND TALKING JUST A LITTLE BIT ABOUT KIND OF THAT PERSPECTIVE AND HOW SWEET IT HAS TO BE FOR YOU TO HAVE HOISTED THE AMERICAN FLAG WINNING THE FOLDS OF HONOR QUIKTRIP 500. "I don't really like to compare what I do to those that are in the military because they've made and continue to make incredible sacrifices and put their life out on the line. But I have tremendous respect for those that do. Our country is based on those who are willing to make the ultimate sacrifice. I will always have respect for them. I've got a lot of family that either has served or is serving, and wishing them the best along with everyone else. You never know in this life and in this career where it's going to take you. I always wanted to be a racer, but you never knew, at least I never knew how it was going to play out, but I knew I probably wasn't going to be anything normal, and that was ‑‑ 8:00 to 5:00 isn't really for me, so those type of things have always intrigued, and that would have certainly been a route, but I'm glad to be a race car driver and glad to have the opportunities I have to drive for a team that's world class where we can win races year over year and contend like we have here today and to be able to have these amazing opportunities in my life.
PEOPLE THOUGHT YOU GUYS WOULD BE RIGHT ON THE EDGE WITH THIS PACKAGE AND THE TRACK. DO YOU ASCRIBE THAT TO CONSERVATIVE DRIVING BECAUSE THE TIRE SITUATION WAS SO TOUGH, YOU HAD TO PRESERVE TIRES? WAS IT MAYBE A NATURAL REACTION TO ALL THE WRECKING LAST WEEKEND AT DAYTONA? "You know, there's just going to be ebbs and flows. I think sometimes we read too much into that stuff. You know, it seems to me like on the plate tracks, like one out of every four plate races we get an incident, and you know, or a wreck fest, so to speak, at Daytona, Talladega. It happened in the 500, and it was a wreck fest. Let's call it what it is. I think a lot of people left that, saying, oh, it's because of the stages or oh, it's because of the smaller restrictor plate or who knows what. But sometimes that's just part of the ebbs and flows, and I think sometimes we just try to find correlations where there aren't always correlations. I don't really see a correlation today to the stages as far as the lack of yellows. This was a race last year that didn't hardly have any, at least didn't have any legit yellows, and I think we saw something somewhat similar to that today. But I can tell you, I didn't feel like I was saving my tires. I was driving as hard as I could to make things happen, and a couple times I felt like I overdrove my car, and the guys I was around I didn't see that out of, either."
WHAT DID YOU THINK WHEN YOU HEARD HARVICK HAD SPED ON PIT ROAD? "You have to put yourself in position. I wouldn't say a lot of things fell our way. I don't know if I would call it that way. But I would say we've had races where we've led a bunch of laps and things fall apart at the end. That's just part of how this sport works. You take advantage of the opportunities when they come, and we certainly call it an opportunity, but I don't know if I would call it a break. I didn't really think much about Kevin or his scenario because at that time I still had multiple cars I had to pass, and I was just worried about doing the best I could to make the most of our day. So I didn't really think about that stuff or Kevin's misfortune. I thought about what can I do to get up there and have a shot at the best finish possible, and the doors opened up with making passes on the restart and getting by Kyle to do so. You know, I hate when I lose that way, and it's not fun, and when you win that way, you just take it and you move on. It goes both ways."
HOW RELIEVED ARE YOU TO FINALLY GET A WIN HERE? "We have been really close here. I think we blew up once while leading here, and that one stung, whoo. 2013, it cost us making the playoffs, and we were leading the race and we were going to win it. I'll never forget that day leaving here for the rest of my life, and that was a perfect example of one of those races that Bob was just asking about where we were going to dominate the race and win, and something happened. You know, when you win a race like this, you know that there's been three or four of them where you probably lost like this, and they really suck, but this one is going to feel good, and we're going to enjoy it."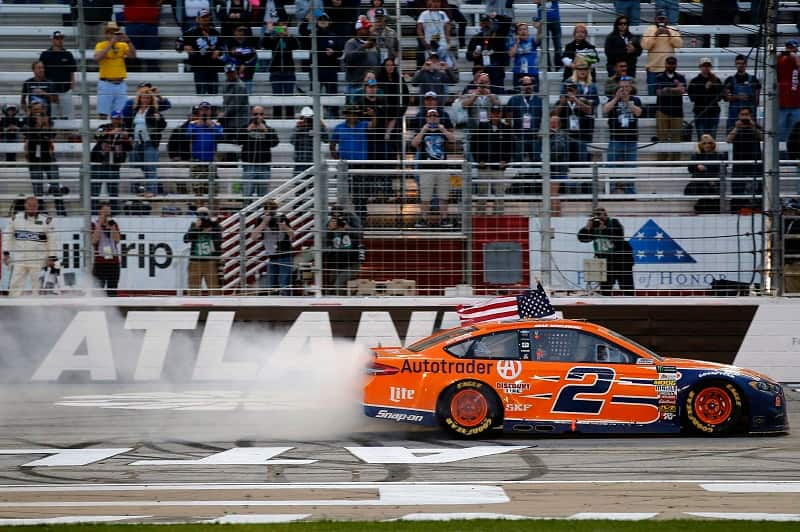 FORD COULDN'T START THIS YEAR ANY BETTER IN TERMS OF THE WINS COLUMN, BUT HE SAID YOU GUYS ARE KIND OF HELPING HIM ON THE CHASSIS, EVEN THOUGH OBVIOUSLY YOU'RE BENCHMARKING AGAINST THEM, IT SOUNDS LIKE THERE'S A LOT MORE MAYBE COLLABORATION THAN SOME OF US MIGHT HAVE EXPECTED. "You know, honestly, I haven't been privy to those meetings or arrangements, so I'm not sure what they are, but as long as it means that Fords are winning and winning more often than we did in the last few years, I'm going to enjoy it and pat him on the back and say thank you."
I NOTICED YOU BROUGHT SCARLETT THROUGH THE GARAGE THIS MORNING AND OBVIOUSLY YOU BROUGHT HER IN HERE. ANY REASON WHY? IS SHE JUST KIND OF OLD ENOUGH TO ENJOY IT? "Yeah, just having fun. I'm really lucky to be a race car driver, but it's challenging to balance your work life and your professional life. You know, I'm no different than most everyone else. I want to have a family and I want to do all the cool things and see all the cool things you get to see when you have kids and a wife and all that, but I also want to win. You know, that means I have to be the best professional possible, and I have to put in hours that aren't always going to be fun, right. So you know, part of that and trying to maximize my work‑life balance means trying to find the appropriate times and places to blend the two, and that was my opportunity, and I'm going to always look for those opportunities with my wife and daughter and family in general. It's part of the challenge of doing what we do, but I'm still really lucky to live this life and to have an opportunity to race for a great team and travel around the country and see all kinds of cool things and meet all kinds of cool people and have fans and all that, but I feel lucky that I have a team that's kind of letting me have some slack with all those things and try to find that right balance because I'll never forget Roger's son Greg told me, this is one of the first questions he asked me. He said to me one day, he said, how do you balance your work life and your home life, what's your work‑to‑life balance. You know what, for a lot of years, I had a terrible work‑to‑life balance with respect to just being all work. But you know, I think in general I'm the happiest I've ever been because I have a better work‑to‑life balance than I've ever had, and you know, I get the opportunity to talk to people all the time, whether it be sponsor meetings or gatherings and all these things, and people ask me that question all the time, and I would say that my time with my family is my time to sharpen the axe, and believe me, when Scarlett wakes up at 7:00 a.m. and I'm still really tired, I really want to go to work. I get some good reminders there how fun work is. But in general, I just enjoy the time, and I'm the happiest I've ever been in my life, and I feel like I've got the best balance I've ever had, and I feel very fortunate."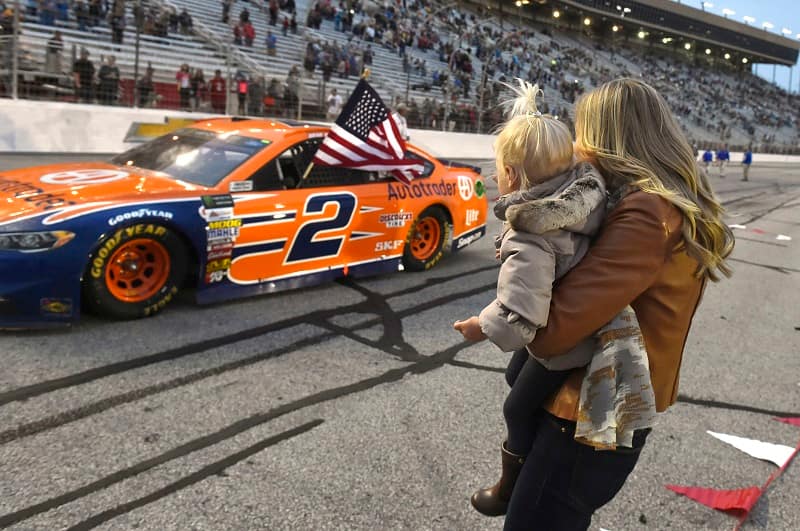 LOOKING AHEAD TO VEGAS NEXT WEEKEND, WHAT DO YOU ATTRIBUTE YOUR SUCCESS TO THERE? "You know, we didn't click there the first few years. 2009 we ran okay. I wrecked, my fault. 2010 we ran terrible, 2011 we ran terrible, 2012 we ran okay, and we broke a part. I think we were running second. And finally we got kind of the ‑‑ all that stuff pushed out, and like you said, the last three or four years, '13, '14, '15, '16 have been great for us. It's hard to always put a finger on that, and that's why ‑‑ and I know you wear you guys out about this, past success or past failure is not always a guarantee for future success or failure. Hopefully that holds true when we go back to Daytona for the 500 because if you think my record at Vegas is bad, the 500 record, whoo. All you can do is keep putting in the effort and not let it get you down and go there with an attitude that you're going to go out there and make the most out of every opportunity to race, and we're going to go to Vegas and think of it as a track we can win at, that we have won at, and we'll continue to look at all the tracks that we've struggled at in the past the same way and hope to find that success."
SMI AND MARCUS CAME OUT EARLIER THIS MORNING AND SAID THAT BASED ON FAN REACTION, DRIVER REACTION, THEY WOULD KIND OF REASSESS THE DECISION TO RESURFACE ATLANTA. "Don't do it. Marcus, where are you bud? Don't do it. We're trying to save you money, Marcus."
IF THEY HAVE TO RESURFACE OR REPAVE, HOW WOULD YOU ASSESS THE RECENT ONES AT KANSAS AND KENTUCKY, AND HOW WOULD YOU TELL THEM TO GO ABOUT DOING THAT PROCESS? "It's tough, and I feel bad for those guys because all it takes is one race where there's weepers or where the track comes apart and you've got red flags and delays and everybody gets mad at them. So they're really in a no‑win spot. We pick on them and tell them don't do it and all these other things, but at some point you have to trust them to know their business and know their business is racetracks. Drivers hate repaves. We want to see the surfaces last as long as they can. But the reality is nothing lasts forever, and this surface has made it a really, really long time, 20 years, I think, this season, and they should be really proud of that. My hope is they can get another year or two out of it, and I understand if they can't, and you have to kind of leave it to their expertise and so forth. You know, we don't want to see them repave it, but my desire to not see this track get repaved is only superseded by my desire to not see it have an issue where it comes apart or has weepers."
SO MANY SPEEDING PENALTIES TODAY; WHAT IS YOUR APPROACH? DO YOU TRY TO LEAVE A LITTLE COMFORT ZONE? DO YOU TRY TO RUN RIGHT UP TO THE LINE? "I mean, you don't win when you leave comfort zone in anything. I can guarantee you anybody out there that wants to leave a comfort zone, I'm going to push harder than them and I'm going to beat them, and these guys know that. Everybody knows that. You've got to run right to the limit. Sometimes you're going to go over. I thought a couple times today I might have gone over. I knew it was close. But that's what we do. That's what makes us competitors is trying to find every limit, every opportunity. The opportunity is at the margin and it's at the limit."
EARLIER IN THE RACE YOUR SPOTTER WAS TELLING YOU THAT HARVICK WAS LETTING OFF INTO 1 AT A MONUMENTAL RATE COMPARED TO OTHER DRIVERS. HOW DID YOU CHANGE GOING INTO TURN 1 THROUGHOUT THE RACE AFTER YOU HEARD THAT FROM YOUR SPOTTER? "I tried a few things, but honestly I couldn't get my car to work like that, so it didn't really matter for me. I just tried to keep working on the car, and we got it better the last few runs, and that helped tremendously."
ACCORDING TO YOUR CREW CHIEF AND YOUR CAR OWNER, YOUR RIGHT FRONT TIRE WAS GIVING YOU TREMENDOUS TROUBLE TODAY. WHAT WERE THE LAST COUPLE OF LAPS ON THAT RIGHT FRONT TIRE? HOW DID YOU KEEP IT OUT OF YOUR MIND? "Well, they didn't tell me, which helped. I did have that one time where I figured it out for myself and I pitted, and I knew not to ask from there because they'll tell me when I really, really need to know, and if I ask them, it's just going to scare me and I'm not going to drive it as hard. I don't know if that's really a secret. Sometimes you're better off not seeing.
DOES YOUR PIT STALL MAKE A DIFFERENCE, OR MAKE THE CHANCES OF YOU GETTING A SPEEDING PENALTY ANY GREATER OR NOT BECAUSE YOU'RE ON ONE END AND YOU DON'T HAVE TO WORRY ABOUT GOING IN SPEEDING? "You know, I don't think so because you still have to accelerate and did he accelerate to pit road speed with both stalls, so I think it's pretty even. I just like it because I'm getting a little older and it's getting harder to find that pit box. Mark Martin taught me that one. But I missed a couple pit stalls last year and I felt bad about it, so the guys joked around with me and they've started picking pit stalls that are early in, and that's helped my pit road game a bunch."
DID YOU HAVE ANY THOUGHT OF ARGUING WITH PAUL ABOUT WHETHER TO COME IN WHEN YOU HAD LOOSE LUG NUTS? THERE'S REALLY NOT A HUGE PENALTY. "No, when I thought I had a right front coming apart, I pitted and he didn't second‑guess me, and when he told me to pit because there was a lug nut loose, I pitted and I didn't second‑guess him, and I think that's the kind of relationship I hope to maintain with my team."
MARCUS SMITH ALSO TOLD US THAT THE SURFACE IS ABOUT THREE YEARS BEYOND WHAT THEIR ENGINEERS SAY IT SHOULD HAVE LASTED, SO I'M CURIOUS WHO'S MORE FORTUNATE, THE FACT THAT THE TRACK DIDN'T BREAK UP OR YOU WITH THIS WIN TODAY. "You know, the '90s were a great time, and I don't know what asphalt existed in the '90s because it sure don't exist today because all the tracks that were paved in the '90s have put on our best racing, our most multi‑groove usages, and here's what I can tell you: If this track was repaved, I wouldn't have passed Kyle Larson for the win because the groove would have been too small, it would have been too easy for him to block my air. I wouldn't have been able to make it, and that's why drivers love tracks like this, because they open up and they allow us to make moves like I was able to make to win the race. I would not have won this race. I would never have passed Kyle if this track had just been repaved. Now, if you're a Kyle Larson fan, that means you're pretty upset the surface lasted. If you're a fan of passes for the lead at the end of a race, you should like tracks like this that have made it and survived as long as they have and opened up to multiple grooves, because I know I do."
NOW THAT WE'VE HAD TWO RACES BASICALLY UNDERNEATH OUR BELT WITH THIS NEW FORMAT WITH THE STAGES, WE DID SUPERSPEEDWAY AND THEN WE DID HERE AT ATLANTA MOTOR SPEEDWAY. DO YOU THINK THAT'S WHAT KIND OF HELPED YOU GET YOUR CAR RIGHT WITH THE BRAKES IN THE MIDDLE INSTEAD OF SEEING THE WHOLE ENTIRE FIELD GET A LAP DOWN? "No, I think the biggest thing the stages did is they kept me from getting mad at NASCAR because you knew there was going to be a yellow, but it doesn't feel bad when there's a yellow and you get points because you're running up front. You just don't get as mad. You know what the deal is going to be going into the race. It's fair, it's equal. There's no uncertainty about it, and it just seems more just to me than it has in the past."