By Team Ford Performance Correspondent
The pressure is building on Brad Keselowski, but he can be judged to be more than ready for it.
After a disappointing Sunday at Kansas Speedway, Keselowski is in catch-up mode as he tries to move the Team Penske No. 2 Ford Fusion into the Round of 8 in the NASCAR Chase for the Sprint Cup. Keselowski is 11th in the 12-driver Chase standings, meaning he needs a win or a lot of unusual circumstances Sunday at Talladega Superspeedway to advance to the next round.
Keselowski has been there and done that at Talladega. In fact, his record at NASCAR's most unpredictable track over the past few years is one of the best in the sport.
And it should be remembered that he scored his first Sprint Cup Series victory in dramatic fashion at Talladega, shoving Carl Edwards from the lead in the final moments to win in 2009.
Keselowski has won four races at Talladega, including earlier this season. His last four results at the 2.66-mile track -- 1, 22, 4, 1. In 15 career races at Talladega, Keselowski has finished outside the top 10 only six times. Additionally, Keselowski won this summer's race at Daytona International Speedway, again underlining Team Penske's strength at restrictor-plate tracks.
"Talladega has been good to me, and I am going to drive my butt off, and, at the end of the day, I have faith that if it is meant to be it is meant to be," Keselowski said. "We can't get down. There is a long way to go still."
Keselowski's Ford Performance crew worked hard to return his car to the track after contact with Denny Hamlin's car at Kansas. Their work inspired Keselowski for the big task ahead.
"They worked their guts out," he said. "If my team keeps putting up this kind of effort, I don't worry about today. We will win another race. We will win Talladega and other races and be fine.
"I want to race my guts out and go for wins. I don't want to points-race. I don't care what the damn format is. I am going to give it my best."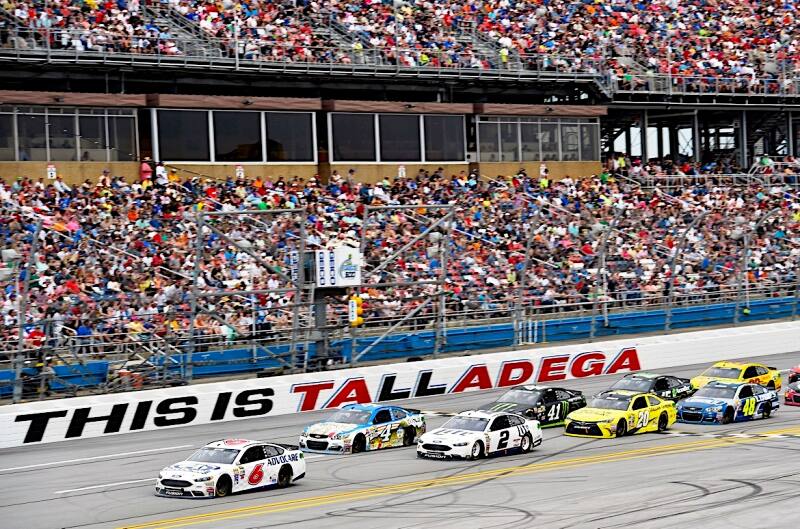 Like his teammate Keselowski, Joey Logano has a fine record at Talladega. He has one win there and has scored five top 10s in 15 races. He enters Sunday's 500-miler tied for eighth in the Chase standings. A good finish probably will push him into the next round, but he's going for the automatic berth that comes with a victory.
"I race to win," Logano said. "That's the way I race. I don't know a different way to race. That's probably the route I'm going to go."
A fine third-place run at Kansas allowed Logano to bounce back from trouble at Charlotte the previous week and keep his No. 22 Ford Fusion solidly in the race for the championship.
Halfway through the Chase, Logano has finishes of second, third, sixth and 11th, with only the run at Charlotte staining his worksheet.
He and Keselowski face different challenges at Talladega, but both seem ready to take the next step toward NASCAR's biggest prize.